by Mick Tems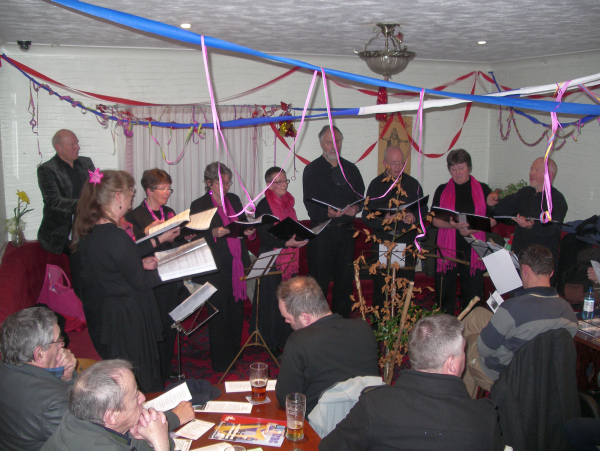 The Village Quire sing their set through the Christmas decorations at Llantrisant Folk Club
Like all good things in this life, the blame can fairly and squarely be laid on astonishing and enthusiastic squeezebox player John Kirkpatrick for sewing the seeds which grew into the wonderful Village Quire.
The Quire are based in Glasbury-on-Wye (Glas-ar-Wy), on the A438 Brecon to Hereford road, and sing spine-tingling and uplifting West Gallery hymns, spiced with folk songs that have stood the test of time, a smattering of Welsh-language Plygain carols and a collection of composed New England contemporary material from across the Atlantic. They have earned a strong must-see reputation for their programme of inspired four-part harmonies, so much so that another West Gallery Quire has sprung up in Pembrokeshire and is carrying on their good works.
This Christmas, The Village Quire drove down across the Brecon Beacons and gave Llantrisant Folk Club a thrilling and joyful night. I stared open-mouthed at the ancient West Gallery hymns and the stunning cadences, in particular the visionary arrangements of the Quire's conductor, Dave Newell; it was his clear tenor voice, combined with his ever-grinning face, blended with the startling tenor singing of Susie Stockton-Link, that really made the hairs stand up on my neck.
Kirkpatrick lives in Shropshire, on the English border with Wales, and his teaching provided the spark. Dave said: "John's workshop was the catalyst. He taught us locals from the Glasbury and Hay-on-Wye area some carols from the Sheffield tradition - Old Foster was a big hit.
"For months afterwards, neighbours and friends who had been at the workshop kept saying: "We should have something like that, around here!" Powerful, direct, traditional acoustic music just seems to hit the spot – no surprise there, then."
The various members of the Village Quire come from over the border in Herefordshire and this side of the Welsh border, centred on Glasbury. One member lives in Abergavenny, and she has the longest distance to travel. Dave's mother, Maureen Newell, is the Quire's most senior singer and lives in Rhosgoch, north of Glasbury. Paul Ferrett and Ruth Hoyland are the bakers of Hay, and they live in the village of Llanigon.
Susie, who was born in Cheshire and has now settled in Builth Wells, received a phone call from Dave, asking her to sing tenor in the Quire, in the year that Archbishop Desmond Tutu visited Hay Festival: "My induction gig was singing to the Archbishop of Canterbury in St Marys Church in Hay," she said. "I was also asked to swell the numbers a bit and sing with the choir of St Mary's, Hay, to the Archbishop and Desmond Tutu – a bit of a dream event!"
Why West Gallery singing?

Dave Newell outlines a tradition when lords and ladies would always look up to the Quire

West Gallery and Shape note music seem to have been contemporary developments in musical style. Both styles seem to have come about for much the same reasons. It all began in the early years of the eighteenth century. At this time there was a practice of singing the psalms whereby the minister would sing one line which was then repeated by the congregation but in a much ornamented, drawn out and ad lib manner.

It seems that each individual was pretty much free to "do their own thing"! Can you imagine what that must have sounded like? By the 1720s, according to Larry Gordon, it was felt that American congregations: "…had abandoned all semblance of the original written tunes and ... the anarchic use of ornaments, quavers, and turns of melody was resulting in cacophony". Rollo Woods reports that in Wales and England it was not purely melodic elaboration that was left open to interpretation by the individual, but choice of tempo, too. Typically, the precentor's chosen tempo might be on the slow side, but then some members of the congregation would draw each note of the melody out to extreme length. Psalms, then, were sung within the same time period by all members of the congregation, but there was no requirement for a sense of ensemble singing. This was an act of personal devotion in the company of others rather than a musical performance. Participation was the thing; it was not supposed to be listened to.

The church authorities must have stood back and tried to listen, however! This was the period of history known as The Enlightenment. Reason, order and clarity were the guiding principles of the day. The enlightened thinkers at the head of the church must have heard a confused mumble of noise from their congregations. Something had to be done. It was this thinking that led to the establishment of singing schools on both sides of the Atlantic in the middle years of the eighteenth Century.

West Gallery singing teachers seem often to have had some musical training but were probably best described as semi-professional. They sometimes had trades – publicans, maltsters, tanners and the like. David Davies of Pen y Crug, just to the North West of Builth Wells, Powys, was a farmer who supplemented his income by the teaching of singing. Members of quires, too, received recompense for the role that they played in church life. This recompense may have been in the form of money but also came 'in kind' as food and booze.

Singing teachers were sometimes itinerants, moving from place to place and setting up schools in the villages through which they passed. They would teach their material – their own compositions and those of others that they had collected together for the purpose – and would be paid for their trouble by their pupils or possibly from the parish coffers. At the end of their stay they would try to sell the books of printed music that they had been teaching from, to their pupils. Also, they would accept commissions to write tunes for the parishes in which they had been working; hence the number of West Gallery compositions which take place names as their titles.

This genre of music is called West Gallery music because at this point in history much of the floor space of the typical parish church was either rented out or owned by more or less wealthy parishioners. Where, then, to house the choir? The answer was to build a gallery at the tower or west end of the church – hence, West Gallery.
The Village Quire could easily fit into a minibus, whereas other massive Welsh choirs would have difficulty climbing aboard a double-decker coach. The Quire might be small, but it's beautifully marked; the 12 singers are as soulful as hell. Back in the old days, the traditional West Gallery singers used to ration themselves to three voices in a part with four parts. What does the Quire think about this return to the basics?
Dave said: "We have tried more voices on a part, but you tend to get a more blended sound like that. We like the individual voices to be heard – not a 'sea of sound' approach. Also, there's no point throwing your head back and singing your heart out if you can't hear yourself for the noise that the other 50 blokes on your part are making.
"Above all, we want the music to be rhythmically alive and a bit edgy - we think that we get that best with this small, flexible ensemble that is able to be pretty light on its feet."
Susie said: "I have always loved the raw harmonies of the early Watersons – that was how I was used to sing back up in Cheshire with the Jovial Crew in the late 1960s and early 1970s. I find that West Gallery is a sort of tamed version of that, fenced in by the dots. I do love its take-no-prisoners style of singing. You should sing as though your life depended on it.
"I'm lucky in as much as I almost always sing the tune. That was a new venture for me, having been into folk song since I was five. Like half the Quire, I can't read music - we learn by ear."
There's a definite 'buzz' about The Village Quire's success and reputation. Dave works hard at arranging the programme and scoring the parts. Susie says: "He is amazing. Not only is he a stunning arranger of songs, he's also a brass player and he can sing all four parts – maybe not the very top and very bottom, but almost.
"I think that the key to our success as a Quire of singers is Dave's ability to sing all the parts, so we know exactly what he wants of us. It has to be right – he won't accept second best, and quite so, too. In the past, he had us rehearse one section of a song for an hour till he was satisfied. He's a perfectionist. That's why the Quire's so good – he's a bloody genius!"
Dave is more modest: "Music does feel like a gift, doesn't it? I don't know where it comes from, but the gift is freely given to all. Dave Townsend does a song with The Mellstock Band called Great Things. The great things in question are music, dancing, cider and love – you can't argue with that.
"The West Gallery and shape note songs come down to us from the eighteenth and nineteenth centuries, and I don't tamper with them much – only if there has been an obvious printing mistake or something transcribed wrongly from a manuscript source or some such. A wrong note is a wrong note even if it is an authentic one. I do the arranging and transcribing of most of the folk and traditional material that we sing. It's a lot of fun. I try to do it in a style that fits in with the West Gallery repertoire.
"We sing a number of original songs by Don Jamison, a composer from New England. He writes in a style he describes as "shape-note inspired". Don visited The Village Quire two years ago and taught us some of his pieces, all of which have found a regular place in our programmes."
Susie said: "We had Larry Gordon's Northern Harmony as our guests at a concert we promoted, and one of their songs was Cabin Hill. We all loved singing it and Dave brought it into our repertoire.
"I had four of Northern Harmony staying with me. I took one of them, Ruby Ross, up to Soar y Mynydd Chapel, in the wilds to the west of Abergwesyn on the mountain road to Tregaron. It's in the middle of nowhere, yet in the 19th century, there were regularly 70 ponies kept under the trees next to the chapel, while an enthusiastic congregation from miles around came to services - one of William Williams Pantycelyn's most prominent congregations. Ruby and I sang Rwssia on our own in the chapel – we' d like to think that the air about us contained some approving ears. Later that evening, I was raving about Cabin Hill to her – and she produced an MP3 of more songs by the same composer, Don Jamison."
Dave arranges enough varied sets so the Quire – and the audience - don't set bored. The Good Old Way is the earliest programme which the Quire undertook, and the shortest. High Days And Holidays features local research carried out by Dave's wife, Cheryl, looking through pages of the Brecon And Merthyr Silurian, forerunner of the Brecon And Radnor Express. Dave said: "It is all about people, places and happenings from the area where the Quire is based. A lot of interesting material came from The Brecon and Merthyr Silurian, fore-runner of The Brecon and Radnor Express. The show is really rooted in a sense of place and we are proud of it.
"When Adam Delved has got a deal of alternative history in it, radicalism and non-conformity. The main themes are about contentment and unrest in domestic life, religion, politics and love."
The Quire have given a rest to the plygain smash-hit, Ar Gyfer Heddiw'r Bore, but they promise that the carol will be back. Based just a few miles from the English border, the Quire has no first-language Welsh speakers; but they rely on tenor Penny Robinson, a lay preacher and very competent self-taught Welsh learner and teacher, whose grandmother was a first-language Welsh speaker.
Susie said: "Penny is our Welsh language tutor. It has to be correct. We do some Welsh songs, but, as yet, almost all our audiences have been English speaking. It would be great to work further into Wales.
"What I would love to find are songs about the lives and exploits of the Welsh drovers – does anyone have any? They were so important to our area, and there seems to be nothing in song to keep that economically crucial industry memory alive. It's a story that should be told."
Dave said: "Penny has done pretty well herself in local eisteddfods -she makes sure that our pronunciation will just about pass muster. This is still very much Work In Progress; first-language Welsh speakers tell us that they know that we are not native speakers, but they are always supportive of our efforts."
The highlight of the Quire's set is the wonderful narration of actor Phil Smith, who lives a couple of miles from Glasbury in the village of Llowes. Dave said: "Phil could get a laugh out of an audience just by reading them the shopping list. I once asked him for a CV and he just said: 'I ended my career in England and I have now come to Wales to end it here, too!' He's a bit of a card."
There are some memorable gigs that really stand out in the Quire's memory. High on the list is singing at the Festival Hall in London for Martin Carthy's 70th birthday concert, also a fundraiser for Norma Waterson. The Quire ended up this amazing day by banghra dancing at a birthday party in an Indian restaurant.
"And what a privilege to share a stage with Dave Swarbrick, who generously came to Glasbury to play a benefit that we organised for Norma the week after it," said Susie. "An old mate, Swarb - a bobby dazzler. Singing by candlelight in the unelectrified St Bartholemew's Church in Richards Castle, a Churches Conservation Trust property in West Herefordshire, was a truly awesome experience. It really brought home what services would have been like 200 years age.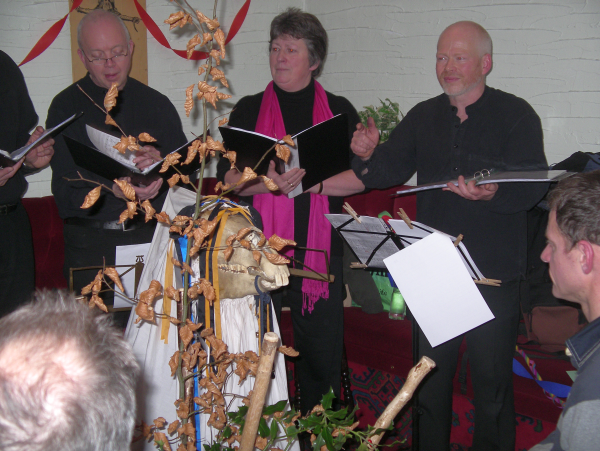 The Mari Lwyd listens intently as Dave Newell (right) conducts the Quire; Susie Stockton-Link is in the pink scarf. Photo by Mick Tems
"The members of the Quire all get on so well together – it's a sort of family. It keeps us all sane. I don't know what I would do without it - I really don't. It's kept me going through dark, dark days in the last few years, a veritable lifeline.
"I don't know what I would do without it; I really don't. It's kept me going through dark, dark days in the last few years, a veritable lifeline. The Village Quire are the nicest, warmest people you could ever hope to meet - my life has been immeasurably enriched by my association with them."
Dave gleefully remembers the gig, North of Cardiff, where some rather elderly members of the audience had hearing aids which operated on the same pitch and frequency as his tuning fork: "Whenever I struck the fork, a chorus of hearing aids whistled their approval from different locations in the venue. It was like an episode of The Clangers.
"It was pretty special singing an arrangement of the Chris Wood/Hugh Lupton song Mari Lwyd, to the actual Llantrisant Mari Lwyd. There are moments in performances where you seem to suspend disbelief, and that was one of them.
"I'm just a harmony addict. It's a very special sort of friendship you get when making music together: you can't beat that. I could just go on and on, because making music with this lot is rich in both beauty and comedy - and music takes you to some very special places."