by Mick Tems
It was a great story: The Chartists came together at Islwyn Folk Club in 1979 to perform a song cycle and narration on the 140th anniversary of the Chartist uprising in South Wales and Newport in 1839, which ended so tragically when a British army regiment fired their muskets indiscriminately and killed 19 on the steps of the Westgate Hotel.
BBC Wales producer Jack King took them under his wing, and, undeterred by commercial record companies ignoring them, The Chartists recorded a debut album on their own label, before following it up with a second one entitled Cause For Complaint, spurred on by the Miners' Strike in 1984.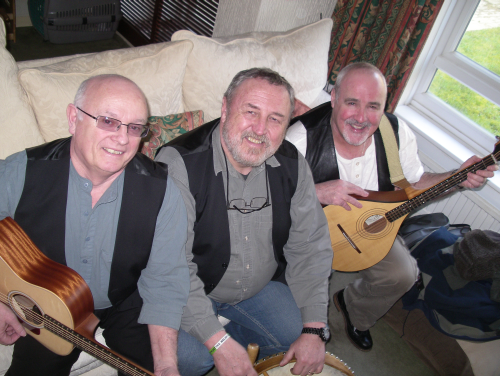 Chartists march: from left, Laurence, Geri and Wynford.
Photo: Mick Tems
All those years after, The Chartists are back again – and although the songs and the narration are the same, the pared-down trio have gone back into the studio and recorded a brand-new acoustic CD, called Rise Again. They say they are surprised and delighted by the welcome reaction they have received since they first announced their intention to get back on the road again.
Original Chartist, songwriter and guitarist Wynford Jones, had retired from the folk scene – but it took the other original Chartist, Geri Thomas, and lead guitarist Laurence Eddy very little persuading to put him on stage.
It was the Chartists' march from the Monmouthshire Valleys with the intention of occupying Newport which inspired Wynford, who was a new folk club member at that time. The nationwide Chartists, stung by many injustices, demanded the six points of the Charter, including the right to vote – and they were secretly planning the British Government's downfall, too. The Monmouthshire Chartists were led by Robert Frost, former mayor and magistrate of Newport; Zepheniah Williams, mine owner, mineral surveyor and coal merchant; and William Jones, a former actor and watchmaker from Pontypool.
Frost, Williams and Jones were arrested, along with other Chartists, and were sentenced to death. But a huge outcry followed, and they were transported to Van Diemen's Land, now Tasmania, on board of the Mandarin.
Wynford said: "I'm a songwriter, and my original idea was to write a song about the Chartists. I took it to Geri and Geoff Cripps, who were pretty enthusiastic. They expanded it into a narrative, which meant I had to write more songs.
"We took it to Cardiff University, local schools, Chepstow Folk Club, political meetings. Jack King of BBC Wales, who emigrated to Australia in 1987, helped us considerably; he threw a lot of weight behind it, and his influence pushed us even further."
Geri said: "Wyn brought it to Islwyn Folk Club, and Geoff, who was the organiser, was pretty excited. His Master's Degree subject was the Chartist uprising in Newport, so he had quite an academic interest in it. I was pretty interested in it, because it's my family history – an ancestor of mine, a triple harpist named Isaac Thomas, played a major part in the march on Newport, and was shot in the leg by a musket ball on the steps of The Westgate Hotel.
"History records that Isaac Thomas was killed, and so was his brother Abraham. But that's not true, otherwise I wouldn't be here today. My family history says he did survive, was smuggled out of The Westgate and was taken to Pillgwenlly – Pill nowadays - where the doctor was a supporter of the Chartists. However, the leg turned gangrenous, and Isaac had to have it amputated. I have a daguerreotype of him with his peg-leg, with his triple harp.
"Isaac was a friend of Zephaniah Williams' son, who was also a triple harper. The two of them used to play to Chartist meetings in the pubs, who were called friendly societies. These friendly societies used to hire a turn to play to them, and the two of them would go round, playing triple harps, passing messages from the High Command. I haven't heard anything from the history books, but this is what my family's history has passed down.
"There's a plaque in Nantyglo, recording the death of Isaac Thomas. I don't like to tell them that they got it wrong."
Wynford arrived at just the right time for Islwyn Folk Club, which used to meet in a pub in Ynysddu. Geri wrote two songs, and he co-wrote Fare Thee Well To Newport from an idea by Mark Takel – but Wynford composed most of the material.
There was a stream of members in the original Chartists. Geri said: "We had John Mann, a cracking piper and guitarist. He played with us for six months, but he was a fireman and The Chartists got the way of his job. John left, and Laurence joined."
The Chartists had a keyboards player, Russell Jones, and Tony Williams, from Huw and Tony, played with them. Drummer Nick Lewis – "Nicky Plastics, we used to call him" – made the sound much rockier. The nickname had nothing to do with his drumkit; Nick used to install windows.
"Geoff put a great deal into The Chartists, a major part, and got us many gigs," said Geri. "In fact, we were one of the original indie bands; we owned our own label, Steam Pie. One of the musicians was Remo Lusardi, and his Italian family came from Bardi. They owned a Bracchi restaurant, and so we named the label after him."
Geoff kept Steam Pie going, and the label is celebrating the release of two new CDs: Llais, by celtic harper Delyth Jenkins, and Pwnco from Allan Yn Y Fan, the five-strong high-profile band of which Geoff is a member. Geri said: "The core of The Chartists was always the three of us plus Geoff, who is playing with Allan Yn Y Fan now. But it's a surprise that people have welcomed The Chartists again.
The Chartists keep in close touch with Richard Frame, of The Chartists Society. Wynford said: "We first met him in Tintern in 2009 when we sang Frost, Williams and Jones as the group Lauford. He really picked up on that."
Geri first met Richard more recently: "He wanted to be put in touch with any of the original Chartists, and I said: "You're looking at one now – I'm an original Chartist."
The history of the Chartist era is confused, but there are some facts which stand out. Recently, three bodies were discovered in the Chartist Cave in Gwent; the Chartists had uncovered spies, and murdered them each one. There was a Government spy named Pinkerton, marching with the Chartists but informing on them; after the Chartist surge was over, he emigrated to America and set up Pinkerton's Detective Agency. The Chartists employed military advisors to prepare themselves for the final thrust; a Polish general was hired to advise on military matters.
And here's an interesting morsel. We were recording The Chartists' interview at a place very near to Llantrisant, the last home of Dr William Price, brilliant surgeon, free thinker, naturist and Chartist leader. Price did his best to dissuade the Chartists from marching on Newport - but he did lend them a huge cannon.
Geri, Laurence and Wynford ordered 1,000 copies of the CD, Rise Again, recorded at Towpath Studios in Griffithstown, but it sold out immediately. Rise Again has had to be re-pressed.
They have always kept in close touch together. Laurence said: "Geri and I have always had a little session together, and Wynford has been there on guitar. It's good to keep in touch. We haven't kept in touch with the other Chartists, though – but we will always have the three lead voices."
Geri said: "When we formed the original Chartists, we were young and the Thatcher era was just happening. We have got a lot older now, with different views and perspectives – but the Cameron era is happening again, and people are starting to wake up and buy the Chartist songs.
"I sang about the Chartists in the Chartist Cave – and the hairs just went up on my neck."