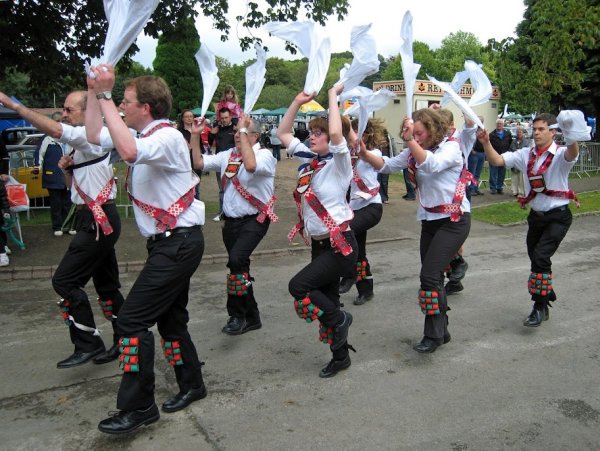 Close to Nantgarw: Dr Ceinwen Thomas's dancing tradition is only a few miles away as Cardiff Morris demonstrate Y Caseg Eira at Pontypridd Park
Photo by Alun Roach
Spring must surely be just around the corner now, and Morris teams will be preparing sticks and bells to venture forth and celebrate the annual rebirth of goodness in the earth, across Wales as well as across the rest of Britain. Whilst that's a perfectly natural occurrence, I've heard grumblings locally that this represents an obeisance to specifically English custom, and I fail to understand the this erroneous Cambrian perception of Morris dancing as "English" or "anglo-saxon". Well, I've always been personally uneasy about Offa's Dyke persisting as a watershed between what is "anglo-saxon" and what is "celtic" about British culture and tradition, and about us all being "cousins" – particularly as most "celts" inhabiting the populous south Wales valleys are derived of natives of Stourbridge or West Bromwich if you cared to go back a dozen generations or so, but that's a matter for another day.
But the fact is, from just within the Vale of Glamorgan whence I write, archaic tales are widespread concerning the exploits of local Morris sides, and of other festivities that accurately fit what we know of the Morris from very early times, and there are well-documented references to its manifestation in the communities of Cowbridge, Llancarfan, Llantwit Major and elsewhere as far back as the early 1700s. For some reason it's more satisfying to sustain the parallel myths that ritual dance, mumming and the like are foreign imports whilst horse's head rituals such as the Mari Lwyd are peculiar to Glamorgan and unrelated to any similar customs spread throughout the breadth of Europe rather than accept that associations of particular manifestations of customs with particular peoples and geographical locations are at best tenuous.
Today we compare Cotswold Morris and Welsh Border Morris in terms of the relative smartness of dress, discreetness of disguise or complexity of stepping. In fact whilst these differences are recognised colloquially as being geographic, the form of a particular Morris dance actually relates more to when rather than where it was collected.
Imagine if you will three hundred years ago, and a tradition of Morris dancing with myriad local variations spread at least across the southern half of the British Isles. Stories are legend from the eighteenth century and even earlier concerning fiddlers in Wales obliged to hand over their instruments, and we know only too well that that our social dances persisted through those austere times in only a very few brave communities. Outlawed by the non-conformist cultural slaughter, marginalised by the coming of heavy industry to the valleys, and eventually replaced by the intrinsic community entertainment based around the welfare hall and club, the Morris in Wales would have gone the same way as all other such festivities, viewed by the puritan majority as immoral and pagan, even heathen.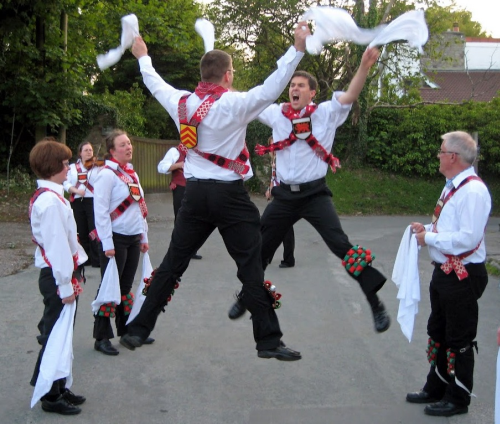 Jump to it: Cardiff Morris in suspended animation outside The Bush, St Hilary in the Vale Of Glamorgan
Photo by Alun Roach
Yet in isolated villages in rural Oxfordshire, Gloucestershire and Northamptonshire, these things survived even the annihilation of family and community cohesion by the effects of the Napoleonic wars, in areas later by-passed by the sweep of Victorian industrialisation. And here, as it happened, gathering a team to dance in front of the local gentry on a Boxing Day would present an opportunity to collect a few extra shillings to see those eking a paltry living off the land through a hard winter. But by the time the Cotswold Morris was first noted down, as recently as the early twentieth century, it had become a relatively sober and sophisticated affair, with the dancers performing tidily choreographed dances in their best cricket whites to the music of popular songs and tunes of the time.
By contrast, the Welsh border Morris tradition has been recreated only in recent decades from the
most recent written references available. In an area which had suffered the ravages of both religious and industrial revolutions, these references go back to articles composed several hundred years ago, in an age before the respectfulness and relative sobriety of Victorian society had knocked the rough edges from traditional dance and merriment. So when we compare Border Morris with Cotswold Morris, we're looking at a separation, not of a hundred miles, but of a couple of hundred years and more in its recording, and there's every reason to believe that three or four centuries ago, the Morris was danced with exactly the same wild and immodest abandon from Anglesey to East Anglia.
But anyway, "chwarae teg" to the adventurous spirit of Cardiff Morris who recognised many years ago the obvious features of the processional Morris in dances such as Rali Twm Siôn and Y Gaseg Eira within Dr Ceinwen Thomas's notes about the dances associated with the Nantgarw and Caerphilly cheese-fairs, and have taken these as a launch-point for some imaginative recreation of a specifically "Welsh" Morris tradition. What's significant about their Nantgarw repertoire is not that they've created something seen as geographically binding to Wales, but that they've actually picked up the ball from out of the mire and are running with it, and top marks for that!