NEW: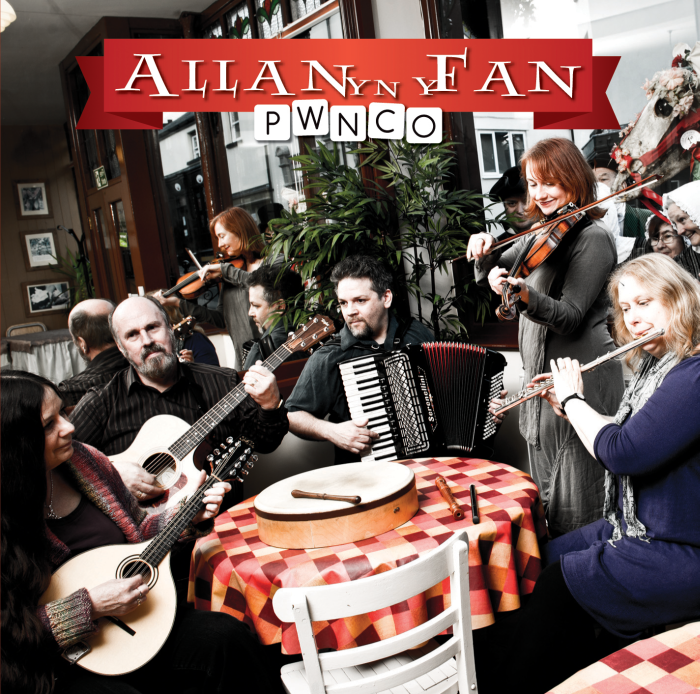 ALLAN YN Y FAN
Pwnco
(Steam Pie SPCD1016S)
'Pwnco' is translated as the Welsh-language question-and-answer ritual which makes the Mari Lwyd horse's skull tradition so unique to Gwent and Glamorgan. Allan Yn Y Fan are based in Gwent, and they have brilliantly interposed this here-and-now musicians' technology to an age-old celtic 'dark side' of vertiginous proportions… I truly love this CD, the band's fifth with Steam Pie: It's inspiring, intelligent and beautifully arranged, and those exciting tunes and pristine, sparkling songs really snuggle up on the listener.
The first CD to be recorded at guitarist Dylan Fowler's lovely wooden studio deep in the wilds of Monmouthshire, the band offer for starters two delightful tunes from Kate, Death In Ennis and The Audient – the story goes that Allan Yn Y Fan started off as a twmpath band, and various Chinese whispers had them advertised as an Oompah band; and the Irish crowd voted with their feet! There are a couple of uncomfortable joins in the first track, but the band don't make the same mistake twice; the rest of the CD just flows and flows.
Fiddle player and delightful singer Meriel Field swoops and soars absolutely magnificently on the Mari Lwyd song Canu Cwnsela, and guitarist Geoff Cripps, accordionist Chris Jones, mandolinist and bodran player Linda Simmonds and flautist/recorder player Kate Strudwick urge the local mid-winter ritual on with fire and flair. The band power into the traditional Welsh music with joyous abandon, and they create some new exciting music too. That sums this up perfectly – it's full of power and passion, with that old Celtic magic permeating the pores of tradition, a sense of belonging, a strong loving togetherness that shaped the very mountains and steep valleys of Wales. And the band keep the listener guessing in any of the CD's 12 tracks – none of it is predictable.
Meriel's voice is a suberb asset and bonus to Allan Yn Y Fan; hers is one of great flexibility that fits in perfectly with a band equally adept at getting a twmpath on its feet as well as soothing the crowd with beautiful and startling original renditions of Tra Bo Dau, Dacw Nghariad or, surprisingly, a delightful Twinkle, Twinkle Little Star. Notably, Geoff Cripps contributes a stirring, moving poem by the late John Stuart Williams, written for his band, The Chartists, called Dic Penderyn; Richard Lewis, also known as Dic, was the first Welsh working-class martyr, and Geoff composed the melody. This is a little gem of a CD, and I'm proud to own a copy.

CALAN
Jonah
Sain SCD2657
Wow – this is SO good. Calan have bounced back with a rip-roaring, grinning devil of a CD, and I love them for it. From the opening Slip Jigs (Cadw Twmpath, Hoffed Ap Hywel and Mympwy Llwyd), through Bethan Rhiannon's sweet, clear voice on the folksong Y Gwydr Glas (The Window Pane) to the gorgeous climax on Nyth Y Gog, the album flies all the way. It's strutting, young, full of joyous energy and very proud of its Welsh language and identity – which makes it rather bizarre that the most appealing song, and the one on which the band have chosen as their title track, should be in English only.
Huw Williams, Bethan's father and the band's manager, is well known for writing a whole lot of catchy, seductive songs with the annoying habit of attaching themselves to your brain. Jonah invariably does the trick; inviting melody and satisfying, swelling chords which change seductively, leading up to the final conclusion and the inevitable hook-line. In an ideal world, this would be a smash-hit. Huw writes a trio songs for the album; the second one, a collaboration with Bethan, is called Cân Y Dyn Doeth (The Wise Man's Song), a swaggering portrait of Valleys life; and the third (Anyone Else But You) is a quirky, likeable 1940s-style number, enhanced with 78rpm Shellac scratches.
Calan's sets, traditional and composed, are treated full-tilt, fiddles, guitar, accordion and pipes driving them on. Dawns Y Pelau is a whole lot of gleeful fun, with Dawnswyr Nantgarw obviously enjoying themselves – and Calan steps on the gas and pushes the pedal to the metal for The Swansea Hosepipe Set, which finishes in grand style with Y Bregeth (The Sermon, a massive 112-bar hornpipe, which through the mists of modernity, a good number of bars seem to have been consigned to Room 101.) And the pretty victorian folksong Paid  Deud (Tell No-one) bursts into the here-and-now with digital enhancements for the solitary acapella voice.
But Calan are laying down a challenge to would-be hopefuls. It's their avowed intent to give traditional Welsh music a mighty kick up the backside, but, in a St David's Day message, they say they cannot do it alone.
Fiddle player Angharad Siân, who as Angharad Jenkins was made Trac project officer, says: "The only way tradition can develop is if there's a lot of people competing together to be the better band. There isn't really another band working this way in Wales. Even though it's good because we get all the gigs, I don't think it's a healthy place to be." Alaw Jones, who shares harp duties with her sister Llinos, says: "When younger people are listening to us, I want them to think: We should try a band."
But Welsh music IS exploding. With the caring guidance of Trac, hundreds of young people are waking up to the wide-eyed wonderland that is rich Welsh traditional and written culture. Old fogeys like me are amazed at the new Welsh renaissance and are grinning with delight. With Calan's help, Welsh music has lifted off - and is bound for the stars.

TREACHEROUS ORCHESTRA
Origins
Navigator 062
The origins of the 11-strong Treacherous Orchestra, who are marching down from Scotland brandishing this excellent CD, go back to Perthshire where two young pipers, the incomparable Ross Ainslie and Ali Hutton, were greatly inspired by the teachings of Pipe Major Gordon Duncan – "one of the true master composers and instrumentalists of the 20th/21st century… His style flowing from finger to finger trickled down and infused these two young protégés with a style and sense of harmony, rhythm and composition that no one else can claim to possess. His passing away in 2005 left the legacy of his music and his influence will never be forgotten."
Ross and Ali have brought together eight Scottish musicians on fiddle, flute, bodhran, accordion and double-bass, plus crashing drums, razor-sharp electric guitar and Éamonn Coyne from the West of Ireland on banjo and tenor guitar. The basis of the Orchestra was clear-cut: a glorious, bubbling cauldron of raw Scottish music, enhanced by the Orchestra's players/composers and given a massive shot in the arm. Origins does just that, and sticks a big rude tongue out at anyone who mistakenly thinks that folk music from these islands is dying on its feet.
The Orchestra keeps the audience on their toes and wondering which instrument is going to hit next, from March Of The Troutmen (by their fiddler Adam Sutherland) to the piping fury of the traditional Sheepskins Beeswax, Ross's written Taybank Shenanigans and the wonderful Sea Of Okhotsk (Sutherland again!) Whistle, pipes, accordion, flute and a few choice instruments flow over each other in the simply beautiful Ross composition Easter Island. Percussionist Fraser Stone, bass player Duncan Lyall and guitarist Barry Reid are a pulsating wall of sound, leaving Kevin O'Neill's flute, Éamonn's banjo and Innes Watson's fiddle to dance around the meat of the tune – very, very tasty indeed.
The orchestra climaxes with the 13-minute showstopper Sausages, the 10 musicians flooring pedal to the metal in a glorious melange of wild, roaring, fist-waving original Scottish music. I love it to bits.

CALADH NUA
Next Stop
CN002
I saw the wonderful Irish band Caladh Nua in The Gathering traditional festival in Killarney a couple of years ago, and I bought their debut album, Happy Days, like a shot. It has been one of my driving and relaxing favourites since then. The CD could only be bettered by – Caladh Nua's new album!
Caladh Nua is Irish for Safe Harbour, and the band comprises five young musicians from Counties Waterford, Carlow and Kilkenny: Tenor banjoist Eoin O Meachair, fiddle player Paddy Tutty, lead vocalist and fiddle player Lisa Butler, button accordionist Derek Morrissey and guitarist Colm O'Caoimh. They made their debut at the Copenhagen Irish Festival in 2009, and they toured festivals in Europe, including the gigantic Lorient Interceltique Festival in Brittany, and Canada. This might just be the CD to win them adulation in Wales and England, too.
Next Stop contains inviting pictures of the band and an Irish narrow-gauge railway (is it the Waterford and Suir Valley Railway, by any chance? The shape and size of the little diesel engine looks strangely familiar!) The band is raring to go the moment the opening track starts up – Miss Susan Coopers, written by the Shetland musician and composer Ronnie Cooper. The fiddle comes blazing in as the tune switches to The Flooded Road To Glenties, and Caladh Nua are really flying at the start of the ultimate The Devils Of Dublin. Heartening stuff indeed.
The most pleasing and thrilling aspect of the CD, and their concerts. is the way the band interpret traditional and written tunes with the same joyous abandon and deep respect. Caladh Nua's music is happy music, played with feel-good virtuosity. Eoin, Paddy, Lisa and Derek are immaculate musicians, but it's Colm's guitar which is the anchor here – dancing, jazzy, daring, big bass notes urging the band on to greater heights, strongly influenced by Shetland accompaniment. Yer man's a monster!
But it's Lisa's silver voice which really caps it all and makes grown men quake at the knees. Farewell To You was written by her brother, Eric, and it's a song of stunning beauty. There are two songs in Irish (Mheall Sí Iena Glórthai Mé and Fuigfidh Mise An Baile Seo, both as light as a feather) and one 19th century broadside, The Cruel Lowland Maid, kindly offered by the amazing Sara Grey and learned by her from the singing of Mr Hanford Hayes of northern New England, Maine.
I hold Caladh Nua in deep awe for the sheer variety their performance generates, the expert musicianship and the knowledge that every time I hear their marvellous playing, I'll be grinning like a Cheshire cat.
BARLOWCREE
Holystone
Safeplace Records: No catalogue number
A very impressive debut from Cardiff-based BarlowCree: if you're wondering about the strange name that the duo have chosen, you can rest easy. Singer Jonny Matthew was born in the Yorkshire city of Bradford, and solo guitarist Liam Millinship comes from the city of Newport, 12 miles from Cardiff. "Barlow" is a Bradford children's slang term for the safe place during a game of "tig", and "Cree" is Gwent slang for immunity during a game of "touch" or "tag" – when a child cries "Cree", that means he cannot be caught for "it".
Both Liam and Jonny are really making waves in their quest to get their names recognised, and their magnetic stage presence has left its mark on two border folk festivals, the prestigious Shrewsbury and Bromyard, and they were the main guests Rumney Folk Club Festival too. They even did a Showcase at Llantrisant Folk Club, and were booked immediately – the way in which they attract a whole new audience says a lot, too. Jonny has a splendid rock voice with a breath-taking range, and Liam is inspiring on acoustic guitars; he's also a very tasty tenor, adding some jaw-dropping harmonies with his super-high notes. BarlowCree has got attitude by the shedful.
Their set is a rich melange of old and new songs, some of them traditional with the dust cleaned off and some interestingly original self-written material – The Quay provides a no-nonsense starter and The Devil And The Cobbler cooks on heat, but San Jose is a real heart-stopper. The incredible story of the 33 Chilean miners down in the San Jose gold and silver mine, trapped for 67 days with no way out but slowly and stubbornly freed by the ingenious rescuers, is the stuff that blockbuster films are made of. Liam and Jonny's writing never lets up on the tension; Jonny's impassioned voice and Liam's haunting guitara accompaniment just adds to the whole picture. A minor pedantic point is that these miners were not "colliers", but, says I to myself, folks who live in glass houses shouldn't throw stones. I've written enough bloopers in my time…
Holystone was recorded at Cardiff's Albany Studios by producer and Incredible String Band musician Lawson Dando, who plays harmonium on All Is Well and My Heart Is Ashore, and harmonica on Mallt-Y-Nos, the eerie South Wales legend of the ghostlike lady who still hunts with her Cwn Annwn, the dogs of Hell. Apart from the violin on The Quay and Liam's added but sparing intruments, BarlowCree's music is cleanly stripped down – I like it!

OLION BYW
Hen Bethau Newydd
(Own label)
What lovely, lovely music! Olion Byw are fiddler Lucy Rivers and guitar/mandolinist Dan Lawrence, and their first album is a complete delight. Imaginative, constructive and fresh as the morning dew, Hen Bethau Newydd (Old New Things) warms to you like hell.
Olion Byw means Living Remains, and both Lucy and Dan have theatre connections. There must be hundreds of fiddle-guitar combinations, in Wales let alone in Britain, but Lucy and Dan shine above all the rest with really inspirational playing. Take the opening track, Lisa Lân for example: as a CD reviewer, I'm pretty much anaethetised by any arrangement that this old chestnut could throw at me. But I hadn't reckoned with these two intelligent and daring musicians; As soon as the CD kicked in, the rippling, questing guitar paved the way for the dainty, delicate fiddle, the two instruments weaving webs of magic. And as soon as you have got over the pleasant shock, Lucy's voice starts its journey… lock the door, shut the curtains, because I want to listen!
Both Dan and Lucy are confident and competent in the playing stakes; Lucy is a very fine fiddler, embellished with an Irish influence. Dan's guitar and mandolin accompaniment is an absolute joy. It's difficult to pick out the favourites, but I'll go for Dawns Forys Gymreig, Ym Mhontypridd Mae Nghariad, Ar Lan Y Môr and Môn – all well-known songs and tunes, but transformed into new culture by sparkling arrangements.

PETE KIDDLE
Gunpowder Tea
HayHo001CD
Pete Kiddle lived in the Swansea Valley and was a member of the Valley Folk Club in Pontardawe; in fact, he brought my house in Ynysmeudwy! However, he and his wife Sue moved back to the West of England, where he is a member of Devizes Folk Club and a Sulis dance band member. As a birthday present, Pete's family gave him a day in Doug Bailey's wonderful Wild Goose recording studio; it was a day well spent! Doug and Pete certainly worked hard and swiftly creating these fine, beautiful tunes and folksongs, garnered in the best folk tradition possible from singers and musicians from all over the world. This CD is chock-full of interesting surprises, and a valuable reference work to boot.
Pete got the opening ballad, Wolfe And Saunders, from the Baring-Gould Archives at Plymouth County Library while he was a teenager, and he powers into it. Ye Garner's Gay, a version of The Seeds Of Love, is usually sung from the girl's perspective, but Pete heard Cornish traveller Vic Legg singing it – beautiful and poignant. He also heard Irishman Ian Stevenson's rendition of an unusual version of Babylon, and Pete has been singing the sensuous Bird In The Bush for so long that he says he cannot remember who was his source. The lovely Ashokan Farewell segues into Ellen Taylor, a love song in waltz-time. Not one of the 13 tracks is wasted.
However, he does commit just one error in "Gower Nightingale" Phil Tanner's Swansea Barracks song; Phil sings: "She was the blooming rose of South Wales", not "blimmin' "! But it's only a minor point, and Pete and Doug deserve our praise for producing such a listenable CD in only a day.

VARIOUS
Short Sharp Shanties Vol. 2
Wildgoose WGS382CD
As a researcher/performer into the Barry and Cardiff sailors' 50 shanties and sea songs, it seems to me as though the Bristol Channel was well stocked with rumbustious and exciting seafaring material – and some of it of a rare quality, too. In 1926, American collector James Madison Carpenter recorded the South Wales sailors, and in 1914 John Short of the Severnside harbour community of Watchet, Somerset, gave the folk-song collector Cecil Sharp nearly 60 shanties, several in early rare versions. The admirable Wildgoose label has just released Volume 2 of John's work, recorded from a range of expert folk singers; having listened to it, I am so looking forward to Volume 3.
Short, also known as Yankee Jack, spent 50 years in sailing boats and deep-water ships, sailing all around the world as a shantyman. He was born in 1839, went to sea with his father when he was nine, went deep sea at 18 and retired from the deep water trade in his mid-thirties. He died at the age of 94 in 1933. Sharp said of him: "He has the folk-singer's tenacious memory and… very great musical ability… It would be difficult, I imagine, to find a more experienced exponent in the art of chantey-singing, and I account myself peculiarly fortunate in having made his acquaintance in the course of my investigations and won his generous assistance."
In the same way as Carpenter recorded the South Wales sailors by cutting off their delivery, Short only sang a verse or two of his 60 shanties for Sharp; the singers say they have carefully reshaped the stanzas. There are striking similarities between the shanties on both sides of the Channel, too - William Fender from Barry sang the shanty Ilo Man for Carpenter, but Short sang an American shanty called Huckleberry Hunting with exactly the same tune and the same "boys and the girls" words. One distinction of Short's version is his use of an augmented fourth, known as "the Devil's Interval" in classical circles, and deep-voiced revival singer Barbara Brown makes a good job of that.
Barbara also does the opening shanty, Rowler Bowler, to perfection, and she paves the way for Whisky Is My Johnny (Jim Mageean), So Early In The Morning (Jeff Warner), Lucy Long (Tom Brown) and a dainty fiddle-plucked Boney Was A Warrior, executed beautifully by Jackie Oates – the same Jackie who recorded the South Wales shanty, Tommy's Gone Away, which I recorded in 1984. Roger Watson, recorded before his stroke, sings Roll And Go, Sam Lee interprets Tom's Gone To Ilo and Keith Kendrick and Barbara Brown harmonise a lovely Shanadore, which became known as Shenandoah. Tom also does a bawdy sailors' parody of the American Civil War anthem, I Wish I Was In Dixie, called I Wish I Was With Nancy, the bass concertina giving it the artful oomph.
We have been waiting 98 years to hear such a caring, professional task as Wildgoose have accomplished in their Short project - more power to their elbows.

DELYTH JENKINS
Llais
Steam Pie SPCD 10155
This is Celtic harper Delyth's much-awaited CD for Steam Pie, and she rises to the occasion magnificently. Her Camac harp comes alive when her fingers touch it, and she weaves spine-shivering shades of light and dark. She is a truly magnificent musician and composer, too; half the CD is taken up with songs and tunes written by Delyth for the Fluellen Theatre Company production of Dylan Thomas's Under Milk Wood. More of that, later.
Llais is Voice in Welsh. In Welsh grammar, Delyth doesn't play the harp – she 'sings' it (canu), just the same as a musician 'sings' any melodic instrument. However, you play (chwarae) a percussive instrument. Delyth says: "Y delyn yw fy llais – the harp is my voice."
Tracks 1 to 8 are filled with the stark beauty of her compositions, and she carefully restores a couple of traditional tunes as well (such as the pretty Trefforest Waltz.) The Doctor And The Devils promises many good things from DnA, which is Delyth and her daughter Angharad, fiddler with that fine young band Calan. Berwyn, Delyth's composition in memory of her late father, is this tune's second outing; Delyth was harper with the visionary trio Aberjaber, who recorded it on an album; on Llais, Berwyn melts into the familiar traditional tune Bryniau Iwerddon.
In choosing the name for this album, she was also thinking of the Voice in Thomas's play. Delyth lives in Mumbles, and it is very much a Swansea interpretation; Peter Richards of Fluellen reading the part of the Voice, and Swansea legend Kevin Johns reciting the Reverend Eli Jenkins' Sunset Poem. Delyth's daughter, Angharad, plays fiddle in the children's rendition of Johnnie Crack And Flossie Snail, and fernhill singer Julie Murphy gives her all in a smouldering, sad Polly Garter's Song. Of all the countless Milk Wood productions, this easily has to be the best and the most moving.