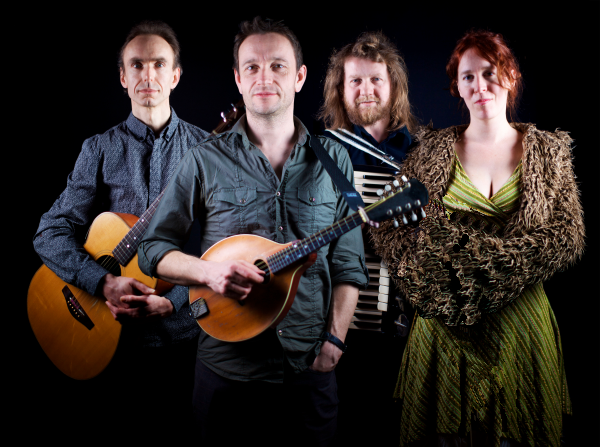 Spiro - a harmonious fusion of styles
Spiro are a remarkable and stunning acoustic four-piece ensemble who came together through Bristol's folk scene. They have developed their very own unique and highly imaginative sound, which echoes, at various points, the work of Steve Reich, Michael Nyman and the Penguin Café Orchestra. The four instruments — violin/viola, acoustic guitar, mandolin and accordion — gyrate around each other in a harmonious fusion of styles, in which traditional English folk meets modern classicism and electronic dance music. Supported by legendary hurdy-gurdy player Cliff Stapleton, Spiro play Theatr Mwldan for the first time on March 14 to coincide with the launch of their latest album, which is receiving huge critical acclaim. Spiro and Cliff continue the Welsh part of their tour with concerts in the Muni Arts Centre in Pontypridd (March 15) and Theatr Hafren (March 16).
Following a superb debut on Peter Gabriel's Real World label and a triumphant, tent-busting WOMAD performance, their latest album Kaleidophonica just been awarded a five-star review in Songlines magazine: ("Spiro do something altogether different. The mesmeric result is cinematic, breathtaking and beautiful... Folk has never seemed so relevant") and a five-star review in The Guardian.
Richly textured and utterly compelling, Spiro are a totally unexpected gem – sophisticated and adventurous, intricate and full of momentum. They create hurrying, scurrying soundscapes that sweep majestically with cinematic presence, a wonderful, euphoric, acoustic wall of sound.
You can win a copy of Spiro's CD Kaleidophonica – all you have to do is just answer this question:
Q: What instrument does Jane Harbour, Spiro's only female musician, play?
Email your answers (and your address!) to Folkwales Online Magazine to arrive by Sunday, March 11. The Box Office at Theatr Mwldan will hand the winner Spiro's CD, or they can post it for you. Good luck!