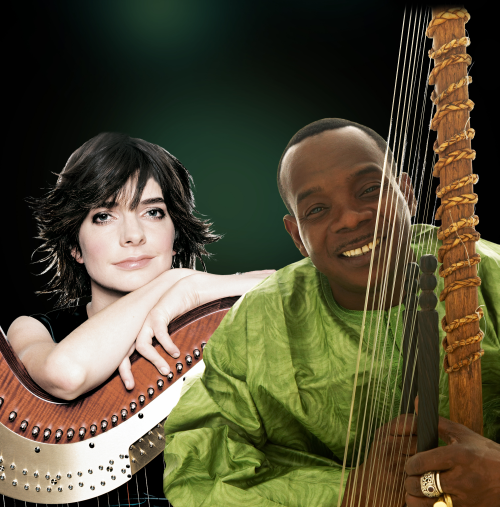 Catrin Finch and Toumani Diabaté: Tour around Wales
Q&A:

Catrin answers the questions

FOLKWALES asked Catrin:

Q: How long have you been playing the harp?

A: Too long! I started playing when I was six, and now I am nearly 32 - so that makes it 26 years. Scary!

Q: What have been the highlights of your career?

A: So many. I have memories of concerts all over the world, and in the strangest of places - from a huge ballroom in a hotel in Lebanon, to the Grand Palace in Thailand, to a tiny little art gallery in North Dakota, USA. Sometimes the small concerts in local halls and for small music clubs can be the most memorable because of the audiences and wonderful people you get to meet. But playing in a hall, such as the Carnegie Hall in New York, is always a highlight, as is somewhere like the Wigmore Hall in London. Being appointed harpist to HRH the Prince of Wales has to be a highlight, and the recordings I've done over the years for Sony Classical and Universal/Decca/DG, and having a chance to work with artists such as Bryn Terfel, Karl Jenkins, James Galway - the list is long and ever growing. Many happy memories of wonderful concerts and opportunities.

Q: Tell us about the Acapella Studio and listening space.

A: We purchased the old Horeb Chapel in Pentyrch in 2005 after I became fed up with having various young bands and musicians hanging around the back of our house, where my husband Hywel's studio was at the time! We were keen to start a family and get settled here so it became obvious that we needed to find a new studio, and it just so happened that the Horeb chapel in Heol y Pentre, Pentyrch (just North of Cardiff) closed just as we were looking. And although we did not bid for it in the auction, it came to us eventually and we started work on converting it straight away. It was opened officially in 2007 and has since been growing and developing.

Q: Any events in Acapella in the near future?

A: Yes - a couple of concerts in March, including a talent contest that Hywel is launching, and probably more - once we get round to organising them properly!

Q: You are "queen of harps" in Wales, and Toumani is the master of the kora; I'd like to say that they are of the same family, but would you agree?

A: Definitely. The harp and Kora belong in the same family of instruments and the technique of paying the two is actually very similar. I have never played with a Korabefore, but I'm sure the sounds will mix very nicely and at times, maybe even sound like the same instrument. We'll find out!

Q: What can the audience expect in a Finch-Diabaté concert?

A: I'm not sure myself! This will be an entirely new venture, and I have yet to meet Toumani, let alone play with him! It is exciting when you embark on working with a musician - and when we meet for the first time with our instruments, the challenge will be to get our ideas flowing and create a sort of working harmony in which we can both express our musical ideas and find out in which direction they will go. There will be Malian music, Welsh music and possibly some western classical music - but how it will sound is unknown at the moment, until we actually sit down a few days before the concerts to discover what we will play and perform.
"Queen of harps" Catrin Finch teams up with stupendous Kora master Toumani Diabaté for a mini-tour of Wales, which launches at Theatr Mwldan, Cardigan, on March 26 before going on to Brecon, Cardiff, Wrexham and Swansea.
From the producers of recent smash-hit projects (including Catrin and Cimarron, a highly successful collaboration which Catrin toured with the Columbian harp-based band three times) comes another stunning music collaboration featuring two world-class virtuosi. The event will launch at Cardigan before going on tour to Theatr Brycheiniog in Brecon (March 27), the Royal Welsh College of Music and Drama, Cardiff (March 28), the William Aston Hall, Glyndwr University, Wrexham (March 30) and Taliesin Arts Centre in Swansea (March 30) as part of a five-date tour of Wales. The RWCMD concert is co-promoted by RWCMD, Theatr Mwldan and Chapter Arts Centre, and the whole tour is supported by the Welsh Government and the Arts Council of Wales.
Catrin and Toumani are from two very different cultures - in contrast to the green mountains of Wales, the
landlocked and mostly flat southern Saharan nation of Mali is one of the poorest in the world, yet produces some of the most sublime music on Earth. The harp occupies a vital place in the incredibly rich culture of both nations. The West African harp, the Kora, is made from a dried gourd and fishing line; Catrin's harp is one of the most iconic symbols of a nation steeped in music.
Dilwyn Davies, Director of Theatr Mwldan and co-producer of the project, said: "What a unique and exciting project this is - we are so privileged to welcome such a distinguished musician as Toumani to Wales to play with Catrin, one of our own most celebrated artists. Audiences will be incredibly lucky to have the opportunity to experience what we believe to be a world music first between the nations of Mali and Wales."
Toumani is one of Africa's most important musicians and widely considered to be the world's finest living kora player. A performer of exceptional virtuosity and creativity, his pedigree goes back through 71 generations of kora players, from father to son. He has collaborated with Damon Albarn of Blur and the Gorillaz, Taj Mahal, Bjork and the late, great Ali Farka Touré, with whom he won a Best Traditional World Music Album GRAMMY Award in 2006.
Catrin is one of Wales' leading international musical ambassadors. She was Royal Harpist to the Prince of Wales from 2000 to 2004, and her concert appearances with the world's top orchestras span the globe. She has worked with artists including Bryn Terfel, Sir James Galway and Julian Lloyd-Webber. The Catrin/Toumani tour is a co-production between Theatr Mwldan, Astar Artes and Chapter Arts Centre.
For full details of Catrin/Toumani dates, visit Folkwales Listings