Let The Strumpets Sound!
Blanche Rowen, of A Fanfare Of Strumpets, answers the Folkwales OM interview
A Fanfare Of Strumpets are Blanche Rowen, Sue Ansell, Celia Webb and Helen Vincent. They're a four-woman acapella harmony group specialising in – well, everything. Based in Cardiff, their roots are in folk and dance songs. Their wide and dizzy repertoire ranges from traditional folk to Swedish love songs to a modern setting of an ancient Chinese proverb, irreverent twentieth-century numbers, spin-offs from jazz standards and old favourites, French and Breton dance songs, chilling Georgian harmonies, medieval love songs - but there's only one criterion: "If it's entertaining and we all like it, it's in!"
Pentreffest Noz danced madly as the Strumpets, using nothing but their voices, turned up the heat at their Whitchurch base last autumn. Then it was the turn of Llantrisant Folk Club, meeting on Wednesdays at The Windsor Hotel in Pontyclun – and we and the Strumps had an absolute ball. Blanche volunteered to sit delicately in the Folkwales Online Magazine hot seat and be interviewed – so here goes!
That was a great showcase you did at Llantrisant Folk Club on Wednesday night! A Fanfare Of Strumpets give the impression that you are all birds of one feather when it comes to close-harmony eclecticism – how did you meet up, and when?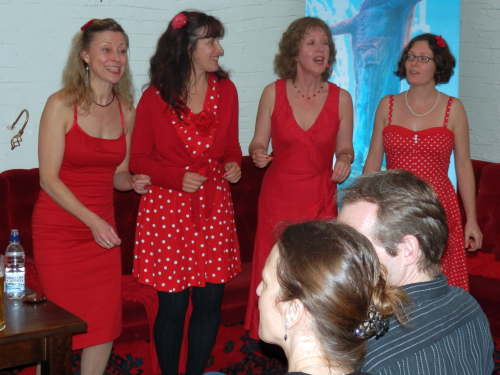 Sweet harmony: Celia, Helen, Blanche and Sue in tune at Llantrisant Folk Club
Thanks, Mick! We had a great time. Though Llantrisant's been my local folk club for many years now, it was terra incognita for some of my fellow-Strumpets, but they loved it.
Before we became A Fanfare Of Strumpets, we all knew each other through French dancing at Kinnersley and Pentreffest. Celia and I first met when I'd not long moved back to Cardiff from the wilds of Powys and joined a class she was running; Sue was also in the class. The three of us started singing together, mostly dance songs for French/Breton and Skandi dance events. Around a year ago Helen joined us, and the name arrived, and suddenly everything just went up a gear.
Was it Celia who brought the Strumpets together?
Celia originally had an idea for something quite different and more fluid, involving a loose collective of singers and instrumentalists. She and I worked on that for quite some time but it just never came together. Sometimes these things just have their own timescale and you can't force it. But we're very happy how things have turned out - mind you, if we ever reanimate the idea, it will have to be called The Loose Collective, now, won't it?
Celia and Helen run a workshop duo (and a website) called Singplicity. Does Celia and Helen's love of harmony enhance The Strumpets in any way?
All four of us in A Fanfare Of Strumpets love harmonies almost as much as we love chocolate. Possibly more. As well as the Singplicity singing days, Celia and Helen both do fascinating voice work like 'Singing For The Brain' with Alzheimer's patients, together with their carers, vocal health sessions with call-centre workers, and singing for business team-building events as well as running community-based singing classes and one-to-one tuition. They have made their love of singing a way of life.
The Strumpets' appearance, and their website, are both strikingly visual; this makes a lasting impression on Joe Public. Please discuss!
Well, we all enjoy dressing up, and our rehearsals are a riot. We wish we were half as witty on stage. We hope this enjoyment of what we do comes across in our publicity. Just because we do folk and traditional material we don't feel constrained to be rustic! The current look of red frocks is fun, and the deal is that we stay individuals, so if Sue feels more at home in baseball boots or Doc Martens, then that's fine by us.
We've been surprised at the reaction to the look – is that naïve? Gentlemen of a certain age seem to take a great interest our choice of footwear. But it's meant to be ironic - we're twenty-first century strumpets: sassy women who enjoy having a good time, which in this case is by singing our hearts out.
I'm ashamed to say that I have not attended the Kinnersley Castle festivals at all! The Strumpets did one in the spring, and you have been booked for next year; what is the festival like?
Ah… Kinnersley is a state of mind, a way of life! More properly referred to as MADE festivals (Music And Dance Education) it's a network of far-flung dance nutters who gather several times a year in a castle near the Wales/Hereford border to share music and dance workshops all day and to dance French, Breton and Scandinavian dances to live music all night. It's been a hot-house for various musical projects, including ours. The chance to sing in an Elizabethan wood-panelled hall with perfect acoustics to an audience of fellow musicians is both nerve-wracking and wonderful. We were delighted that our friend Davie Pope captured some of that night on video for the website.
You run a workshop, entitled Sing Like A Strumpet. How long is it – or, given the hectic schedule of most festivals, can it be shortened? Is it open to all abilities, and what can the paying public expect from a workshop?
It's whatever it needs to be, from an hour to a day. Celia and Helen's experience running Singplicity workshops enhances what we can offer to festivals, since workshops are an integral part of festivals these days. Singing is such a life-affirming thing and simply choosing to have a go can be empowering. Both Celia and Helen are members of the Natural Voice Practitioners' Network, and workshops are taught by ear, there's no need to read music and singers of any ability or none are welcome! Everyone can get something out of becoming part of a greater whole, as rounds and part-songs build into a shared experience, and the harmonies create beauty unachievable alone. And, of course, it's good for you AND great fun – a rare combination.
What's the harmonic secret of singing like a Strumpet?
It's in the joie-de-vivre. Or if we're in Wales: the hwyl.
Your repertoire ranges from traditional Swedish, Medieval French and Bulgarian songs to Breton dance music to Steeleye Span parodies, Mamas and Papas thirties fare to Rush and Cromarty's 1957 creation Plastic Jesus; do you all contribute together and suggest pieces for the Strumpets' Songbook?
Oh yes. We all bring something different to the band and the eclectic nature of the repertoire is part of the joy of it. Helen's got folky roots, Baroque leanings and a music degree, Sue and I love the jazz standards, Celia's musical background is totally random. Celia and I have sung Bulgarian and Georgian since way back, Sue wants to beatbox… the agreement is that if we all like it, it's in. Otherwise there are unseemly tussles and catfights. Then we eat some more chocolate and carry on singing
The 'eclectic acapella' tag means – we hope – that our performances have a wider appeal than if we focussed on just one genre. We started with a lot of Swedish, Breton and French dance songs in our repertoire and we're very quickly adding more English language songs (and a few Welsh ones too, of course); lots of folk and traditional as both Helen and I are folkies, but also doo-wop and a few wacky random ones just for fun. Our wish-list is huge. It's finding time to work on them all that's the challenge.
I'm going to make an educated guess: does Helen arrange the parts for the Strumpets?
Only the impossibly complicated ones. The originator of the song tends to be responsible for the arrangement. Some come fairly ready-made, some we've known for years, some are completely original. Helen's a dab hand with Sibelius, whereas I'm much happier improvising harmony lines since (like Celia and Sue) I can only read dots if I know the tune. But we all contribute to the enstrumpment of a new song, swapping parts and tweaking details till it settles down.
Blanche, you're the administrator of trac, half of Blanche Rowen & Mike Gulston and 25 per cent of the Strumpets; with all this creative music flying around, what is your considered opinion on the folk scene today – in the Cardiff area, South Wales, Wales as a nation, the British scene and Europe-wide?
Gosh. Well, folk in Cardiff just keeps getting better, with new sessions starting and new nights like Cwpwrdd Nansi at Gwdihw adding to established events, from the intimate Songs and Stories at Milgi's Yurt to folk royalty at Roots Unearthed. I think the South Wales folk scene's healthy, though always changing. The long-running folk clubs just keep going and new ones open, even if Wales' festival scene is not as bright as it was a few years back.
But something which is set to have a great knock-on effect in Wales is WOMEX coming to Cardiff next autumn. Although it's the World Music Expo, and not specifically folk, there's an increasing understanding that everyone's own music is 'world music' to someone - it just depends where you're from. So Wales' own indigenous music is as exotic as Burundi drummers if you haven't heard it before. At last Wales' music traditions are being given official backing to an extent not seen before - and the effect this is going to have on the live folk and traditional music scene in Wales should be a long-awaited shot in the arm, as it translates into more bands, more venues, more and new live folk and traditional music out there and, we hope, more people realising that there's whole new music scene to discover.
WOMEX in Cardiff will be welcoming bands from all over the UK so there'll be a huge explosion of amazing music here next October, with lots from Britain and more from all over the world. We're talking over three thousand delegates and musicians. It really will be worth catching.
Meanwhile the team at EFDSS have invited Wales to Cecil Sharp House to celebrate St David's Day in London – it'll be a little late, but on March 10th, the House will be filled with music, dance and song from Wales. With backing from the Arts Council of Wales, trac (Wales' folk development organisation) is arranging a whole day of concerts, lectures, a twmpath, sessions in the bar, family activities and more. It's just another indication of how the profile of folk music from Wales is at last on the rise.
Despite ongoing angst over the ageing of folk club and festival organisers, I reckon there's a mass of young talent and enthusiasm out there which will keep the British folk scene healthy. It will change, but that doesn't matter. The songs are being passed on, the tunes are being reworked and new material written, informed by its roots: it'll be fine.
You recorded an impressive album with Mike Gulston (Sorta Kinda) and a second album is nearly in the can; what's the news on the CD, and what's it called?
It's themed around the changing year, the seasons and the land. It has a mix of English and Welsh material, with a few medieval French songs and a tiny Irish Gaelic one which I slipped in when Mike wasn't looking. The working title is The Dance Goes On, though that may change. It features Mike's usual gorgeous guitar, octave mandola and voice, and quite a few tunes using the laùd – a twelve-string Spanish instrument with an interesting bright jangly tone. There are harmony songs and solos, traditional and modern, with some little-known treasures by songwriters who are friends.
It's been a while since the last album, but we've been involved in other projects for a few years. When we realised how much new duo material we'd amassed, we thought we had better get recording again. We're about two-thirds done, but we're being chilled and unstressed about this one; no deadlines, otherwise the computer will crash two days before it goes to print like it did last time.
With all the Strumpets' repertoire, plus songs with Mike, plus yourself solo at singarounds, the public gains the impression that you are a performance artist with a hell of a lot to say, that you push the bounds of cerebral music and give the listening public much food for thought. What's your opinion?
Oo-er, I dunno about that - I just find it rather a challenge with a full-time job as well. Good thing I don't have a telly. I just can't stop, that's all. The inside of my head is never quiet. So much music, so many ideas. So little time…
Actually, Helen has a theory about inside-your-head music and mental health. Has anyone done a study on it? Not everyone has this phenomenon, as far as I know, but it's with me (and with her) constantly. There's always something on my internal turntable. It only ever stopped during periods of depression, which is telling. I'm sure there's useful work which could be done on this.
A lovely little waltz turned up in my head t'other day in the supermarket. I'd been walking up and down the aisles humming away, and suddenly thought: "I don't want to lose this one". So I whipped out my phone and stood there by the cat food, singing it into the voice recorder, praying no-one would come past till it was all down. I'm hoping it will become the countermelody on a new version of The King for the album. Gifts like that are only possible when you give your subconscious free rein; constant earbuds and ipods are such a bad idea. And I'm sure you didn't mean cerebral literally, but somehow it set me off on a train of thought!
There are rumours of a Fanfare of Strumpets' CD; would you care to elaborate?
We're having a whale of a time performing live and would love to sing at more festivals and events. Unfortunately there's something of a presumption that all bands must have CDs to sell if they're to tour. It's something we'll look at, but we don't have immediate plans to record. Unless someone would like to offer us a record deal?! (Do such things still exist in this age of downloads and whatnot?)
Lastly, back to you, Blanche; with trac, the duo, A Fanfare of Strumpets and all this wonderful music – you have been blessed with a voice to die for, but I don't think I've seen you with an instrument. Do you in fact play an instrument?
Aw, what a lovely thing to say. Can I quote you? Well, although these days I'm usually singing, my other passion is drumming. I play darabuka with the ambient-prog-folk-French-dance four-piece Metheglin. The album Raining In Paradise (recorded before I joined, so I can say this) is an overlooked masterpiece of layered beauty based around hurdy-gurdy and pipes but with guests on fiddle, nyckelharpa, mandola, voice, purrs and amazing effects.
I might also have played djembe, Renaissance side-drum, recorders and bowed psaltery (as well as singing) on Brocc's folk-rock album 13 Moons. But since the identities of those masked troubadours, the Bards of the Badger, are shrouded in mystery, far be it from me to confirm the rumours.
There's a bit of bowed psaltery on the new album but not too much, those of a nervous disposition will be pleased to note. And my desire for a hang is, alas, still unfulfilled. For now. But singing's where my roots are, ever since I was a little twt. To find three such wonderful bonkers kindred spirits to harmonise with, as I have with A Fanfare of Strumpets, is a rare and beautiful thing.
Website: www.fanfareofstrumpets.co.uk