IN THIS ISSUE
| | |
| --- | --- |
| | The Anti Cap Roadshow |
| | |
| --- | --- |
| | Kan |
| | |
| --- | --- |
| | A fanfare of Strumpets |
| | |
| --- | --- |
| | Review of 2012 |
| | |
| --- | --- |
| | Live Reviews |
| | |
| --- | --- |
| | Mike Greenwood's Dancewales |
| | |
| --- | --- |
| | CD Reviews |
| | |
| --- | --- |
| | Letters |
| | |
| --- | --- |
| | News |
| | |
| --- | --- |
| | Obituaries |
BARRULE, JS MABON GEAR STOLEN
JOHN EELES (FOR JAMIE SMITH'S MABON) EMAILS: Adam Rhodes and Tomâs Callister had their equipment stolen from a car in York on Saturday night. Bouzouki, guitar, pedals and flight case - please share the link to see pictures and a list and see if we might be able to get some of them back. And fellow musos - please keep your eyes peeled! http://www.barruletrio.com/stolen/
Blwyddyn Newydd Dda – Happy New Year!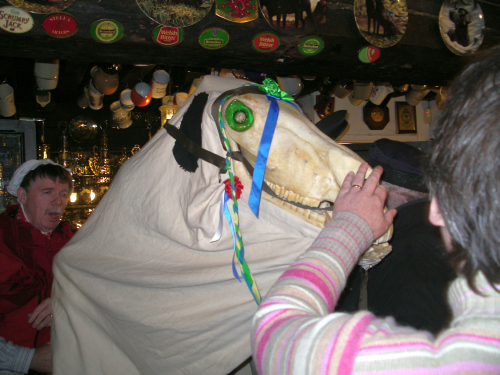 Our picture shows the Cwmni Caerdydd Mari Lwyd, relaxing at the bar in Yr Hen Dŷ, The Old House, Llangynwyd, after a refreshing session of pwnco, the traditional question-and-answer rite, a loveable and mysterious South Wales custom that has lasted years and years. In its purest form, the horse's skull and party arrive at the door and sing introductory verses. Then comes a battle of wits (pwnco) in which the regulars and the Mari party outside exchange challenges and insults in rhyme. At the end of the battle, which can be as long as the creativity of the two parties holds out, the Y Fari enters with another song, Y Wassael.
Until his death in 1997, Cynwyd Evans - well into his eighties and one of the original Mari party - would hold the fort single-handed inside the Old House as the Mari tried to enter, his ability to remember and create new responses delighting everybody. When you visit the Old House, look at the pub sign outside; it is Cynwyd's image, holding Y Fari's reins.
The industrial revolution and the rise of fire-and-brimstone chapel preaching had a serious effect on Y Fari. Deacons rallied about such a pagan and barbaric practice, and the participants were urged to do something useful instead. Y Fari had croaked its last – enter Nefydd, the Rev. William Roberts (1813-1872), a Denbighshire man who became a Blaenau Gwent Baptist minister. He hated Y Fari. He wrote a book entitled The Religion Of The Dark Ages, gave a detailed account of the Mari and transcribed 20 verses, so his congregation could recognise it. He campaigned with great fervour: "We must try and get the young people of our time more to interest themselves more in intellectual and substantial things such as reading and composing poetry, essays, singing etc, as is encouraged and practised in our Eisteddfodau… I wish of this folly, and of all similar follies, that they find no place anywhere apart from the museum of the historian and the antiquary."
It had the opposite effect. From his grave, Nefydd must be regretting the folly of the 20 verses, published for all to see. The Welsh population hungrily seized on the fragments of the Mari's tradition, and - thanks to Nefydd - we can now study the Mari verses in all their true splendour.