The Anti-Capitalist Roadshow: songs to snuff out bullying greed
by Mick Tems
Many of us would have thought that the last general election - as the Conservatives swept into power, supported by Nick Clegg and the Liberal Democrats – was not only broken, but rotten to the core. As Cameron, Osborne and the millionaire Tory Government declare war on the poor, workers having to eke out their frozen wages, the out of work, the vulnerable, the aged and the disabled, something has got to explode.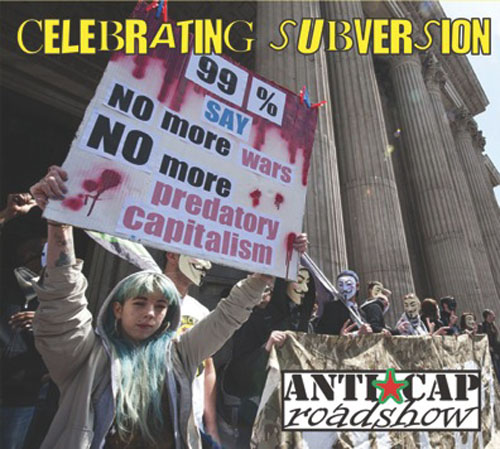 A double-CD album called Celebrating Subversion has been released to coincide with the tour
The Anti-Capitalist Roadshow is a team of folk artists and musicians, led by doyen and master songwriter Leon Rosselson, who is nearing his 79th birthday in June. Young singers and mature voices who have years of experience behind them are making a stand against rigid Tory philosophy and are taking a rolling musical review around the country, playing at cities and towns. It's an absorbing, intelligent show, poking merciless fun at the right-wing Tory-led mafia and pointedly questioning their ideologically-driven austerity programme. Roots Unearthed, respected and loved for its inspiring events, has invited the Roadshow to the Level Three Lounge at St David's Hall, Cardiff, on Tuesday January 15, 2013 – and it promises to be a memorable celebration of voices raised in protest and exhilarating song. A double-CD album called Celbrating Subversion has been released to coincide with the tour.
The Anti-Capitalist Roadshow has attracted impressive, energetic solo songwriters like Leicester-based Grace Petrie, who says in the CD notes accompanying her song, Maggie Thatcher's Dream: "Despite not being born for the majority of Thatcher's reign, I, like the rest of the country, have inherited the world she shaped." As a student trying to make ends meet, Grace ended up with a healthy seed of a chorus: "When I looked at the big picture I saw the rich getting richer…"
But the remarkable thing is how Leon has spurred on a solid phalanx of over-70s to hold up a warning hand to the Tory Government and cry: "Enough!" Roy Bailey, retired Sheffield University lecturer and consummate, wonderful folk singer; Sandra Kerr, songwriter, TV personality and mother of Nancy Kerr; Peggy Seeger, born in New York City and widow of the late, great Ewan McColl; and our very own Frankie Armstrong, born in Workington, Cumbria in 1941 and moved to Cardiff in 1999 ("the day after Ewan died") with her long-time partner, Australian Darien Pritchard. She has recorded ten albums, and the same number of shared or theme ones.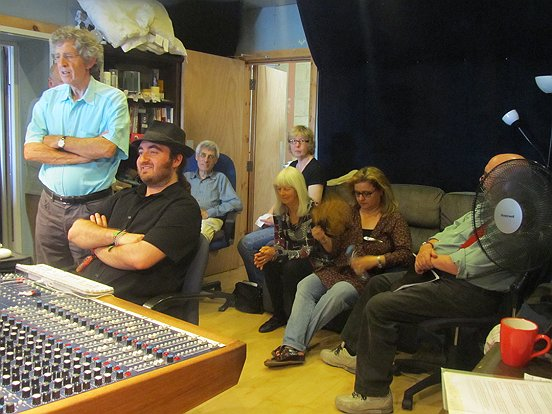 Recording subversion at Transmission Studios: left to right, Leon Rosselson, sound engineer Ali Gavan, Frankie Armstrong, Janet Russell (behind Frankie), Reem Kelani, Roy Bailey (obscured by fan).
Together with MacColl, Peggy founded The Critics Group, a "master class" for young singers performing traditional songs or to compose new songs using traditional song structures (or, as McColl called them, "the techniques of folk creation"). Frankie says: "I was a member of the ill-named Critics Group from 1964 to 1970 - l learned a great deal, but none of us should have stayed that long. We did some great recording projects, however, and were able to be part of the anti-Vietnam War movement and sang lots for medical aid, for anti-apartheid. The politics was somewhat rigid – I was very glad that we got involved in women's issues towards the end, and then I went on to feel that this was the most crucial issue – I still do.
"The Roadshow came about when Leon emailed a group of friends and colleagues during the St Pauls Occupation and asked if any of us would be interested in taking part in Anti-Capitalist Concerts if we could find people to help sponsor them. Many of us are septuagenarians, with Leon and Peggy leading the van. Roy, who is a great performer, left Sheffield University around 1989 when he went solo, after being part of the trio with Leon and myself since the early 80s."
The Roadshow includes agit-prop songwriter Robb Johnson, Yorkshire husband and Scottish wife Jim Woodland and Janet Russell, and wonderful Palestinian singer and activist Reem Kelani, who earlier this year was invited to a Palestinian womens' arts festival in Tunisia - she's highly regarded for her work. And, of course, there's socialist magician Ian Saville to provide the entertainment, bringing fun and laughter to the crowd.
The Anti-Capitalist Roadshow, according to the simple website, is "part of the resistance to a capitalism that functions only on behalf of the wealthy, that aims to shrink the public sphere and privatise public services, including the NHS, and that is destructive to the planet. We are part of another way of looking at the world."
Her thoughts on the present Government are short and not very sweet: "I don't need to say too much about our current Government – a shambles, so unjust, summed up by George Osborne saying on the radio some weeks back as something akin to: "If we're asking the rich to take on some of the debt burden, it's only fair to ask those at the bottom to do their share". As if there is some equivalence - if corporations paid fair tax, if we stopped Trident and stopped pretending we were some kind of major power in the world and created jobs via Green Energy, I might feel differently – but…"
And Frankie is vociferous in her opinion that artists joining together in The Anti-Capitalist Roadshow can only do some good: "Yes - we feel the power of songs, the beauty of words and music, the humour, the defiance, the anger, the poignancy, all being shaped into song is worth putting out to an audience, who hopefully will have their spirits lifted and not feel so isolated in a country full of Sun readers."