Kan do! Brian Finnegan talks about the musos' admiration society
by Mick Tems
Kan… with two premiere Scottish and Irish musicians interweaving and darting around each other, you could be forgiven for thinking that this band's name just smacks of Celtic influences – and sure enough, Kan came and conquered Roots Unearthed's stage at the Level Three Lounge at St David's Hall, Cardiff, for an autumn packed with musical highlights.
But the name Kan comes from thousands of miles and hundreds of years away, from ancient Mexico. Kan was the yellow seed of the Mayan people; the Tzolkin is the sacred moon calendar that connects the energy of heaven and earth, and 2010 was the year of Kan, a year according to the Mayan oracle to be a time for new beginnings, for planting the seed of some intention, project or dream, for taking a risk.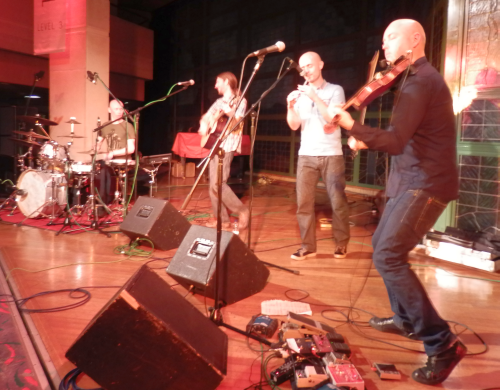 Kan at the Level Three Lounge: Aidan O'Rourke on fiddle, Brian Finnegan on whistle, Ian Stephenson on guitar and drummer Jim Goodwin
Kan are Aidan O'Rourke on fiddle, from Argyll's Isle of Seil and the inspiration behind Lau; Brian Finnegan, whistle and wooden flute maestro from Armagh City in the North Of Ireland; and two Yorkshiremen, Harrogate's Jim Goodwin, jazz drummer extraordinaire, and deft and dancing guitarist Ian Stephenson, from Selby. Brian was a musician in Flook, that much-loved flutes-and-whistle-influenced band, with Sarah Allen the stunningly visual silver flute player, Ed Boyd the guitarist and amazing bodhrán player John Joe Kelly. When Flook was nearing its end, Brian started collaborating with Aidan, with the help of the Folkworks project in Newcastle-Upon-Tyne. "They threw us in with three or four jazz musicians, and we toured together," he recalls. "I came to thinking that Aidan was a great experimenter, and he was thinking pretty latterly the same way about me – music, for instance, what might happen if you didn't hold on to the form of a tune and weren't afraid to let it go.
After the break-up of Flook, Brian found that he didn't want to be involved as a member of a band: "I had to regroup – I knew that if I was to be involved in anything else, it had to be a big jump away from Flook. At the same time, I knew Ian and Jim pretty well. Jim is the only drummer that John Joe would recommend as a 'dep' for him. I thought: If I am going to get involved in a band, I would like it to be with these three guys – Aidan, Jim and Ian."
It took some while to get Kan up and running. "Aidan is really busy with Lau, and he's into fiddle electronics in a big way," Brian observes. He's a great man for that. They all are – Ian has lots of foot pedals on his guitar, and he uses bass to bring the bottom out. Jim has wave drums – that leaves me, with just a whistle…"
Brian rates Jim as an one-off, unique and exciting drummer: "He's amazing. He comes from a different background – the good thing is that he brings whole shades and textures, which is something you don't get with an ordinary drummer. He's a classical drummer, and he's really sensitive about his stuff. It's so refreshing playing with him."
Now Flook has come together again; they topped the bill at the 2012 Cwlwm Celtaidd, the Porthcawl Interceltic Festival, and they had a packed Roots Unearthed audience cheering hoarsely and giving them an encore at the Level Three Lounge. "We took a break for a while, but we did a gig in Armagh, which felt really great," said Brian. "It was a reunion of friends, which we are. We'll probably do a few more gigs, and an album. We're a boutique band, now – we pick the gigs that we want to do, which is a whole lot better – we can enjoy them a lot more."
Sarah, of course, works for the Alan Bearman Agency and is Kan's agent. "She gets us all kinds of gigs," said Brian. We still have that special relationship – she's part of our team. It's a team effort, which applies to most bands these days. It's a big effort, being involved in a band – making records, publishing, PR, all sorts of things. I'm lucky at where I am now; being with Flook for so many years, just meeting people who were really important to me for the journey. I know the great graphic designers, the best studios, the great engineers. When we went into the studios to record Sleeper with Kan, it made things a whole lot better for me, because I had that experience."
Sleeper is the debut album from Kan, and the first fruits of the band's intention to create what they call "a homogenous quartet of lead instruments", which emerged from the musicians' frequent past collaborations – both in their compositional and recorded work and in less formal and more lubricated sessions. With the likes of Aidan O'Rourke and Brian Finnegan, there's a definite buzz about Kan - Brian says: "We're going through some strange times at the moment. For a new band, just starting out, it's very precarious. People don't have that sort of money where they can afford to be indulgent in going out. I think a lot of established bands are finding it harder – there's not much cash around.
"When we started out, coming on to the scene, people had undoubtedly heard of Flook and Lau – but we played at a couple of places where it was pretty quiet, the same as Flook in the beginning – no-one had heard of us. But this time when we toured, people started coming. The great medium is friends telling friends; you don't need the newspapers or the radio, but the greatest thing is word of mouth. And the internet is the greatest invention ever."
The tunes on Sleeper have, as their backbone, Brian and Aidan's Irish and Scottish traditions – focused on intricate, groove-entwined melodies whilst embracing Breton dance, Asturian jigs and the influence of avant garde jazz pianist Nik Bärtsch, and Israeli bassist Avishai Cohen. On stage, Kan perform in an arc with no lead musician The drums are as important to the melodic content as the fiddle.
There's a mutual admiration bordering on fandom between the individual members of Kan which makes them compelling and joyous to watch. When you ask why Ian joined Kan, he replies: "There are probably dozens upon dozens of grown men who grew up listening to Flook and Lau, harbouring dreams of being in a band with Brian or Aidan one day. Well, that's me now. I'm chuffed to bits."