In this issue:
Lowender Peran, Ponsmere Hotel, Perranporth, October 18, 2012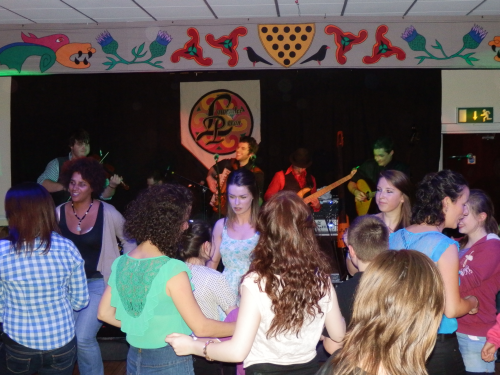 Bring 'em on: Jamie and the Mabon boys can't conceal delight as delectable dancers invade the floor
As the shouts and whoops and cries for an encore subsided and the delighted Jamie Smith's Mabon powered into File Under Biddley, suddenly the floor was invaded by a mass of girls and boys, too, all joyously dancing their mad little socks off and having the time of their lives. It was the end to a perfect opening evening in South Wales band JSM's debut Windblown CD promotional tour. This one kicked off at Lowender Peran, the Cornish interceltic festival, which has been proudly waving Piran's flag for many years now and continues to flourish for a long time into the future.
Lowender Peran started off as a dance festival, but with that special breath of Kernow magic which attracts festivalgoers from Cornwall and other parts of these islands - and it's full to bursting. Spiced with a smattering of celtic "name" musicians, the festival invites dance teams, young and not so young, from Brittany, Wales, Ireland, Scotland and the Isle Of Man, and Lowenderphiles can be seen dancing, drinking and listening to fabulous musos' sessions to the wee small hours. It's always an entrancing experience to participate or buy tickets in the festival, which magically whisks you to a land called Celtica – while Piran, the Celtic saint who gave his name to the picturesque coastal holiday village, gazes down and blesses the music and the dancing. The Lowender Peran drug has certainly taken hold; once you've tasted its alluring potion, you'll want to come again and again.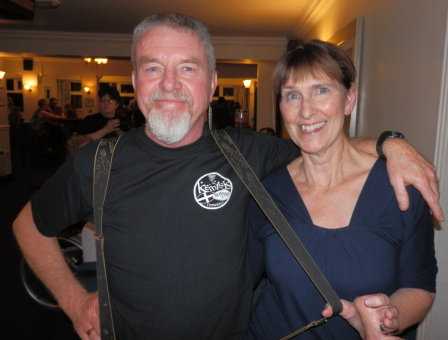 Cornish magic: Merv and Alison Davey, Lowender Peran organisers
For years, Lowender Peran has been based at the massive Ponsmere Hotel, whose floors, walls and windows reverberate to constant celtic sounds - and festival accommodation is at a premium. But the hotel is up for sale now, and the festival faces the uncertainty of possible new owners - or worse still, a holiday apartments conversion. Dr Merv Davey, who with his wife Alison formed the original committee, is optimistic about what the future holds: "When the hotel is sold as going concern, we hope we can carry on as usual," he said. "The festival is a good selling point. But if the Ponsmere closes for a building site development, we have already marked down several suitable venues in Perranporth. We tend to be out of the way in our hotel, and we want to go out to Perranporth a lot more."
Anyway, back to the JSM concert, held in the downstairs ballroom. Cornishman Richard Trethewey, born in the clay country and a student of the folk music course at Newcastle University, was a welcome surprise as a support, accompanied by his musicians and the Camborne Youth Band with some beautiful arrangements. Fiercely proud of Cornish tradition, he has moulded a new sound for Cornish music – and he's formed a new duo with Jim Causley, another Newcastle folk student and Devon native.
Then JSM took the stage, and the ballroom just erupted. To quote Mick Peat, co-presenter on Folkwaves (which the BBC shamefully scrapped): "Absolutely stunning – they should be headlining all the major festivals!" The five musicians were already champing at the bit before hordes of expectant fans filled the chairs – beaming drummer Iolo Whelan (who conducted a percussion workshop the next day), lithe and supple bassist Mat Downer, bold and beautiful playing on the bouzouki from Adam Rhodes, 19-year-old Tomás Callister, depping on the fiddle for Oli Wilson Dickson, and, last but no means least, ace composer and accordionist Jamie Smith, husband of beautiful Manx dancer Graínne Joughin. The new Jamie Smith's Mabon have taken off like a rocket; better as the CD was, Jamie and the musicians are a fabulous live band, and the glee, delight and the love of the music was really infectious and fantastic. Jamie has found his voice at long last, and the band were spot-on with their harmonies.
Barrule headlined on the Friday night; this was a sort of a pared-down JSM, with Tomás, Adam and Jamie exploring the hidden delights of Manx music and tradition. Greg Joughin, Jamie's father-in-law, guested as the Manx singer, and he has a wide-ranging, harsh and beautiful voice, leading the band in his composition In Search Of Manannan, the god who looks down from Barrule, the Manx mountain which the three musicians have taken their name. As always, Barrule didn't disappoint, the sweeping arrangements which are the band's thrilling trademark causing delight in the whole audience. Tomás, Jamie and Adam are major musicians, and the Media industry had better wake up and acknowledge the fact pretty soon. What's more, I acquired a copy of Barrule's smashing new CD; however, Jamie wanted to hold back on that, on the grounds that too many reviews might swamp the impact – let's wait for the Spring edition of Folkwales OM.
As the evening rolled on, upstairs in the hotel ballroom, loads of dancers were hurling themselves around the dance floor as caller Graínne and Barrule whipped up a storm. The magic combination of JSM, Barrule and breathtaking Scottish dancers Highly Flung (with Adam and Mat Downer as musicians) were the bargain package to beat all packages. Breton dancers Meskajou, too, were a spectacular delight – and I haven't mentioned the other musicians and dancers who made Lowender Peran such a success. I know that Gwerinwyr Gwent will be booked back soon!

Newport Folk Club, Fugitives AC, Rogerstone: September 13, 2012
Congratulations to Newport Folk Club; Belinda O'Hooley and Heidi Tidow were an unknown quantity, in Wales at least, but the club took a chance and booked them on The Fragile Autumn and Winter tour – and the girls repaid them many times over in terms of artistic attitude, stunning sets, startling harmonies, complicated and really original songs and just being lovely people.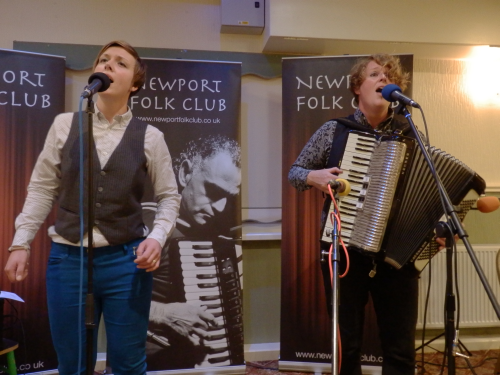 Stunning sets: Heidi Tidow and Belinda O'Hooley at Newport Folk Club
Belinda was pianist, singer, composer and songwriter for Northumbrian band Rachel Unthank and The Winterset; She wrote two of the songs on their Mercury-nominated album, The Bairns. She left the band in 2007 (described in The Independent as like Brian Eno leaving Roxy Music), met Heidi on the Huddersfield music scene, and they started songwriting and performing together in 2008. Though both were brought up in West Yorkshire, they share a traditional Irish music background with family in County Sligo and Galway. Heidi also has a German heritage on her mother's side; they are both members of the Yorkshire-based No Masters songwriting cooperative and label, with Coope, Boyes and Simpson, Jo Freya, Ray Hearne, the lamented Chumbawamba and the late and much-loved Lal Waterson as stablemates.
O'Hooley and Tidow took the stage and immediately grabbed the audience's attention with The Tallest Tree, their clever and audacious song about the greedy, grasping attitude of the avaricious banking corporations – and their striking appearance, their stark, bell-like voices, Belinda's beautiful piano and their inspirational writing, so bold and so ambitious, seemed to hold onto the audience's hearts. The Last Polar Bear was a breathtaking love song, intermingled with a warning of global warming, and Mein Deern a touching tribute to Heidi's German grandmother. The acapella Teardrop was a surefire winner, from Massive Attack's adaptation of The Cocteau Twins' Elizabeth Fraser composition. Other pieces were like shining pearls - Spancil Hill and She Lived Beside The Anner, ballads that Belinda learned from her Irish father; The Nic Jones song Ruins By The Shore; their own beguiling and austere written arrangements, such as Ronnie, Day Trip, Pass It On, Gentleman Jack and the encore, the touching Edith.
The audience really warmed to the most inspirational and visual pair of musicians ever to grace the clubroom. The CD's absolutely brill, too!

Roots Unearthed, St David's Hall, Cardiff: November 27, 2012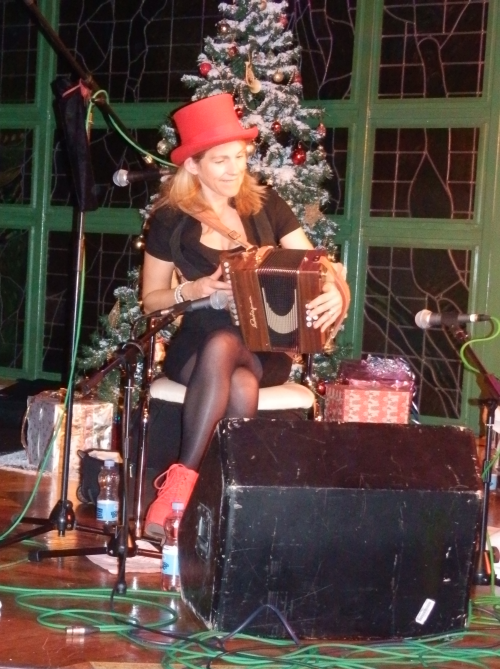 Sharon - and hat!
Sharon Shannon and her wonderful band stormed the packed-out Level Three Lounge and brought the evening to a triumphant conclusion, with a standing ovation and roars for an encore. The red-top-hatted Galway girl couldn't hide her delight, her features breaking out into a permanent grin as her fingers flew across her button accordion; her programme was overflowing with a shedload of original new writing which bore her Made In Ireland stamp. Sharon's incredible versatility has catapulted her into genres of Irish traditional music as well as hip-hop, Cajun, Country and Classical. She's recorded and toured with what sounds like a who's who of the Irish and global industry - Bono, Adam Clayton, Sinead O'Connor, the Waterboys, The mighty Chieftains, Allison Krauss and Shane McGowan, to name a few.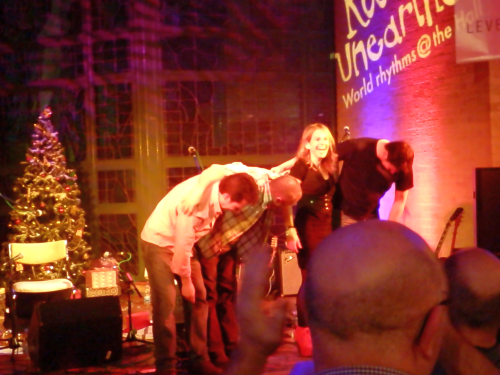 That's cracked 'em!: Jim, Sean, a grinning Sharon and Jack take a well-earned bow at Roots Unearthed
Her band contains some of the finest backing musicians ever. Jim Murray is a marvellous acoustic guitarist, both in his lovely, rippling melodies and his take-no-prisoners solid power chords. Jack Maher doubles as a mandolinist and as an amazing solo rock guitarist, who has played with Van Morrison, Donal Lunny and Eddi Reader. The audience couldn't believe Jack's ingenious lead guitar improvisations, and this lovely man is totally at home with a Frank Harte street ballad as well. Sean Reagan is well known for standing among the top fiddlers in the world today, not only for his reels and jigs but he's is in high demand for all genres of music, from folk to rock. Formidable musicians indeed, and they gelled like hell – what an utterly jaw-dropping trio.
Sharon bounced onto the stage and launched into Top Dog Gaffo, her tribute to her pet. The band flew through some exhilarating reels, some fabulous waltzes and some beautiful airs, and they did not let the tension drop for one moment. When Jack sang Steve Earle's smash-hit Galway Girl and the fans erupted, it was then that you realised that a good hour was gone in a flash. Brilliant button accordion player and brilliant band – and a huge thumbs-up to Dave Haslam for arranging it all.

THE DEVIL'S VIOLIN COMPANY: A LOVE LIKE SALT
Blackwood Miners' Institute: November 29, 2012
Both the stunning storyteller Daniel Morden and the stupendously talented violinist and Jamie Smith's Mabon member Oliver Wilson-Dickson come from the ancient county of Gwent, which makes the staging of this magnificent show at the Blackwood "Stute" both a local and a welcome setting to review this Britain-wide tour. A Love Like Salt is an ingenious trio of riveting tales that have fired the public's imagination for centuries, all based on a man and a woman's love and lust, passion and longing, drama and danger, strongly influenced by A Thousand And One Nights and Scheherazade the storyteller evading death by leaving the king hanging on her every word – and the recipe blends Chaucer and Shakespeare as well. Daniel expertly weaves three unfinished stories with his tantalising hookline: "…And there we will leave it – our path takes us elsewhere."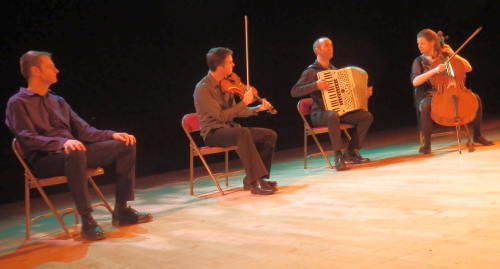 Love and lust: Daniel Morden, Oliver Wilson-Dickson (violin), Luke Carver Goss (accordion) and Sarah Moody in A Love Like Salt at Blackwood "Stute"
Oliver, piano-accordionist and composer Luke Carver Goss and cellist Sarah Moody play a vital part in the development of the tales, and they augment Daniel's mesmerising performance perfectly. Such inspirational arrangements, both delicate and complicated - but the audience nearly jump out of their seats when the violin, accordion and 'cello suddenly attack. The three musicians harmonise brilliantly with their voices for the song Northern Wind, which served as a pointer to Daniel's flair and imagination.
After the interval, it's left to Daniel to wrap the three stories up with a master's touch. Each of the tales involve love, which is put to the test as the Blackwood audience is transported to King Arthur's Camelot, the Breton shores and the ancient Britain of King Lear; ancient tales which inspired Chaucer and Shakespeare. But they're not dusty, boring old accounts – just fabulously engrossing literature, plucked from the past and skilfully spun into gripping stories for the present, with all this wonderful music to boot. I urge you to see it.

St David's Hall, Cardiff: December 2, 2012
The majestic Hall was packed with adoring fans, all waiting to see and hear Kate's choice of South Yorkshire carols, the long-standing local Christmas tradition which pub regulars, pints in their fists, still sing out loud and clear. Kate was brought up to love the carols; she remembers her parents' regular visits to the pubs where they could be heard. She didn't disappoint the crowd, either; Kate is a delightful phenomenon who wins the praise of just about everybody. Many people kid themselves that they don't like folk, but they do like Kate – and the Barnsley belle leads them on a voyage of discovery and stays firmly and pleasingly true to her beliefs.
The was no support as Kate took the stage, wearing a black dress, with her husband Damien O'Kane (on guitar and banjo) leading her band and five brass musicians to boot. Her marvellous band are guitarist and mandola player Ed Boyd who entertained hundreds at the Level Three lounge when he performed with Flook earlier this year; while melodeon master Julian Sutton has accompanied Kathryn Tickell, The Unthanks and Karine Polwart, just occasionally stepping out of his comfort zone to play with classical percussionist Evelyn Glennie, jazz saxophonist Andy Sheppard and Anglo-Indian tabla musician Kuljit Bhamra.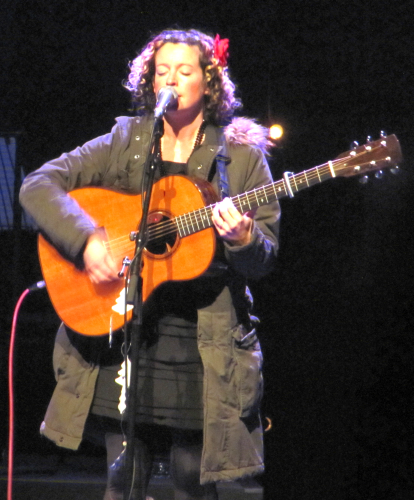 Down To Earth: Kate Rusby and that coat at St David's Hall
Kate fills concert halls time and again, but she remains remarkably down-to-earth. She thinks tour buses are a silly waste of money, and her "entourage" consists of a sound engineer, who is also her brother, and a tour manager. She shivers in the black dress: " 'Ang on a minute", she says, and leaving Damien to do the talking, she bounces off-stage, and suddenly reappears wearing her winter greatcoat to keep her warm. She fires through While Shepherds Watched Their Flocks By Night, generating a laugh by introducing it as a Yorkshire carol "sung to the tune of On Ilkley Moor Baht 'At". But it's all part of Kate's extremely likeable nature when she informs the audience of the carol's history; the carol tune is called Cranbrook, written by the Canterbury composer and cobbler Thomas Clark around 1805, but it was pinched and parodied by the Yorkshire music-hall. In fact, there are about 20 different tunes for While Shepherds Watched, and Kate and the band played three of them.
This is the pleasing impact that Kate can project to theatre audiences all over Britain, informing people in her chatty way about her South Yorkshire folk tradition. There were strong and splendid carols that St David's Hall had never heard before, but still they stood, clapped, shouted and cheered for Kate to do an encore. Good on yer, lass!