Tim Edey and Brendan Power at Bridgend World Roots, The Haywain, Bridgend
Mick Tems reports
Monday nights in Bridgend, and all over Wales, are fondly known as the graveyard spot – even more so in these harsh economic times. Which makes Bridgend World Roots all the more remarkable…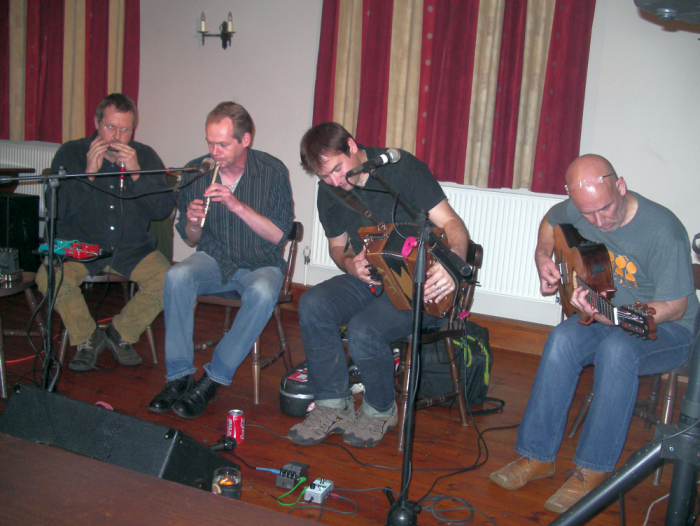 Celtic jam: Power and Edey get together with members of Mabon. From left, Brendan on mouth organ, Tim Orrell, Tim on button accordion and Derek Smith on guitar. Picture: Mick Tems
With a few exceptional cases, publand is deader than a dodo on a Monday evening. Monday bookings are like gold dust. Guitarist Derek Smith, founder of Mabon, the Bridgend band which were making giant waves pursuing their own particular brand of celtic music, saw the chance to fill the gap and introduced folk music on a night when the majority of artists are desperate for a gig. Since then, Bridgend World Roots has scooped some amazing artists, including the Breton four-piece Gwazhel, the French master guitarist Pierre Bensusan, the Irish-American songwriter Sarah McQuaid and, on this cold, damp Monday night, the mighty Tim Edey and Brendan Power.
Brendan, who comes from Nelson in New Zealand's South Island, made his name as lead harmonica player in Riverdance, the smash-hit money-spinning show which spawned many touring spectaculars all over the world. To say that Brendan plays harmonica is rather like informing the world that Pele played football. Armed only with a 10-hole blues harp, a chromatic "gob-iron" and a couple of electronic sound enhancers, he takes off in full flight in a wonderland of fantastic Irish culture and a welter of catchy blues-tinged songs, some written and others from the tradition or by Irish writers. The audience couldn't help belting out the chorus; Our Lady Of The Road, for example, tells of his love and affection for a female-voiced Satnav.
Tim, too, is a tremendous musician, playing jaw-dropping tricks, creating amazing runs and lightning chords on his guitar – but wait while he picks up his button accordion and watch the fireworks, the fingers flying with death-defying speed. Tim, who comes from Whitstable in Kent, composes some neat pieces as well, and he and Brendan are astightasthis when it comes to full-blown, utterly joyous Irish traditional music. From Tim's Celtic Thunder/Kent To Kintail to Enda McCabe's Wind And Tides Permitting and the up-and-kicking Maids Of Mitcheltown, both spark this special electricity and are thoroughly entertaining.
In fact, it's sad to see that we won't be hearing much of them in future. Brendan is off on a four-month-long world tour which takes him to the Phillippines, Japan, Borneo and other exotic lands. But come next May, Tredegar House Folk Festival in The City Of Newport are negotiating to have Tim and Brendan live in concert – here's hoping!
And the late news is that both Tim and Brendan have been nominated as Best Duo in the BBC Folk Awards, and Tim is the running for Best Musician. They certainly deserve it.