IN THIS ISSUE
| | |
| --- | --- |
| | Editorial |
| | |
| --- | --- |
| | Tim Edey and Brendan Power review |
| | |
| --- | --- |
| | Gerard Kilbride |
| | |
| --- | --- |
| | Gerhard Kress: The Eurocrwth and me |
| | |
| --- | --- |
| | Pentreffest 2011 |
| | |
| --- | --- |
| | La Godinette at Pentreffest |
| | |
| --- | --- |
| | Bromyard Festival 2011 |
| | |
| --- | --- |
| | Dancewales |
| | |
| --- | --- |
| | CD Reviews |
| | |
| --- | --- |
| | News and Obituaries |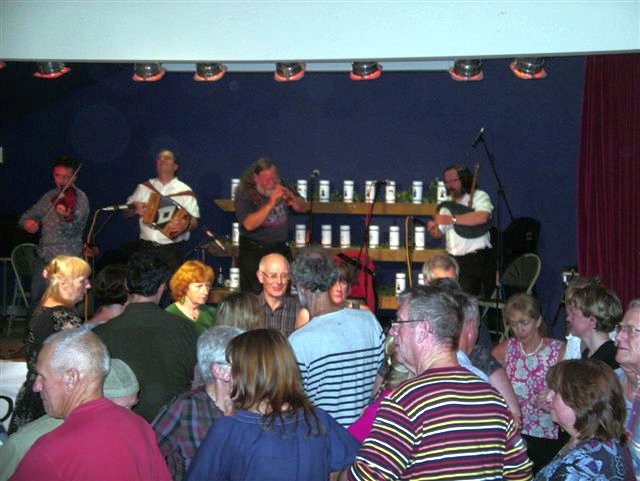 Pentreffest Noz! Breton Mighty Breton band La Godinette play up a storm to the crowded dance floor at the Pentreffest Festival - from left: fiddler Pierrick Lemou, accordionist Yann-Fanch Perroches, bombarde player Jean Baron and Christian Anniex on the biniou-koz. Picture by Mick Tems
Iím Mick Tems, a senior journalist who has worked on several evening papers in South Wales and Bristol, and an international musician and researcher too. I would like to introduce you to FOLKWALES, the internet magazine which is being published in December this year.
I have written for Welsh folk magazines for many years, but years of frustration made me think about starting my own journal. I wanted readers to see my articles, reviews and stories, but the circulation was pitifully small. Many newsagents didnít stock the folk media, and in many cases had never heard of them.
FOLKWALES internet magazine is NOT for profit. It promises a new concept in media publishing; news, views, reviews, features, articles and comment, focussing on Wales and the World. The growth of the internet is simply amazing. The possibilities are endless. Readers can log on to FOLKWALES, wherever in the world they may be Ė itís a part of belonging, a sense of community togetherness, that makes the worldwide folk scene so welcoming and warm.
FOLKWALES promises to spotlight and report on the movers and the shakers that make the Welsh folk scene such an exciting place to be... the musicians and singers, the folk development organisations, the festivals, the folk communities, the sessions, the cultural traditions, the music businesses and the arts world. For years, I have maintained The Listings, the all-Wales diary of folk events, and these will be included to make FOLKWALES the one-stop information site.
Right now Cardiff, the go-ahead capital of the Welsh nation, has been selected to stage the gigantic WOMEX festival for 2013, the fabulous international event for which we have all been waiting with breathless anticipation. Wales has proved to be an important musical hub, and the nation can show thousands of visitors what a rich cultural legacy we have.
Contact: Mick Tems, Editor - Folkwales Magazine, 88 Manor Chase, Y Beddau, Pontypridd, CYMRU / WALES CF38 2JE Phone: 01443 206689
E-mail: micktems@folkwales.org.uk Website: www.folkwales.org.uk