It's Christmas, Nadolig, which will be followed by New Year's Eve, Nos Galan; and thoughout the area of Llantrisant, various generations of Mari Lwyds come calling at the door to wish the town dwellers and villagers good luck, joy and peace.
Pat Smith, the keeper of Llantrisant Folk Club's Mari Lwyd, which has roamed the area for over 30 years, says that her father attended the Mari Lwyd in Pontyclun - and Mr Vernon Rees, a freeman of Llantrisant, remembered that his father, Tom John Rees, was in charge of the Llantrisant Mari. The Llantrisant head was not a real skull but was made of wood, bandaged right down to the snout to make it look like a genuine horse's head. Mr Rees remembered the Mari being kept in the cupboard under the stairs and knows it was still around in 1937, when the family moved house. Tom John Rees was a miner at Ynysmaerdy Colliery, just north of Llantrisant, and died of pneumoconiosis in 1945, when he was only 45 years old. Mr Rees does not know whether his mother gave the Mari Lwyd away or what became of it.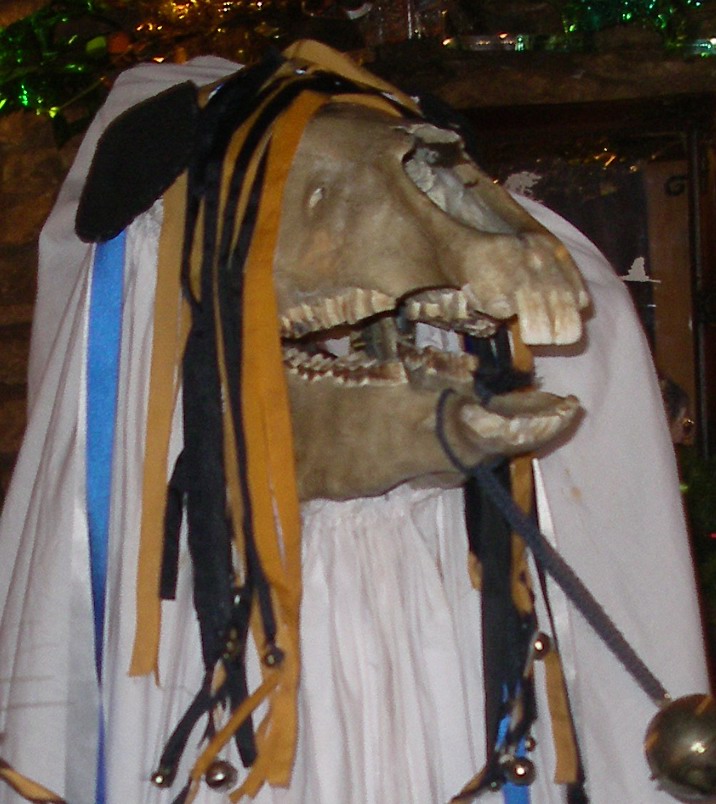 In Castellau, just over Llantrisant Common from the old town, Congregational chapelgoers used to have their own Mari Lwyd. The "new" Llantrisant Folk Club Mari Lwyd is a genuine skull, which was prepared and mounted in the traditional fashion by Ian Jones of Pencoed, the last thatcher working in South Wales. Ian kindly donated the Mari to Llantrisant Folk Club - and today it is a regular and much-loved feature of Llantrisant and Pontyclun's Christmas and New Year festivities.
That much-loved reciter, poet and regular Llantrisant Folk Club member Gwyn Austin lives in the former mining village of Coed Ely, just to the north of Llantrisant, wrote this seasonal parody. The parody is sung to the tune of Walking Down The Road, that popular chorus song written by Colum Sands… sorry, Colum!
The Ballad/Salad of Mari Lwyd by Gwyn Austin
Walking Down The Road
I met along with Anne
She had on a top hat
And was dressed up as a man
And so I made enquiries:
"What are you doing, gul?
Walking Down The Road
A-leading that there horse's skull?"
CHORUS: She said she's walking Mari Lwyd,
Walking Mari Lwyd,
Mari Lwyd, Mari Lwyd,
It must be near to Christmas when you're walking Mari Lwyd.
Walking Down The Road
I met up with PJ,
Though if it really was him
I'm not sure I could say.
I could not see his features
Which were covered with a sheet;
So all I had to go on
Was his sticky-outy feet.
CHORUS

: He was walking Mari Lwyd…
Inside Mari Lwyd
There was a hungry man
Who gave voice to his discontent
And shouted out to Anne:
"Will you get me something to eat?
My head is in a daze;
So make a ham salad roll
With lots of mayonnaise."
CHORUS: I'll go walking Mari Lwyd…
Walking Down The Road
Full of Christmas cheer,
I popped into The Wheatsheaf
For to have a quiet beer.
An action I regretted,
When through the window showed
A great big crowd of folkies
And their bloody Mari Lwyd…
CHORUS

: They were walking Mari Lwyd…
They crowded through the door
And all stood there and sang,
It was some form of carol
And around the room it rang.
I thought this situation
Was really quite absurd
To sing a song when no-one there
Could understand a word.
CHORUS:

Walking Mari Lwyd…
They went up to the bar
Which made me feel un-nerved;
I thought to have another drink
But I could not get served.
When one started collecting,
I knew I couldn't duck it;
I had no coin, and so I put
A button in the bucket.
CHORUS:

Walking Mari Lwyd…
The skull of Mari Lwyd
Has beady eyes that stare;
If you compare it to a horse
It's surely a night-mare.
And so I rose immediately
And straightway left this pub;
To anyone who's watching
It must have been a snub.
CHORUS:

I wasn't walking Mari Lwyd…
At Cross Keys, Bear, and New Inn
I sought for solitude;
And hoped that on my quietude
They would not intrude.
But every door flung open,
There to receive a load
Of loudly singing folkies
And their bloody Mari Lwyd.
CHORUS: Walking Mari Lwyd…
I sat there in despair;
I knew I could not win.
Then one of them did kindly ask:
"Why don't you join us, Gwyn?"
And so I thought I might as well
And found out what I'd missed;
It really is a novel way
Of getting oneself p***ed!
CHORUS: Walking Mari Lwyd…
If walking down the road
You meet folk on a mission
To keep alive what might have been
A long died-out tradition;
Then dig down in your pocket
And give most generously;
Safe in the knowledge that your cash
Will go to charity.
CHORUS: And then go walking Mari Lwyd…