Mick Tems reports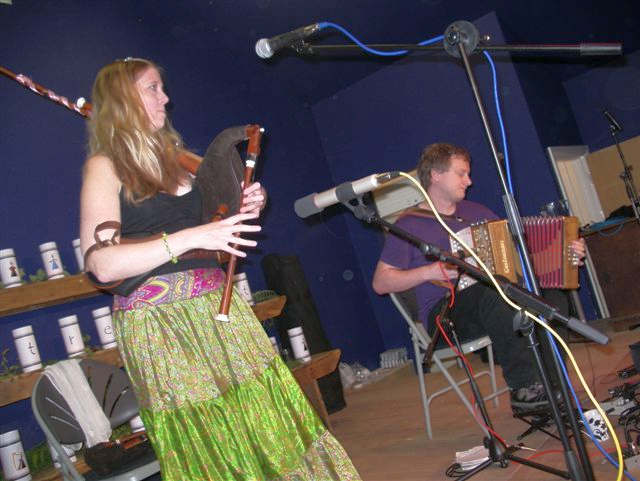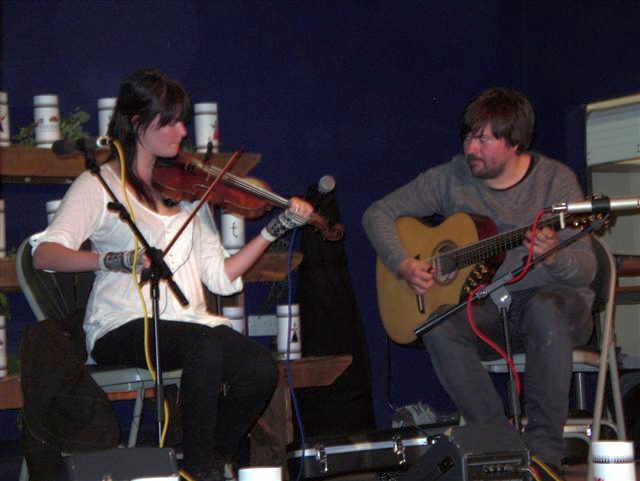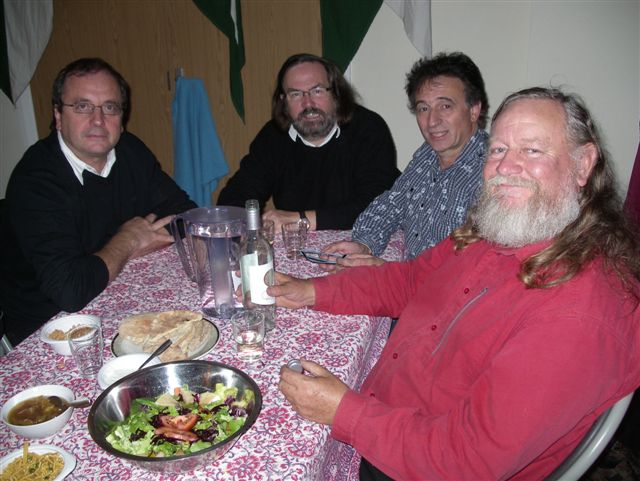 Pentreffest pictures: Above left, Skeller (Helena Reynolds and Martin Keates); middle, Sweden's Emma Ahlberg and Daniel Ek play a Swedish waltz for the crowded dance floor; and above right, La Godinette enjoy a festival "repas" - from left, Yann-Fanch Perroches, Christian Anniex, Pierrick Lemou and Jean Baron Pictures by Mick Tems
Every October, the hills and valleys ring to the stunning, thrilling festival sound of the bombarde and the biniou-koz, swirling melodeons, Swedish polskas and waltzes danced to fiddle and guitar accompaniment, and the bagpipes and hurdy-gurdy whipping up the alluring and sexily suggestive French branle. It's exciting, original and it's very, very different.
Where is this exotic festival? St Chartier? Allier? But there's no need to spend your hard-earned cash on ferry voyages and extra hours of travelling. Welcome to the Pentreffest Festival, held in the village of Rudry in the borough of Caerphilly.
Having a European dance festival as close as this may seem a little surreal to first-time ticket-buyers. But, way back in 2002, a group of four friends realised that the only way that a European dance and music event was going to happen in Wales was by running it themselves.
Jon Mills, festival director, melodeon player and dance caller, said: "The original committee first met at the weekends run by John Leopold and Pat Lindop at Kinnersley Castle in Herefordshire. The teaching ethos, the community spirit and the aspiration to improve the quality of the dance and music have all been inspired by what we have experienced there.
"The first Pentreffest event took place at Llanddarog village hall in Carmarthenshire in September, 2002. Pentreffest then ran a series of annual French and Breton festivals in West Wales, with days of dance supporting the Aberystwyth Fest Noz group. From 2004, we also started a Scandinavian dance and music festival in Cardiff Bay, in association with the Norwegian Church Arts centre.
"This became a little heavy for a small group of volunteers to cope with, so it was decided to combine the two annual festivals into a single event. At the same time, the decision was taken to move to a new venue, as the Norwegian Church was then under some threat. I had played for a dance held at Rudry, between Cardiff and Caerphilly, and realised what potential the hall had for running a small festival – which was how Pentreffest found a new home."
But the Pentreffest festival doesn't stop there. Every month, on Friday nights, a Pentreffest Noz French and Breton dance-cum-workshop takes place, with a sprinkling of dances from Sweden and other European countries, in St Mary's Church Hall in Church Road, Whitchurch on the outskirts on Cardiff. So what inspired the eight-strong committee to start the Pentreffest dance workshops? Was it the hypnotic attraction of the Fest Noz or the beautiful tunes of the Swedish dances?
"Actually, neither of these things but something much more basic - debt!" said Jon. "Although Pentreffest had benefitted from some grant funding in the past, money was tight. I had subsidised the festival for a couple of years, and was owed a considerable sum.
"We decided to tackle the problem head-on by earning the money directly. At the same time, the original small committee of four had dwindled as people moved away from Wales – so Pentreffest Noz was born with a new, much larger committee to run it.
"Now we have paid off the deficit, we can spend the money on bringing more established bands and teachers to make the Pentreffest Noz even more exciting."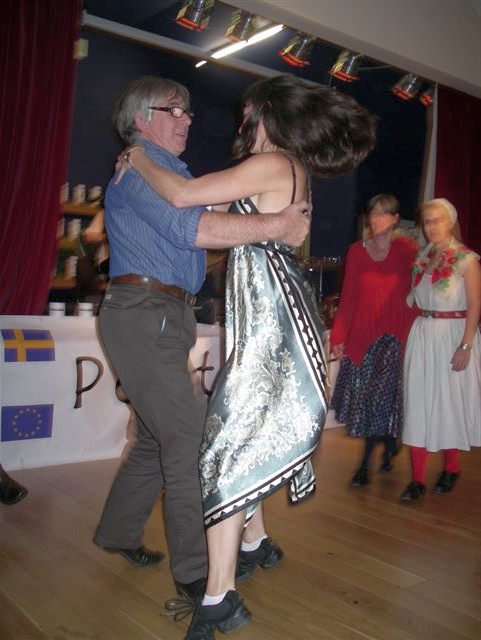 Although Jon suggested Rudry Parish Hall as a suitable festival base five years ago, the hall has been vastly rebuilt. And, as Jon says, it's for the better: "The Parish Hall has changed out of all recognition. The old hall, which was built in the 1920s, was taken down two years ago and rebuilt, with a European grant, to a very high standard.
"The hall was enlarged to include proper storage and kitchen facilities, with a larger stage, shower rooms and committee rooms. The old token meter heating has been replaced with under-floor heating driven by a ground source heat pump. The dance floor is now larger, with magnificent views across the green Rhymney Valley. It's a truly wonderful place to hold a festival."
And the most pleasing aspect of the new, improved hall is the shiny, springy wooden floor, which is just perfect for dancing. I'm a resident of one of Caerphilly's neighbours, Rhondda Cynon Taf, where, in Llantrisant, Pontyclun and other areas, the old wooden floors have been ripped out and replaced with dead composite surfaces. Apart from that boost which a wooden floor gives you, composite floors become slippery and are really very dangerous. It's just one example of the council not thinking things through.
Jon was influenced by playing at the Lorient Interceltique Festival, many other foreign events and a planned move to Brittany. Being a musician helps with the Pentreffest preparations, he says: "So does meeting musicians and dance teachers at festivals and playing music with them. I prefer going to the smaller events - those a bit like Pentreffest – where it is possible to strike up friendships and develop contacts."
La Godinette, a storming whirlwind of Breton fest-noz culture, with founders Jean Baron and Christian Anneix on bombarde and biniou-koz, fiddler Pierrick Lemou and diatonic accordionist Yann-Fanch Perroches, were the scoop to end all scoops. Jon said: "Jean and Christian were very familiar to me from spending time in Brittany. Yann-Fanch came over last year, as he also plays with singer Brigitte Kloareg, who will be well known to Breton fans living in Cardiff. Brigitte and her daughter Katell have played at two previous Pentreffest festivals.
Pentreffest certainly benefits from those "contacts" – Skeller, for instance, were a rare delight. Bagpiper and fiddler Helena Reynolds and melodeonist and hurdy-gurdy player Martin Keates come from Sheffield and Manchester. Jon says: "They have played for English and French dance, teaching inspiring and fun workshops in various guises for over a decade. They have played at most of the big festivals in the UK and have toured extensively in Europe and beyond, working with some of the most respected dance and concert bands.
"It is very important to encourage musicians of all levels. To give younger players the chance to come and play alongside more experienced musicians and teachers, enables both sides to learn from each other. These younger players listen to and play so many different types of music – they are overflowing with new ideas, new ways to put harmonies and styles together. We all benefit by this."
One example of the way the festival and the village are cooperating is the annual visit by artists to the pupils at Rudry School, where Skeller played a set. Jon said: "Each year we arrange for our visiting artists to go and spend an afternoon session with the junior year children at the school. This provides a valuable service to the school, strengthens our links with the local community, and exposes the children to traditional music in forms they may not have come across.
"The school has a strong music stream, specialising in violin and brass. Hopefully it will interest the pupils and get them to explore their own musical heritage as well."
Next year's Pentreffest Festival will be running from October 19 to 21. The Pentreffest website is already displaying next year's guests, including Snaarmaarwaar, Jean-Pierre Yvert, Kantref, Josefina Paulson and Erka Lindqvist.
"Snaarmaarwaar come from Belgium and play music for French and Flemish dance," said Jon. "They are unusual in that they all play on instruments that are normally associated with rhythm rather than melody. The drive and excitement of their playing is amazing.
"Although we met many years ago, I really got to know Jean-Pierre Yvert at Kinnersley, through attending his accordeon workshops. We are the same age and have been playing accordeon for almost exactly the same length of time - we have a lot in common, so a friendship was almost inevitable. I studied privately with him in France, and now, when we get together we play for a concert or a dance as a duo. He now has a young family and lives in Dalarna in central Sweden, so unfortunately it isn't often enough."
Kantref are based in Ceredigion and are led by Annette Davies, who was one of the founder members of Pentreffest. They play mainly Breton dance music. "Annette and her partner Geoff Liles also compose some wonderfully evocative French Dance music," said Jon.
"Josefina Paulson comes from Vastmanland and is one of the exciting young players coming out of Sweden's traditional music scene. The Nyckelharpa is her first instrument. She studied at the Eric Sahlström Institute in Tobo outside Uppsala, the home of the Nyckelharpa, and decided to become a professional musician.
"She has since taken a degree at the Royal Academy of Music in Stockholm and is studying Flamenco music in Granada. She has represented Sweden at many events, both at home and abroad."
The last invited guest is Erika Lindqvist, who comes from Uppland, Sweden and, says Jon, "is a wonderful dancer and teacher. Growing up in the folk dance community has provided her with a deep and extensive knowledge of Swedish and Scandinavian traditional and experimental folk dance – she, too, trained at the Eric Sahlström Institute and at the University of Dance and Circus in Stockholm.
"She is very interested in the way tradition continues in a modern context, and this is reflected in her dancing and her teaching."
What does Jon like most about directing the Pentreffest Autumn Festivals? Is it welcoming foreign artists? seeing old friends? the absolute buzz? Hoping they will learn something valuable? Even the lovely scenery?
All of the above, I think - and more!" said Jon. "It's very exciting to see something you have created grow and come alive, and providing so much enjoyment to so many people."