by Mick Tems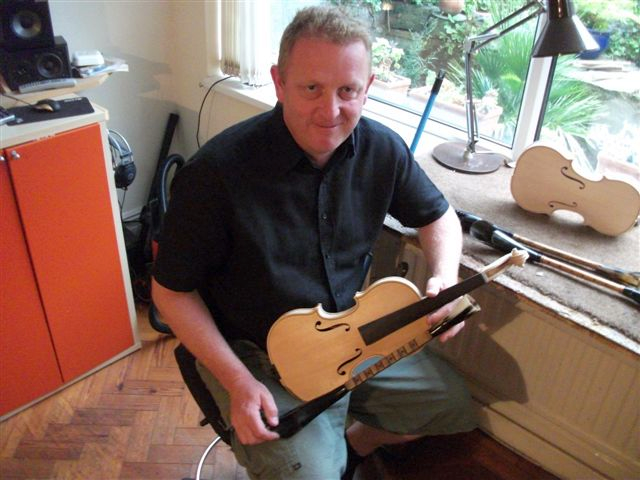 Home made: Gerard displays a fiddle and a pibgorn in his workshop - Picture by Mick Tems
Gerard Kilbride has just spent a couple of years planning, producing, recording and promoting Hotel Rex, the second CD by his brainchild, the startling and amazing Taran – but undeterred by the limits of his tiny studio, which doubles up as his instrument workshop, he's already started recording a third.
Taran is a crazy celtic juggernaut of musicians, created specifically for the vast Lorient Festival in Brittany, with ancient Welsh instruments like the crwth, Bray harp and pibgorn standing proudly with the gaita, bombarde and saxophone over a luscious layer of drum 'n' bass dance grooves.
The impressive fiddle player, maker and restorer, one-third of the Kilbride Brothers, wants an army of 50 musicians for his next CD. Take a deep breath, and be prepared to arm-wrestle logistics…
"I'm doing a clogging project with Huw Williams and Newport-based Ballet Cymru, using Taran's music," he said. There's talk of it doing it in the Wales Millennium Centre and touring around Wales next year. The Arts Council have put some money into it, in partnership with Rhondda Cynon Tâf. Geoff Cripps, the artistic director for Rhondda Cynon Tâf, is involved.
"I have started recording work on the third Taran CD, and it will take about a year. I've got to seriously plan it - I have got this core of phenomenally talented people who are willing to put their art into my hands, and it could all go wrong…"
The concept of Taran goes back to 2008, when the Welsh Assembly wanted a blazing red-hot late-night band that could cope with boisterous crowds at the mega-gigantic Lorient Festival. They asked guitarist and bass player Danny Kilbride for suggestions. Danny, who has recently been elevated to director of trac, the Welsh folk development organisation, knew a man who could – his brother Gerard.
That mighty South Wales ceilidh band Juice used to be known as Juice Of Barley, with parents Gil and Jenny Kilbride and their young sons Danny, Gerard and Bernard. Gil and Jenny have long gone now, and Gerard hasn't played with the band for 10 years. But he said: "As Juice, we had experimented with fusing computer music and Welsh music at Sidmouth festival Late Night Extra. Danny asked me to get involved, and I agreed."
Gerard had to think of a name, double-quick - so he chose Taran, which is a Welsh word for thunder. By coincidence, Taran was also the name of a band formed by violinist and crwth-player Robert Evans, who appears with Bragod partner Mary-Anne Roberts on Hotel Rex.
Gerard recruited 10 musicians, including Estonian Sille Ilves, Welsh pipers Gafin Morgan and Antwn Owen Hicks (of Arts Council Wales and the band Carreg Lafar), Dave Danford on drums and Danny on bass, and set off for Lorient. During the heady, alcohol-fuelled 10 days of the festival, Taran took Lorient well apart, and were promptly booked back again: "We played with 11 musicians to 25,000 people and they were absolutely blown away. The place was completely packed out every night."
Gerard recorded 19 Welsh and Breton musicians for Hotel Rex, including Cass Meurig, Kate Ronconi-Woollard of Rag Foundation, Linda Owen Hicks of Carreg Lafar and Sarah Blackburn, Gerard's wife. Among the guest musicians on Hotel Rex is Pascal Lamour, who appears on the second track, Ap Huw, with Ywan Kavalez: "Ywan is just fantastic as a snare-drummer and is known all over Brittany, but Pascal is enormous – he fills stadiums in Brittany and France, an absolute megastar. It's crazy we don't know him, being so close.
"I met him through Andy Jones, while I was doing the Lorient parade, and he suggested that we do some work together. When Hotel Rex was in the planning stage, I wrote to him, very humbly, asking if he would be involved in the project, and he said I'd love to. He sent me some stuff he had recorded in Brittany, and I actually wept – it was so beautiful, and fitted Bill Taylor's Bray harp playing.
"He wants to come here for two or three weeks and record it in my studio, which is a little nerve-wracking, because this is my studio" (he indicates a two-foot-square recorder.) "I made five CDs on that, recorded in this room, dodging jets taking off from Cardiff Airport. It's quite an achievement – but I've got decent mikes and I know what I'm doing."
Taran are already booked for concerts in Brittany next year, with Pascal supporting them, which is a great honour – not many Welsh bands can boast that the support act is a Breton superstar.
With Lorient and Pontardawe Festival behind them, Taran are booked for next year's Sesiwn Fawr festival in Dolgellau and – wait for it – Cambridge Folk Festival, considered by many to be the Mecca of folk. There are well-known folk artists who would give their eye teeth just to be on the Cambridge bill.
You might think that this revered fiddle maker would be content with creating a super-band, putting together two well-received CDs and leading them on-stage in some very prestigious festivals - but Gerard has set his sights on the strange and age-old wind instrument, the pibgorn, and wants to tell the world how to make it. He has set up a website with exact details on how to make the instrument (www.pibgyrn.com).
"There's nobody in Wales who is putting this information out," said Gerard. "I'm a firm believer in education. I'm interested in how they work, what science, how you adjust them.
"Jonathan Shorland makes them in Devon, and so does John Tose. They only cost £280, and you have to make an awful lot of pibgyrn to pay the mortgage. The website means everybody can have a go – it's all a bit geeky, isn't it?"