BARRON BRADY / Jenny's Mermaid
(Own label)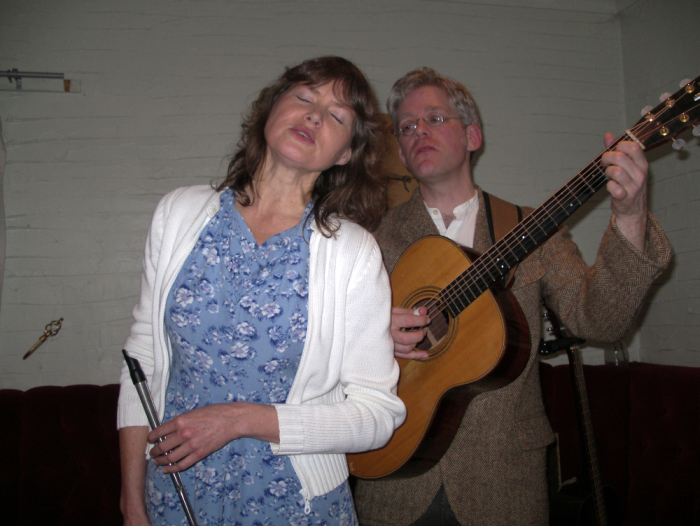 Close together: Ros Brady and Si Barron
Picture by Mick Tems
This could be the CD with no record label and no catalogue number which is a critically-acclaimed folk hit! Si Barron and Ros Brady have been promising so much with their debut CD Somewhen and their second attempt England Needs Her Hedgerows - formerly named Strange Harvest. Now they burst from the starting block with their third album; it's brim-full of traditional and original self-written songs, each one done to perfection.
Barron Brady, who moved to Devon but are now Bristol-based, keep the listener guessing with some really sparse information. There's a list of the ten tracks, but that's about all – it's hard to tell whether Si and Ros composed the song, or it just tumbled out of the traditional woodwork. The Foggy Dew is an easy one, but this is a most unusual and beautiful version with tasteful, glittering guitar and appealing harmonies. When I Was Young rocks all over the place with vibrant magnetism. In fact, I had to go back to their friendly website, where I learned that Si and Ros composed five cracking pieces that will make you sit up and do a double-take. Jenny's Mermaid I love for its pretty tune and its originality, Thomas Of Teignmouth for its compulsive energy and Digging To Australia for its memories of childhood days and its very well-structured, intelligent verses.
Si is a completely understated performer, both in his strong, assured voice and his amazing guitar art. Ros's voice is butterfly-like in its fragility, but she certainly packs a punch when they get it on with their special, ear-catching harmonising. Both are a pleasing duo whose marvellous CD performance is only bettered by seeing them live.

TIM EDEY & BRENDAN POWER
Wriggle And Writhe
Gnatbite Records GB 010
Brendan comes from Nelson on New Zealand's South Island (home of some stunning Sauvignon Blanc wine) and Tim is from Whitstable in Kent. Together, they conjure up some absolutely entrancing, breathtaking Celtic music, heavily laced with catchy blues and contemporary songs, and one of the most eye-popping sets you will ever see. As we speak, the BBC Radio 2 Folk Awards have nominated Tim and Brendan as the best duo, while Tim has been nominated as best musician.
The 17 tracks on this CD are stuffed chock-full of wailing, flowing and fluid harmonica - Brendan used to be lead harmonica in the Irish smash-hit show Riverdance - attacking, amazing button accordeon and blazing guitar from Tim, total beauty from the composed tune Inisheer, Enda McCabe's love song Wind And Tides Permitting, some crazy Eastern European fireworks (Danovska Horo) and Brendan's Our Lady Of The Road, which is a song of affection for a satnav. And, of course, there's Brendan's title track…
Wriggle And Writhe is a wonderful CD - in fact I'm totally happy just owning it. Both Tim and Brendan can be classed as composers of note; there's that luscious moment in the opening track, Tim's compositions Celtic Thunder and Kent To Kintail, when the duo really go for broke. When Tredegar House Festival comes around in May and Tim and Brendan are booked for a concert, I'm going to be so looking forward to it!

CIRCUS ENVY
Secrets
Blue Book Recordings CECD004
Circus Envy are a five-strong bunch of extremely proficient singers and musicians from Hull, East Yorkshire, and this sparkling debut CD is full of 12 storming songs and fabulous harmonies, liberally sprinkled with Mike Richmond's bouzouki, banjo and mandolin and front man Leigh Hirst's pleasing vocals. The band write such fine and feel-good material, all wrapped up in a really warm and velvety, friendly production which begs me to predict that they'll go far.
This CD has got the "wow" factor, and it's strongly laced with the folk essence, too. From the moment that the self-penned pop song Regret hits the speakers with its maturity, catchy unforgettable lyrics and tune, I became an instant fan. The band describe themselves as Alternative Folk, and they give a traditional sensibility to their superbly crafted songs.
Hull has a strong maritime history, and the folk song Three Score And Ten is a suitable and important tribute as the band salute the fishing industry. Secrets is fresh and very much alive, and I love it to bits.

ANDREW McKAY & CAROLE ETHERTON
Silver, Stone & Sand
Crane Drivin' Music CDMCD1003
Of all the fascinating tales about Swansea and Gower, this CD should be brought, if only to learn Andrew's self-written and ear-bending songs. He weaves the lyrics tightly around the local stories, which, based on a bustling port and a wild peninsula, are brimming over with maritime and industrial yarns and historical fact as well.
Andrew's record label is Crane Driving Music, so named after his beloved Crane duet concertina. Carole proves to be a good writer as well, with three songs attributed to her. The highlight of the CD is 'Orrible Lies, a music-hall ditty made famous in South Wales by comic reciter, poet and Llantrisant Folk Club member Gwyn Austin of the former mining village of Coed Ely. Re-written by Andrew and with a new tune, the preposterous tale tells of a lighthouse keeper who flies off on a coastguard rocket across the briny to fetch lamp oil – but the old regular is spinning a lie in the hope that his victims will buy him a beer.

PIEFINGER
A Countryman's Favour
PFCD002
Very tasty! Piefinger are the massed voices of Jana Carpenter (guitar, mandolin and ukelele), Rachel Steadman (violin and viola) and David Sherwood (vocal, guitar, bass, horn and percussion). This North London acoustic trio write some cracking, feel-good songs, interspersed with a rootsy feeling – in fact, the one solitary song that they did not write is The L And N, well-known as a Jean Ritchie composition.
Piefinger and their songs are a pleasing indicator of how the folk scene is evolving and growing steadily and healthily, with musical off-shoots constantly springing up. A good example is Joy Of The Song, which says: "Signs creeping up on this motorway; it's a bumpy road before us, but we're on our way… squeezed, five of us in a Rover car, with some baggage we should have left behind us – but it's who we are..." The road goes on forever, with bright new generations of musicians, like Piefinger, wishing upon a star. I fervently hope they will make it.
MR H / Pale Rider
Barium Villa Records BV003
Cor – three times for a Welshman! This is Mr H's third album, and it's a right little corker. Mr H engaged Wales' most successful producer and songwriter, John David, to record with him, and it's certainly worked. He says: "John was an inspiration to work with, pulling on his many years' experience from his time with Love Sculpture and Dave Edmunds, via his work at Rockfield through to his own studio work at Berryhill in Monmouth."
John has really brought out all the gravel-voiced guitarist's catchy songs, and they have certainly matured, just like a good wine should. I have to say, with other roots and acoustic albums, that I do detest having to decipher unclear and unintelligible words, and I don't care whether it's the artist's or the engineer's fault – this is a folk magazine, for heaven's sake! But I need have no fears with John's production or with Mr H's fine lyrics; crisp, neat production means that the intelligent verses stand out sharp and crystal clear – and so they should.
The opening track, Marianne, provides a beautiful enticer for Dead Cat Fool, fantastic walking bass and lazy, loping guitar. Pale Rider leaps out as a strong title track, and Some Damned Road might be a hit in an ideal world. And all the while, Mr H's cigars-and-whisky voice takes total command with a rip-roaring 10 little gems – truly fantastic.

PATSY MATHESON
Stories Of Angels & Guitars
Tomorrow Records TRCD2
Patsy, songwriter, multi-instrumentalist and ex-member of Waking The Witch, has scored a mighty hit with this lovely album. She says that, after 20 years of making records, she wanted Stories to be different: "I'd originally intended to do something I'd never done before – start off with no deadline, without a pre-planned list of songs, play all the instruments and sing all the harmonies myself, only go to the studio once a week… in other words, take off the pressure."
This no-pressure collection of ten soul-searching, starkly beautiful songs has done wonders for Patsy. She's accompanied by ex-Housemartins member Hugh Whitaker on drums, Jon Short of the Deep Sky Divers on double bass and producer/engineer Phil Snell on harmonium, but she uses the session musicians very sparingly; Patsy goes into the studio by herself (Water Is Over The Weir, Sylvia Jean) or with one solitary man to augment her. The exception is Adoption, where she uses Hugh and Jon – Shock horror! Songwriter goes into studio with TWO musicians! – but all the time, the fine songs shine through with minimal effect.
Patsy and ex-Waking The Witch colleague Becky Mills are gigging all over England and Scotland, but Wales has yet to find out just what the nation is missing. Come on, promoters and organisers – what are you waiting for?

DIAMIK
A-fet-noz
YFPO1DK1
Oh, yes! Strong-voiced singer Brigitte Kloareg and musicians Yann-Fanch Perroches and Gwen Kijiver serve up a delicious mix of traditional Breton and Poitou songs, ballads and dance tunes, 50 minutes' and 12 tracks' worth of sheer outright joy. Brigitte used to work for Cardiff University and communicates impeccably, and Yann-Fanch is a member of La Godinette and an ex-member of top fest-noz band Skolvan. Both he and Gwen play inspirational and very exciting accordion, Yann-Fanch on the diatonic and Gwen on the chromatic button, to which he adds vocals and harmonica.
Incidentally, for those who are a bit confused as whether Gwen is a man or a woman, his formal name is Gwenael and he's all man. The way in which he coaxes that chromatic, really urging the instrument to squeeze showery notes and gorgeous, fat chords all over the place, is pleasing in the extreme. Yann-Fanch, on the other hand, is masterful in his role as anchor-man, playing delicate and complicated riffs. I have played this CD many times, and I am always discovering hidden delights in the work of the two accordionists and the fabulous vocals of Brigitte, who trades voices with her daughter Katell. Katell takes the lead on the ballad of Catharina Stockholm, a Swedish ship which ran aground on a headland of the Ile du Sein. Soldiers were posted to prevent the islanders pillaging the ship, but the soldiers in turn stole "everything that was shiny."
Diamik charm and power their way through the Breton song Ni Beus Ur Vag, Bal Limousine, Gavottes Accordéon, Ronds de Loudéac, Suite Poitevine and Gavotte Ton-Tripl. Not a track is wasted – what an impressive, totally assured CD this is. Cinq etoiles!

BARTRAM, BROOKES & WEATHERALL
New Midsummer's Day
101 Records 101RECCD25
I first came across Neil Brookes and Tony Weatherall when I reviewed a totally delightful CD of Shropshire dance tunes, engineered by the astute, welcoming and utterly patient Doug Bailey and his Wild Goose label. Doug has been slowly building up a library of traditional English recordings, and I always look forward to reviewing his new releases.
New Midsummer's Day is a fascinating compendium of sprightly English quicksteps, jigs and hornpipes, liberally laced with pristine folksongs, all expertly delivered by Chris 'Yorkie' Bartram. These songs are packed with intelligent, gentle fun; the words to The Campanero come from a library book in Leicester, while Chris got Lavender Trousers from the late Ken Lewis, a roadman of Hyssyngton in Shropshire - Lavender Trousers led Chris on a fascinating voyage of discovery which touched upon the traditional singer George Spicer, Chris's friend Rees Wesson, band member and melodeon repairer/stockist of Welshpool, and the late Johnny Collins.
But it's Chris who sings the definitive A Blacksmith Courted Me, of which Ralph Vaughan Williams used the tune for his version of To Be A Pilgrim. Chris says there are dozens of variants, especially among gypsies, and it was these that inspired his version. A similar tune is used for Our Captain Cried All Hands, and verses are often interchanged between the two songs, a confusing but glorious melee of folksong culture.
Chris, however, doesn't rest on his laurels and strives to have the best version – in fact, he has been developing the magnificent John Barleycorn from a Fred Jordan folksong for 20 years, and the ritual song by this time bears Fred's version little resemblance. Chris says that, according to The Golden Bough, pagan societies would select a man to be glorified as the Corn King. At sowing time, he was ritually killed and his blood run into the furrows to make the barley grow.
Sorry if I've been banging on about Chris's research and fine singing, but the folksongs are admirably supported by Tony's one and two-row melodeons and Neil's fiddle and Leicestershire smallpipes, plus some percussion from Chris. It's just the sort of lively traditional entertainment we really need!