by Mick Tems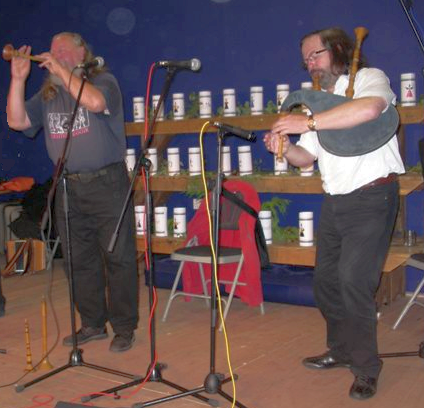 No amplification needed: Jean Baron's bombarde is loud and clear but Christian Anneix still uses a solitary microphone - Picture by Mick Tems
It's a wonderful record: those long-haired Bretons, Jean Baron and Christian Anneix, have been making fantastic fest-noz music for an incredible 37 years. Long ago, at the Lorient Interceltique Festival in Brittany, the young Jean revealed how he and Christian would like to called La Godinette – and this year in the South Wales village of Rudry, the mighty quartet La Godinette bought the Pentreffest Autumn Festival to a joyous, breathless and triumphant climax.
Bombarde player Jean, who lives at L'Armor Pleubian on on Brittany's north coast, and Christian, on the biniou-koz, a shrill Breton bagpipe, are now 60 years of age – and the two veteran founders are still playing their hearts out to produce some fine, exciting dance music. Gavottes, plinns, ronds, kost ar C'hoat, ridees and andros all tumble out as Jean, red-faced with the exertion and energy, and Christian, from Cesson-Sevigne, to the east of the city of Rennes, blow up a storm and encourage the dancers to go for broke.
The other two fine musicians, fiddle player Pierrick Lemou and diatonic accordionist Yann-Fanch Perroches, create some very tasty licks that all go to make La Godinette really special. But despite the longevity of the band, La Godinette have released only five albums and CDs: Chants Et Danses De Haute Bretagne came out in 1978, and Le Jeune Fou Et Le Vieux Singe was recorded in 1984. Godinette fans had to wait 10 years before C'est Entre Nous Les Jeunes Filles was released in 1994, and Jeunes Filles Et Conscrits followed hard its heels – in band terms – for release in 1997. Le Canal De Nantes À Brest was released in 2002.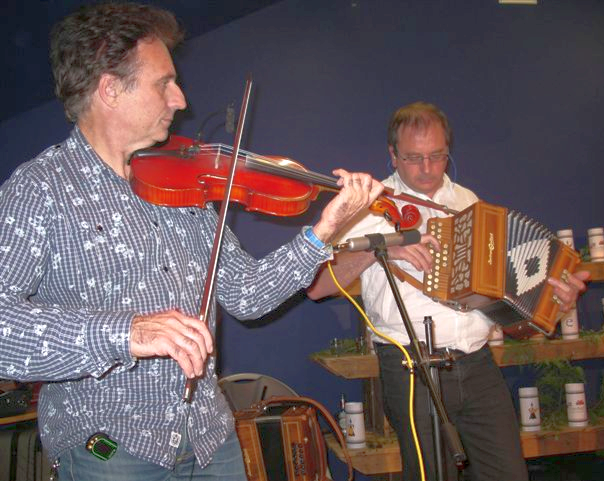 La Godinette's Pierrick Lemou on fiddle and Yann-Fanch Perroches on diatonic accordion - Pcture by Mick Tems
Pierrick is a veteran of many bands, such as Djiboudjep, Cabestan, Archetype, The PL Band and five years on the road with Alan Stivell, He is now an expert in Breton musical culture. He has recorded and archived traditional Breton fiddle players from the Pays Gallo (East Brittany), including Elie Guichard, Clair Levêque, Victor Mouazé, Louis Hamonic and Roger Servigé. He has played with the famous diatonic accordion player Alain Pennec in a group called I'Echo des Luths, and has collaborated with him on a collection of music from Brittany and Quercy, located in the south-west of France.
But it's Yann-Fanch who is, in the slang of squeeze-box players everwhere, The Man. He fired off some spectacular, graceful runs that must have made the ears burn red with pleasure of one Northern melodeon player. Yann-Fanch says he would not be where he is today but for the influence of this particular musician – so take a bow, Pete Coe!
Yann-Fanch was a student in Rennes In 1976, when he saw and heard a diatonic accordion for the very first time. "The following day I bought one," he said. "The following year I lived in England, in Lancashire. It was there that I met Pete, and began seriously to learn to play the accordion.
"I just love the sound, the energy of "la boîte à frissons". I feel well with an diatonic box between my hands, what else?
"I've been playing the diatonic accordion, the two-and-a-half row, since I was 18 - all Breton music. I was first of all influenced by Alan Stivell, like many musicians of my age. When I started to learn Breton music, I used to go to sessions in Plouyé at Tafarn Ty Elise, many times. But the pub burned down, alas – but I think one day maybe it will be rebuilt…
"I love Breton music, for many things: it's basically enjoying yourself and trying to make the dancers and the people enjoy themselves too, at the same time staying close to the traditional music. You can compose new tunes, as long as you don't stray away from the style which I think is very important in any folk music, especially Breton music. You can play jazzy chords, something like that, but don't lose the spirit of that music - which is sometimes very difficult.
"I had the opportunity to meet a great Breton musician, Youenn Le Bihan, who gave me the taste to play Breton music and especially the gavotte, which at the time was quite unusual among revival musicians." Youenn, who played bombarde and piston (a form of primitive Breton oboe) was over here at Pontardawe Festival in the early days.
In 1981, Yann-Fanch was Professor at the Conservatoire Régional de Musique et Danses Traditionelles de Bretagne, known now as Amzer Nevez. From 1985 to 1988, he was professor of diatonic accordion at the National School of Music in Lorient.
Then in 1984, with Youenn and fiddler Patrice Quéré, two other teachers of the Conservatoire, Yann-Fanch founded the amazing Breton fest-noz band Skolvan. "It was beginning of a 15-year adventure," he said.
The sight and the sound of Skolvan whipping up the plinns and the gavottes at a fest-diez (afternoon dance) is something that will stay in my memory. I still have Skolvan's landmark CD, Swing And Tears. Fiddler Fanch Landreau and guitarist Gilles Le Bigot had joined Youenn and Yann-Fanch by then.
But in 1999, Yann-Fanch left Skolvan. "It was a painful separation," Yann-Fanch admits, "but this new freedom allowed me to have many musical experiences."
Those "experiences" included being an artistic director of the first 2000 and 2002 CDs by Spontus; the band Jolie Vilaine with singer Véro Bourjot, Vincent Guérin (double-bass), Jean-François Roger on percussion and Erwan Bérenguer on guitar; and The Atlantic Roads concert, which saw 17 musicians from Ireland, Quebec and Brittany, with fellow Godinette members Jean and Christian, Manu Lannhuel, Nicolas Quéméner, Christian Lemaitre, Josephine Marsh, Phil Callery, Bernard Simard, Normand Miron; and the band Belen, with Scottish, English and Breton female musicians and singers: Mary Macmaster (celtic harp, voice), Jo Freya (sax, clarinet, voice), Brigitte Kloareg (voice), Hélène Brunet (guitar, laud.) The new Diamik CD A-Fet-noz, with Yann-Fanch, Brigitte and chromatic accordionist Gwenael Kijiver, has been acclaimed by the folk media (see Folkwales Reviews.)
Yann-Fanch, who lives in Cléguer, a small village in the departement of Morbihan, near the Atlantic seaport city of Lorient, has also collaborated with the musicians Ronan Robert and Fanch Loric in the trio Cocktail Diatonique. The year 2009 saw the production of a booklet and DVD, Diatonic Accordion For Beginners. And, of course, he has La Godinette, with Jean, Christian and Pierrick to keep him stimulated and fired up.
Yann-Fanch says that his playing is influenced by traditional Breton accordionists (both diatonic and chromatic) - especially Jean Coatéval and Yves Gac, both recently deceased. Other influences are "sonneurs" (biniou koz players and the bombarde) and traditional singers. Among the traditional accordionists that he especially enjoys are Serge Desaunay, Ricardo Tesi, John Kirkpatrick, Martin O'Connor, Phil Cunningham, Clifton Chénier, Maria Kalaniemi – "and so many others!" he says.
"I love other styles of music, too – the accordion players Richard Galliano, Astor Piazzola and Gus Viseur, for example. I also listen to other musicians, from John Coltrane to Nusrat Fateh Ali Khan - all styles of music, from the hard-rock of Led Zeppelin to classical music of Ravel and Debussy, jazz, traditional music from all countries, including Africa and Asia. There are so many other styles!"
In case you are wondering: La Godinette is a traditional alcoholic strawberry drink, made in Brittany. Jean and Christian provided the recipe, created for about 30 partygoers:
1.5 kg of strawberries;
1 kg of sugar;
1 litre of calvados (40°);
6 litres of Gros Plant (or any Muscadet);
20 cl of Creme de Cassis
…and: Respecter l'ordre!