Ffylantin-tŵ! Launch
Many Welsh singers and musicians paid tribute to the invaluable contribution to Welsh folk tradition, made by couple Meredydd Evans and Phyllis Kinney, at the launch of folk songbook and CD Ffylantin-tŵ! at the National Eisteddfod in Llandow, Vale Of Glamorgan, in August.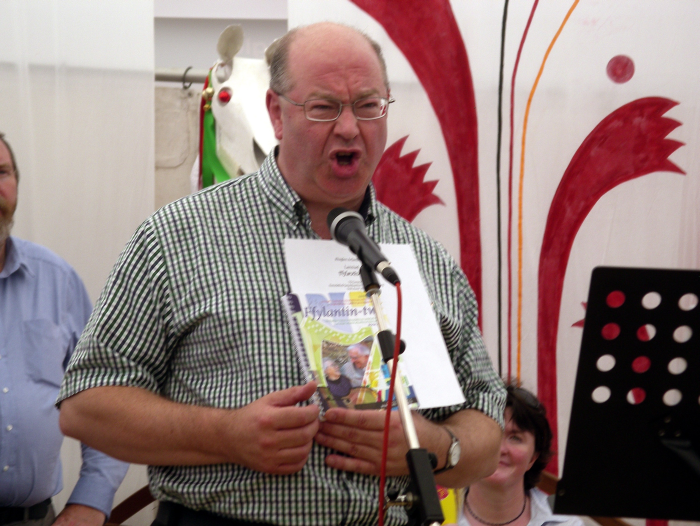 Buy this book! Robin Huw Bowen exhorts the eisteddfodwyr
The spiral-bound book and CD, with many well-known artists queuing up to record the 23 unusual and interesting pieces, was born of an inspiring scheme by former trac director Siân Thomas. The all-Wales folk development body had been awarded a grant to bring out a publication, and Siân offered impressive triple-harper Robin Huw Bowen the chance to edit some interesting and unusual traditional material to be found in two books which were the jewels in the crown, Mered's Hela'r Hen Ganeuon and Phyllis's Welsh Traditional Music. Flylantin-tŵ! was compered, introduced and hailed by Robin, Crasdant member, tutor, ex-librarian, and musical director as well. There was standing room only in Tŷ Gwerin, the trac marquee, where the launch took place.
Ffylantin-tŵ! (Flaunting Two, the name of a drinking song and dance tune) was marketed by Sain Publications, Wales' largest recording and media company, which was headed by folk singer, performer and songwriter Dafydd Iwan. Dafydd, who had only just celebrated 50 years of political singing at a concert at the Eisteddfod Pavilion, set the scene for this marvellous book to draw on its beautiful folk culture. Gregg Lynn, singer and guitarist with the raucous five-piece Yr Hwntws, was the first to perform a song from Ffylantin-tŵ!, followed by Stephen Rees from Ar Log and Crasdant, scintillating harpers Siân James and Gwenan Gibbard, Linda Griffiths from fabulous three-part group Plethyn, song collector and performer Dafydd Idris, Lynne Denman from inspiring West Wales band Ffynnon, school folksong and storyteller Mair Tomos Ifans, folk singer and Parti'r Efail choirleader Menna Thomas plus many other folk performers who were honouring Meręd and Phyllis.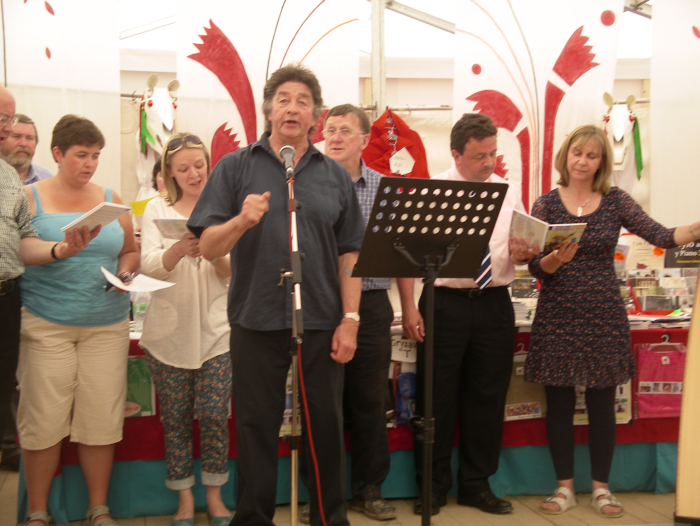 Singing in harmony: Gregg Lynn takes the lead, with, from left, Robin Huw Bowen (holding the book), Menna Thomas, Gwenan Gibbard, Dafydd Idris, Steven Rees and Siân James
This delightful couple, who are both in their nineties, have a cottage in Cwmystwyth in the wilds of Cardiganshire, near The National Library of Wales in Aberystwyth. Phyllis has completed Welsh Traditional Music, a ten-year treatise published by the University of Wales Press, and Meręd, who retired as head of the BBC's Light Entertainment, works on his computer in his vast library. Meręd and Phyllis always keep a warm welcome for anyone who is interested in folk, and these singers and musicians spoke of how they were inspired just meeting the couple.
Meręd was born in Llanegryn, Merioneth, on December 9, 1919, and was brought up in Tanygrisiau, the family's eleventh child. His father was a quarryman who died of 'the dust' when Meręd was 17. His mother learned folksongs from a chief worker at the farm where she worked; she sang the songs to her children and Meręd learned many from hearing her. "The traditional songs of Wales have been very important to him - in singing them, in hearing others sing them, and in talking about them in lecture halls, on the radio, or in small groups of other folksong enthusiasts," says Phyllis, who was a Michigan professional singer.
Meręd left school at 14 and started preparing for the Calvinistic Methodist ministry. A convinced pacifist, he was registered as a conscientious objector. The war years saw him gaining a First in Philosophy, and he was appointed Tutor in Philosophy and Political Theory at Coleg Harlech in 1947 and worked there until the 1950s, following up as assistant editor of the Welsh newspaper Y Cymro.
When Phyllis was a musical student, her imagination was fired by her brilliant Welsh teacher, Gomer Llewelyn Jones. "I'm from Pontiac, Detroit," she says. "I'd never heard of Wales." Phyllis learned to love the Welsh language. She came to Wales when she was in an opera company, met Meręd, who was by now working for the BBC, and subsequently married. Their daughter, Eluned, was born a year later.
The family went to the States, where Meręd entered Princeton University, graduated with a Ph.D in Philosophy and got a job as an instructor in Philosophy at Boston. Meręd loved folk song and was always singing at parties. He and Phyllis were inseparable – they often performed together at events. By now, Meręd had a considerable reputation, and Mo Asch recorded him for Folkways (the great Mo said: "I can't understand a word, but I like it.") The New York Times awarded Meręd's LP as one of the top ten of the year. Much later, when Meręd and Phyllis had settled in Anglesey, the legendary US radio presenter Studs Terkel, an avid fan, rang. He had journeyed to Britain to interview two famous people – Meręd and Bertrand Russell!
Ffylantin-tŵ review here

Flash Clog at the Eisteddfod
The week-long National Eisteddfod at Llandow experienced a "flash-mob" clog dance in the vast Pavilion on the Friday – from out of the blue, clog dancers of all ages, sexes, shapes and sizes took over the stage, while others clog-danced on the Pavilion steps and the arena. Nearly 250 dancers delighted the crowded audience; a medley of thrilling dance tunes came to an end, and the flash-mob mingled with crowds and disappeared. Log in to http://www.bbc.co.uk/newyddion/19226293

Llantrisant Folk Club on ITV!
Cameras recorded the club's Song And Music Night for the prime-time news magazine Wales Tonight's series on Club Life, with club members delighting the crowded room at the Windsor Hotel, just above Pontyclun station. Club compčre and organiser Pat Smith was interviewed by reporter Nicola Hendy, and Pat and her partner Ned Clamp played a cameo of dance tune Mantell Siani, with spoons, guitar and harmonica. Viewers saw shots of club regulars' "turns", including the reciter Gwyn Austin, Anne Law, Mick Tems, Olly Price and neat Scottish bagpipe playing from Chris Lindsay. Log on to Club Life

Alaw's new CD
Three amazing musicians were appearing at the gigantic Festival Interceltique de Lorient in Brittany before their debut CD was due to be launched. Risca-based accordionist Jamie Smith, the frontman of international band Jamie Smith's Mabon, fiddle ace Oli Wilson-Dickson (who plays in the band with Jamie) and top guitarist Dylan Fowler, recording studio owner from Abergavenny, have chosen the name Alaw, which means Melody. Oli said: "We have a great heritage of melodies in Wales, from cracking dance tunes to some of the most beautiful airs you will hear, yet many of them rarely get an airing outside of Wales."

Cowbois Rhos Botwnnog at Muni Arts Centre
Cowbois Rhos Botwnnog, Cardiff songwriter The Gentle Good and acclaimed Mid-Wales singer-songwriter Georgia Ruth Williams play The Muni Arts Centre in Pontypridd on Friday, October 19! Rhondda Cynon Tâf's arts team have just published a host of events, including Keith James' The Songs Of Nick Drake (Wednesday October 31, 7.30pm, Ł12), The Hot Club Of Cowtown (Thursday November 1, 8pm, Ł18 in advance) and American country music icon Matrica Berg (Saturday November 10, 8pm, Ł14.50 in advance, Ł17.50 on the door).
Formed in 2005 by Iwan, Dafydd and Aled Hughes, three brothers from the Llyn Peninsula, Cowbois Rhos Botwnnog's blend of folk, country and rock music has won them many fans – and as well as their own material, the band often perform adaptations of traditional songs. Their first album, Dawns y Trychfilod, was released in 2007 on the Sbrigyn Ymborth label and topped the BBC C2 chart for Welsh-language releases. The band received the Best New Band award at the BBC RAP Awards the same year, followed in 2008 by a single, Paid A Deud, a duet with Gwyneth Glyn.
2009 saw Llyr Pari of labelmates Jen Jeniro join the band as additional guitarist. His second performance was on the main stage of the Wakestock festival in Llyn. Branwen Williams, who had contributed backing vocals on Dawns y Trychfilod, joined in 2010 on keyboards and vocals. This, alongside Euron Jones' pedal-steel guitar, brought a different sound to the second album, Dyddiau Du, Dyddiau Gwyn, released in 2010. Recorded by David Wrench, the album brought wider attention to the band, including airplay on BBC 6Music and positive reviews in publications and website in Wales and England. This was followed by live performances at many festivals over the summer of 2011, including the Green Man Festival in the Brecon Beacons, SWN festival in Cardiff and as one of the headlining acts of Maes B in the National Eisteddfod at Wrexham. Dyddiau Du, Dyddiau Gwyn received the Album of the Year award from Welsh music magazine Y Selar.
The band have recorded numerous sessions for BBC Radio Cymru as well as many live performances and videos on S4C, notably on the Bandit and Nodyn programmes. In 2011, Cowbois Rhos Botwnnog were one of four bands included on Y Record Goch, a compilation double vinyl – the first in a series by the new Recordiau Lliwgar label. It was a very busy year for the band, with around 50 live shows played between April and the end of the year. These included some of the band's first appearances outside Wales, in Ireland and London. An original track, Y Ffenast, was included on Fatea Records' Winter 2011 Showcase Session.
2012 has seen the band starting to gig more regularly outside Wales, with appearances at Union Chapel, London, at the regular What's Cookin' nights in East London and the first No Direction Home festival in Sherwood Forest. In September, The band leave for Buenos Aires and the Chubut region of Patagonia, Argentina to play a few shows and to run workshops for the Welsh language community there. Draw Dros Y Mynydd, the third album, will be released this autumn, and was again recorded with David Wrench at Bryn Derwen studio in north Wales.

Shrewsbury Folk Festival
Just over the English border, Shrewsbury Folk Festival is staging events through the year at The Hive Music and Media Centre, a 100-seat arts centre at the centre of Shrewsbury. Yamm are playing on Saturday, September 16, and the diary lists Faustus on Sunday, October 21; Penarth's Martyn Joseph at Theatre Severn (Wednesday November 7); Megson (November 11); Roddy Woomble (November 25); Kerfuffle (December 16); Lucy Ward (January 20); Emily Portman Trio (February 17); Caroline Herring (March 1); Sam Carter (March 17) and Jackie Oates (April 28). All concerts start at 7.45pm, and Theatre Severn's phone number for the Martyn Joseph concert is 01743 281281. The Hive's address is 5, Belmont, Shrewsbury SY1 1TE, and the box office number is 01743 234970 (www.hiveonline.org.uk).

Events cancelled
Acapela, the Pentyrch studio and listening space owned by Hywel Wigley and his wife, harpist Catrin Finch, have cancelled all events because of licencing complications. The former chapel had been putting on a series of fundraising concerts for the benefit of Velindre Hospital, the cancer unit. As Folkwales OM "went to press", no details had emerged.

Pwnco
Allan Yn Y Fan are continuing to promote their new album Pwnco with a series of live dates next month, including a premiere appearance at one of England's best loved folk festivals – Bromyard in Herefordshire. Since their 12-date spring tour in April and May, performing at some of Wales' principal theatres, the band have made a brief visit to the Czech Republic and a main-stage appearance at the wonderful Village Pump Folk Festival in Westbury, Wiltshire.
Positive reviews for Pwnco continue to be received. Website Spiral Earth commented: "Allan Yn Y Fan are doing much to redefine the place of Wales within Celtic music and Pwnco just makes it much bigger … This is one of those albums that refreshes your faith in 'traditional' music, whether that be old or new songs, Allan Yn Y Fan constantly challenge and surprise expectations. From the cut glass perfection of the vocals to the ballsy changes of tempo and theme within the songs it is a fun ride from beginning to end. So look out, Scotland and Ireland; a new Celtic Tiger is prowling."
Win a copy of Pwnco – click here!

Basques at Llantrisant Folk Club
Three Basques from the Losada family – teenage brothers Xabier and Unia and older sister Andrea – went down a storm at Llantrisant Folk Club when they played alboka, trikitixa (diatonic accordion), pandeiro (tambourine) and txalaparta (a massive beam of wood, which two musicians knock off a tune with their wooden cudgels.) The alboka, the Basque national instrument, is a double-reeded hornpipe and a cousin to the Welsh pibgorn, which was the main attraction at the first pibgorn festival to take place in 200 years, held in the Brecon Beacons village of Pontsticill. The festival invited the Basques to show how the alboka is made and played – and Andrea, Unia and Xabier also secured another gig at The Harp pub in the Welsh border village of Glasbury-on-Wye.

Roots Unearthed
Dave Haslam, organiser of the Roots Unearthed series at St David's Hall in Cardiff city centre, has booked KAN for Tuesday, September 18 – the wonderful quartet comprising Ulster flute and whistle player Brian Finnegan, Scottish fiddler Aidan O'Rourke, guitarist Ian Stevenson and drummer Jim Goodwin. Roots Unearthed has a great autumn programme, including Fay Hield and The Hurricane Party (October 23), Penarth's Martyn Joseph, supporting his new CD, Shades Of Springsteen (Monday November 12) the lovely Sharon Shannon (Tuesday November 27) and Show Of Hands (Thursday November 29). Jodie Marie plays a gig for SWN (October 1) and St David's Hall welcomes Joan Armatrading, supported by Chris Wood (October 18), American singer-songwriter Don McLean (October 29) and Kate Rusby, singing the traditional carols she learned in her South Yorkshire childhood (December 2).

Welsh meets Bluegrass
Three Welsh musicians from the excellent five-member band Calan join forces with American bluegrass specialists Cedar Hill, in a special concert at Swansea's Mynyddbach Chapel as part of the this year's Gower Bluegrass Festival (Wednesday September 5, 7pm). Roland Emmanuel, from Roots And Galoots and Ric-a-Do, is putting on the concert that will feature traditional music from both Wales and America - a similar theme to the Transatlantic Sessions series, broadcast on BBC4. Cedar Hill made a great impression during their last visit in 2010, featuring on the Roy Noble show on BBC Wales. Frank Ray, the main character of the band, was inducted into America's Old Time Country Music Hall of Fame in 2008. "He's a great raconteur, and his band would really like to experience listening to and playing with Welsh musicians," said Roland.
Calan members Angharad Jenkins, Bethan Rhiannon and Sam Humphries perform a short programme of traditional Welsh Music and will session with Cedar Hill. They will be supported by traditional and contemporary Welsh musicians Ric-a-Do (Roland and Mansel Kedward.) Tickets cost Ł5 and can be booked in advance by contacting 01792 522672, 07811 358475 or ssru1@hotmail.com.

Follow-up CD for Mr H
Songwriter Mr H (aka Andrew Harris) goes into the studio this autumn to record a follow-up CD, in the light of his Pale Rider success – and listeners can log on to the Beulah Bluesman's http://themusicofmrh.com/shows.cfm website to hear him live at 8pm on Monday, November 26. If you're planning to see him, Mr H does shows at The Globe in Hay-on-Wye on Friday, September 14 (8.45pm) and at The Labyrinth in Haverfordwest on Tuesday, November 14 (9pm).

Songwriting Competition
The Rhondda and Caerfflili exile Dai Woosnam, who now lives in the Lincolnshire fishing port of Grimsby, is calling on Welsh songwriters to enter the Write A Song For Lincolnshire competition – entries must be in by Friday, September 14. Dai says: "This is a great annual competition with a very high standard of entrant, running since 1992. Famous folk names like John Conolly from Grimsby in the north of the county, and Bill Whaley and Dave Fletcher, from further south, have been proud to enter this competition in the past." Finalists who make the top ten will travel to Spilsby Theatre on Thursday, October 18. There are details and an entry form on

Woody, by Martyn
One month before Billy Bragg and Martyn Joseph's tribute to Woody Guthrie's 100th birthday centenary, Rhondda Cynon Tâf arts team have published an interview given by Martyn Joseph at the RCT website: "Asking me why I like Woody Guthrie is a bit like asking me why I love music. Woody was simply the first guy who did what I try to do.
"Bob Dylan and Springsteen think the same, as does Billy Bragg. I was always drawn to the narrative of North American music. Britain often leads the trend of what's new in musical style, but we remain a little aloof lyrically. That's generalising, of course - but over the pond they will wear their hearts on sleeves a little easier than us. Sometimes it gets a little too melancholic, even sickly, but at its best it's life-affirming and reminds the listener that they are not alone on this journey.
"Woody did that. He did it through his songs and he wrote thousands. For adults and for children. His most famous is This Land Is Your Land, which he wrote in response to Irving Berlin's God Bless America, but there are so many others. He wasn't the first to try to bring about change through music, but the sheer breadth of his work makes Guthrie the most prolific protest tunesmith of all.
"His tour never ended. He just travelled, found folk and sang to them, gave them hope and carried on by hopping on the next freight train. He is folk music's laureate and he continues to inspire new generations of songwriters and poets who are eager not to add to the noise of the mainstream, but to take a stand and write with passion, integrity and in an honest voice. How we need that now!
"Woody was no saint and was as flawed as the rest of us. He couldn't hold a job, responsibility was a problem and he didn't look after his family that well. He would easily lose his domestic focus and then he would be off somewhere singing for striking farm workers. But it comes back to the fact he loved people and he empathised with the masses and had a commitment to those who struggle through this life.
"Also, despite severe personal tragedy with the loss of some of his children to illness and his father and sister in fire accidents, he never lost hope or faith in ordinary people. On my studio wall I have a poster of Woody and a small essay he wrote about "songs", in which he writes: 'I hate a song that makes you think you are not any good. I hate a song that makes you think you are bound to lose. I'm out to fight those songs to my very last breath of air and my last drop of blood.' When I write a song, I look up at that poster and see if the work I'm doing passes the Woody test. If not, it doesn't leave the room. I hear Woody in the Manic Street Preachers, Springsteen and anyone else who tries to hold folk up through their art. That's why he means so much."
Martyn and Billy Bragg play the Park And Dare Hall in Treorchy on Wednesday, September 12 (8pm.) Martin was interviewed by Dave Owen of the South Wales Echo.

Eisteddfod medal for Eirlys Britton
Eirlys Britton, creator of Dawnswyr Nantgarw, was the National Eisteddfod winner of this year's Sir T.H. Parry-Williams Memorial Medal for her tireless work in the Pontypridd area for over 30 years. Originally from Cardiff, Eirlys was one of the first pupils at Ysgol Rhydfelen in Pontypridd before graduating in Drama from Trinity College, Carmarthen. She was an enthusiastic and influential teacher at Ysgol Heol y Celyn, near Pontypridd, before joining the cast of S4C's Pobol y Cwm portraying Beth Leyshon for a number of years.
Eirlys is known for her work within the folk dancing world, and her interest stems from her period as a young teacher at Heol y Celyn, where she was also a successful recitation coach (first and second language Welsh), dancing and action songs. This interest led to the creation of Dawnswyr Nantgarw in 1980 with her work colleagues and parents from the school.
Eirlys' aim in creating Dawnswyr Nantgarw was to resurrect some of the old traditions and dances of the Taff Valley and Glamorgan, and to include young people, both Welsh speakers and non-Welsh speakers. Dance proved the perfect medium to bridge across language and social barriers, and was also an opportunity to nurture young musicians, encouraging them to join the experienced musicians at Dawnswyr Nantgarw, offering opportunities and memorable experiences, while promoting traditions and representing their country. Eirlys was also responsible for creating the dance now seen during one of the main ceremonies on the National Eisteddfod Pavilion stage, during the Prose Medal ceremony.

Fernhill gig
Fernhill, the innovative Welsh band who are currently basking in rave reviews from their latest CD, Canu Rhydd, play the Sunday afternoon at the Small World Theatre, Cardigan (23 September, 4pm, doors open 3.30pm.) The band features the extraordinary voice of Julie Murphy, singing in both Welsh and English, and superb musicianship from Ceri Rhys Matthews (guitar and flute), Tomos Williams (trumpet) and Christine Cooper (fiddle).

Apologies...
Red-faced correction: Ruth Whitehart would like to point out that her new, just- married surname is Whitehart (not Lockheart, as reported in the June News page of Folkwales OM.) Both Ruth and Steve are ex-directors of Pontardawe Festival - Steve was Site Director for many years…
…and we mis-spelled Martyn Joseph's name – thanks to Rhondda Cynon Tâf's arts director Geoff Cripps for spotting this bloomer.