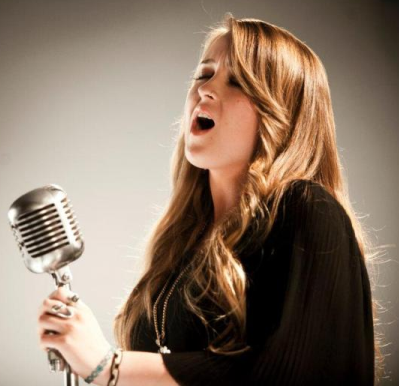 Jodie Marie
The story of Jodie Marie starts off something like a joke – "man walks into a pub…" – and ends up like a fairy-tale. It's the kind of thing that only happens in films, or dreams. But happen it did - and the brightest new star of 2012 will be playing at The Muni Arts Centre on Muni Arts Centre, Pontypridd on Saturday, September 29 (8pm.)
Jodie was discovered by complete chance in 2008 by the father of Transgressive producer Toby L while holidaying in Narbeth, Pembrokeshire. Fast-forward four years, with a string of sell-out shows and summer festivals behind her, the exceptionally gifted singer-songwriter hits the road to promote her debut album, Mountain Echo.
With an elegant yet piercing light-blues touch, Jodie Marie - real name Jodie Warlow - might be the third point in a triangle formed by Joan Baez and Carole King. She is a young artist who has spent the four years since her Big Break not chasing a pot of record company gold but working in the studio shadows, working with some of the best in the business, honing her song-writing craft.
Mountain Echo showcases the 19-year-old's bell-clear, heart-warming voice: "I wanted to write an album that people could relate to," she said. "I've always loved music that I can turn to if I'm feeling sad, or needing a pick-me-up, and I'm sure everyone's the same. So I wanted to make an album that could tick on every aspect of emotion, and be as true to life as possible".
Jodie started performing covers at local bookings at seven, and when she was in her early teens she began writing her own material. Her haunting style of folk, soul and blues will be on show when she returns to South Wales this autumn at the Muni Arts Centre. Tickets cost £12 and are available from RCT Cultural Services booking line on 08000 147 111 or online at www.rct-arts.co.uk.