by Mick Tems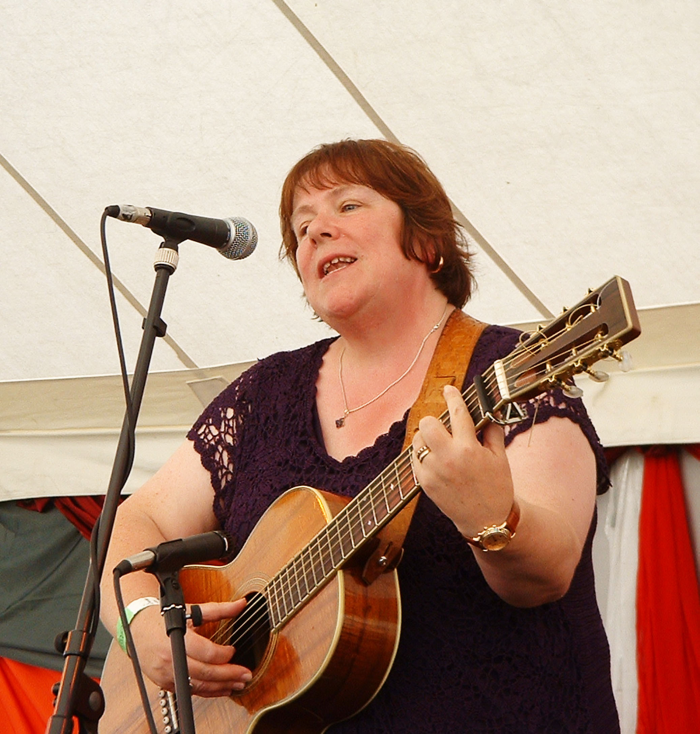 Anne Lister, mover and shaker
Anne Lister is an artist singer-songwriter on an important mission. This year she was elected onto the Folk Roots and Traditional Music Committee of the Musicians' Union, and is one of the movers and shakers of Folk21, the national folk artists' organisation to counteract the severe worldwide banking corporation and speculator-led recession.
Anne is a prolific and articulate songwriter with a maddening urge to compose memorable and simply beautiful melodies. She tells stories, writes songs and sings them to her solo guitar, conducts voice workshops and does prison gigs as well. Her songs are part folklore and part mythology-led; and it was Anne's powerful, enduring song, Icarus, which put her on a pedestal and made her definitely the woman to watch.
"Folk21 is very definitely a national movement," she said. "It's a loose affiliation of people who are concerned about the health and vitality of all the venues booking folk performers, trying to spread good ideas around and attempting to ensure that clubs in various areas communicate with each other, for their mutual advantage. So far we've had a fund-raising concert – the performers were Pete Coe, Keith Kendrick and Sylvia Needham, Wendy Arrowsmith, John Richards and his band, George Papavgeris and me – we're all involved in the "focus group". There have been regional days set up in various parts of the country, which include discussion and information sessions as well as showcase concerts. I'm working on getting one of these set up for South Wales, and talking with trac about this as well as various organisers."
Anne wrote the first version of Icarus while she was studying in Warwick University – but the version that everybody knows was written while she was living in the grand French city of Lyon. Guitarist and singer Nic Jones came across Anne, whose reputation as a songwriter was starting to take off. Guitar virtuoso and stunning artist Martin Simpson championed Anne's writing, included Icarus in his sets and recorded it for his 1999 album, Sad Or High-Kicking. He included Anne's other breath-taking song, Moth, in his repertoire after watching her at Broadstairs Festival.
Many folk artists seized upon Icarus, including our very own Geoff Cripps, Archie Fisher, Maggie Holland, Nic Jones, Gerry Hallom, Carla Sciaky and Bob Zentz in the United States - and a whole lot more. The Massachusetts broadcaster Chuck Hall praised her to the skies: "There simply are no finer song crafters than Anne Lister. She writes with the full power, beauty and grace of the English language, and the fire of the bards. One of a kind and absolutely not to be missed".
Anne's work always attracts attention. One of her CDs, A Flame At Avalon, in which she recorded Icarus, has been re-released and repackaged. Her latest CD, A Twist In The Story, features her songs based on some lesser-known Welsh folk tales, as well as some true stories - songs inspired by the work she did running storytelling workshops for prisoners, and two songs which were only available on her very first album, Burnt Feathers. There's the Trevethin maid who danced with the fairies, a fisherman whose singing voice won the heart of a mermaid, a young man who had a whole host of white animals and King Herla, still riding the Welsh marches, a ghost from a women's prison, and Merlin…
Anne and her husband of eight years, actor Steve Purbrick, are now settling down in a farmhouse in Llanwenarth, near Abergavenny, a stone's throw from national parkland. Anne fondly remembers the wedding reception in a country house in the ancient county of Gwent, and the handfasting: "It's a marriage ceremony based on an earlier form of marriage contract. It's not at all clear how much historic authenticity is involved in contemporary handfastings, so we used it as a way to include our own promises to each other as well as some older traditions - in our case, leaping the flames of a bonfire."
They lived for years in a large house high above Pontypool, which they had to leave: "It became far too expensive for us and it was way too big," said Anne. "Our original plans had been to make it into a writers' retreat, but what with the economic situation and everything else, none of the original plans were likely to work out. So we had to sell, and it took ages to sell.
"The new house is a conversion of a stables, done about ten years ago, adjoining a farm house, with a barn opposite. Surrounded by fields, on a lane but technically in the village of Llanwenarth. Fab views in all directions, two fields off the A40."
Steve works at Llancaiach Fawr Manor, north of Nelson – home of Colonel Edward Prichard, who was appointed to the post of Sheriff of Glamorgan in 1638 and was made a Justice of the Peace in 1640, a post he held throughout the Civil War until his death in 1655. Colonel Prichard stood for the Royalist cause until 1645, when, like all the Welsh gentry, he changed sides to the Parliamentarians. What the public sees is Llancaiach Fawr Manor in a typical Civil War footing, with actors posing as the 17th-century staff. Anne sometimes works at Llancaiach Fawr, as a relief interpreter.
And there have times when doubts start to cloud her mind. Story-telling workshops in prisons, for instance: "Yes, that first moment of walking into Dartmoor prison was pretty scary, although by the time I'd finished running my storytelling workshop there I was floating on clouds several miles high, as they were such a rewarding bunch of people to work with.
"Some of the best moments have been on the Greek island of Skyros, helping people to sing who never thought they could, and singing on various festival stages and at various folk clubs. One of the worst times was at the Glastonbury festival a few years ago, when I lost my car and walked miles, literally, in sweltering heat to find it - and was then prevented by over-officious marshals from getting my camping equipment, from where I'd had to leave it. The following weekend I was at a tiny West Somerset festival where I was treated like royalty by the organisers - I couldn't have had a bigger contrast!"
But to begin at the beginning: From 1977 to 1979, Anne studied, taught and lived in the grand French city of Lyon. "I had been working on a part-time PhD at Birkbeck University, and I was offered the chance to go over to work at the University of Lyon II," she said. "As it happened, I became thoroughly involved in language teaching and had a wonderful time, but didn't get much further with the PhD. One day I'll finish it - I hope.
"I had been living in London, prior to going to Lyon. I had been a civil servant, in the admin grade, which means I was being trained to be a Yes Minister type - but after two years I decided it really wasn't for me. In those two years, incidentally, I had been sharing a house with Bonnie Shaljean and some other friends. When I came back from Lyon I decided to train to teach, and so that's what I did: initially training and working as a teacher of English to Speakers of Other Languages, and getting a job as a teacher of French.
"Living in London was busy! There were lots of different activities available, lots of work around. I loved the theatre and I loved the availability of courses in all sorts of things, including drama, but ultimately I disliked the noise, the dirt, the distances involved – and most of my best friends moved out of London in due course."
Incidentally, your reporter came across the Icarus Lounge, where Air France entertained its first-class passengers; a snappy name for those who are not well versed in mythology, but rather an embarrassing mistake. "Yes," agreed Anne. "I remember seeing it at Charles de Gaulle airport and giggling a lot at the idea. I was wondering if Cunard had considered a Titanic lounge for their cruise passengers."
In terms of writing, what constitutes a remarkable song? "Generally, songwriting is best when it's simplest - so I tend to take an idea and reduce it as far as I can to keep the concept, but lose most of the detail," Anne said. "I do have a strong visual sense when I'm writing, so I'm trying to capture that image and that emotional kick. A song is a song is a song - for me, a good melody, an economical use of lyrics to tell the story or do the job for the song, and emotional honesty. A good song is a memorable song and should make you stop in your tracks to listen."
The great recession shows no signs of going away, and incomes are painfully squeezed with the result that the public has got to make harsh decisions on where to spend their vastly decreasing cash. As always, folk clubs are hit pretty hard. Is Folk21 the activists' and organisers' answer? "I'm not sure if it's the answer, but it's working to find as many creative solutions as possible," Anne said. "We're also trying to get as many people involved as we can.
Some prominent names, such as Pete Coe, Keith Kendrick and Jacey Bedford, have aligned themselves as supporters of Folk21. Anne said: "Pete is acting as chair to our focus group. More and more people have been writing messages of support, including Jez Lowe. I get to as many meetings as I can - I thought it was important to have someone involved from Wales, and I'll be doing my best to set up the regional day and anything else we feel we need.
"I haven't got a solution to the recession. I think we're very lucky in Wales to have Frank Hennessy doing such a sterling job with his radio shows, to have trac putting so many events and workshops together, to have the Welsh Music Foundation working away, to have so many different venues where folk music might be found -most recently for me at the National Botanic Garden of Wales, where Cheryl Beer organised Celtic Womenfest - and to have an Arts Council which is open to helping out folk music concerts. It's a far healthier situation than in many parts of England or in London. However, I'm looking forward to talking to venue organisers about what they think might help to get greater audiences along."
Anonyma, the partnership of Anne and superb Northern Irish musician and singer Mary McLoughlin, entranced the musical public for the five years they were together, and were a delight the night they played at Llantrisant as part of a reunion tour. What are the chances of Anonyma getting back together again? Anne said: "Mary lives in Santa Cruz, California, so there are only ever going to be limited opportunities for Anonyma to work together these days, sadly. We have both really enjoyed the two short reunion tours so far, however, and I wouldn't rule out future tours or recordings. Mary and I are in frequent contact via email and Skype, and Steve and I are off in October for a trip to California where we'll spend some time with her.
"This is a social trip, not a musical one, as getting a visa for the US for performing is a complicated and costly business these days. Mary's had some recent health troubles and is deep into recording a new album of sacred Gaelic music. Please support her in this, by the way; she's got a "crowd sourcing" page on Indiegogo where you can sign up for an advance copy and other options. So this isn't the moment for us to be deciding about next summer - but I'd say it was a possibility."
Had Anne and Mary recorded a CD? "No. We've been talking about it, but so far no concrete plans. We did originally make an album for Fellside, called Burnt Feathers, but it hasn't been issued as a CD and it's out of print on vinyl and cassette."
Has Anne still got the inspiration to write songs? "Yes, although with everything that's been going on over the past year I haven't had a lot of time to write much. We've had preoccupations with my parents and their health, all the business around selling our house and moving and now settling in, and taking a bit of time to relax at long last. Oh, and we have a new kitten, who demands a lot of our attention as well. He may be the inspiration for a song himself in due course!
"I'm working on my novel and putting out there as an ebook in the near future. And we're hoping to put on some house concerts here – the first one probably with Saskia Tompkins, Steafan Hannigan's wife, in a duo with someone I don't know anything about yet in October."