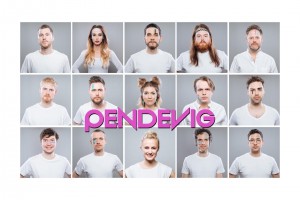 "There's a thriving music scene in Wales at the moment, and we want to bring that energy onto the Pavilion stage this year" – these are the words of Angharad Jenkins, member of award-winning folk band, Calan, and one of those involved in creating Pendevig, a brand-new 15-musician-strong juggernaut starring some of Wales's leading players. It's an exciting project which aims to push the boundaries of traditional Welsh music – and Pendevig plays a spectacular Cardiff Bay concert at the National Eisteddfod at the Pavilion stage, the Wales Millennium Centre on Thursday, August 9 (8pm).
The band released their first single – 'Lliw Gwyn', on their own label Synau Pendevig,  chosen as BBC Radio Cymru Track of the Week – in May. Angharad said: "We will be showcasing so many different music genres – fusing all these genres to create something totally unexpected, turning traditional music on its head and creating a new type of sound, all live on the Pavilion stage."
The project has been supported with funding from the Arts Council of Wales. Pendevig boasts some of the folk scene's best musicians and performers, and the band could easily be dubbed a 'supergroup'.  All five members of Calan are involved – Angharad on violin, Bethan Rhiannon on vocals and accordion, Sam Humphreys on guitar, Alice French on harp, and Patrick Rimes on the violin, pibgorn, whistle, synths and piano. The other members are Gwilym Bowen Rhys (Plu/Bendith), Iestyn Tyne (Patrobas), cellist Jordan Price Williams (Elfen/Vrï), fiddler Aneurin Jones (Vrï), double bassist Aeddan Llewelyn, and accordionist Jamie Smith and percussionist Iolo Wheelan (Jamie Smith's Mabon). The brass section consists of Greg Sterland (tenor saxophone), Jake Durham (trombone) and Ted Smith (trumpet).
Although folk music is what comes naturally to most of them, Pendevig is far from a folk project. "Traditional music is certainly at its core, but influences such as jazz, funk, drum'n'bass, rap, rock and pop transform the music into something else altogether," said Angharad. "Our aim is to attract a new type of audience to traditional music, and create something that celebrates the incredible resurgence in the folk music scene in Wales over the past 5-10 years.  We're trying to take advantage of this recent energy in the folk scene, and bring the music alive on the Pavilion stage."
But Pendevig have their sights set further afield than Wales alone, and plan to take this new and exciting music to the world – starting with the Festival Interceltique de Lorient, in Brittany, where they'll be performing a few days before their performance at the Eisteddfod. Angharad said: "I had seen what other countries had done at the Lorient Festival in the past – The Usual Suspects when it was Scotland's year, for example, combining jazz instrumentation with traditional folk instrumentation. And I wanted us to have a chance to explore different genres and create an unforgettable show at the festival. It's Wales' year at the Lorient Festival this year, and this was too good to miss. So here we are, with an opportunity to put Welsh music on the Celtic world map."
The project also celebrates Welsh poetry and literature with traditional and modern dance bringing another dimension to the music: "Acoustic elements coupled with epic, high energy performances add to the uniqueness of concert, and we'll also be reviving the ancient tradition of reciting literature with a staff, but in a very different way."
The band recorded at the iconic Monnow Valley studios, where Led Zeppelin, Queen, Oasis, Stereophonics and Black Sabbath have created some of their finest work. Angharad said: "It was a fantastic experience – not only because of the legendary musicians who had recorded there before us, but also because of its wonderful location in the middle of nowhere, surrounded by lush green fields and a river flowing nearby."
During their week at the studio, the band managed to record everything completely live. "We managed to capture this amazing energy; we were in a kind of musical bubble for the entire week, with no contact with the outside world, so the music and ideas flowed so naturally."
And there will be an opportunity for everyone to enjoy this wonderful merging of music genres in a brand new and unique show during the Eisteddfod. "We're all looking forward to perform on the Pavilion stage," Angharad said. "It's a chance for us to show how the scene has developed and evolved in recent years – and if you've always thought that folk music isn't your thing, think again and come and experience this electric reaction to tradition."
Tickets are available from www.eisteddfod.cymru – telephone 0845 4090 800. Watch Lliw Gwyn here – https://youtu.be/JEPzQp95yIE