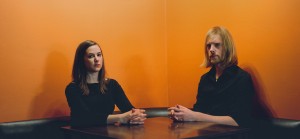 JOSIENNE CLARKE & BEN WALKER, THE MAVRON QUARTET: Folk Prom, Roots Unearthed, L3 Lounge, St David's Hall, Cardiff, July 24, 2017
It was the annual Summer Proms at St David's Hall, and the Roots Unearthed series staged a very special and unique Monday night concert: the mesmerising voice and songwriting of Josienne Clarke and Ben Walker's empathetic guitar mastery, coupled with the breathtaking and moving string arrangements of The Mavron Quartet. In fact, we have it on impeccable authority (from viola player Niamh Aston) that Ben not only scored all the Quartet's arrangements, but the musicians only came together for a quick rehearsal just hours before the Proms – that's superb professionalism for you!
Josienne and Ben plough their own furrow in a very individual and unique way; her elven voice, sometimes fragile and indistinct, sometimes assured and vibrant, perfectly knits together with his soothing, rippling finger-style notes to create an enchanting pair of sets. The duo snare the audience with a heady mix of Josienne's written material, grand folk songs and other legends who have influenced and inspired their performances; they kick off with Josienne's composition, 'The Birds', followed by the Gillian Welch and Dave Rawlings Americana weepie 'Dark Turn Of Mind', and the crowd just floats away. It's all lovely stuff; violinist Christiana Mavron coaxes her second violin, viola and 'cello to even greater heights.
Josienne has been a prolific and serious writer, but she and Ben pay tribute to the ageless folk ballads and the great writing legends as well. Both she and Ben interpret that old chestnut 'Reynardine', concerning a fox who mysteriously transforms into one of the landed gentry; her compositions 'Light Of Day' and 'Something Familiar' form a firm foundation for the master guitarist and songwriter Nick Drake and his amazing portfolio of stunning songs. A 20-year-old Cambridge student, he was signed up by Island Records, but failed to find recognition with his three albums. He gave up live performances and retreated to his parents' house in rural Warwickshire; there he tragically overdosed on anti-depressant pills and died in 1974, at the young age of 26. Nick's death occurred 43 years ago, but his songwriting lives on and has gained visionary status. Josienne and Ben interprets 'Time Has Told Me' to an excellent degree; it's satisfying to know that all their repertoire is based on her inspired compositions, influenced by ageless songwork, coupled with old and familiar ballads which they are only just revisiting. Josienne, Ben and the Mavs: take a bow.
Mick Tems