ELFEN: Llantrisant Folk Club, Pontyclun Athletic Club, July 26, 2017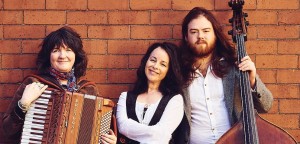 It's Summer and the folk scene's Silly Season, and most clubs go on their extended holidays and don't start again until September – which makes it all the more remarkable that spectacular trio Elfen played to a crowded room, and Llantrisant Folk Club organisers had to send out for more seats to ease those bottoms. Musicians, including Calan fiddler Patrick Rimes, guitarist and songwriter Huw Williams and flute player Tim Orrell, came to watch and enjoy, and the audience scored a bonus when Huw used his one song to deliver that great Gershwin wartime song, 'Embraceable You'; a very tasty appetiser indeed.
Accordion player and harper Stacey Blythe, violinist Helina Rees and double-bassist Jordan Price Williams are a match made in heaven, three exciting and innovative instrumentalists who make Elfen compellingly unique. Stacey is a composer and lectures as a musical director and repertoire coach at the Royal Welsh College of Music and Drama; Helina is a graduate of the Royal Academy of Music and a former leader of the National Youth Orchestra of Wales organising the Cambria String Quartet and working as a freelance musician; and Jordan will be back at the Club again when he swaps his double-bass for a 'cello and he celebrates Hen Galan, the Old New Year, on January 10 as a member of Vrï, the Welsh chamber-folk trio which also comprises Patrick on violin and viola and Aneurin Jones on violin.
The Welsh word Elfen stands for 'element', and these three musicians used their set to showcase their debut album, March Glas; they launched into the delicate title song, which just exploded with energy, verve and joy. Stacey's jazz-influenced voice was all molasses spiced with woodsmoke, and she enhanced and developed the traditional Welsh culture by writing uplifting and inspiring melodies which struck some brilliant sparks. Helina and Jordan were both expert and empathetic band members, Helina executing a plethora of breathtaking runs and Jordan conjuring a pleasing shower of bass notes as they motored through 'Bwlch Llanberis', 'America' (played to the tune of 'The Banks Of Pontchartrain'), the 'Macedonia/Jigiau Helina' medley, 'Aderyn Du' and the Breton ballad 'A La Court'. Stacey took this Gallo song and the Welsh verses in her stride; which is not bad at all, considering that that she was born in Birmingham!
The audience loved Elfen's pleasing repertoire, especially the thrilling 'Morgawr' sets; Morgawr is a Cornish sea monster, and the 'legend' inspired the late Cornishman Simon Owen to write the tune. Folklorists claim that Morgawr was invented by Cornish showman and author Tony 'Doc' Sheils in the 1970s as a hoax; Doc sent photographs of the creature to The Falmouth Packet newspaper, claiming that they had been taken by a woman he called 'Mary F'. The 'Morgawr' set was whipped up by 'Ril Glan Llyn', and 'Y Fasged Wyau' (The Basket Of Eggs) absolutely topped the lot – I have very fond memories of Calennig recording exactly the same tune 30 years ago!
Elfen are a breath of fresh air, and that's saying something when the whole Welsh folk scene is absolutely jumping. Not only are Stacey, Helina and Jordan extremely fine musicians, but they a certain knack of stirring the music up and making it fizz and bubble beautifully. More power to their elbows – and their fingers…