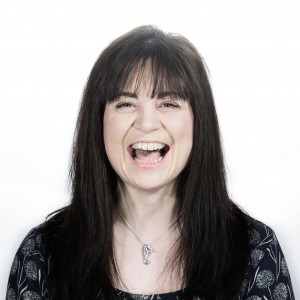 Mary Ann Kennedy is a Scottish Gaelic musician, singer, choral director, composer, radio and television presenter and music producer; she also trains and conducts Còisir Ghàidhlig Inbhir Nis, the Inverness Gaelic Choir, and she used to be a founder member with the Gaelic 'super-group' Cliar. Both she and her musician husband Nick Turner produced her solo album An Dàn, a spectacular collection of her own songs and contemporary Gaelic writers and poets, which was awarded five stars in the CD reviews page in FolkWales Online Magazine. In this question-and-answer article, Mary Ann – who describes herself as an urban Gael – tells of her Gaelic upbringing, her Welsh harpist teacher, the Welsh-language "success story" to which she and all Gaelic musicians aspired, her love of Welsh music – and that certain tingle of her spine when she hears a good male voice choir. Now read on…    
Q: Greetings, Mary Ann – or shall I call you Màiri Anna NicUalraig?
A: You can call me either! To most folk I'm Mary Ann; if you knew me in Pollokshields Primary 1 you might get away with calling me Mary; in Gaelic, it's Màiri Anna, my patronymic is nighean Alasdair Uilleam Alasdair and my nickname is Oilrig, from the unusual form of my Kennedy surname in Gaelic. My dad was from Tiree and the Lochaber/Argyll Kennedys are Clann 'ic Ualraig, Ulrick's clan – you can still see Ualraig references in Ayrshire around Culzean Castle, which is the seat of the Kennedy clan. But Mary Ann will do fine.
Q: You were born in Glasgow to Alasdair Kennedy (from Tiree) and Kenna Campbell, daughter of the famous Campbell musical dynasty of Greepe, Isle of Skye. Both Alasdair and Kenna were Gaelic speakers; how did this enhance and influence your education in the Gaelic language and culture?
A: Glasgow was, and still is to a large extent, the first port of call for people leaving the Highlands and Islands for work or education. It certainly was when my Mam and Dad moved there first, back in the 1950s. There was a big Highland community in the city, and we were surrounded by the large number of Gaelic speakers that were a part of that community. The kids of my folks' generation were a bit more scattered over the city, so it wasn't an easy thing to bring your kids up as Gaelic speakers without a natural group of peers – Mam and Dad made a conscious decision to do so, something for which Wilma, my wee sister, and I are grateful to this day. The other thing to bear in mind, I suppose, is that we grew up in the Southside, where loads of the kids I was at school with spoke a mother-tongue that wasn't English, so we weren't that out of the ordinary. Of course, the spread of languages was broad – Hindi, Urdu, Punjabi, Cantonese, Polish, Irish – but we were brought up to be proud of our own culture and to respect and celebrate others'. There was no Gaelic-medium education in those days – my family was very much involved in the campaign to establish it in Glasgow in the mid-80s. Wilma and I were solitary Gaelic students at school, and did extra study after hours. I certainly wouldn't be doing what I do today if my parents hadn't been so lovingly dedicated in their efforts to surround us in our language and culture.
 Q: You were trained in classical music from the age of six, starting out on piano and later taking up the clàrsach and the concert harp; to what extent did your education achieve, and could you list your many awards and your master's degree?
A: I was pretty lucky in my start in classical musical life. I remember coming home one day from school, and mam called me over to the piano. She said, "That's middle C – right, now come on…", and we went around the corner to a flat just across the road where I met Elisabeth Jacobs, an Australian pianist just arrived from studying in Russia. Her approach was to make music sing, whatever instrument you might be playing – and that, being from a family of singers, made total sense to me. She remained a major influence in my life all the way through school and college. I took up the harp a little later on, with Sanchia Pielou, a real grande dame who was the harpist with the BBC Scottish. At that time, the harp was a very unusual instrument to play – not at all like now! I was lucky to be selected to be part of the first cohort at the UK's first state-funded music school, Douglas Academy in Milngavie, so I spent my five years of high school there, then went on to the Royal Scottish Academy of Music and Drama – now the Royal Conservatoire of Scotland – in Glasgow to continue as a pianist. Eventually, I headed for the Royal Northern College of Music in Manchester, where I concentrated on the harp and on research into a particular genre of Gaelic song – puirt-à-beul, or mouth music – which my family are particularly known for. I was in with the Welsh there – six Welsh harpists, a Welsh harp teacher, Eira Lynn Jones, and me. Loved it. I recently went back to celebrate Eira's 25th anniversary at the college, and to my absolute delight, the first voice I heard welcoming me was a Gaelic-speaking one! I have a photo of that day and the several Gaels that were at that point studying, or had just graduated from there. It's a precious thing for someone who often followed a very solitary path, and I think that if the various teaching movements in trad music have given young people anything, it is a peer group, a cohort who understand their music and culture and can egg each other on – I'd have loved that. I have won various awards over the years, but I prefer to think of the rewards … great gigs, great music, great mentors, they're the things that count.
Q: Your mother, Kenna Campbell, is very influential in Gaelic song and culture; to what degree do you value her influence on you?
A: Mam is a five-foot-tall national treasure. She is beloved by the Gaelic community, the Glasgow Highland community and the traditional music world alike, and I think what marks her out is her quiet dignity in the way she carries out her business – it commands not just love but total respect from those in 'authority' as much as her friends, family and huge number of students. She's just turned 80, and was recognised this summer with an MBE for her work in music, Gaelic and her support of Gaelic medium education. But again, although she was absolutely blown away by the honour, she would regard her students as her true 'honours', I think. When you consider that the students include Ellen MacDonald (Dàimh), Rachel Walker and James Graham (Cruinn), Angus MacPhail (Skipinnish) and Mischa MacPherson, and these are just the tip of the iceberg, you realise what an influence she's had on the trad music and Gaelic music world in Scotland. For me, she's my Mam – she and her brother and sister are the first musical voices, the first memory I have, from childhood. Being a beneficiary of that 'tradition-bearer' legacy is a big one – often a joy, sometimes a burden but always a privilege. Learning from your Mam can be a bit of a challenge sometimes (!) but I am so grateful that she gave so much to us, and continues to do so. Where would I be if she hadn't done so?
Q: Living hundreds of miles from Scotland and the Gaelic music scene, it appears to me that the Gaelic tradition and culture is very strong; Karen Matheson, Julie Fowlis, Joy Dunlop and Arthur Cormack are all well-known names, and I keep discovering an absolute battery of inspiring Gaelic artists. You are totally immersed in Gaelic culture; could you tell me your expert overview and opinion? It's the same in Wales with Cymraeg: Meredydd Evans, Welsh historian, tradition bearer and famous icon, said: "We're living right next to the most powerful language in the world". How does Gàidhlig react to this?
A: I find it interesting that I've started to come across more and more articles on the parlous state of the Welsh language recently, as we have always tended to regard the Welsh language as the 'success story' to which Scottish Gaelic should aspire. But it just goes to show, I suppose, that every situation has its own unique context. For Gaelic, there is a lot to celebrate – increasing numbers of young people speaking, a burgeoning traditional music scene where Gaelic has a strong presence. But it's a fragile situation, and it wouldn't take much to topple the whole house of cards. Each little progress is hard won and makes a difference, but it takes such a big effort from anyone and everyone invested in the language and culture. I met an amazing First Nation band called A Tribe Called Red earlier this summer, while recording some programmes for BBC Radio 3's Canada 150 series. One of the guys, Bear Witness, explained that his mother brought him up to understand that his life was a conscious political act – just getting up in the morning and breathing as a young First Nation man was a political act: I understand that entirely.
Q: What advice would you give to Welsh-language musicians and the Welsh folk scene? It seems to me that the Gaelic language (and the arts) is leading the way in terms of innovation and astounding musicianship, but the Welsh tradition is lagging behind and struggling – could it be because the establishment in Wales dismisses Welsh folk music and is rather concerned with male voice choirs? Your opinions, please!
A: There is SO much in the Welsh music world that I love, and your choirs are right up there for me! I direct a Gaelic choir in Inverness, and for me, the ultimate music-making is voices together, so I get shivers up my spine when I hear a good Welsh male voice choir! If Scottish Gaelic music lags behind Welsh, it's that there's such a diversity of musical genre in which Welsh plays a natural part – from indie to opera, Les Mis to penillion, and we just haven't got there yet. But Scotland has a wonderfully fluid music community that has been ignoring musical borders for at least the past thirty years. It's been a gradual thing – certainly, when I was growing up, things were much more compartmentalised and trad music especially was looked down on – it still is, if you scratch below the surface – but I think it's this melting pot musical community that is Scottish music's greatest asset. And funnily enough, I think it's in this context that the 'pure drop' is as likely to be accorded its due respect as anywhere. There's a place for everything.
Q: You run Watercolour Music with your musician husband, Nick Turner; What state-of-the-art equipment or facilities does the studio have?
A: Nick and I first met at the old Watercolour Music studios here in Ardgour back in 1997 – Nick had gradually built up the studio, basically from when he was a teenager moved to London's music scene, and that particular incarnation of Watercolour Music in the Ardgour Estate's Home Farm was home to many wonderful albums by folk including Fiddlers' Bid, John Renbourn, Julie Fowlis, Wolfstone, Allan MacDonald and Margaret Stewart and many others. When we eventually got together as a couple, we decided we wanted to have a permanent base for the studio, and so we bought some land from the estate and built the current (and final!) incarnation just a couple of miles along the road from the old place. It's a hybrid digital-analogue set-up with a big live room and some lovely mics that gets a beautiful warm recorded sound, coupled with the ambience of a great space and the room to capture live takes from the full band. We were lucky that at the time we were finishing the studio build, we were just starting to record the first of The Campbells of Greepe albums with Grammy-winning producer Jerry Boys. He fell in love with the place and helped Nick finesse the recording space – Jerry thinks very much in the same way as we do in terms of capturing a natural sound, so we took it as a great compliment that he would take the time to offer his advice. But the location and setting is just as important. The new studio sits in the mouth of Glen Scaddle, looking across Loch Linnhe and up on to Ben Nevis – an open, dramatic landscape with constantly changing light. That light is a really important part of the studio vibe, with big windows all around the building, and we also worked hard to build in the features of wood and natural stone that were a part of the old Watercolour. I suppose the other big difference between the two places is that the living quarters are a bit more comfortable – the old studio was pretty basic bothy accommodation, but it did have character! We built a studio house for residential sessions, made for about eight folk really, although we did host all thirteen of Treacherous Orchestra when they came here to record their first album! The secret weapon of the whole place, though, is Nick. He is very much an unsung hero in terms of his production and engineering, but those in the know will tell you that he is something special. But then, I would say that!
Q: Watercolour Music has won awards for Gaelic arts and culture, and An Dàn has been awarded five stars in FolkWales Online Magazine! What other accolades has the studio achieved?    
A: We have been fortunate to work with many, many wonderful musicians here at Watercolour Music over the years, and while Nick and I work on our separate projects, the recordings where we get to work together are something special for us. Our first big success was producing the music for a landmark BBC TV series on Gaelic music back in 2006 – 'Aig Cridhe Ar Ciùil' (At the Heart of Our Music) – which won the media award at the Scots Trad Music Awards that year. More recently, Nick and I were awarded a PRSforMusic commission in 2014 as part of the first New Music Biennial taking place during the Commonwealth Games in Glasgow. 'Aiseag' (The Ferryboat) was a joyous transatlantic voyage of a project, working with fellow composer Scott Macmillan from Canada, and the profile that afforded the studio and our work was something special indeed. Being able to work with ARC Music to get this new, and very personal, Watercolour Music production out to new and wider audiences is such an amazing opportunity for us – the label team have been just brilliant, and we're looking forward to seeing where we can take An Dàn together.
Q: The session musicians are all wonderful – your comments, please!
A: The core band musicians on the album – Finlay Wells, Lorne MacDougall and Euan Burton – have three must-have characteristics: they are long-time pals, really nice guys and stunning musicians. Finlay is a bit like Nick; he understands the trad music world, while bringing other flavours to the table – in his case a more jazzy-rocky sensibility to the sound. While I sometimes have a less-is-more attitude to arrangement, that is often down to wanting a voice, or a song, to speak for itself. This album, however, is much more involved – the songs are layered beasties, musically and lyrically, and Finlay is great at translating my sound ideas into reality. Lorne is one of the original Red Hot Chilli Pipers, so he has all the performance and piping chops, but what I love is his ability to get into the Gaelic groove – he grew up in Kintyre, surrounded by Gaelic influences and resonances, and that definitely permeates his sound. And Euan is simply one of Scotland's finest – he has this beautiful combination of rock-solid pulse and flexible sinuous and responsive bass line that is a joy to sing over. An Dàn also features a string quartet of classically-trained trad-heads, led by violinist and fiddler Donald Grant – Elias Quartet and so on. Donald hails from Lochaber as well, and in fact his dad and my Mam won their Mòd Gold Medals the same year in 1959 – so there's a lovely completion of the circle going on there, as well as having one of the UK's great young chamber musicians contributing to the sound. The final element of the album sound is the Inverness Gaelic Choir and the two ad hoc ensembles within it that provided the backing vocals. They are an integral part of my musical life and kind of my second family (in fact my Auntie Ann and cousin Maggie were members of the choir, too). The last song on the album remembers Maggie, who died unexpectedly last year, and I remember the sound of the choir – and singers from all round Scotland who had gathered for her memorial – as we sang a choral classic together in the service. It was a Runrig song, 'Cearcall a' Chuain' (The Ocean Cycle), about the circle of life, and it was never more appropriate, nor more beautifully sung than on that day.
Q: The first track on An Dàn, 'Seinn, Horo, Seinn', was originally composed by you for the Highland Festival. The subtitle on the album is 'Gaelic Songs for a Modern World'. How important do you consider your message to be?
A: It's vital. Without the vitality of new words, new music, a language – and therefore its culture – cannot thrive. But you also need to know where you come from – language, music, heritage are the pillars that give real innovation and daring new directions the foundations from which they can truly take flight. It's why the likes of Martyn Bennett succeeded in creating a bold new voice where some others have only managed a kind of 'cut-and-shut'.
Q: 'Mise Fhuair' and 'Sith na Coille' are two of the poems by Aongas 'Dubh' MacNeacail; you and Aongas wrote 'Aiseag' together. What's the story?
A: Aonghas is a favourite poet and a favourite person. It's from him that the title of An Dàn comes – one of his poetry collections features the 'dàn' play on words very strongly, and it's stuck with me for over thirty years. I have known Aonghas since I was tiny, and I grew up knowing him as a big haystack of a man who was passionate about the language. When I was little, he was one of the young dudes who used their brains and imagination in the campaign for language rights. At school, his was a poetry that resonated strongly with me as a contemporary voice that made sense to me – you have to remember a lot of what we studied was the great song-poetry canon of the seventeenth and eighteenth centuries, which was really difficult for a solitary 15-year-old wresting with literary tome in one hand and the great Dwelly dictionary in the other! 'Mise Fhuair' was the first song we wrote together – we were on a trip to the Celtic Colours festival in Cape Breton back in 2009 and he wrote the lyrics after chatting on the plane. I told him that Nick described us, as second-time-arounders, as "someone else may have shaken the tree, but I'm catching the apples", and this amused him enormously! I regard him as being the rightful heir of Sorley Maclean in many ways, not least that they both claimed not to be able to sing. But equally, their poetry is bursting with music, and Aonghas loves to see his words in a musical setting. I'm not the only one of course that's worked with him – Donald Shaw, Bill Sweeney and others have all created beautiful things with Aonghas – but I feel his voice, intelligence and wit quietly guiding me from time to time. With 'Aiseag', the Commonwealth Games Biennial commission was always going to be a Skye-centric work – I was given the commission as I was finishing a residency at the Gaelic college in Skye, Sabhal Mòr Ostaig, and the 'commonwealth connection' of Canada came about through having produced the soundtrack for a documentary on the successful Skye Bridge campaign against its tolls. The film was a Canadian-Scottish co-production and Nova Scotian composer and guitarist Scott Macmillan was commissioned to write the original music for the soundtrack. We got on so well at Watercolour during the recording that we promised that we would work together again, and 'Aiseag' turned out to be that chance. Aonghas is from the north end of the island, the other 'wing' of the island from where my mam hails from, and he totally understood my fascination for boats and ferries in particular, and what they signify in terms of human connection and community. I asked him to write me a poem for the work – he gave me a dozen! We eventually used three of them in 'Aiseag', including the main beast, 'Aiseag Dèile' (The Deal Ferry – the ultimate journey beyond), and one of the others found its way into 'Aon Teanga', a reuniting of the three Gaelic nations of Ireland, Scotland and Mann in song. But that still leaves a whole bunch of poems, and some more besides, so I'd say this songwriting team has a lot of work to do yet!
Q: You put together An Dàn as a collection of contemporary Gaelic writers whose lyrics are very dear to you and affected you deeply. The empathy and conviction certainly rubs off on the listener – please discuss!
A: I have always been interested in the evolution of new songwriting in Gaelic, from the watershed of the 1970s when Runrig started writing lyrics rather than the song-poetry that was the central pillar of Gaelic verse up until then. The songwriting daughters and sons of the MacDonald brothers have been rather slow in materialising, and slower still to coalesce into a critical mass of new writers, but they have been there – from lesser-known contemporaries of Rory and Calum, to writing collaborators of musicians such as Murdo MacFarlane and Na h-Òganaich, and there is a lot beginning to happen today. I'm also interested in new songs as a means of transcending perceived language barriers. Every Gaelic singer (and I'm sure Welsh singer, too!) will have encountered the well-meant compliment: "I didn't understand a word, but that didn't matter – it was beautiful". Well, yes, but of course it matters – there are words there, and the challenge is to communicate something of these to the listener (I'm super-aware of this when introducing world music artists on radio as well, from the 'other' side). Strangely enough, when I started gigging the An Dàn songs, I found that people were responding to the gig as a singer-songwriter gig, to the stories and content of the songs, as much as to the 'Gaelic' thing. Maybe because I was connecting them to contemporary people and situations from my own life and experience and that of my colleagues? If so, then I'm really excited by where these songs might take me yet. Of the An Dàn songs, two are entirely mine and three written specifically for me (Aonghas and Marcas), so these are as personal as it gets. Three were song commissions for me to create songs from existing words (Donald Meek and Iain Crichton Smith), and again knowing the people, places and stories involved. And the other three were all personal responses to words and situations, for instance Angus Peter's love-song to his wife; I had created a song-form for this years ago and never found a place for it until two of our choir-members were getting married. I asked Angus Peter if I might finish the song to sing at their wedding, and he was delighted to see another love-match celebrated through it! The George Campbell Hay poem came out of a centenary project Finlay and I worked on in Hay's home turf of Tarbert, Loch Fyne. The words had already been set to other music, but it didn't sit right with me, and this music came bursting out in response – it all worked out in the space of about half an hour, and as much about where we were and seeing the world around us very much as he might have. And Flòraidh's primroses – the words were by my poet cousin, Catriona Montgomery. I heard them read at Flora's requiem mass in Glasgow, before she was taken home to the island of Barra. I felt a real need to 'cuir clach air càrn' – put a stone on the cairn – and a song felt like a binding of one song family to another. Mam and Flora were the greatest of friends, and her son Donald was my radio producer for many years as well. Most of the words are from the 80s onwards with the exception of 'Òran do dh'Iain Dòmhnallach', which is exactly one hundred years old; but even that belongs to the present, being as much about how John MacDonald's family remember him today as the actual events of the First World War in which he lost his life.
Q: You are a Gaelic musician, singer, choral director, composer, radio and television presenter and music producer; you also train and conduct the Inverness Gaelic Choir (Còisir Ghàidhlig Inbhir Nis.) I listened to Còisir Ghàidhlig Inbhir Nis, singing to absolute perfection (and I used to sing tenor in a mixed choir, Cantorion Creigiau.) What satisfaction do you feel?
A: The choir, as I said, is like my second family. Choirs have been a big part of the family music since my great-aunt first moved to Glasgow from Skye in the 50s. She joined one of the city Gaelic choirs (Glasgow Islay Gaelic Choir) – they were part of the social fabric of the Highland and Gaelic community, a support structure as much as anything, but they made good music too! As my Mam's generation moved to the city, Auntie Seonag encouraged them to join as well (although Mam was one that never did), and so that's always been in my ears alongside the traditional roots. When I moved to Inverness, the Gaelic choir had not long been re-formed and they were looking for a new conductor, so with that in my background, and with my aunt and cousin in the ranks, I thought it might be rather cool to give it a go. I stayed with them until I moved to the West Coast when Nick and I got together, but I missed them so much that I started back in 2012 and I now make the 130- mile round trip most weeks to work with them. We do sing in the big competitions – our Mòd is like the Welsh Eisteddfod – but we are definitely not a choir whose life revolves solely around that. They have been with me through some of the biggest and craziest projects of my career, including 'Lasair Dhè', a big-scale re-imagining of the Gaelic psalms, and 'Aiseag' which saw them turn the Caledonian Sleeper train into a series of ceilidh carriages through the night en route to the South Bank Centre for the main performance. They are game for anything and just an amazing bunch of people.
Q: You formed the 'super-group' Cliar with Arthur Cormack; what were the stunning achievements that you remember?
A: Arthur, Blair Douglas, my cousin Maggie MacDonald, fiddler Bruce MacGregor and Chaz Stewart were the original members of the band, formed somewhere round about 1998. Arthur, Blair and I go away back, to when Arthur and I were still in our teens – again the Skye connection was the thing. We had played a fair bit together, and Chaz, who was a long-time musical pal of Blair's from Glasgow, came into the mix. The four of us played a mad winter tour of the islands back in 1991, and I suppose that was the proto-Cliar. It was when I had moved to Inverness a couple of years later and was working at the BBC, alongside Bruce, that the various ingredients came together for the full band. It was only ever a part-time outfit, but I think the three voices, and Bruce's fourth fiddle-voice made for something fresh in the Gaelic music world at the time. We made four albums in total – three in the Watercolour Music studio, and the live 'Lasair Dhè'. The original album was voted Best All-Time Album at the first Scots Trad Music Awards in Edinburgh in 2003. Typical west coasters, we had gone out for a meal beforehand, along the road from the Queens Hall, and were late getting back thinking it would all run to 'trad music' timing. We got to our table just in time to hear out names read out! I have some great memories of the band – my favourites probably being a tour to the Basque Country where Maggie and Ingrid Henderson approved of the gin measures, and a beautiful day and night on the island of Scalpay where we picnicked, barbequed, rehearsed and gigged in perfect weather and on such good form. That was what the band was really about – craic, friendship and good music, and the pictures from that perfect day still make me smile out loud when I see them. It's hard to look at them, too, knowing that her Madge-esty is no longer with us.
Q: Cliar broke up; why was that?
A: Maggie, Arthur and I, the three singers, were there from day one, and we all stayed through until the band reached the stage where it was just impossible to co-ordinate lives to allow a part-time band to work effectively. Our lives were such different patterns latterly, between kids and grand-kids, full-time jobs and freelance muso roles, it seemed as though we spent more time trying to arrange to get together than we did actually playing. So we left things open on a 'never say never' kind of basis; and in fact Bruce had been talking to us about a reunion gig when Maggie took ill last year. I can't imagine a Cliar get-together now without Maggie's voice in there, I'm afraid, although we all work together in different combinations from time to time. The last time Maggie, Bruce and myself were on stage together would have been Celtic Connections 2015, when Blazin' Fiddles hosted Aoife O'Donovan, Rachel Sermanni and Adam Holmes in a mainstage gig called Strings Attached. Inverness Gaelic Choir were the house voices for the night, and it definitely goes down in my book – and Maggie's – as one of our favourite gigs of all time. Everyone was on the toppest of form, doing what they did best in complete harmony with the other elements on stage. I was really proud to be a part of it, and so happy that Bruce and The Blazers had asked us to be a part of it.
Q: The last track of An Dàn, called Crioglachan (Constellation), is an elegy for Maggie, written by Marcas Mac an Tuairneir (Mark Turner?) Could you enlighten me?   
A: Marcas is a poet, and a member of the choir – he is a Yorkshireman by birth, of Irish extraction and a fluent Scottish Gaelic speaker. He goes by his Gaelic name as an artist – and indeed I am sometimes Bean Mhic an Tuairneir as well, much to some people's confusion! – but he is originally Mark Turner, as you worked out!
Just to say that the relationship with ARC Music started out away back with another micro-label, Macmeanmna Records, in which Arthur, Blair and myself have been involved at various times. ARC put together two super compilations of Gaelic songs and music from the Macmeanmna catalogue back in the early 2000s, and Julia Beyer and myself kindled a new connection with the recent Ultimate Guide To Scottish Folk. The opportunity to work with Julia and her team on an original album release is truly exciting, and Nick and I are very grateful to them all for their faith in our music!