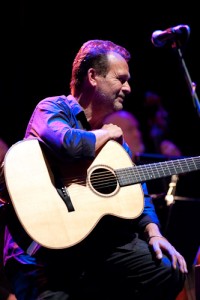 MARTIN SIMPSON: Roots Unearthed, L3 Lounge, St David's Hall, Cardiff, September 19, 2017
There's one thing better than a Martin Simpson long-awaited album, and that is seeing him performing live – in the flesh, alone, with no safety net. The L3 Lounge was packed out in the first of the Roots Unearthed autumn, winter and spring series, and Martin gave all that the audience wanted; masterful, unique guitar of such brilliant fluidity, tingling and intense vocals, incisive and beautiful songwriting, razor-sharp banjo and spellbinding ukulele work. His 45-year career outshines everybody, and he is indisputably ahead of the game.
This was the Trails And Tribulations promotion tour, his 20th album; everybody's eyes were on Martin as he held the stage with the eerie opener, 'Reynardine', and the slide-guitar version of the familiar and worldwide 'St James Hospital'. When Martin writes a song, he blends his focussed poetry with haunting melody; he introduced his compositions 'Maps' (a pot-pourri of childhood recollections of studying old charts and maps, with the poet Ivor Gurney, his mind shattered as a Great War soldier, being brought back to sanity by looking at maps) and his love of the natural world in 'Ridgeway'. The Cornish poet Charles Causley wrote 'A Ballad For Katherine Of Aragon', set to music by the late Alex Atterson; divorced by the Anne Boleyn-infatuated King Henry VIII (which Martin described as "the syphilitic cross between Donald Trump and Boris Johnson"), Katherine lies buried in Peterborough Cathedral. The late Jackson C. Frank wrote 'Blues Run The Game', a song from his single eponymous album, produced by Paul Simon; the album failed to attract buyers, but earned legendary status. The song influenced many great guitarists, including John Renbourn and Bert Jansch, but Martin topped the lot with his stunning interpretation of Frank's tortured manic depressive. He brought the first set to a delightful end with his version of Elvis Presley's 'Heartbreak Hotel' – written by May Axton, mother of Hoyt Axton, singer-songwriter, actor and folk guitarist.
For 'East Kentucky', Martin played his ukulele at a mind-boggling pace; and he marked the Grenfell Tower fire outrage with Leon Rosselson's magnificent 'Palaces Of Gold', first written for the Aberfan tip disaster on October 21, 1966. He paid tribute to his deceased father with the song which he called "my only hit", 'Never Any Good', and he returned to his new album with his composition, 'Dancing Shoes'. John Hardy was a brutal West Virginia railroad worker who shot a man in a drunken argument involving a ten-cent crap game, and his story became infamous in a multitude of folk songs. Martin contends that on-one knew the name of his victim, and he redresses the fact by writing 'Thomas Drew'.
He finished an enthralling programme by picking up his banjo for two pieces; 'Rufford Park Poachers', from his home patch of North Lincolnshire, where Percy Grainger recorded Joseph Taylor in 1908, and the lovely, freewheeling Emily Portman song 'Bones And Feathers'. The crowd wanted an encore, and I must admit that I was the first to shout for more. Martin is on the pinnacle of his venerable career, and I fervently hope that it will stay that way for years to come.
Mick Tems