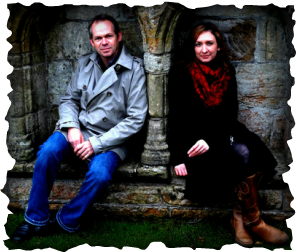 TORNISH: Llantrisant Folk Club, Pontyclun, February 22, 2017
Tornish are Yorkshire-born flute and whistle player Tim Orrell and Gwen Màiri Yorke, who plays the clàrsach and pedal harp; she was bought up in Scotland by a Welsh mother and a Scottish father and now lives in Glasgow, making her living by playing for classical orchestras. The name Tornish comes from the Ardtornish Estate, a beautiful tract of land near Scotland's West Coast and The Sound Of Mull, with Loch Linnhe and the town of Oban not far away; both Tim and Gwen Màiri's repertoires are laced with their self-composed music and traditional culture and song of Wales, Ireland and Scotland, and they delivered an overflowing, proud package to Llantrisant Folk Club.
Tim and Gwen Màiri met at TRAC Cymru's BEAM weekend of Welsh music workshops and concerts in Llanfairpwll, Anglesey during 2011, and decided to form a duo. Tim trained as a classical clarinet and jazz sax player, but he saw The Boys Of The Lough playing in a tin shed in Argyll at the age of 12 and never looked back. He was active on the folk scene in Sussex, Devon and North Wales before settling down in South Wales; he is in the process of moving to Penarth Marina, making his home on board of the yacht Rhiannon. Gwen Màiri, a Royal Scottish Academy of Music and Drama graduate, enjoys her career on clàrsach and pedal harp – but it is with the clàrsach that she feels most at home, and the audience were thoroughly captivated and elated by her nimble-fingered and expert interpretation on this fine traditional folk instrument.
Tornish never let up on their dreamy charm, from the variation on 'Ty Bach Twt' and a salutation for TRAC organiser Blanche Rowen, composed by Tim, to the Robert Burns classic poems 'My Love Is Like A Red, Red Rose' and 'Ca' The Yowes Tae The Knowes', both sung by Gwen Màiri. They skipped through the popular Welsh song 'Dau Rhosyn Coch' and the Irish tunes 'The Easter Snow' and 'Out On The Ocean' with effortless alacrity; 'Y Gwydd' (The Loom) told the vivid story of an army of Welsh handloom weavers all resigned to the fate of modernisation. The familiar chestnut 'Hiraeth' suddenly took on a strange and unnatural new form when Tornish changed it to a minor key and sang a haunting harmony; Gwen Màiri's clàrsach played a tune written by her grandfather, and she accompanied Tim's singing of the eerie ballad 'Bonny James Campbell'.
Tune, song and tune kept on tumbling out; Tim told the absorbing story of 'Maen Lwyd', the second of a brace of melodies which he had composed, about the 'bouncing stone', right on his garden, which formed the boundary of the ancient hilltop town of Llantrisant. Every seven years, and accompanied by a brass band, the freemen and residents set off for the seven-mile Beating The Bounds ceremony, where they 'bounce' the youngest freeman of all to impress upon his memory just where the boundary lies. The Beating The Bounds is building up to a grand four-day celebration this year, culminating in thousands of boundary-beaters walking the seven-mile course on Saturday June 17.
Tim and Gwen Màiri are just two of the inspiring musicians who are building a wonderful weave of the rich tradition of Welsh culture; they played at Derek Smith's Cwmafan Folk Club two days before, and Derek lent them his Bose PA, efficiently engineered the sound and accompanied them by playing guitar for the closing set of tunes. The audience went wild and shouted for more; it should be remembered that this was an absolutely appalling, rain-drenched night when Storm Doris raged, and the many hardy souls who did make it to Llantrisant Folk Club were well satisfied. A special commendation must go to Sylvia and Cas, who battled their way through the elements all the way from Pontardawe – now, that's dedication!
Mick Tems