ALLAN YN Y FAN
Llantrisant Folk Club, Pontyclun Institute Athletic Club, August 31, 2016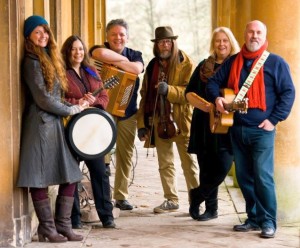 The six members comprising Allan Yn Y Fan kicked off the mammoth promotional tour showcasing their lastest offering, the new CD Newid, at Llantrisant – and judging by the roars of appreciation and calls for an encore that went up, it was a spectacularly great start. From their Welsh familiar surroundings, they were off to a Belgian festival and three concerts in Germany, and a dozen gigs across the whole of Wales, from Holyhead in Ynys Môn to Abertillery in the Gwent Valleys, taking in The Great Pyjama Picnic in Roald Dahl's City Of The Unexpected in Cardiff's Bute Park. The four founder members – Geoff Cripps on bass and guitar, Chris Jones on accordion, Linda Simmonds (mandolin, mandola, bodhran) and Kate Strudwick (flute, alto-flute, recorders, whistles) – summoned up a new energy, buoyed up by lots of new Welsh songs, airs and dance tunes, boosted by the two "new" musicians, radiant singer Catrin O'Neill and expert fiddler Alan Cooper.
Catrin and Alan, mind you, who have both been in the band for over two years, and they contribute a new, fresh style of singing and playing. All the audience's eyes were on Catrin, her of the lovely laughing eyes, grinning, impish face and gifted, magic voice. Alan's fiddle was just superb, and he provided a perfect foil to Chris's strong and flashy accordion.
Kate, too, is contributing to the band's unique sound with her composing; 'Tune For Lilian' was peaceful and simply lovely, and her 'Tune For A New Bought Accordion' was playfully artful. Chris is they mainstay of the band's writing production, and his 'O'Connell's Extension', 'Bishop Of Llandaff's' and the tribute to Radio Wales' long-serving and well-loved presenter, 'Frank Hennessy's Kairdiff Quicksteps' were warmly applauded by the audience.
There can be no doubt: An Allan Yn Y Fan spot just leaves you with a feel-good feeling, and you could count the number of happy faces that wended their way home at stop-tap. That's the effect they have on you!