LAURA-BETH SALTER & JENN BUTTERWORTH
Llantrisant Folk Club, Pontyclun Institute Athletic Club, August 17, 2016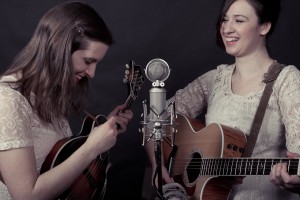 It promised to be an ecstatic, brilliant night; Llantrisant Folk Club quickly filled up, the starter session was cooking along nicely with the two Scotland-based guests joining in, Nanu Bouthillier from Ploërmel, Brittany played her fiddle and sang her Gallo ballads while club members danced the andro – and Jenn and Laura-Beth just about topped the lot with a luscious battery of exquisite musicianship, americana and stunning songs from the Scottish tradition. It is times like this that you thank your particular gods for folk clubs and all who sail in them.
What is particularly gratifying is that Jenn and Laura-Beth set off from Glasgow that morning on the long drive to South Wales for just one gig; when it came to the end of their sparkling set and delighted punters shouted for an encore, they duly obliged before heading off into the night for Birmingham and bed, arriving back in Glasgow the next day. Lesser mortals than these two musicians would not have attempted such a feat; but they stamped their awesome reputation with a vengeance, the echoes of which will last for a very long time and enhanced their stature for miles around.
Jenn and Laura-Beth are both key players of the world-renowned Glasgow session scene, and their decision to go on the road using simply two harmonious voices, guitar and mandolin was a welcome shot in the arm. Club committee members Pat Smith and Ned Clamp had seen them at a festival in the Hebridean island of Colonsay, and Pat booked them straight away; their glorious mix of creative Celtic energy, wonderful musicianship and Stateside material is an enticing, spicy recipe which keeps the cauldron boiling and bubbling.
Jenn can hold her head high in the company of Scotland's elite guitarists; she has toured extensively with the award-winning Anna Massie Band, and she is in high demand as an accompanist. Her most recent collaborations have involved artists such as Phil Cunningham, Nuala Kennedy and the must-see Songs Of Separation project. Laura-Beth is influenced by the blues, old-time and bluegrass music that her parents played while she was growing up in Lincolnshire, and she became heavily involved in the folk scene while studying for a traditional music degree in Newcastle; she is a founder member of all-woman sextet The Shee, based in Scotland, and her recent collaborations involve Shooglenifty and The MacLean Project, led by the award-winning Perthshire singer and songwriter Dougie MacLean.
Jenn and Laura-Beth launched into 'Come To Jesus', a minor hit recorded by the New-York-born country and bluegrass singer-songwriter Mindy Smith, and went straight away into the knockout tune 'The Scottish Situation', the mandolin and the guitar spitting fire. 'Elzick's' was quite simply a maelstrom of incredible notes and truly magnificent playing, and they paid respect to songwriter Nancy Griffiths on 'I Wish It Would Rain' and the absolutely lovely 'Across The Great Divide'. Their voices rang out brilliantly, the fingers became a blur on Laura-Beth's mandolin and Jenn's guitar was totally cooking and dancing.
All too soon it was time to finish, and the roar of appreciation just exploded. Let's fervently hope that we see and hear these great musicians again; they completely deserve it.