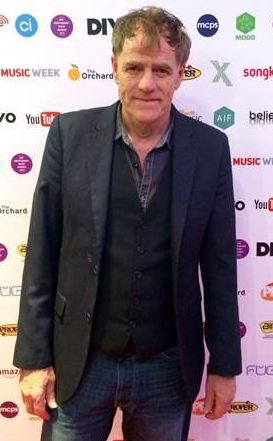 Penarth singer-songwriter Martyn Joseph, acclaimed as "one of acoustic music's most original voices", had the honour of being nominated at the AIM Independent Music Awards at The Brewery in London in the closely contested category of Hardest Working Band or Artist.
Known for his astute songs of compassion and as one of the finest live acts on the circuit, Martyn was the sole representative of the folk roots scene at the Awards ceremony, facing strong competition from artists from the R'n'B, rap and indie worlds. The award was clinched by singer-songwriter Darren Hayman, but Martyn was proud to be a flag bearer for the tradition. He said: "It was an honour to be the voice of folk within the wide cacophony of so many other musical genres and among some incredible artists. It was a fantastic night for independent music."
Adele, Stormzy, Roisin Murphy and Slade were among the night's winners – but it is not hard to see why Martyn earned the nomination, having played over 140 shows and Festivals across the UK, Canada, USA and Europe in the last year, including his own event PipeFest. He has released two magnificent albums, Sanctuary and Sanctuary Acoustic, and he has collaborated in the English Folk Dance and Song Society's Sweet Liberties project, as well as developing his own UK based charity, Let Yourself Trust, which has been supporting grassroots projects in Palestine, Guatemala, Uganda, Canada and the UK.
Long known for his humanitarian work, in the past 12 months he has travelled to Palestine with volunteers to help rebuild a demolished family home and to Guatemala, leading a 25-strong team in the building of a music centre for a Children's Village. Last year also saw him playing a show in Zac's Place, the Swansea homeless shelter, with Bob Harris OBE, patron of Let Yourself Trust, to celebrate raising £16,000 for their work in the first half of 2015. At the start of 2016, he presented a Let Yourself Trust cheque for £18,000 to the charity Advantage Africa and last September he ran his first 10k race to raise further funds.
Bob Harris says of him: "Martyn is one of our most intelligent writers. He gets better and better like the finest of wines." BBC presenter Tom Robinson has called him: "One of the most charismatic and electrifying performers in Britain today", and Mojo Magazine says that Martyn writes "intelligent and enlightened songs … from subtle tenderness to growly indignation. A Welsh national treasure."
A previous winner of the Best Male Artist title in the BBC Welsh Music Awards, Martyn's story of three decades of performance, half a million album sales and 32 album releases continues to grow and connect on both sides of the Atlantic. He will shortly embark on a tour of USA and Canada before returning for a UK tour in November and December.