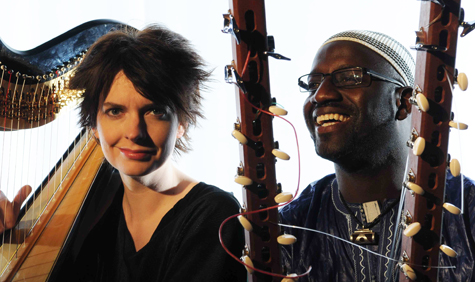 Catrin Finch and Seckou Keita: Wales/Senegal tour for the kora, the harp… and the dibon
FolkWales Online Magazine editor MICK TEMS guides us around the vast world music expo to end all world music expos
A host of exciting Welsh singers and musicians have been selected for the mega-gigantic WOMEX World Music Expo on October 23 to 27, with Cardiff hosting – and a worldwide flood of international artists will be there to join in with the celebrations.
Ex-Catatonia singer and WOMEX artistic director Cerys Matthews (who herself champions Welsh traditional music) has tailored a stellar night of high-class Welsh talent for the opening showcase at the Wales Millennium Centre in Cardiff Bay, on Wednesday, October 23 (8pm). Land Of Song, which reflects upon and pays tribute to the musical roots and rich culture of Wales, honouring the intrinsic link between Welsh history and music, includes well-loved crwth player Cass Meurig; spectacular harper-singers Gwennan Gibbard and Siân James; triple-harp duo Dwy Delyn Deires (much-travelled musician Robin Huw Bowen and Rhiain Bebb); Wales-India collaboration Ghazalaw (Gwyneth Glyn and Tauseef Akhtar); fiddler, pibgorn and Welsh bagpipe player Patrick Rimes, from storming band Calan; harper-singer-songwriter Georgia Ruth, whose new album, Week Of Pines, garnered four stars in the FolkWales Online Magazine CD Reviews page; and enigmatic poet-cum-singer Twm Morys, from Bob Delyn A'r Ebyllion. Young Welsh dance team Dawnswyr Bro Tâf battle it out with international dancers Ballet Cymru, Treorchy Male Choir salute the dockland choir Of Mount Stewart Primary School, and Cerys will appear with two members of her band, Mason Neely and double-bass player Andy Coughlan, of harper Harriet Earis' trio and erstwhile session musician of the Cwmni Caerdydd dance team.
WOMEX is described by UNESCO, the Global Alliance for Cultural Diversity, as: "The most important international professional market of world music of every kind. This international fair brings together professionals from the worlds of folk, roots, ethnic and traditional music and also includes concerts, conferences and documentary films. It contributes to networking as an effective means of promoting music and culture of all kinds across frontiers."
Cardiff beat tough international competition from nine cities, including Glasgow and Dublin, who all applied to host the show. Recent hosts have included the Danish capital Copenhagen and the second-largest city of Greece and European Youth Capital, Thessaloniki.
WOMEX is already spawning musical projects, including the mighty Wales-Senegal collaboration of the international jet-setter and harp player Catrin Finch and kora virtuoso Seckou Keita, who comes from a long line of griots and has royal blood in his veins. The harp and the kora are very similar; the kora is made from a gourd, with fishing wire for strings. Catrin's concert performances consist of an eclectic and heady mix of tunes from the Welsh tradition, jazz and classical influences. She has already toured at arts centres and theatres all over Wales and England with traditional musicians from Columbia and West Africa, curated by Theatr Mwldan in Cardigan and Astar Artes, the agency formed by musical adventurer John Hollis. He produced Catrin and Seckou's new CD, called Clychau Dibon (the dibon is a romantic West African bird which mates for life but spends the night in a different tree from his partner; at dawn, males and females call out to each other, hence "dibons' peals".)
This CD, which also won four stars in FolkWales Online Magazine's reviews page, is the culmination of another WOMEX project, Horizons Tours. Welsh musicians team up with promising worldwide artists to play at arts centres all over Wales from October 27 to 30, at Harlech, Pontypridd, Narberth, Ystradgynlais, Caernarfon, Aberystwyth, Cardigan, Porthcawl, Builth Wells, Swansea, Blackwood, Holyhead, Pwllheli, Brecon, Abergavenny and Pontardawe. Catrin and Seckou will perform at the WOMEX Horizons stage in Cardiff, and on their own tour in Brecon (Nov 6), Felinfach (7), Llanelli (8), Milford Haven (9), Harlech (10), Pontardawe (13), Newtown (14) and Bangor (15).

9bach holding the Glanfa Stage at the Wales Millennium Centre: the band has been selected by WOMEX for the Horizons tour.
(Photo: Mick Tems)
The Horizons Tour takes in the fiddle-and-harp mother-daughter duo DnA, Delyth and Angharad Jenkins; the doomy drums, searing guitar, harp and striking actress Lisa Jen's voice of 9bach; Ghazalaw; Ballet Cymru; and Alaw's dancing fiddle (Oli Wilson Dickson), fluent guitar (Dylan Fowler) and virtuoso accordion (Jamie Smith) – again, their new CD was awarded four stars in FolkWales OM. The worldwide musicians are the must-see Ghanian Ebo Taylor, the Cumbia All Stars from Peru; and the ten-piece Les Tambours De Brazza (Congo).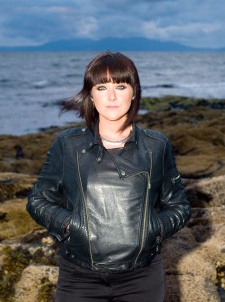 Fiona Hunter: Scottish tradition
Artists from all over the world will perform at the Cardiff Motorpoint Arena (day venue) and the WMC (night venue), including the brilliant fiddle-accordion-guitar trio Lau; the fiery Canadian fiddle-and-clogs threesome The April Verch Band; Fiona Hunter, traditional singer with Scottish band-of-the-year Malinky; Scottish pipers and incredible musicians Ross Ainslie and Jarlath Henderson; beautiful self-composed songs from the Emily Portman Trio; the Swedish group Navarra; and the Albanian-UK melting-pot Fanfara Tirana Meets Transglobal Underground. Musicians from New Zealand, America, South Korea, France, Indonesia, Bosnia, Turkey, Mali, Morocco and Algeria will meet there to thrill the crowds.
With showcase acts at an absolute premium, the offWOMEX "fringe" performances are growing in popularity. On October 24 at the WMC, WOMEX heads to Brittany with a spectacular called Bretagne: Land Of Music, starring The Jacky Molard Quartet, Gipsy Burek Orkestar and double-bass player Krismenn. Jacky, brother to famous piper Padrig Molard, is a Breton musician, composer, producer and a well-known figure in traditional Breton music; he plays scintillating fiddle, guitar and bass. He has been a member of Breton bands Gwerz and Pennou Skoulm, and has also played in various groups with respected singer Erik Marchand, such as Taraf de Caransebes. He created the Innacor Breton/World music label in 2005, along with Erik and Bertrand Dupont.
On October 25, it's the turn of Spanish and Belgian artists; the stirring sound of the Galician pipes (Budino), the cello, drumkit and stunning voice of Laila Amezian, and the plucked strings of Mandolinman.
And on October 26, the former Bottine Souriante singer and accordion player takes the stage when the Yves Lambert Trio play at a South Africa/Quèbec night. Quèbecois band Bon Debarras and South African artist Nomfusi are taking part.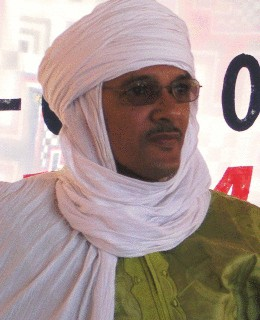 Manny Ansar: Director and founder of the Festival au Désert
Award winner battles extremism, hatred and war
Mali's Festival au Désert and its organiser, Manny Ansar, will receive the WOMEX 13 Professional Excellence Award at an award ceremony on Sunday morning, October 27, open only to WOMEX delegates. The laudation will be offered by the freelance writer and journalist Andy Morgan (UK).
Twelve years ago, in the deserts of northern Mali, one of Africa's most remarkable music festivals was born. It drew a veil aside to reveal a previously hidden desert culture. Since then, the Festival au Désert has found a permanent home in a sea of silky white dunes west of Timbuktu and turned it into a place where the desert can meet the world in friendship and safety and parade its beauty, its pride, its musical and human wealth. The spell that the festival cast on those dunes at Essakane held firm until just a few days before the outbreak of civil war in January, 2012, while extremism and ethnic hatred banished it from its home.
Horizons Stage artists announced
The Welsh band 9bach meet up with Welsh international harper Catrin Finch and Senegal superstar Seckou Keita in a WOMEX World Horizons stage – and a host of Welsh, Scottish, Irish and World musicians will be in the spotlight as part of the line-up. Convened by an independent jury of the head music organisations of Wales, England, Ireland, Northern Ireland and Scotland, Horizons highlights the best world music artists from the nations.
Horizons members are Music Wales (a partnership between Wales Arts International and Welsh Music Foundation), Arts Council England, Arts Council Northern Ireland, Arts Council Ireland, Cerdd Cymru, Creative Scotland, Scottish Music Industry Association and Culture Ireland. The partnership is supported by British Council.
Performing on the Horizons Stage are 9Bach, Catrin Finch and Seckou Keita, Family Atlantica (Venezuela/UK, based in England), Fiona Hunter (Scotland) Georgia Ruth (Wales), Kan (based in England, Scotland and Northern Ireland), Lokkhi Terra (Bangladesh/Cuba/UK, based in England), Ross Ainslie and Jarlath Henderson (Scotland) and We Banjo 3 (Ireland).
Visa hassles, grabbing press attention: it's Conference time
Iconic singer-songwriter Dafydd Iwan, Recordiau Sain chief executive Dafydd Roberts, Calan fiddler and trac representative Angharad Jenkins, Wales Arts International head Eluned Hâf and Hold Tight agency owner/Cerdd Cymru director Alan James are among speakers in the latest round of Conference topics. Here are some of the lively debates designed to grab your attention, such as: four more avenues to learn about building an audience, grabbing the attention of the press and tips and tricks for securing timely visas.
Being selected for a WOMEX Showcase is just the first step. Alan James will head up a panel of experts including musician Sam Lee (UK) of The Nest Collective, David Flower (UK) of SASA Music and Angharad Jenkins of Trac (Music Traditions Wales), taking delegates step by step through the ins and outs of networking like a professional and making the most of a Showcase performance.
Veteran publicist, Dmitri Vietze (USA) of Rock Paper Scissors, will offer delegates a crash course in pitching to the press. Throwing artists in at the deep end, he will conduct mock interviews and help them identify one good pitch angle in a matter of minutes. Artists looking to take part can submit an audio track beforehand.
Visa procurement is still one of the main obstacles getting in the way of artist mobility. Eluned Hâf of Wales Arts International will moderate a discussion with Jean-Hervé Michel (France) of Nueva Onda, Frank Tenaille (France) of Zone Franche, Matthew Covey (USA) of Tamizdat and Marie Le Sourd (Belgium) of On the Move, looking at ways that artists and the industry can efficiently cut through the bureaucratic red tape.
The Conference will discuss World Music, Diversity and Democracy: The role of the song in challenging oppression, hosted by Arts Council of Wales chairman Dai Smith with Dafydd Iwan, Lou Bennett of the Australian Black Arm Band Company (a music and theatre company founded in 2005 to focus on the expression of Australian Aboriginal experience and identity) and freelance writer and journalist Andy Morgan. Examining the role of music in social protest, the session will look at the effect of protest singing in different struggles around the world. From the protest songs of the 1960s to the present, the role of song has empowered people worldwide; but is it a fading tradition?
Paging Cerys's singalong book
Cerys Matthews, artistic director of Land Of Song, WOMEX 13's opening concert, has added another feather to her already-impressive cap, with the release of her latest book, Hook, Line And Singer – and comprised of a collection of traditional and contemporary songs gleaned from around the world, the book features lyrics to each and is designed to unite young and old via the time-honoured custom of singalongs.
Cerys's penchant for absorbing musical traditions, folk-tales and songs when travelling is the common thread that weaves the collection together, with each song given a detailed overview and reason for its inclusion. For more information, visit the Penguin website: