In this issue:
CD Launch, Norwegian Church, Cardiff Bay, September 6, 2013
There was definitely a buzz in the warm intimacy of the packed Norwegian Church concert room that night, where Alaw were promoting the launch of their debut CD Melody. Everybody - from Arts Council Wales officer Antwn Owen Hicks to Carreg Lafar's Linda Owen Jones to Welsh dance chair Eiry Palfrey to a goodly number of the Cwlwm Celtaidd festival committee - was anticipating a fine performance, plus a welter of flashes of inspiration, from outstanding fiddler Oli Wilson-Dickson, jazz guitarist and fluid musician Dylan Fowler and incredible accordionist and prolific composer Jamie Smith.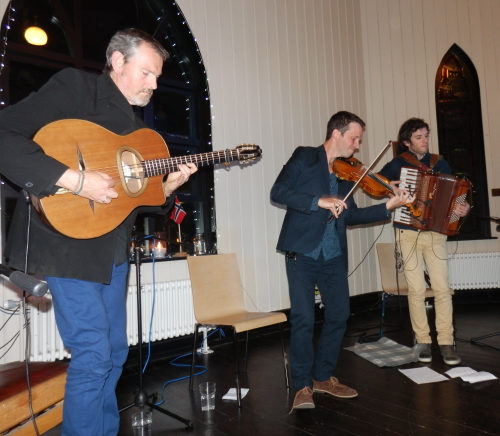 Alaw triumph: guitarist Dylan Fowler, fiddler Oli Wilson-Dickson and accordionist Jamie Smith earn a well-deserved encore from the packed audience in the debut CD launch.
(Photo: Mick Tems)
Alaw (it translates as Melody in Cymraeg) is one of those magical combinations which has interested musicians beating a path to their door. Dylan and Oli play with an empathy that comes from many years of working together, drawn into a melting-pot of Balkan tradition and Indian influences, collaborating with Szapora and The Ian McMillan Orchestra, a bunch of top-drawer world musicians. Oliver and Jamie are well known throughout the folk world as the front-line of Jamie Smith's Mabon. The trio is a formidable powerhouse, and at the heart of their immaculate set is a passion for the old tunes of Wales – it's a really exciting and heartwarming prospect.
Not to waste valuable time, the band went straight in to the first traditional tune, 'Glyn Nedd' (The Vale of Neath), followed by the magnificent slip-jig 'Gyrru'r Byd O'Mlaen' (Drive The World Before Me). The crowd hadn't the time to catch its breath before Alaw powered through the lovely 'Cariad Newydd' (New Love) set, with Dylan throwing in some tasty licks, and Oli introducing 'Jig Arglwydd Caernarfon' (Lord of Caernarfon's Jig, at which the press pundits threw up their hands and declared: "That's not a jig!") Oli explained that the Lord had probably heard the tune, liked it and mis-named it 'Lord of Caernarfon's Jig' – and as he was probably very rich, the musicians, not wishing to cut off the patronal money, did not with to question His Lordship. Jig it remained.
Oli and Jamie continued to dazzle with fiddle and keyboards, but Dylan cannot be underestimated for really enhancing the developing chords of the tunes with inspiration and flair – highlights were 'Gwen Lliw'r Lili', 'Hud y Frwynen' and 'Breuddwyd Y Wrach/Nyth Y Gog' and his solo guitar absolutely shimmered in his composition 'Seren Y Gogledd', a tribute to triple-harper and teacher Llio Rhydderch, and in Dr Peter Stacey's new work 'Taith Madog.'
Needless to say, the delighted audience gave them a cheering, stamping encore – and Alaw have raised the stakes by interpreting the proud Welsh tradition and subtly polishing it to a higher value. We have such a rich and beautiful history, but a secret one – it's a probable certainty that, with many other musicians who love this culture, Alaw could unlock the key and open the floodgates.
Mick Tems

Welsh Proms fringe, St David's Hall, Cardiff: July 23, 2013
Here's a message to the crowded Welsh Proms audience at the vast St David's auditorium: you have been well and truly spooked! A coachload of black-clad Australian blokes strolled onto the stage, all wearing wide-eyed deadpan expressions and various hats, not to speak of one black kilt. The conductor, or spookmeister, (sporting winter headgear, which would be fine on the chilly mountain slopes but bemusing in the already-sweltering Hall) gestured for silence – and thus began the most surreal, highly enjoyable and gloriously mind-bending introduction to the new CD, The Spooky Men In History.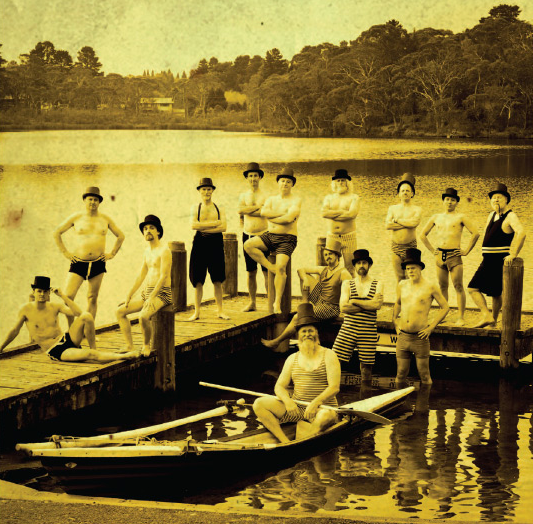 Spooky swimwear: the Spooky Mens' Chorale
The Spooky Men sing about man matters; fierce gesturing to protect others in the tribe ('Are You There?' and its twin 'We're Here'), examining parts of the body ('Foot', the brain-blowing seven-time 'Eyebrow'), the carnivore's delight mixed with a medieval giant-of-a-boor (the swaggering and delightfully complicated 'The Baron Of Beef'), the contents of the shed ('Don't Stand Between A Man And His Tool', the climax involving a giant-sized spanner – the Spookies are incredibly good at classical tableaux) and self-denial ('We Are Not A Men's Group'.) 'The Thing' pinpoints puzzling purchases which might have seemed a good idea at the time; now they make a habit of disappearing from under your nose.
And the Spookies won first place in this year's Infinite Bee Gees Competition with their 13th century Sufi devotional tribute, dedicated to the great prophet Ba'hari Ghibb: "In the latter days three prophets will come… Ra'habin Ghibb, he will go before, Ma'haris Ghibb, he will go before… Ba'hari Ghibb, he is the one, he sings so high, he sings so pure…" and all this to distinctive snatches of the 'Stayin' Alive' hit.
The audience watches open-mouthed and highly delighted at all this mayhem, telling themselves that they're not really believing it. But the Spooky Men's brilliant harmonies are simply spine-shivering, four-part voices to die for. 'Surfin' is a merciless send-up of sixties Beach Boys, and spookmeister Stephen Taberner borders on genius for composing all the weird and wonderful arrangements on top of writing all but a few of the songs. And what songs they are; Taberner follows the absurdity of 'Three Songs' with the heart-stopping beauty of 'Sweetest Kick', the Georgian log-carrying song 'Elesa' and the ever-changing chords of turn-of-the-thirteenth-century religious collect 'Tsmindanao', from Kartli-Kakheti, again in Georgia, with the shifting, shimmering harmonies washing like endless waves.
The Spooky Men had already cajoled the crowds into standing up in their seats, and they roared for an encore. The Spookies obliged with one last waltz, every man coming down from the stage and inviting the audience until it seemed as though the entire hall was dancing, the men singing in scintillating harmony.
Melbourne singer-songwriter Lucy Wise opened the show; with a ukulele as her only accompaniment, she charmed the crowd with a few simple songs.
PS: Each night I go to bed, their many melodies ringing in my ears. It's the same whenever I wake up. Damn you, Spooky Men – but I really respect you!
Mick Tems

The Borough Theatre, Abergavenny, July 25, 2013
Le Vent Du Nord is an absolutely rip-roaring Québecois four-member band who write barnstorming songs and tunes, but remain true to the French-Canadian tradition - and they certainly filled the Borough Theatre as they set out on their 12-date British tour, which saw them raising the roof at Warwick, Cambridge and other major summer festivals. (Incidentally, a huge plaudit to Joy and Tony Toole for their inspiring vision in inviting Nicolas Boulerice, Réjean Brunet, Simon Beaudry and Olivier Demers to the Gower Festival over a year ago; this tiny festival has a mighty reputation for pinpointing amazing bands and artists, and long may it continue.)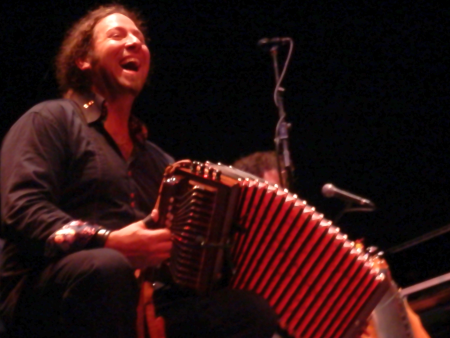 Happy! Rèjean Brunet's joyous grin sums up Le Vent Du Nord's whole raison d'être at the Borough Theatre. (Photo: Mick Tems)
Here's the line-up in Le Vent Du Nord (translated from French, The Northern Wind): Réjean plays the fabulous accordéon diatonique and bass guitar; his grinning, happy features prove he is equally at home on either instrument. Nicolas is a wizz on hurdy-gurdy (vielle á roue) and piano; Simon is a solid anchorman on guitar and bouzouki; and energetic and forceful fiddler Olivier, who drives the pace of the band on the fabulous pieds, the peculiarly Québecois tradition of the percussive dancing feet. All sing passionately and are absolutely faultless on the spine-shivering harmonies; and the audience at a Le Vent Du Nord gig just know that they will be in for a good time.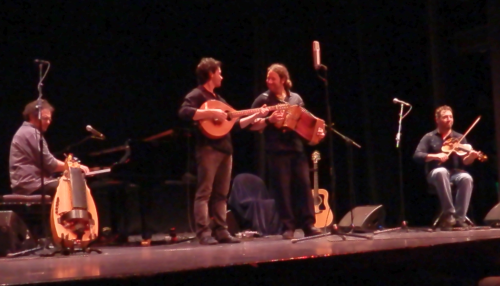 Quèbecois magic: From left: Nicolas, Simon, Rèjean and Olivier.
(Photo: Mick Tems)
And the band definitely guarantees a good time – in fact, Réjean, Nicolas, Simon and Olivier pack so much electricity and oomph into their performance that the fans are just left breathless and mesmerised by the whole amazing show, which featured their new CD, Tromper Le Temps (translated: Fooling Time). 'Lettre Á Durham' is the band's answer to the notorious Lord Durham report of 1839, which recommended the encouragement of British immigration to Québec to overwhelm French culture, and the banning of the freedom granted to French Canadians under the Royal Proclamation of 1763 and the Québec Act of 1774. Le Vent Du Nord pile in with a furious denunciation of the whole sad and sorry business, which breaks out in a stinging, defiant instrumental interlude. The band are proud to be political, and quite rightly so; Nicolas has even written a political instrumental piece, a no-holds-barred stomping dance number called 'La Soirée Du Hockey', in protest about Radio Canada's cutting of the French commentary in ice hockey, the Canadians' favourite sport.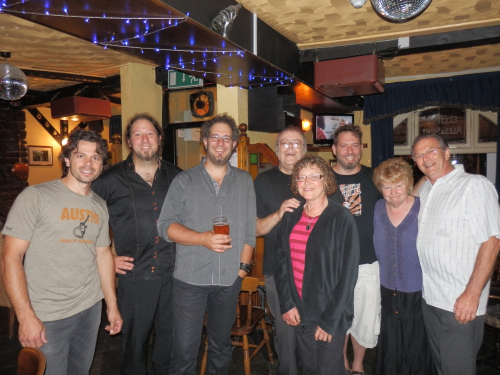 Smile for the camera! In The King's Head bar, from left: Simon, Rèjean, Nicholas, Folkwales OM editor Mick Tems, computer guru Olly Price, Olivier, and two hard-working pillars of Tredegar House Folk Festival – Sue Oates (chair) and Alun Rhodes
But a Le Vent Du Nord concert is loaded with sparkling wonder, the four members obviously taking delight in the tripping, dancing music with their smiling faces. 'Le Dragon De Chimay' is a product of the Icelandic volcanic eruption a while back, when the band were stranded in Belgium for a week; they had nothing to do but drink the contents of the Chimay brewery, and this song was incredibly good value for their troubles. 'Le Winnebago' is good-time dynamite, featuring Réjean on the bombarde (which does not mean a Breton instrument; it's Quèbecois for jew's harp); 'Souffle d'Ange' (Angel Breath) is starkly beautiful; and the band power into 'Le Souhait' and 'Le Coeur De Ma Mère'. A brilliant, breathless night, made all the more pleasurable by the Nicolas, Simon, Rèjean and Olivier joining us for a nightcap at the pub next door. Salut, et merci bien!
Mick Tems