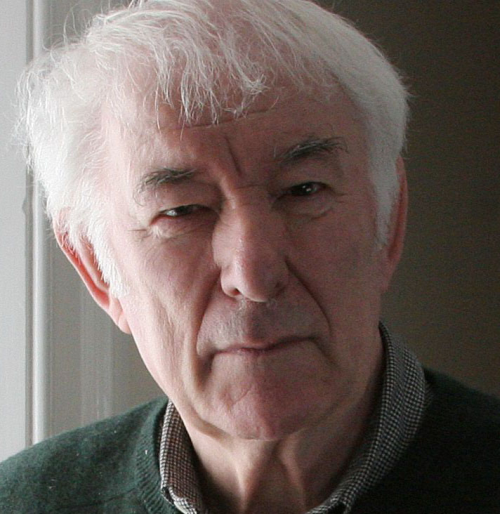 Nobel Laureate Seamus Heaney has been laid to rest in his native Bellaghy in County Londonderry. Acclaimed by many as the best Irish poet since Yeats, the 74-year-old died in a Dublin hospital on Friday, August 31.
A funeral service was held earlier at the Church of the Sacred Heart, in Donnybrook, County Dublin. Northern Ireland's Deputy First Minister Martin McGuinness, Sinn Féin President Gerry Adams and the SDLP's John Hume were among those who attended the burial. Mourners at the service in Donnybrook included rock singer Bono, other members of U2, Irish Prime Minister Enda Kenny and Irish President Michael D Higgins.
Hollywood actor Stephen Rea, Paddy Moloney from the Chieftains, and singer-songwriter Paul Brady were among a number of high-profile figures from the arts world in the congregation. The mourners were led by the poet's widow, Marie, and their three children, Christopher, Michael and Catherine Ann.
The poet's final message to Marie, minutes before died, were in his beloved Latin. It read: "Noli timere - don't be afraid."
His brother, Pat Heaney, niece Sarah Heaney and his brother-in-law Barry Devlin, from the Irish Celtic folk-rock band Horslips, were among the family members who took part in the ceremony. Barry praised: "The spirit of Christian optimism which, it seems to me, breathes in much of the work of Seamus Heaney and which I believe to be his inheritance from our troubled past."
He described the poet as a "brilliant literary critic" and an "articulator of the years of pain" in his native Northern Ireland. He added he was: "A great democrat who could speak to the King of Sweden, an Oxford Don or a south Derry neighbour".
Seamus Heaney's poem 'The Given Note' was read by his fellow poet and publisher, Peter Fallon:
"On the most westerly Blasket
In a dry-stone hut
He got this air out of the night.
Strange noises were heard
By others who followed, bits of a tune
Coming in on loud weather
Though nothing like melody.
He blamed their fingers and ear
As unpractised, their fiddling easy
For he had gone alone into the island
And brought back the whole thing.
The house throbbed like his full violin.
So whether he calls it spirit music
Or not, I don't care. He took it
Out of wind off mid-Atlantic.
Still he maintains, from nowhere.
It comes off the bow gravely,
Rephrases itself into the air."
Prominent Irish traditional musician Liam O'Flynn played 'Port na bPúcaí' (Tune of the Fairies) on the uilleann pipes. Mourners who lined the street outside the church applauded as the poet's coffin was driven away, and books of condolence were opened in Belfast and Dublin. Another opened at the Guildhall in Derry in August.
A celebration of the poet's life at Belfast's Lyric theatre on Saturday night was packed to capacity as the audience was treated to poignant recitals of his best-known works.
He was awarded the Nobel Prize for Literature in 1995 "for works of lyrical beauty and ethical depth, which exalt everyday miracles and the living past". Over his long career, he was awarded numerous prizes and received many honours for his work. The poet recently suffered from ill health; his 2010 poetry collection, The Human Chain, was written after he suffered a stroke, and the central poem, 'Miracle', was directly inspired by his illness.
Brought up a Catholic, he wrote an epitaph in 1972 at the time of the Bloody Sunday massacre in Derry. He sent it to Luke Kelly of The Dubliners, and suggested the tune 'The Boys of Mullaughawn' - but Luke thought the tune was too slow, and never used it. Twenty years later, it came to light when Seamus sent it to the Guardian, and it was printed in the paper:
"On a Wednesday morning early I took the road to Derry
Along Glenshane and Foreglen and the cold woods of Hillhead
A wet wind in the hedges and a dark cloud on the mountain
And flags like black frost mourning that the thirteen men were dead.
The Roe wept at Dungiven and the Foyle cried out to heaven
Burntollet's old wound opened and again the Bogside bled
By Shipkey Gate I shivered and by Lone Moor I enquired
Where I might find the coffins where the thirteen men lay dead.
My heart besieged by anger, my mind a gap of danger,
I walked among their old haunts, the home ground where they bled,
And in the dirt lay justice like an acorn in the winter
Till its oak would sprout in Derry where the thirteen men lay dead."

Dave Bulmer, Irish music accordionist extraordinaire, accompanist to John Doonan and controversial owner of Celtic Music Distribution, died in his sleep early in August. He was born in South Shields, but moved to Harrogate, Yorkshire. He provoked a storm of protest when Bill Leader sold him the rights to the Leader and Trailer catalogue; the Greenwich Village label, who were distributing South Wales duo Calennig's first two albums, was among several labels that Celtic Music acquired.
But he declined to release any of the Leader and Trailer catalogue or any of the labels he had acquired. These included Lal and Mike Waterson's legendary Bright Phoebus, many traditional singers and the recording catalogue of Dick Gaughan and Nic Jones, among others. Moreover, Nic had been severely injured in a road crash, and at that time it was thought that he could never perform again; his royalties on the Trailer albums were a much-needed necessity. Celtic Music's reputation was shattered by hundreds of threads from angry musicians, recording engineers and the public, posted to Mudcat and other discussion websites.
But his tiny acts of compassion went unnoticed; in later years, after ex-BBC engineer and Forest Tracks founder Andy Jackson contacted him, he donated the two Calennig albums free of charge to help out musician Mick Tems, now editor of FolkWales Online Magazine, whose life had been shattered by a severe stroke.

Well-known dance caller par excellence and accordionist Bobbie Ritchie, wife of melodeon player Simon Ritchie, died in hospital in August after a long illness. She and Simon lived in Thaxted, Essex.

Kongar-ol Ondar, an internationally renowned master of Tuvan throat singing, the Central Asian vocal art in which a singer produces two or more notes simultaneously - and which to the uninitiated sounds like the bewitching, remarkably harmonious marriage of a vacuum cleaner and a bumblebee - died on July 25 of complications after emergency surgery for a brain hemorrhage in Kyzyl, Tuva's capital, aged 51.
A region in southern Siberia just north of Mongolia, Tuva was an independent country from 1921 until 1944, when it was annexed by the Soviet Union. The region, which has a population of about 300,000, is now part of the Russian Federation.
Small, round and beatific, he was a superstar in Tuva - "like John F. Kennedy, Elvis Presley and Michael Jordan kind of rolled into one," in the words of Genghis Blues (1999), an Oscar-nominated documentary about throat singing in which he figures prominently.
His reach extended far beyond the region, performing throughout Europe and the United States, including at the Japan Society in New York, the Kennedy Center in Washington and the Grand Ole Opry in Nashville. He made a memorable appearance, in full traditional regalia, on The Late Show With David Letterman; sang at three Rose Parades in Pasadena, California, and carried the torch through Georgia for the 1996 Olympics in Atlanta. Known for his captivating stage presence, he was nicknamed "the Groovin' Tuvan" by the Western musicians with whom he played.
Kongar-ol, also a former member of the Tuvan parliament, had a troubled youth. As a boy, he experienced domestic violence firsthand. To escape his step-father's beatings, he endured nights alone in the sub-zero Tuvan winter, and he spent four years in brutal Soviet penal colonies in for a crime he did not commit.
He performed or recorded with Frank Zappa, the Kronos Quartet, Willie Nelson, Mickey Hart and the banjo virtuoso Béla Fleck. At the same time, through his recording, performance and teaching of classic Tuvan throat singing, he helped revitalise a tradition that had been largely extinguished during the Soviet era. "The whole Tuvan culture was disappearing because it was outmoded under the Soviet system," said Ralph Leighton, the author of Tuva or Bust! Richard Feynman's Last Journey. "They were supposed to build the new Modern Soviet Man, and therefore places like Tuva, which practices shamanism and Buddhism, were seen as backward."
Throat singing is practiced in only a few parts of the world, mostly in Asia. The Tuvan variety, known as khoomei, is the most famous of all. Whenever someone sings a note, the column of air in the throat vibrates, producing both a fundamental tone and a series of higher pitches. In conventional singing, the overtones are largely inaudible, manifesting themselves as timbre. In throat singing, through careful manipulation of the mouth and throat, a vocalist can render certain overtones audible, resulting in two, three and even four pitches sounding at a time. Properly sung, khoomei sounds as though the singer has swallowed a set of bagpipes, with a low drone and a high melody issuing simultaneously from the same mouth.
Khoomei lyrics, in Tuvan (a language in the same family as Turkish), range over nature, horses and love. "We're imitating what's around us, the birds, the mountains, the snow, the rivers," Kongar-ol told The New York Times in 1999. "We sing sad songs, when we reveal what's in our soul. We sing about love. Without love, what is life?"
He typically performed in traditional dress - peaked silk hat, flowing silk robe and boots with upturned toes. So attired, he accompanied Genghis Blues director Roko Belic to the Academy Awards ceremony in 2000 and actually sang for actress-comedian Joan Rivers.
Kongar-ol was named a People's Artist of Tuva and a National Artist of Russia, and he gave command performances before the three men - Boris Yeltsin, Vladimir Putin and Dmitri Medvedev - who have held the Russian presidency since the break-up of the Soviet Union.
In 1994, singing for Mr. Yeltsin, he experienced a moment of panic. "Suddenly Boris Nikolayevich jumps off the chair and runs up to me," Kongar-ol said. "I am not a big guy, but there was this big president hanging over me."
But Mr. Yeltsin, it transpired, only wanted to peer into his mouth. He was looking for a hidden device of some kind, which, he felt certain, was letting Kongar-ol make those remarkable sounds.

Canadian Willie Dunn, film-maker, folk musician, playwright and politician died on August 5. He was born in Montreal, of mixed Mi'kmaq and Scottish/Irish background. He often highlighted aboriginal issues in his work. The Ballad of Crowfoot is about the inhumane and unjust colonial treatment of aboriginal Canadians, as well as their taking charge of their destiny and becoming politically active. One of the first National Films Board products directed by an aboriginal film-maker, the film received several awards including a Gold Hugo for best short film at the 1969 Chicago International Film Festival.

Prolific singer-songwriter Gary Shearston passed away on July 1 after suffering a stroke at his home near Tenterfield, New South Wales, Australia at the age of 74. He recorded 12 albums and two double-CDs in a 50-year career, which had critics enthusing: "The word 'legend' is used freely in the music world, but few could be more entitled to its use than Gary Shearston"; and "Songs that feed the soul, challenge the mind and do the heart all power of good."
In recent years, he had an extraordinary burst of creativity; even in his last days, he was putting the finishing touches to a new collection of songs, some of which will be released soon.
Gary sang songs of peace, social justice and love, with a background of the Australian landscape he loved. Over the years, his music absorbed and adapted a diverse range of elements, including Australian aboriginal and West Indian reggae (before either was popular with mainstream western audiences.) He wrote songs with influences that ranged from Irish traditional to Japanese, and released an album with jazz arrangements that perplexed his folkie and pop music fans.
In his fifties, an age when he might have started taking it easier, Gary followed his faith and became a hard-working grass-roots Christian minister in rural New South Wales. When he finally retired in 2007, he again threw himself into songwriting. A celebration of the life and music of the iconic Australian folksinger was held in Tenterfield, and many of Gary's songs were performed by his son Luke, his daughter Bonnie and several folk artists.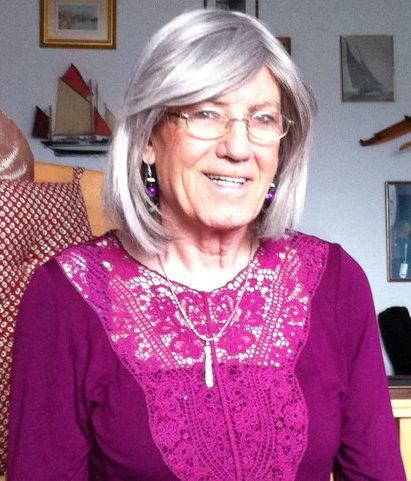 Legendary traditional singer and musician Louisa Jo Killen, formerly Louis Killen, died of lung cancer complications in her home town of Gateshead on August 9. First to break the sad news was John Roberts, who emigrated to America and sang with Lou: "She was a dear friend for well over 40 years, and we sang together as a trio with Tony Barrand in the 70s, as well as touring again in the States in the 90s. Unsurpassed as a ballad singer, and a major, major force in English traditional music, she will be missed."
Lou was born on January 10, 1934. Heather Wood, ex-Young Tradition, wrote in the Sing Out Magazine website: "A few years ago, Louis Killen decided to fulfil an almost lifelong desire and came out as a woman: Louisa Jo.
"Lou was born and bred in Gateshead, Tyneside. The family sang at home – hymns, cowboy songs, ballads, music hall, opera, and everything in between. Getting involved in the skiffle craze of the early 'sixties, she then went on to become one of the founders of the Bridge Folk Club, in Newcastle upon Tyne.
"Unequalled as a singer of the "big" ballads, Lou also had a great repertoire of maritime songs, songs from her Irish ancestry, and of course the songs of Tyneside – mining, fox-hunting, etc - plus a great appreciation of music in all its forms. She was a grand harmony singer, too.
"I first met Lou in 1965, and she and the Young Tradition immediately formed a mutual admiration society. The folk scene was booming: every town had its weekly folk club, some more than one. We would meet and sing together at clubs, concerts and festivals.
"She moved to America in 1966, living in New York, Massachusetts, San Francisco and Washington State. For a few years, she sang with the Clancy Brothers. A few years back, she returned to her birth town of Gateshead, where she died.
"One cannot overstate the influence of Lou's singing on a whole generation of revival singers of English traditional folk songs. Her playing of the English concertina (she pioneered it as an accompanying instrument) was a prime example of how it should be done – never overpowering the song.
"As well as being a terrific singer, she had a wealth of knowledge about the songs and the singers from whom they came, which she willingly shared with audiences and admirers. She would also tell some tales from the Pitman's Bible (stories told in Pitmatic, the idiom of the Tyneside pits) which were hilarious.
"The voice is silenced, but the legacy remains. I and many other revival singers owe her a debt that will be repaid as we continue to sing the old songs for new generations. So from one of Louisa Jo's signature songs, 'The Parting Glass': Good night, and joy be with you all."
When she realised that her time was up, Lou posted a massage on Facebook: "I have been seriously ill for several months. After my lung was removed in December, I was recovering relatively well, but then a third metastasis was found on my spine and my road to recovery is proving to be very rocky. I am in hospital right now for the second time in two weeks – the first time due to bi-lateral pneumonia, and now due to very high blood sugars, high potassium, and another infection. Some of this is due to the medications I have to take related to my cancer treatment, and some seems to be because of my deteriorated condition. I have been reluctant to share these problems with all of you because I've been through these crises before and I didn't want to bother people yet again with my health problems.

"However, now I am not certain I will make it through the current problems. It's not that I expect to die tomorrow, but I do believe that end point is on the horizon. I have had a good life and I don't regret any part of it. I have had wonderful experiences and relationships and many of you have been very important in my life. Thank you for that - it wouldn't have been the same without you! I think of you all at different times and in different ways, and I always give thanks for my friends. The energy of my friendships sustains me in so many ways."


Toshi-Aline Ohta Seeger, wife of American folk music icon Pete Seeger, passed away overnight on Tuesday, July 9. She was a mother, an organiser, an activist and film-maker - and an essential part of all of her husband's work. She was 91.
Pete, Woody Guthrie, Paul Robeson, Alan Lomax and a number of folksong activists founded Sing Out! Magazine in 1950, the McCarthy era when all liberals, leftists, socialists and communists were lumped together as The Enemy. Sing Out! wrote an obituary:
"As much as Pete is a consummate dreamer and optimist, Toshi had a strength and brilliance that was at least his equal. There's was a true partnership. Without Toshi's counsel and support, and always outspoken and direct opinions, it's clear to anyone who ever met these two remarkable people that, without Toshi, Pete would never have had the foundation and freedom to do the work that made him so legendary.
"But Toshi, despite her profound wisdom, strength, morality and courage, was also extremely modest and self-effacing. Often rebuffing attention paid to her, and always doing a loving job at making sure that Pete was always grounded and clear about how his work, his missions, were always bigger than a single man or woman.
"Toshi was born in Munich, Germany, to an American mother and a Japanese father. Her parents brought her to the U.S. when she was 6 months old, as soon as it became legal for the two to be married here. They found an apartment in New York City, where her father found work as the building's caretaker.
"Toshi grew up in a family of progressives. She went to the High School of Music and Art, and, after a few years of friendship, meeting Pete at square dances around New York City, Pete and Toshi were married in 1943, just before Pete was about to ship out overseas. She was 21 at the time. Pete wrote in his autobiography that they 'found we had much in common. Her parents were extraordinary people. We were all very close. Her mother, descended from Old Virginny (slave owners), had declared her independence from that racist part of her tradition, moved to Greenwich Village, married a Japanese who was in political exile, as mililarists were taking over his homeland. He did important and dangerous work for the U.S. Army in World War II.'
"While he was overseas during the war, Pete and Toshi corresponded via letters incessantly. In 1949, following the war, the two moved to Beacon, New York State, where they raised their children Danny, Mika and Tinya. They built a cabin for shelter, and lived in that beautiful woodland mountain ever since.
"Over the last decades, Toshi became a key leader and artistic programmer for the Great Hudson River Revival, the annual fundraiser for the Clearwater organisation, and a true mecca for those of us who adopted Pete, and Toshi's, view that music could be a tool to help focus activism. She also played a pivotal role in Clearwater sloop voyages. Pete often sang her praises as an organiser: "After having to organise me for 66 years, no wonder."
"Toshi's credits also included filmmaking, recording Texas inmates performing hard labour. The film, Afro-American Work Songs in a Texas Prison, is part of the Library of Congress archives.
"Pete's career became a consuming part of her life, and he spent many days away from the home. After being acquitted after the House Committee on Un-American Activities, Toshi had said: 'Never again. Next time no appeal. Let him go to jail.'
"But the two remained strong throughout the years. She took care of the home, always gardening and was a terrific cook, raising their children and making a wonderful home as Pete travelled the world making his music.
"Toshi suffered from ailing health these past few years, and her trips around the Revival "campus" during the festival had stopped - but the love and admiration we all had for this great lady was not diminished one sliver."

Wonderful and graceful Welsh dancer Mrs Gwennant Gillespie, who was born in September 1910 and died in July in Aberystwyth, aged 102, was one of the principal officers of Urdd Gobaith Cymru and became one of the major protagonists in restoring Welsh folk dancing to its rightful place.
Eiry Palfrey, chair of the Welsh National Folk Dance Society, writes: "Since the 18th century, Welsh folk dancing was regarded by the Puritans as sinful and the work of the devil, and as a result had almost vanished completely from the land - until the 1940s, when Lois Blake, an English folk dancer, moved to North Wales. She was astounded to discover that the Welsh people no longer practiced this ancient and traditional art and set about to change the situation. Gwennant worked very closely with Lois, researching, teaching and publishing Welsh dances. She invited her several times to Urdd gatherings to teach the youth of Wales to folk dance.
"At the first Llangollen International Eisteddfod in 1947, Lois and Gwennant watched the wealth of folk dancing from other countries; both were determined that Wales should do as well. As a direct result of this, The Welsh National Folk Dance society was formed in 1949, which now has groups in Wales and all over the world practising the dances made possible by these two indomitable ladies.
"Gwennant herself was a superbly elegant dancer, a perfectionist of a teacher and an outstanding adjudicator. Despite her other responsibilities as an Urdd official, she held Welsh folk dancing very close to her heart, and until quite recently published articles on the art and history of Welsh folk dance. She was very knowledgeable in its history and traditions. A charmingly resolute woman, she will be greatly missed by her friends in the world of dance."

The American Folk-Legacy Records founder Sandy Paton passed away on Sunday, July 26. He had been in hospital for the last few days after becoming extremely fatigued. Sandy had been in poor health in recent years, suffering from emphysema which required that he was constantly connected to oxygen. About a month ago, Sandy and Caroline's grandson died tragically, drowning in a river in Connecticut. Friends have said that Sandy took the loss extremely hard.
Sandy was born on January 22, 1929. With his wife Caroline and the late Lee Haggerty, he founded Folk-Legacy Records as an independent recording company specialising in traditional and contemporary folk music of the English-speaking world in 1961. Over the 48 years Folk-Legacy has existed, they have produced over 120 recordings with Sandy doing the actual recording and taking cover photographs.
Sandy was a terrific singer in his own right, as well. He and Caroline were designated as the Official Connecticut State Troubadours for 1993-1994.
Sing Out! editor Mark Moss adds: "In a world where meeting your "idols" rarely works out very well, Sandy Paton was an inspiration. His love, dedication and vision for traditional music was unwavering … but he was never strident, pushy or rude about his impressive knowledge. This was a guy who was all about loving the music and wanting to share his love for the songs and singers. And each Folk-Legacy release exuded that passion. Once I "met" my first Folk-Legacy release (the original Golden Ring recording), I was hooked; and I am proud to own almost every release from the label. Hardly "hi-tech," but the music Sandy captured, made and shared was the real thing in the truest sense of the words. It was an honor to have known him."

Jane Turriff, one of the truly outstanding traveller singers of Scotland, died in August at the age of 97. One of the travelling family of Stewarts, she was born in Fetterangus, Aberdeenshire. She took part with other singing travellers on a score of albums, but it is Jane's only solo collection, Singin' Is Ma Life, on the Springthyme label, that stands out.
Traditional singer Roy Harris, who lives in Cardiff, wrote: "Anybody listening to her would know that she poured heart and soul into her singing. She was one of my favourite singers. I tried to get her for my first Loughborough Festival, (later called 'The National'), but there was a communication foul-up somewhere and she didn't make it. Sad to see her go… I feel a pang when thinking of the fine singers who are no longer with us. We can treasure their memory and listen to their recordings - but we miss them, don't we?"

Amazing Jew's harp and fiddle player John Wright, who recorded four albums and, with his widow, the distinguished singer and folksong scholar Catherine Perrier, made four albums for companies including Topic and Le Chant Du Monde, died on September 4. John, who was born and raised in England but settled in Paris in the mid-1960s, worked in the ethnomusicology section of the Musée de l'Homme. He will be remembered as the godfather of the French folk music revival, co-founder of the Paris folk club Le Bourdon in the 1960s, world authority on the Jew's harp, researcher into medieval stringed instruments, collector and ethnomusicologist and an outstanding fiddle player. He later moved from Paris to Angers, where he continued his research at an age when most people would already have retired. Recently he was surveying mediaeval carvings of rebec players and working on a set of plans for a reconstruction of a rebec; fiddles of all varieties were a passion of his, along with the Jew's harp.