by IAIN CAMPBELL
Although they released their first album, Bling, in 2008, Calan is still a young band. I met up with Angharad Jenkins, Bethan Rhiannon and Patrick Rimes and asked them, firstly, how they got together. Angharad was the first to respond: "All of us have come from backgrounds and homes where folk music was listened to and appreciated, especially me and Bethan. We've all grown up going to Clera (the Society for Welsh Traditional Instruments http://www.clera.org/) workshops".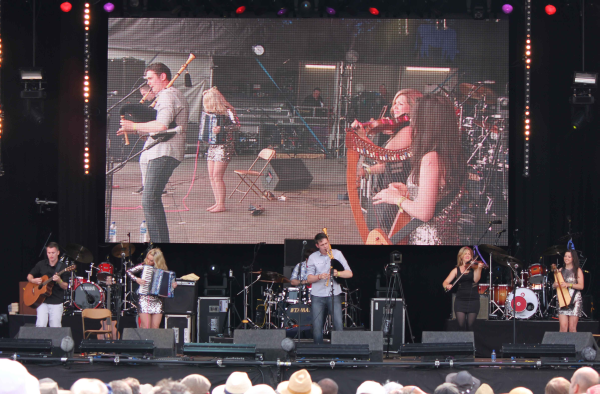 Let's get this show on the road: Calan in full flight
It was, appropriately, Trac (www.trac-cymru.org/, who promote and develop traditional Welsh folk music, that put them on track to finding each other and becoming a band. In 2003 they took 10 young musicians from Wales over to Sweden for Ethno, which is a festival for young people between 16 and 25. It was there that Angharad, Bethan and Llinos (the original harpist in Calan) met and became very good friends.
Angharad takes up the story: "The following year, we went to Cân Ar Dân in Dinas Mawddwy. That's where our paths first crossed with Patrick and Chris, the guitarist. A few years down the line we decided to get together.
"We are completely spread out in every corner of Wales, which doesn't make it very economical to get together", she adds with a smile. "It's such a small scene; if we want to play with people our own age we have to travel".
Bethan takes up the narrative: "I've spent about half my life on the A470, since I was about 16." Ripples of laughter accompany Angharad as she adds: "You certainly get to know Wales intimately, playing with this band".
We move to talking about their music. Of their debut album, Bling, Bethan says: "We were a lot younger when we brought out our first album". She carries on to talk about their latest CD, Jonah: "We are a lot happier with this. We're starting to find out what Calan sounds like. The first album was good album for when it came out, but now we've grown up, our musicianship has grown up and we've got to know each other." Angharad adds: "We knew each other socially for Bling, but it takes a lot longer to get to know each other on a musical level: in particular, playing the fiddle with Patrick. As we play the same instrument, it is a lot more obvious when you are not playing together." Bethan continues: "We are all comfortable standing on a stage together, now - and we all know what's going to happen".
I next ask about where they find their repertoire. Patrick replies: "Almost all of what we do is traditional Welsh songs and tunes, so there's quite a limited literature. There have been some recent developments: Cass Meurig has published the John Thomas collection. We do some original material, but mainly we like to stick to the task of bringing Welsh traditional music to the people".
Bethan adds some context: "I don't know what happened, but it seems to have skipped a generation. Where I live, I could ask my Dad to play with me - but I couldn't ask anyone else". Angharad concurs and adds: "There are tunes, like 'Fidl Fadl', that I seem to have always known - but we wanted to play ones that were not common, so we've had to search a bit. If we record tunes that other people haven't heard, then hopefully they'll get heard and played by more people". Patrick chips in, to nods from the others: "In a way, that has helped us in terms of having an unique selling point, especially going to festivals outside Wales. Irish music has been exported for the last 40 years and Scottish music too".
I point out that it has been more recent with Scottish music. Angharad quickly interjects: "But it's so exciting at the moment. I think I listen to more Scottish music at present". I explain that it has not always been so; but that in the last 15 years or so, there has been a sea-change. It is now 'cool' to for young people to play traditional music, and ask: How do we get to the situation in Wales where it is cool to play traditional music? Patrick responds, sadly: "No one has any answers".
I'm heartened by the direction of the conversation, which shows that answers are to be found in the attitudes of young people like the members of this band. Angharad takes up the discourse: "I think what is important is that we are doing it now. I hope that as young people we can inspire other young people to play. There is Y Glerorfa (the Welsh Traditional Music Orchestra) that lots of us play in, and through that we've met lots of other young people". She notes: "There are a lot of young folk musicians around Bangor, more than anywhere else in Wales". Patrick adds: "Yes, that's true - but we have grown up together and gone to university. We have to keep the momentum".
The discussion turns to learning from others' experience. Angharad says: "I think we have to create more opportunities for young people. I've been up to Fčis Rois, in Scotland, to one of their primary school courses. It was amazing - there were 135 young people spending a week with these 'stars' of the folk scene, who are also fairly young. We need something similar. The Eisteddfod doesn't do that. We have a duty, a responsibility, because I believe in this music". Patrick and Bethan concur: "We all do". Angharad continues, "It's like the language thing. It's a burden, but you have to do it".
The talk turns to the future. They continue to be in demand for festivals: "We've been back to Belgium, and Italy this year - they seem to like Welsh music a lot out there". Angharad says. "We're going back to Bruges next year, for a double headliner with Sharon Shannon at Airbag Festival. I'm rather excited about that, as I grew up listening to her music".
They have been a little hampered in their ambition, because there are six years between the eldest and youngest members of the band and educational hurdles have consistently been in the way. They are really looking forward to when all have their degrees under their belts. Patrick is in his final year at university. "Once he's finished, we're really going to pull out all the stops and get as much work as possible", Angharad promises.
That - and a new album, to be released late 2014 or early 2015, is something to look forward to. For now, we have a recently recorded live EP, which is due out in time for WOMEX.
| | | |
| --- | --- | --- |
| | | |
| Showstoppers: Sam, Bethan and Patrick | Harping on: musicians in harp harmony | Angharad Jenkins |
| | | | |
| --- | --- | --- | --- |
| | | | |
| Making sweet music: Sam Humphries and Bethan Rhiannon | Patrick Rimes and pibgorn | Follow that! Bethan shows some amazing clog steps | Patrick the piper |