Siân James releases her latest album, made in her studio; she talks to Mick Tems
Technology is a very strange thing. Twenty years ago, most artists would have given their eye teeth to record a vinyl album. Now advances in recording have meant that everybody owns their own CD. But silver-voiced harpist Siân James and her partner Gwyn Jones have gone another step: They own their own studio, set in the converted cowshed of their home in the Banw Valley. And it's there where Sian recorded her absolutely stunning new album, Cymun.
Owning your own studio is the stuff that dreams are made of. All the more odd, therefore, that Sian has taken so long – at least seven years – since she released Y Ferch O Bedlam, her last CD. "It's a bit scary, really," she says. "I just don't know where the time went. Perhaps bringing up three lovely boys had something to do with it…
"Our studio is in what used to be the 'beudy', or the cow shed. We converted the outbuildings into a working studio and small flat where people can stay when they're recording. We live right on top of a mountain (well, hill really - not many mountains in the Banw Valley!) We'd love to welcome you there some day…"
Recording company Sain released Sian's debut CD, Cysgodion Karma (Karma Shadows) on an unsuspecting public in 1990. This was followed up by Distaw (Silent) in 1993, Gweini Tymor (Serving A Term) in 1996 and Di-gwsg (Sleepless) in 1997. In 1999, BBC Records released Birdman, a documentary about Iolo Williams of BBC and S4C fame: "Iolo and I were in school at the same time - Iolo in Llanfyllin and me in Llanfair High School, so we knew each other pretty well from those times. All the girls had a bit of a crush on him."
However, Siân left Sain, and became the co-owner of Recordiau BOS. BOS released Siân's CD Pur (Pure) in 2001 and Y Ferch O Bedlam (The Girl Of Bedlam) in 2005. Now it's the turn of Cymun… that's a pretty impressive set of CDs for an artist whose whole life has been influenced by music.
"Music was a constant presence in my life for as long as I can remember - from hearing my father, aunts and uncles singing, to the Plygain, the Noson Lawen and of course the Eisteddfodau which I competed in since the tender age of three. I also used to hear my parents play jazz music on our record player, which I used to love; my uncle, who was a vegetarian and into Yoga, used to bring old 78s down from London of some wonderful Indian music. I used to fashion a sari together from some old material and go around the house warbling away with those wonderfully exotic sounds.
"It's difficult for me to pinpoint when exactly folk music started influencing me, as it was always there somehow. I started singing traditional songs with my harp around the age of 13 - my harp teacher, Ffranses Môn Jones, encouraged me to sing a couple of simple arrangements of folk songs at the concerts we used to do together - Y Deryn Pur was one of them. It all developed from there really. I had been composing little tunes from when I was about six, so creating music had always been an important part of my life."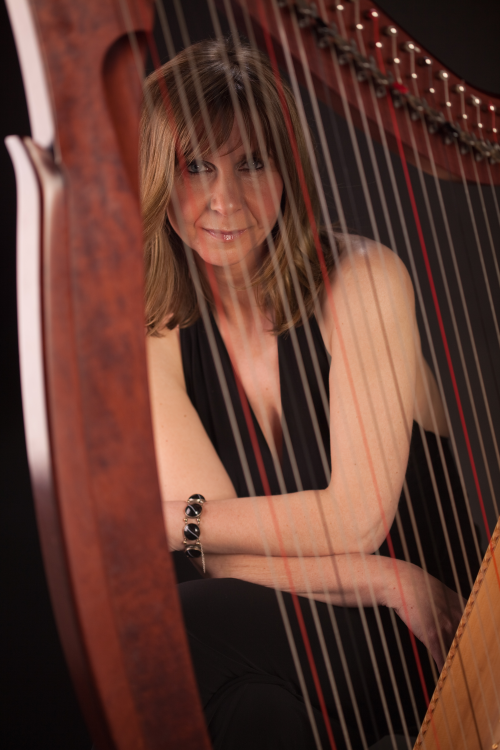 When Siân was just 17, BBC-Wales producer Jack Jones booked her for the mega-gigantic Interceltique Festival at Lorient in Brittany. Sian's father drove her and her harp in his estate car, and she wore a Welsh hat and brethin shawl for the festival parade: "It was such an honour for me to be asked to take part in the Lorient festival", she says. "I was pretty green, really - it was quite a leap of faith for Jack when I think about it, and I will always be indebted to him for giving me such a golden opportunity. I remember having a fantastic time, and the experience of playing for such huge audiences was pretty mind-blowing."
She entered the University of Wales, Bangor, to study music, joined the student band Bwchadanas and recorded one LP, Cariad Cywir: "The whole Bwchadanas experience was such a rich chapter in my life," she says. "We had some great opportunities - performing at the Mod in Stirling with Runrig, performing with Moving Hearts on a programme for S4C called Trannoeth y Ffair, performing with Alan Stivell on another programme for S4C.
"It was all very exciting - this was back in day when folk music was given a far higher status on Welsh TV than it is today. When did we become so obsessed with musicals and classical music? Oh dear - don't get me started on that one!"
Keyboads player Geraint Cynan was a Bwchadanas member "right from the start," says Siân. He's there on Cymun: "I still work closely with Geraint on most of my projects - he's a brilliant musician and friend."
One of Siân's projects is playing the harp and conducting the wonderful voices of Parti Cut Lloi, all of them Welsh-speaking farmers and other professions from her part of Montgomeryshire. Recordiau BOS released a CD a while ago, and the Plygain tradition is still strong. Parti Cut Lloi were in London at Cecil Sharp House, headquarters of the English Folk Dance And Song Society, at the belated St David's Day Welsh musicians' invasion. Sian says: "We will be taking a bit of a break after the gig in London, which we are really looking forward to, as it's the lambing season. We've been incredibly busy all year, giving concerts the length and breadth of Wales to very warm audiences. They are all such brilliant characters - their music is earthy and everything they do is touched with wonderful humour and honesty. I wonder how many choirs in Wales take a break because of lambing?"
What was Siân's all-time favourite from her years at Sain?
"Distaw, without a doubt. That was the first time I'd worked with my co-writer, Angharad Jones and some of those songs are very dear to me, especially as Angharad is no longer with us. I enjoyed working on Di-Gwsg too though - Ronnie Stone was the producer on that album, and he introduced me to a whole new musical genre which certainly opened my mind to different possibilities.
"But having your own label and studio is a bit of a double-edged sword, to be honest. It is wonderful of course, but having to do everything is a bit of a pain: from the creating, to the recording, to the managing, the booking, the accounts, the PR, the publishing… it's a lot of work for two people! Not that I'm ungrateful or anything - it's obviously a fantastic luxury to be able to pop into a studio whenever you like. We are very fortunate."
Which of the 12 tracks on Cymun does Siân hold dear?
"Yr Eneth Glaf is one I love - it's just so emotionally momentous! It's about a young girl who is suffering from TB - her friends encourage her to hold out till the summer months when the song of the cuckoo and the warm summer sunshine will surely make her better. As sad as this sounds, such difficult subject matter is one of the reasons I love folk music so much. There's no shying away from the heavy subjects - the whole gamut of human emotion is there in these songs, and what better way to deal with life's suffering than to sing about it! Gweld Ser is close to my heart too - this a is a song I wrote with a local poet called Arwyn Groe, and is a celebration of the Banw valley where we live, as well as reflecting on some of life's more spiritual questions.
Cymun is Siân's self-composed last track, the shortest, and perhaps the most beautiful; she translates it as 'communion', but it could mean 'community', too. Sian wrote Cymun on the same day that Angharad, her friend and co-writer for many years, had died: "She was such a force of nature, and her passing has left such a gaping hole for all those family and friends who loved her. It was so strange - the music just flowed out of me that day and seemed to develop into this symbol of remembrance for all those loved ones who are not with us any more."
One last question, Siân: You've enriched the public's minds considerably with your fabulous music. What advantages can music bring to a community – is it the spellbinding sound, a sense of age-old tradition, the joy of just coming together to create a beautiful piece?
She says: "If there's one thing I've learned along the way during my life as a musician, that would be the realisation of how immensely healing music can be. It's such a force for good. I have lost count of how many times people have come to me over the years and said that my music has somehow helped them through some dark times. There is nothing that gives me more faith in what I do than hearing that."