In this issue:
St David's Hall, Cardiff
Wednesday, February 20, 2013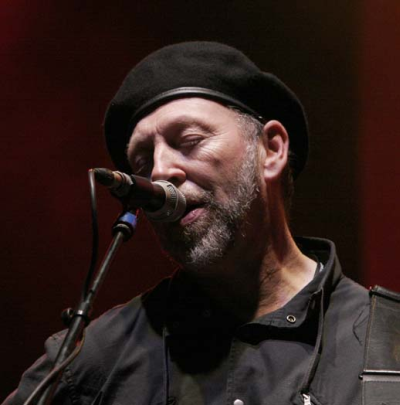 Richard Thompson: a harder-edged rockier sound
It's a good 30 years since Richard Thompson laid his cards on the table regarding his attitude towards the music business with Wall Of Death on the 1981 album Shoot Out The Lights. Not for him the steady one-a-year album contract or a stadium tour with the same old bunch of mates. He's more inclined towards an ad hoc collaboration with other mavericks such as Fred Frith or Danny Thompson, or providing film scores for the challenging cult director Werner Herzog. On his South Wales visits over the past couple of years, he's paraded his US Dream Attic band, tinged with fiddle and sax, he's appeared solo with just an acoustic guitar for comfort, and now he's just kicked off a UK tour at Cardiff's St David's Hall as part of what, with tongue more than slightly implanted in cheek, he refers to as "a power trio – a bit like Cream but not quite so powerful. I think we've invented folk-funk!"
Certainly the RT we witnessed at St David's Hall came across with a harder-edged, rockier sound than I've ever heard from him before, spurred on by the electric bass of Taras Prodaniuk and the thundering drum battery of Michael Jerome, who between them make up the rhythm section to the Dream Attic band, the two of them filling out the vocals with sweet harmonies throughout the night. As might be expected, the set-list highlighted seven songs from the brand new Electric album which was recorded around this trio but featuring various high-profile guests from the US Country scene, and produced in Nashville by Country legend Buddy Miller. Stuck On The Treadmill opened proceedings and introduced the sheer force of this tight little trio with bass and guitar playing unison on staccato instrumental runs in this tale of post-industrial ennui. But there are flashes of light amidst the shade within the new material, and the brightly melodic, acoustic-led Salford Sunday soon followed. And Saving The Good Stuff For You, kept back for one of the encores, is pure toe-tapping Country-pop.
We were also treated to Can't Win, wrapped up with the usual guv'nor electric guitar solo, reaching a blistering climax that was surpassed only by the final number of the main set, Love Whispers Your Name from Dream Attic, whose lengthy, slow-burn instrumental showdown, reminiscent of Richard's live delivery on numbers such as Sloth in his Fairport days, left the crowd breathless at the very end of the pre-encore performance. Before that, Richard had turned to his acoustic six-string for the wistful WWII-demob inspired Al Bowley's In Heaven, which featured dazzling extended solos from each player, prompting spontaneous "impromptu" applause reminiscent of a jazz-club audience. Then we were taken all the way back to 1975 with For Shame Of Doing Wrong, perhaps sadly missing John Kirkpatrick's familiar accordion work but, as with the much more recent Haul Me Up, proud to be wearing bright new clothes in its power-trio reconstruction.
Anyone who has followed Richard's solo career will be aware that the mood of his songs can swing wildly from mild depression through to downright despondency. On the strength of the numbers from the new album, it's the "bitter and twisted" RT who's currently in ascendance. A theme of marital breakdown and infidelity dominated performances of My Enemy and Good Things Happen To Bad People ("You cried the day I walked you down the aisle. Now I know you've been bad by the way you smile") and lasted through to the very final encore, the 1983 classic rocker Tear-Stained Letter which had the crowd hollering back its refrain as though it were a popular football anthem!
Thompson has never been afraid to showcase guitar heroes that might aspire to one-day steal his crown (The first breathtaking performance I ever saw by Australian guitar wizard Tommy Emmanuel was at an RT gig). This time the audience was treated to a stunning opening set by Robert Ellis, a young Country singer-songwriter from Houston, Texas, and seemingly the "man most likely to" on the contemporary Country scene in the States. With turned-up Levis and strapped into a jumbo Gibson J100 (which he sure can play!), he comes over as Jackson Browne meets a young Johnny Cash, his self-penned songs and presentation showing respectful nods towards his professed idols Lefty Frizzell, Hank Williams and George Jones. The crowd quickly warmed to his sweet voice, deft accompaniment and instrumental breaks and likeable personality, and I rather feel that we're going to be hearing much more from Mr Ellis in days to come.
Mike Greenwood

THE ANTI-CAPITALIST ROADSHOW: CELEBRATING SUBVERSION
Roots Unearthed, Level Three, St David's Hall, Cardiff:
January 15, 2013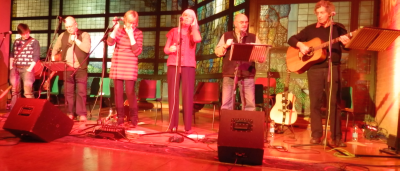 The power of song: from left, Grace, Jim, Janet, Frankie, Roy and Leon
Anyone who mistakenly supposed that this was a boring night filled with doctrinaire haranguing should think again. Celebrating Subversion - a poke in the eye for avaricious greed, so championed and coddled by the millionaire Tory Government, was a little gem of a delight. Leon Rosselson, and the other five artists who comprise The Anti-Capitalist Roadshow, couldn't conceal their delight at the friendly warmth of the crowded audience; these were ordinary man and women, tidily dressed with suits and ties and neat dresses, putting down firmly the Government lie-spin of lazy scroungers who are out to sponge off the state. A warning to Westminster: the people are hurt, confused and downright angry. They won't make the same mistake again.
Up on the stage wiith Leon and retired Sheffield University lecturer Roy Bailey; our own Frankie Armstrong; revered Scottish singer Janet Russell; Janet's husband, songwriter Jim Woodland; and young Grace Petrie, radiating blistering attitude with am armoury of salient songs which were sharp, shardlike and went straight to the point.
Leon is a unique treasure; he weaves and fashions words with his gentle, funny style, creating an impression of the little man up against the powerful machine. Frankie is a conveyor of the German style of writing, her brave solo voice ringing out in the Level Three Lounge. Roy is a wonderful song carrier, his presence polishing his favourite pieces to bright silver. Janet's talent and her magnetic voice just can't be beaten; her solo on Leon's composition Song Of The Olive Tree, lamenting Palestinian homelands which were forcibly stolen by a rich and bullying neighbour, is rivetingly powerful. Jim writes his agit-prop songs which are sung in the theatres, and his gruff voice showed why. All too soon, the show had to end, and the crowd shouted for an encore. It was left to Leon, who gave the audience their favourite well-known song, The World Turned Upside Down. Leon and all the musicians on the Anti-Cap Roadshow had pulled off a brilliant job of uniting the crowd with their songs; let's hope the long, dark days will end…
Mick Tems

ROBIN AND BINA WILLIAMSON; ALLAN YN Y FAN
Celtic Connections, Tron Theatre, Glasgow:
January 30, 2013
(This review was part of the whole Celtic Connections experience, which took place in Glasgow this winter; the reviewer, Danny Matheson, posted his impressions on the Celtic Music Radio website.)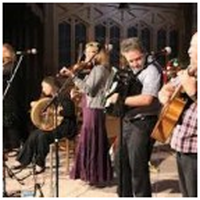 Allan yn y Fan
Before this gig started, I'll admit to saying that I had never heard of Allan Yn Y Fan before, let alone knew what their material was like. By the end of their performance I was asking myself why I had never heard of them.
Coming from the heart of Wales, and passionate about it too - the two Welsh dragon flags on display were testament to that - this group's performance was refreshing. Playing songs from their latest album, Pwnco, and other traditional Welsh folk songs, this five-piece band were warmly received by the near sell-out crowd. The Tron theatre is a very intimate setting, which suited this group's style. Their humour and enthusiasm made for a good start to the evening, as they were only a supporting act. It was lovely hearing folk songs in the Welsh language, something I had not heard before (sic).
Allan Yn Y Fan are multi-instrumentalists and consist of Geoff Cripps, Kate Strudwick, Linda Simmonds, Meriel Field and Chris Jones. Following on from this was a very unique show from husband-and-wife duo Robin and Bina Williamson. With a selection of songs ranging from a psalm sung in Latin to Indian wedding songs, this was always going to be different.
Veteran performer Robin entertained the crowd with humorous tales and jokes, along with his own way of playing the harp. Bina had an unusual array of instruments to call upon. This duo was not everyone's cup of tea; however, the polite applause showed that this audience enjoyed their songs and music.
Danny Matheson