Mick Tems talks to songwriter, musician and Celtic Heartbeat presenter Frank Hennessy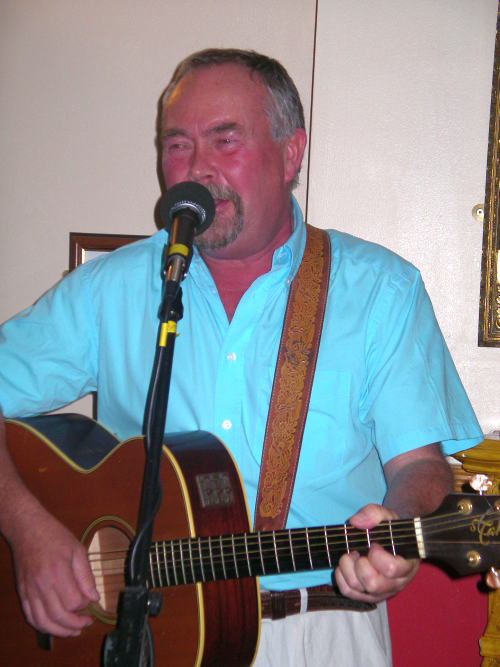 Frank Hennessy: "Celtic Heartbeat was born, and I'm happy to say that the heart is beating still."
I just love the BBC Radio Wales folk show Celtic Heartbeat, now in its 19th year and still going strong. Celtic Heartbeat is essential listening to me; Who's on where, new CD releases I don't know about, interviews, and up-to-the-minute local folk and roots news. And, as always, the genial Cardiff tones of presenter Frank Hennessy steering the ship.
Frank, in the words of his well-known song, was Cardiff born and Cardiff bred – a true city Taff. No-one could be prouder to fly the Welsh flag… His most recent 'hit', Always Beautiful, is full of memories of The Old Arcade pub, the Animal Wall, chips on Caroline Street – however, Frank's family came from Ireland.
"My father was Harry Hennessy, born in Splott but of Irish decent," he said. "His dad, my Grandad, Jack Hennessy, was from Ring in County Waterford. My dad's mother was Liz McNamara, whose family were also from County Waterford. My mother Connie was born in Salford and met my dad during World War II. She moved to Cardiff when my dad was demobbed in 1945. Initially, my parents lived in Mardy Camp, a disused army base at the end of Mardy Road in Rumney. After I was born in February 1947, they moved to Ely and then to Rumney."
Frank was 13 when his father gave him a guitar: "It was about three-quarter size and originally belonged to my cousin Roy, who had outgrown it," he said. "I took to it immediately and was soon singing along with the stars of the day – Lonnie Donegan, Burl Ives and so on, as well as some of the old traditional Irish songs which were part of our family repertoire.
"I met Dave Burns of Newtown in Cardiff through a mutual friend, a member of the Central Boys Club in Bute Street, and Dave introduced me to Paul Powell who lived in Adamsdown. We quickly hit it off and were soon singing as a trio for the sheer love of it."
Unbeknown to Frank, Dave and Paul, one of the instructors at the club had entered them for a talent competition called Cardiff Spotlight On Youth: "We won first prize and were rewarded with the chance to perform at the New Theatre - fame at last!
"Shortly afterwards, we were asked by the St Joseph's Catholic Club in Whitchurch Road to sing on Sunday nights. We became the House Band and got free pints and a few bob for our troubles. Unfortunately, the group didn't have a name, but one of the committee knew I was a Hennessy, and started calling us "The Hennessy Boys". The name stuck and was eventually shortened to The Hennessys".
Frank was apprenticed to an electrical engineering firm in Penarth Road where he served his time and emerged fully qualified, only to chuck it all in and go on the road – or at least, to Ireland - with Dave and Paul. They moved to Dungarvan, a harbour in the south coast and the county town of Waterford.
"It was a place I knew well from my Grandfather's connections and from childhood family holidays with relations who still lived in the area," said Frank. "We won the Ardmore Pattern Festival challenge cup at the start of a year living in Ireland - it was a real cliff-hanger, and we won by a third of a mark, beating several highly-regarded local groups. That gave us a bit of a springboard to getting regular gigs in Cork city and all around the southern counties.
"Paul was a fantastic singer and a brilliant banjo player, with a terrific sense of humour. He was also immensely strong. When our van had a flat tyre while travelling in Ireland, he actually picked up the van's nearside corner while Dave and I changed the wheel.
After that, we nick-named him Jack! Happy days…"
After returning from Ireland, Frank wrote Farewell To The Rhondda, Cardiff Born And Cardiff Bred and other popular songs: "We'd gone there as the "Cardiff Irish" band, but soon realised we weren't Irish at all. They thought of us as The Welsh Band. I think it really solved something of an identity crisis for me.
"After coming home, we became immersed in the Welsh language scene and I began to look at Wales and its history in a different light. There were very few Welsh folk-songs in the English language, and that's where I tried to concentrate my efforts."
But Frank's star was soon in the ascendant when a string of Irish artists made his song The Old Carmarthen Oak into a massive hit, subsistuting "Dungarvan" for "Carmarthen". Frank said: "For a short while, it made me a relatively wealthy man. The dual nationality of the song really started in 1970, when Diarmuid O'Leary and the Bards asked my permission to record it. I almost jokingly suggested that they might have a better chance by substituting Dungarvan for Carmarthen. Blow me down, didn't they have a number one hit with it?
"Recordings by Foster and Allen, Paddy Reilly and Daniel O'Donnell followed, with Daniel having massive success on a coast-to-coast tour of the USA in the 1980s, coupled with the release of a million-selling CD and DVD of his favourite songs. My composition was among them. A funny thing was that other Irish artistes, like Brendan Shine, have stuck to the original, and nowadays most people are aware that it is actually a Welsh song – and always will be."
In the early 1970s, Paul married a Scottish girl, Marilyn, and spent several years running hotels in Scotland before returning to South Wales with his family. He will always be remembered as the landlord of The Windsor Hotel in Pontyclun, with Marilyn as his partner. He suffered poor health for a number of years before dying of lung cancer.
In 1974, Frank took a rest. "I was worn out with music and got a 'proper job', he said. "I had fallen in love and got married, began to raise a family, and generally got on with life. I kept on composing, though, and the 1980s were very productive in terms of song-writing, resulting in the release of my solo Sain album Thoughts And Memories in 1986."
Frank ran a folk club twice a week through the 1980s and 1990s at St Peters Rugby Football Club in Cardiff and later on a monthly basis at the BBC Club in Llandaff. His partnership with Dave - now a member of pioneering triple-harp band Ar Log - was revived during the 1980s, and The Hennessys re-formed with the legendary Tom Edwards on double bass. That other member of Ar Log, fabulous fiddler Iolo Jones, joined The Hennessys. When Tom retired in the mid 1990s, Iolo became the permanent third man.
The story of Celtic Heartbeat and Frank's friendship with the late rugby star turned Radio Wales interviewer Ray Gravell, who was so very proud of his Eisteddfod bardship, is intertwined with a lot of fond memories and sadness too. "Grav and I had worked together from the moment he joined Radio Wales," said Frank. "Regarding the show I'll Show You Mine, for some reason we just hit it off. He made me laugh so much. Ray adored music – especially Welsh and Irish. We shared a programme called Streetlife and another called The Odd Couple - which we certainly were, he being a Welsh sporting icon and rugby legend and me a typical Cardiffian. I loved him and miss him terribly.
"I remember Nick Evans, the then editor of BBC Radio Wales, calling me in and saying: 'We're thinking of doing a folk music show. Do you fancy presenting it?' What a question! Celtic Heartbeat was born, and I'm happy to say that the heart is beating still."
Frank has obviously had a lot of affection for Radio Wales' number one folk music show, and it means "Absolutely everything!" to him. In the past, he has presented some impressive TV folk-roots documentaries for BBC-Wales: "I loved every minute of it. Way Out West traced the roots of Cajun, Traditional American and Cape Breton song and dance music. Travelling through Louisiana with the Cajuns, West Virginia for the old-time music of Appalachia, and up to Nova Scotia, where the Arcadian people, the Cajuns, originally settled.
"Way Down Under was a search for the spirit of the Wild Colonial Boy, the bush ballads and poetry of the outback and aboriginal story and musical culture. Finally, I went back to Ireland to trace my own musical roots and history of Irish music. I only hope my love of folk-roots music showed in my presentation of the TV series - I made friendships which exist to this day."
One last point: Frank comes from an Irish family and he was born in Cardiff; where do his roots lie, Wales or Ireland? "Wales, always," he smiles: "unless Ireland are playing someone other than the Welsh."