Welsh clog-dancing is cool – it's official! And the news was broadcast on the UK's airwaves nationwide on February 21of this year, in an article featured on BBC Radio 4's Today programme. The feature centred on the declaration of a Clog Amnesty that readers may already have come across in trac's On trac magazine a short while back. Gwynedd-based Trefor Owen – the last full-time clog-maker in Wales, and one of only a small handful still operating anywhere in the British Isles – can't keep up with the demand for clogs generated by a groundswell of interest in step-dance within our Welsh youth movement and within Welsh schools. You should be forgiven if this revelation hasn't been immediately obvious. It came as a surprise even to myself, as an enthusiastically active member of the clog-step fraternity. But then, it was difficult to ignore the brilliant Flashclog event at last year's national eisteddfod in Llandow that involved wave upon wave of enthusiastic cloggers descending on the eisteddfod's main pavilion.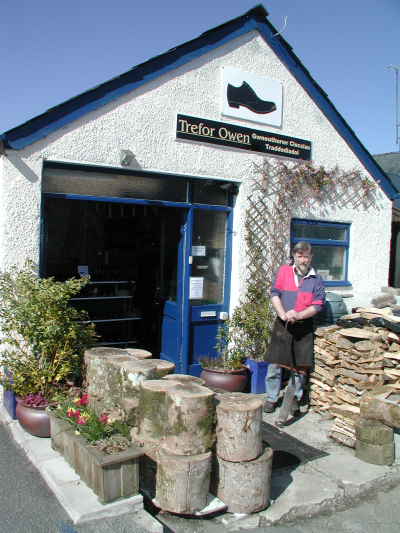 Trefor Owen at his Cricieth clog workshop: there's a waiting list for hopeful dancers
As Trefor and his wife Rhiannon, who assists him in his Cricieth workshop, begin to think about retirement, there is grave concern that, whenever that event occurs, it will mark the end of the line for clog manufacture in Wales - and they are actively seeking an enthusiastic apprentice, or apprentices, who might wish to be trained in the necessary wood and leatherwork skills so that they can, one day soon, take over the Welsh clogmaker's mantle. And this is where the Clog Amnesty comes in. Trefor, whose family roots are in Anglesey, explained to the Today interviewer that, even working flat-out, full-time, there is no way that the current demand for footwear from youngsters who are eager to try clog stepping as a pastime can be met by his output alone. The creation of a new hand-made pair of clogs is a time-consuming process, with each sole having to be carefully shaped from a block of alder or sycamore, and the uppers cut, tooled and shaped and stitched from the best choice of leather. However, Trefor feels that, knowing how popular clogging had been years ago, and how widespread the wearing of clogs as everyday workwear once was, there must be hundreds of pairs lying dormant in attics, in the bottom of old wardrobes or even in reduntant workshops. Therefore the nation is being encouraged to seek out these old pairs and bring them back into active service for scores of anxiously awaiting youthful feet! So please, please scourge through nain's loft or tad-cu's old chest and let any old clogs out into the light of day once more! There are eager young clogging novices just waiting to get their feet into a pair. I recently saw an amusingly rewritten slogan on a dancer's T-shirt. It read "Who let the clogs out?" Well, it could be you!
The Today programme also interviewed Gwent-based Huw Williams, who must by now be regarded as the public face of clog-dancing in Wales. Huw explained how by taking as a starting point the basic 4/4 timing of steps that have been passed down from Welsh gypsies such as the late Hywel Wood, and from Owen Huw Roberts of Anglesey amongst others, and playing with the timing – setting the same step against a jig or a hornpipe rhythm and synchopating the beats, he has developed a contemporary vocabulary of steps. These steps have been taken up, and developed even further, by younger followers in his wake. It would seem that this emphasis on progress and development of the individual's stepping repertoire within the overall framework of what is accepted as the Welsh stepping style has created a vast amount of new interest from youngsters who at one time would have viewed clogging as something archaic and un-cool, and in no way to be entertained as a way of keeping fit, being creative and having a lot of fun, which is, basically, what the programme was all about.
If you feel that Welsh clog stepping is just the thing to brighten up your existence, look out for the beginners' workshops that Huw hosts regularly at various venues up and down the country (or get in touch with myself via the Folkwales correspondence page). And if you're looking for a worthwhile career that might flourish from an apprenticeship with Trefor, do get in touch with him at his Gweithdy Clocsiau in Cricieth (clogs@globalnet.co.uk or treforowenclogmaker@gmail.com.) Of course you should also contact Trefor if you're just lookling for a new pair of clogs. But be warned – there's a waiting list!
Now that I've declared my keen personal interest in the world of clog stepping, you might expect to receive more clogging updates through this page in the future!