Rory Furlong,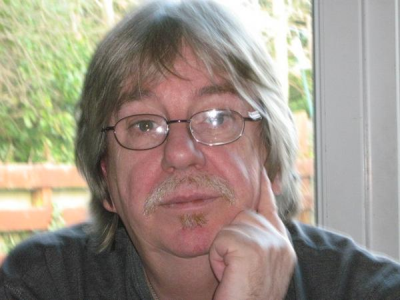 Just after midnight on Monday, May 15, guitarist, singer and wonderful Irish songsmith Rory Furlong passed away after a week-long battle. Rory, who lived in Penarth with his partner Barbara and daughters D'Arcy and Fynn, fronted a number of bands, including Cara and The Rowdies, who consisted of fiddler and ex-Celtish musician Sian Phillips, drummer John Turner (ex-Rose Among Thorns, Elaine Morgan). Danny Kilbride, trac director who played bass guitar for Rory's band, who wrote this on the trac website: "Born in Dublin, he moved to Wales in 1972. He was there at the start of the Royal Infirmary Folk Club and made himself a fixture of the Welsh folk music scene. He was a great and true friend, a long-time musical partner and one of our finest songwriters.
"Those of us lucky enough to know him, work with him or witness his incredible ability to communicate with an audience will know quite what a loss it has been to Wales and the world… let us not forget all the contributions that all of us in Wales make to our common heritage and be thankful the world is richer for people like him and people like us."
Darcy posted on Mudcat: "We are sad to announce that Rory Furlong passed away peacefully on Tuesday 15th May at 12.15am, surrounded by friends and family, following a courageous battle against the odds. Barbara, D'Arcy, Fynn and Ceri lovingly thank everyone for their invaluable support and positivity throughout."
Rory's funeral was held at Cardiff and Glamorgan Crematorium at Barry on Thursday 24 May for what Darcy described as "our unconventional service", reflecting his non-religious spirituality and vitality. Rory's family requested his friends to wear bright colours and casual clothes, and the afternoon was filled with joy, laughter and a few tears. The wake was held at the Coal Exchange in Cardiff Bay, where friends and musicians sang and played instruments for the afternoon and evening

Barney McKenna
Barney McKenna, The only surviving founding member of the Dubliners, died suddenly in April. He was 72.
Barney played with the legendary band since they started in O'Donoghue's Pub in Dublin in 1962. They celebrated their 50th anniversary with a series of concerts in Dublin's Christ Church Cathedral in January and are also participating in the official Irish single for the forthcoming European Championships.
Barney lived in Howth, near Dublin. Though he had health problems in recent years with diabetes and a mild stroke, his death came as a shock. He was talking in his kitchen to his friend, the classical guitar player Michael Howard, when he fell asleep in his chair. Attempts to revive him proved unsuccessful and he died in an ambulance on the way to hospital.
Fellow Dubliner Eamon Campbell said Barney was like a brother: "He was unique - there will never be another Barney. He was very droll man and great company. He was just a great guy - My favourite song that he sang was "'I'm a man you don't meet every day", and that was true about him."
Broadcaster and banjo player Ciaran Hanrahan said Barney was the "single most important figure" in the development of the tenor banjo in traditional music: "It was not played a lot up until the 1960s. He popularised it. He inspired a whole generation."

Doc Watson
Doc Watson, the blind Grammy award-winning folk musician whose mountain-rooted sound was embraced by generations and whose lightning-fast style of flatpicking influenced guitarists around the world, died on May 29 at a North Carolina hospital in Winston-Salem, where he was hospitalised recently after falling at his home in Deep Gap, in the Blue Ridge Mountains. He underwent abdominal surgery while in the hospital and had been in critical condition for several days. He was 89.
Arthel "Doc" Watson's flatpicking mastery helped make the case for the guitar as a lead instrument in the 1950s and 1960s, when it was often considered a backup for the mandolin, fiddle or banjo. His fast playing could intimidate other musicians, even his own grandson Richard, who performed with him.
Doc was born on March 3, 1923 in what is now Deep Gap, NC, in the Blue Ridge Mountains. As a one-year-old, he lost his eyesight when he developed an eye infection that was worsened by a congenital vascular disorder. Doc's father, who was active in the family's church choir, gave him a harmonica as a young child, and by the age of five he was playing the banjo. He learned a few guitar chords while attending the North Carolina Morehead School for the Blind in Raleigh, NC.
"My real interest in music was the old 78 records and the sound of the music," Doc is quoted as saying. "I loved it and began to realise that one of the main sounds on those old records I loved was the guitar."
Doc got his musical start in 1953, playing electric lead guitar in a country-and-western swing band. His road to fame began in 1960 when Ralph Rinzler, a musician who also managed Bill Monroe, discovered Doc in North Carolina. He went on to record 60 albums. Seven of his albums won Grammy awards; his eighth Grammy was a lifetime achievement award in 2004. He also received the National Medal of the Arts from President Bill Clinton in 1997.
Doc's son Merle began recording and touring with him in 1964. But Merle died at 36 in a 1985 tractor accident, sending his father into deep grief and making him consider retirement. Instead, he kept playing and started Merlefest, an annual musical event in Wilkesboro, NC, that raises money for a community college there and celebrates "traditional plus" music.
"When Merle and I started out we called our music 'traditional plus,' meaning the traditional music of the Appalachian region plus whatever other styles we were in the mood to play," Doc is quoted as saying on the festival's website. "I love music and love a good audience and still have to make a living," Doc said. "Why would I quit?"

Joe Thompson
African-American old-time fiddler Joe Thompson of Mebane, North Carolina, died in February, aged 93. He was a recipient of the North Carolina Heritage Award in 1991, and a National Heritage Fellowship in 2007. Joe was often cited as a key mentor for the contemporary African-American string band, the Carolina Chocolate Drops.
This is a tribute from The North Carolina Arts Council: "It is not widely known in this day that the fiddle and banjo were commonly played by African Americans from slavery times to well into this century. The two instruments in combination once provided much of the dance music for the balls and frolics of both white and black Southerners. And thousands of dance tunes - waltzes, schottisches, and reels - were adapted and composed for the fiddle and banjo.
"Scholars have long established the African origins of the banjo, the prototype of which was made of hollow gourds and animal hides. The fiddle, of course, is the familiar name for the European violin, which was brought by early settlers from the British Isles and Germany. No one knows exactly when or how the instruments were first played together, but it was a marriage of two radically different cultural traditions, giving rise to one of America's first truly indigenous musical forms."

Rosemary Tawney
Rosemary Tawney, widow of the legendary songwriter and singer Cyril Tawney, passed away in Exeter, Devon, on March 13. In her eighties, she was keenly and actively involved in the Devon dance scene and song sessions through the county. She was hugely instrumental in the continuation of the releasing of material by her late husband, legendary Cyril and in the maintenance of his website.

Dory Previn
American singer, songwriter and guitarist Dory Previn died on Valentine's Day at the age of 86 years old. Dai Woosnam wrote this tribute: "For me she is frozen in time at about 47 years old - her age when she made an impact on me in 1972. Her lyrics showed wonderful insight into the human psyche. But I also loved her voice, far removed from that of those "great God-given" voices, though it was… Her words needed no enhancing: her lyric writing was extraordinary."
Dory was born Dorothy Langan in New Jersey into a strict Catholic family. Her songs addressed themes such as her relationship with her father and her loathing for the rituals of the Roman Catholic Church: "When she made her First Communion / Esther made the perfect union / But she never saw his face again / Her mother said, 'Don't tease us' / So instead of seeing Jesus / She began to see a lot of other men."
And this example, where she meets a man in a bar:
"Would you care to stay till sunrise,
It's completely your decision,
It's just the night cuts through me like a knife.
Would you care to stay awhile and save my life?"
She began writing songs in the 1950s, and she met and married composer and conductor Andre Previn. She co-wrote material with Previn for a decade, then the marriage broke up and Previn was romantically linked with actress Mia Farrow.

Earl Scruggs
Earl Scruggs, breathtaking five-string banjo player from Flint Hill, North Carolina, USA, passed away on March 28, 2012, aged 88. Film star Steve Martin, himself a dedicated banjo player and who learned from Scruggs when he was just 22, wrote an obituary for The New Yorker: "Some nights he had the stars of North Carolina shooting from his fingertips. Before him, no one had ever played the banjo like he did. After him, everyone played the banjo like he did, or at least tried. In 1945, when he first stood on the stage at the Ryman Auditorium in Nashville and played banjo the way no one had ever heard before, the audience responded with shouts, whoops, and ovations. He performed tunes he wrote as well as songs they knew, with clarity and speed like no one could imagine, except him. When the singer came to the end of a phrase, he filled the theatre with sparkling runs of notes that became a signature for all bluegrass music since. He wore a suit and Stetson hat, and when he played he smiled at the audience like what he was doing was effortless. There aren't many earthquakes in Tennessee, but that night there was."
The 21-year-old Earl teamed up with Bill Monroe and was in on the founding of bluegrass music, adding the Scruggs' banjo sound to Monroe's great blend of guitar, bass, fiddle and mandolin. On the Grand Ole Opry's Ryman Auditorium stage, the banjo had been played well, but mostly in the old style, and mostly by comedians, prompting Uncle Dave Macon, a beloved regular, to say about Earl from the wings: "That boy can play the banjo, but he ain't one damned bit funny."
Earl met his future wife, Louise, at the Ryman in 1946. Eventually he became a star and a legend, and she shielded him from celebrity abuse, ill-advised contracts, and too many free dates or dubious honours. Monroe denied him songwriting credit on Bluegrass Breakdown; after that Earl left Monroe, changed the F chord in Bluegrass Breakdown to E minor, and wrote Foggy Mountain Breakdown. It became the most famous banjo instrumental and was the theme from the movie Bonnie and Clyde, supplying Earl with an income for life.
Earl teamed up with Lester Flatt, who had also just left Monroe. In 1948, he formed Flatt and Scruggs and The Foggy Mountain Boys, and their recordings of the TV sitcom The Beverley Hillbillies and for the famous car chases for Bonnie And Clyde brought bluegrass music recognition.

Malcolm Pinnegar
Malcolm Pinnegar, the leader of "The Dirty Thirty" – 30 miners who walked out on principle in the 1984/85 strike while the rest of the Leicestershire coalfield carried on working – passed away after a long illness in April. The Liverpool singer-songwriter Alun Parry, who has family connections in Wales and who wrote The Dirty Thirty, recorded the song which tells the story of Malcolm (known as "Benny" to his friends) and the other strikers. He was asked to sing The Dirty Thirty at the strikers' reunion, and says he was rewarded with "a big Benny smile… He was a man of great modesty, humanity and substance. I could instantly see why The Dirty Thirty trusted him as they did. And more than that – a man of fairness and, yes, humility too."

Doug Dillard
Banjo player and TV performer Doug Dillard, who gained fame for his appearances on The Andy Griffith Show with musical group the Dillards (known on the TV series as The Darlings) has died following a lengthy illness. A family spokesperson tells The Boot that Doug was taken to a Nashville emergency room on Wednesday night (May 16) and died shortly thereafter.
Doug was born in Salem, Mo., in 1937 and was playing guitar when he was five years old. He received his first banjo as a teenager and soon began performing with various bands on radio and TV. He had been encouraged to pursue his instrument by banjo legend Earl Scruggs. As a 16-year-old, Doug wrote a letter to Earl and received a positive reply. He then pestered his parents into driving him to Scruggs' home in Madison, Tennessee, some five hundred miles away from Salem. Doug brazenly walked up to the front door and rang the bell, introducing himself and asking the iconic banjo picker to install Scruggs' tuners on his banjo.
Along with his brother Rodney, Doug soon formed the Dillards. Their folk-bluegrass blend became popular on college campuses and elsewhere, which led to their move to California and resulted in a recording contract and their stint on the hit CBS series starring Andy Griffith. After parting ways with the Dillards, Doug joined folk-rock group the Byrds on their first European tour. After the tour, Doug teamed up with former Byrds member Gene Clark, forming the influential Dillard & Clark, one of the first acts to popularise the country-rock sound that would include other artists, such as Gram Parsons and the musicians who would later form the Eagles. Comedian and banjo player Steve Martin recently said that Doug was among the first influences on his banjo playing.
A Grammy-nominated instrumentalist, Doug's distinctive banjo can also be heard on albums by everyone from Hoyt Axton, Johnny Cash, Arlo Guthrie and Linda Ronstadt to Kay Starr, Glen Campbell, the Monkees and the Beach Boys. In 2009, the Dillards were inducted into the IBMA's Bluegrass Hall of Fame.

Sarah Ann O'Neill
Traditional Ulster singer Sarah Ann O'Neill, has died, aged 92. She was probably the last of Ulster's older generation of traditional singers, formed musically before widespread recording and broadcasting and fleadh ceoils.
She was rooted in her native place of Derrytresk, County Tyrone, on the southwest corner of Lough Neagh. She was born there on August 19, 1919, the eldest of five boys and four girls, to Joe Hanna and his wife, Elizabeth (née Hughes). Elizabeth's first husband had died young, so she had three half-brothers – Arthur, John and Owen Campbell. She was particularly close to her brother Geordie, also a major traditional singer.
The Hannas were steeped in music. The houses of the extended Hanna family were places where people gathered to sing. Joe Hanna was a labourer who played the fiddle and sang.
She was educated at Kingsisland primary school. As was usual at the time, she left school at 14. First she went to work in a cafe in Belfast, then she returned home, as a domestic servant to a well-to- do family in her area. She married John O'Neill, a small local farmer, in her early twenties. She sang her whole life, whatever task she was performing, not because the songs were cultural artefacts, but because she liked the song and felt like singing.
She was probably the last of that small, scattered number who kept Irish traditional singing alive before its revival began in the 1960s. Traditional music was not at all fashionable. In the late 1950s, she was introduced to a wider audience. A man called McCann from Dungannon taped her singing at a sing-song in one of the Hanna houses. He took the tape to song collectors Seán Ó Baoill and Gerry Hicks. They were excited at what they heard and went to meet the singer. "That was the first time I knew I was a traditional singer," Sarah Ann joked.
She was a living repository, carrying hundreds of songs in her head and knowing how to sing them. Most of her songs were from Ulster, many local versions of widely known songs. Her favourite was probably Dobbin's Flowery Vale, a song of Armagh city.
She made her first recording, with Geordie, in 1974, to an international audience. They were also recorded by Topic Records in the 1978 LP, On the Shores of Lough Neagh - Traditional Songs of a Tyrone Family. In 2009 she won the Gradam Ceoil TG4 in 2009 for her lifetime achievement. She was proud that her family had continued the musical tradition.

Levon Helm
Levon Helm, whose gruff vocals and razor-sharp drumming underpinned the seminal late 1960s rock group The Band, died of throat cancer in May, aged 71. Levon had undergone 28 treatments for throat cancer first diagnosed in the 1990s, Rolling Stone Magazine said, adding that his worsening condition had forced him to cancel a number of scheduled concerts.
One of the very few American drummers who also sang lead vocals, Levon is best known for such Band tracks as The Night They Drove Old Dixie Down, Rag Mama Rag, Up On Cripple Creek and The Weight. The Arkansas native grew up watching such early rock'n'roll stars as Elvis Presley and Jerry Lee Lewis in concert before taking up the drums and, in time, joining rockabilly star Ronnie Hawkins' backing band in 1960. There he met four Canadian musicians - Rick Danko, Garth Hudson, Richard Manuel and Robbie Robertson - with whom he formed a new group that, after several name changes, came to be known as The Band.
Settling into Woodstock in New York State, the group famously collaborated with Bob Dylan, honed its own repertoire - influenced by American roots music - and cut a string of albums including Music From Big Pink, The Band and Cahoots. The Band split up in 1976 with a farewell concert in San Francisco, immortalised on film by director Martin Scorsese in The Last Waltz, leaving Levon to pursue solo projects and to star in a film, Coal Miner's Daughter, the story of country singer Loretta Lynn.
He re-established The Band in 1980 with Rick, Richard and Garth, recording three albums with them, only to see the group struck down by Richard's suicide in 1986 and Rick's death in 1999. Retiring to his rural home in Woodstock, Levon invited fellow musicians to join him for what he called Midnight Ramble sessions in the intimacy of his rustic Grammy-winning recording studio.
Robbie, now the sole surviving founding member of The Band, said on his Facebook page that he visited Levon in hospital. "Levon is one of the most extraordinary talented people I've ever known and very much like an older brother to me," he wrote. "I am so grateful I got to see him one last time and will miss him and love him forever."

Kenny Roberts
Kenny Roberts, country king of the American yodellers, died on April 29, aged 84.
Born George S. Kingsbury Jr in Lenoir City, Tennessee yet raised on a farm near Greenfield, Massachusetts, he was best-known for his 1949 hit I Never See Maggie Alone. He was one of the last country singers to specialise in the legendary vocal technique of the blue yodel. Inspired by Yodeling Slim Clark, Jimmie Rodgers, and several of the singing cowboys, Kenny first came to prominence in the late 1940s.
Over the years he built up a fan base through his recording, frequent tours, and his appearance at yodeling concerts. Though he never had many hits (he only charted four times, between 1949 and 1950) he nevertheless remained a popular concert attraction well into the 1980s. In Britain, Frank Ifield covered Kenny's song She Taught Me How To Yodel and had a hit with it.
Kenny moved to St Louis - where he appeared regularly on several different shows on KMOX, as well as the CBS Saturday morning show Barnyard Frolics - Cincinatti (where he appeared on CBS TV shows) and finally to Dayton, Ohio, where he became a regional TV star. Kenny continued to appear regularly on daytime Midwestern television until the mid 1960s.

Louisiana Red
Louisiana Red, American blues guitarist and singer, has died aged 79. Born Iverson Minter, he was thought to have been from Alabama, but his mother died shortly after and his father was murdered by the Ku Klux Klan. He spent many years in an orphanage before living with his grandmother in Pittsburgh. As a teenager, he knew John Lee Hooker and Eddie Burns, and copied their styles. He worked under many names, and toured extensively in Europe, often playing with local musicians. His last CD was released in 2011.

Benjamin Escoriza
Benjamin Escoriza, Radio Tarifa's former lead singer, has died at the age of 58 after a long illness. One of four children, he was born in Colomera, a village in the mountains north of Granada, Spain. He began singing at the age of five at fiestas organised by his grandfather, who owned a bar. His family moved to Granada when he was eight, and he trained for four years to be a chef, also gaining diplomas in the hotel and tourist industries. He relocated to Madrid in 1989 to pursue a musical career.
While working in TV in the Spanish capital, he joined up with the percussionist Fain Sánchez Dueñas, whom he had known in Granada and who was then playing renaissance music with the wind and keyboard player Vincent Molino. The trio took the name Radio Tarifa from a town in the south of Spain. They imagined what the playlist might sound like for an imaginary radio station in such a location, situated just across the water from North Africa; then created that music themselves, mixing Spanish guitars with the Middle Eastern oud, Arabic drums or gaita gallego (Galician bagpipes) in compositions that included anything from flamenco to Sephardic and Arab-Andalusian styles, along with echoes of medieval and even Caribbean influences.
They made their first recordings in Fain Sanchez's bedroom in 1992, and these eventually formed the basis for their album Rumba Argelina, released the following year by a Spanish independent label and licensed in the UK by World Circuit in 1996. The album shook up the Spanish music scene and brought the band an international following.

Caryl P. Weiss
Caryl P. Weiss, American songwriter and shanty singer, passed away on June 2. She was diagnosed with inoperable cancer a month before, but many of her friends were shocked at her sudden death. Folk guitarist and singer Wendy Grossman, who accompanied Caryl on her song, Angel's Wings, broke the news on folk forum Mudcat: "She was brilliant, exasperating, a fine instrumentalist, singer, and songwriter… When I first encountered her in the mid-1970s, there were a lot of women who sang, but not many who focused on playing instruments. Although, obviously, she also did a lot of singing; she was one of the Liverpool Judies, a three-woman sea shanty group. When I caught up with her again in the late 1990s, she was living in Austin, Texas, and the next time I found her after that she was living in Annapolis, Maryland."