The Bard of Barking joins Martin Joseph for a one-off centenary scoop in the Rhondda Valley
by Mick Tems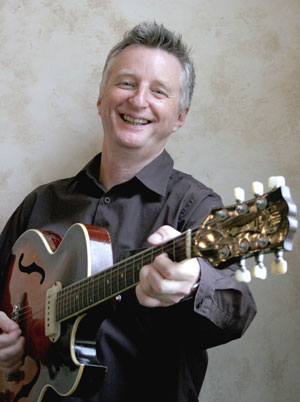 Billy Bragg: He's elevated the Park And Dare to new heights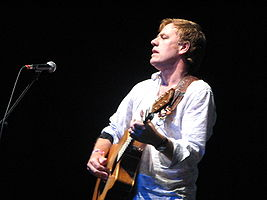 Martin Joseph: wonderful Penarth songwriter
Former London busker and the people's songsmith Billy Bragg will celebrate the hundredth anniversary of inspirational American songwriter, guitarist and troubadour Woody Guthrie at one major city venue in Scotland, England and Ireland in September – but the first show, and the greatest Rhondda Cynon Tâf Arts scoop of all, is when Billy joins wonderful Penarth musician and songwriter Martin Joseph at The Park And Dare Theatre in the former Rhondda Valley mining community of Treorci.
Billy visits prestigious theatres in Glasgow, Dublin and London, where he plays in the Queen Elizabeth Hall; but the Bard of Barking has elevated the Valleys venue to new heights. Billy says that Woody, who was born on July 14, 1912 in Okemah, Oklahoma, was one of the most influential figures in popular music, inspiring Bob Dylan and a generation of topical singer-songwriters in the 1960s and even having an influence on punk – As a teenager, Joe Strummer modeled himself on Guthrie, asking friends to call him Woody.
"Guthrie was the original alternative musician," said Billy. "His most famous song, This Land Is Your Land, was written in 1940 as a response to the number one hit of the day, Irving Berlin's patriotic hymn God Bless America. His alt. credentials were underlined by his determination to write about the lives of ordinary working people and to oppose racial discrimination. On his guitar he painted the words: "This machine kills fascists".
"Woody's career as a musician can be divided into two phases. The first western phase saw him living in Oklahoma, Texas and California during the Great Depression. It was during this period that he composed his most famous songs, mostly dealing with the problems faced by farm labourers forced off of the land by dust storms and bailiffs, migrating to California to seek seasonal work as fruit pickers.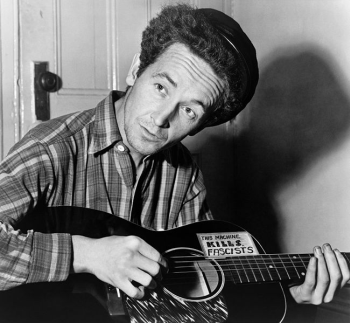 Woody Guthrie: the original alt. Musician
"The second phase of his career began in 1940, when he moved to New York City. Here he recorded his dust bowl ballads and hooked up with musicians such as Pete Seeger and Leadbelly. New York inspired him to new heights of song-writing, but most of the material he composed in the 40s was never recorded, as topical songwriters became suspect in an America that was undergoing a communist witch-hunt."
The McCarthy Era cast a sombre post-war shadow for musicians, composers, comedians, film stars and anyone involved in the arts. By the end of that decade, said Billy, Woody was beginning to experience the early symptoms of Huntington's Disease, a degenerative condition of the nervous system for which there is no cure. He was no longer able to perform and spent the rest of his life in hospitals. When he died in 1967, he left thousands of unrecorded songs in manuscript form. What he did not leave behind were the tunes.
Billy said: "Like myself, Woody could not write musical notation. When he wrote a song, he kept the tune in his head. When he died, the tunes for the songs which he had not had time to record were lost forever - and there were thousands of them. It is estimated that Woody only managed to record ten per cent of the songs he wrote in his lifetime.
"It was this treasure trove of songs that Woody's daughter Nora discovered when she founded the Woody Guthrie Archives in the early 1990s. She had always known that they were there, in boxes at her mother's house, while she was growing up - but she never realised how many there were and how varied was their subject matter."
Nora was concerned that, as the years passed, her father had become a two-dimensional figure, known only for This Land is Your Land and his influence on Bob Dylan. The unrecorded songs, she felt, offered the public a three-dimensional vision of her father as more than just a dust bowl balladeer. She became determined to bring these songs to a greater audience.
Billy first met Nora in July 1992, at a concert in New York's Central Park, to commemorate Woody's eightieth birthday: "She began sending me lyrics of her father's unrecorded songs, encouraging me to write new music and make a collaborative album. Her initiative finally bore fruit in 1997, when I got together with Wilco in Chicago and Dublin, where we recorded nearly 50 'new' Woody Guthrie songs.
"The first collection of those songs, Mermaid Avenue – named for the street in Coney Island where Woody lived with his family – was released in 1998. A second collection, Mermaid Avenue Volume II, was released in 2000. Both albums were nominated for Grammy awards.
To commemorate the hundredth anniversary of Woody's birth, Nonesuch Records will be releasing Mermaid Avenue: The Complete Sessions, a four-disc set, comprising of remastered versions of Mermaid Avenue Volumes I and II, as well as a new collection of 17 songs from the original sessions, Mermaid Avenue Volume III. The fourth disc will contain Man in the Sand, Kim Hopkins' 1999 film, which documents the collaboration between Woody, Wilco and me.
"These shows, which will focus purely on the Guthrie legacy, will also form part of this year of celebration. I'll be playing acoustic instruments and singing from the book of lyrics, which I compiled from the archives and used during the sessions, quoting from Woody's handwritten notes that are often tagged onto the manuscripts. I have recruited Martin to join me at The Park And Dare, and some friends at the shows, to add their voices and interpretations to the ever evolving and continually relevant words and work of Woodrow Wilson Guthrie."
The date for The Park And Dare Theatre is Wednesday, September 12, 2012. Rhondda Cynon Taf Council's ticket line is 08000 147111, and the website is www.rct-arts.co.uk. Billy will joined by KT Tunstall at the Glasgow ABC on September 14, by Joe Henry and Grace Petrie at the Queen Elizabeth Hall in London on September 16, and by Andy Irvine at Vicar Street, Dublin, on September 17.