Dafydd Iwan - 50 years of Singing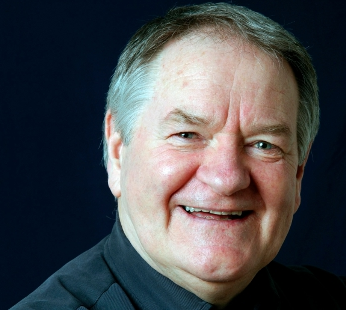 Dafydd Iwan: 50 years of singing and songwriting
You'll never believe it, but Dafydd Iwan has been entertaining audiences across Wales for half a century this year. Since the very beginning, in Fishguard in 1962, his songs have served to accompany the history of Wales as it unfolded over the past 50 years. Singer and political songwriter, ex-Plaid Cymru president and ex-Gwynedd county councillor, founder of the Welsh major record label Recordiau Sain Cyf, Dafydd has earned his place in the hall of fame.

The National Eisteddfod Of Wales comes to Llandow in The Vale Of Glamorgan from August 4 to 11, and on Monday evening, August 6, Dafydd is joined by some of his friends and fellow performers over the past fifty years - the mighty Ar Log, Heather Jones, the lovely Vale Of Glamorgan sisters Miriam and Greta Isaac, Edward Morus Jones and the Heol-y-March Children's Choir.

Exactly 50 years ago, in the summer of 1962, Dafydd embarked on his singing career. Although he had performed on many Eisteddfod stages before this and gained an army of fans from his days in Glan Llyn, Fishguard was where it all 'officially' started. The first concert was soon followed by a slot on TWW's current affairs programme Y Dydd and a recording contract from Welsh Teldisc.

One of four brothers who came from Brynaman, Dafydd lived in Llanuwchllyn, Mold, Cardiff, Penarth, Llanystumdwy and Waunfawr before settling in Rhos-bach, near Caernarfon, where he has lived for 24 years with his wife Bethan, his youngest sons, Caio a Celt, and the two dogs, Cadi ac Iestyn. He has three older children, Llion, Elliw and Telor, and three grandsons, Morgan John, Louis Llywelyn and Eban Dafydd. He's an elder brother to Alun Ffred Jones, Welsh Parliament AM.

This year sees the launch of a CD pack including all Dafydd's recordings, and he will be performing at a series of concerts at theatres across Wales celebrating his milestone. And it all started at the Eisteddfod, when Dafydd and his friends will revisit some of the highlights of the past fifty years.

Les Barker at Llantrisant Folk Club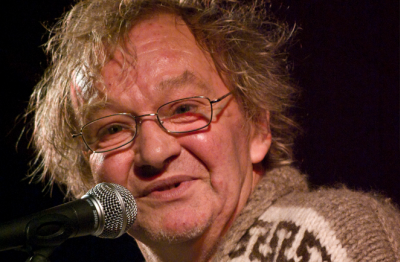 Les Barker: Welsh learner of the year
Llantrisant Folk Club is expecting a sell-out when Les Barker, master of mirth and prince of poets, reads his hilarious work at the Windsor Hotel in Pontyclun – and it's not until August 8. Many fans have booked their places to see and hear Les, perpetrator of Cosmo The Fairly Accurate Knifethrower, Guide Cats For The Blind and Dachshunds With Erections Can't Climb Stairs.

Born in Manchester and trained as an accountant, Les made his name when he started reading some of his surreal poems to incredulous audiences at festivals up and down the country, always accompanied by Mrs Ackroyd, an elderly terrier of doubtful parentage. Mrs Ackroyd, however, went to The Great Lamp-post In The Sky, and Les carried on alone. Since then he has published over 70 books containing his parodies of well-known folk culture and some of his more serious work, including the folk opera The Stones Of Callanish. Titles of his books illustrate a tribute to Mrs Ackroyd and his fascination with word-play (Royders Of The Lost Ack) and his love of Wales (The Mabidogion, Llandrindod And One Dalmatians).

In fact, Les moved to a North Wales village, and has been awarded the Welsh Learner Of The Year prize. He's a keen Eisteddfodwr - and the National Eisteddfod takes place in the Vale Of Glamorgan in Llandow in August. He has published two Welsh-language books; when he was centre stage at the Brangwyn Hall in Swansea, he translated into Welsh one of his famous poems, inspired by a Bill Tidy cartoon, Have You Got Any News Of The Iceberg? Les was hospitalised with a serious heart problem, and straight away wrote a brilliant parody on the well-known Welsh hymn Calon Lan, composed by John Hughes, who was employed first as a door-boy at the Cwm Colliery in Beddau. Les called it Calon Wan - A Weak Heart.

Respected folk names, such as June Tabor and Martin Carthy MBE, have clamoured to perform Les's work, and well-known personalities – such as actor Robert Lindsay, Prunella Scales, Terry Wogan and BBC weatherman Brian Perkins - have offered to recite his poems, too.

However, the MrsAckroyd trio – trained classical singers Hilary Spencer and Alison Younger, accompanied by keyboards player Chris Harvey from Strawhead – have had to do without Les, their key member, following his slow recovery from heart surgery. But MrsAckroyd will be back on Wednesday June 20 at the Windsor Hotel with their side-splitting tribute to the prodigious poet, philosopher, photographer and fruitcake. Les appears in August, but duplicating material should not be a problem; Hilary, Alison and Chris have the enviable choice of more than 70 books to select their repertoire!

Llantrisant Folk Club meets on Wednesdays every week, and the highlights are Derbyshire duo David Gibb and Elly Lucas (June 11); Showcase with The Garth Mountain Boys, South Wales' own bluegrass pickers (August 22); Keith Kendrick and Silvia Needham (September 5) and Jim Bainbridge (October 3).
Workshop, Saturday 16th June
Internationally-known triple harper Robin Huw Bowen, pibgorn and fiddle maker/restorer Gerard Kilbride and multi-instrumentalist/composer Stacey Blythe will lead a Saturday morning/afternoon workshop which takes place at the Gartholwg Lifelong Learning Centre in Church Village, Rhondda Cynon Tâf on Saturday June 16. The workshop is being put on by Clera, the Welsh instruments organisation, and Clera member Meurig Williams is organising it.
Robin, who is workshop leader and and harp tutor, has championed the cause of the Welsh Triple Harp since 1983. He has toured widely, introducing Welsh music to thousands all over the world – and his visionary work of researching and publishing old lost Welsh melodies has been inspirational to folk musicians, especially in Wales.

Gerard will take a session entitled Giving Spirit To A Melody. One of the Kilbride Brothers, he plays fiddle, pipes, pibgorn and the lute. He is part of a large South Wales family of fiddlers and traditional musicians, who have been at the forefront of the traditional music and dance revival in Wales for the last 40 years. Gerard has performed and recorded with some of Wales's traditional music icons, including Yr Hwntws, Pibau Bach and Juice, and recently created the band Taran. This class is suitable for experienced players of melody instruments.

Stacey has perfomed, recorded, composed and collaborated with many artists, poets musicians and storytellers, and coached many students at The Royal Welsh College of Music and Drama. In her workshop, Melody And Accompaniment, she will share her enthusiasm for Welsh traditional music and teach melody and accompaniment of some of the easier Welsh melodies to less experienced learners. The day starts at 10am and finishes at 2.30pm. Meurig's phone number is 029 20628300 (meurig@sesiwn.com).

Big Experiment/Arbrawf Mawr, November 2012
Crasdant and Ar Log musician Stephen Rees will be the guest tutor at this year's Big Experiment/Arbrawf Mawr, which takes place at the beautiful National Trust Centre at Stackpole on the Pembrokeshire coast from Thursday evening, November 1, until Sunday November 3. BEAM2012 is being organised by trac, the all-Wales folk development body, with events such as a dedicated folk song strand with Lynne Denman, Cerdd Dant and plygain singing with Arfon Gwilym, multi-instrumentalist Neil Browning from Gwynedd family band Never Mind The Box, past fiddle champion Christine Cooper, Stacey Blythe – back by popular demand – and Huw Williams, who will be teaching clogging steps.

Silver-voiced Heather Jones will spend a hour singing and answering questions at the Welsh For Adults tent in Cardiff Castle at 2.30pm on Saturday, June 23. Welsh-language events, which last from 12pm to 6pm, are free.

Congratulations to Ruth Exell and Steve Lockheart, who were married in The Small Nations big top at The Ancient Briton pub in the village of Penycae, Swansea Valley, on Saturday May 5. Former Pontardawe Festival director Ruth, is now administrator at the Small Nations Festival in Cilycwm, Carmarthenshire.

trac
Kevin Brennan, Cardiff West MP and Shadow Education Secretary, has agreed to join Frank Hennessy, Huw Stevens and Dafydd Iwan as a patron of trac, the folk development organisation for Wales. Kevin is a keen musician with a lifelong interest in folk music, and will shortly become chair of the All-Party Parliamentary Group supporting folk music.

Meurig Williams, Dr Keith Floyd and Eiry Palfrey have joined the trac board of trustees. Meurig, a familiar face from the Clerorfa and Welsh sessions around Cardiff, is a fiddler, harper and guitarist and is well-known as a tutor and session leader. Keith is a fiddler and dancer, a twmpath band musician and stalwart of the traditional music scene in Ceredigion. Eiry, a performer, author and TV producer, is chair of Cymdeithas Genedlaethol Dawns Werin Cymru, the Welsh National Dance Society.

The National Eisteddfod at Llandow in the Vale Of Glamorgan is offering a cash prize for traditional singers and musicians at this year's festival from August 4 to 11. The winners will receive £150 for playing and singing Welsh traditional music of up to seven minutes, with £100 going to the runners-up and £50 for the third prize. But don't get excited; entries closed on May 1.

The second Brecon Harp Summer School, run by Glasbury Arts in conjunction with Theatr Brycheiniog, will be held from August 29 to September 1. Details can be obtained from Cathey Morgan, Education and Outreach Officer, at Theatr Brycheiniog on 01874 622838, email cathey@brycheiniog.co.uk .

Lessons in folk harmonica for absolute beginners and an intermediate class for blues harmonica players have already started at Whitchurch Rugby Club, Cardiff – but it's not too late to join now. Aidan Sheehan from Cajun band Whiskey River is running the classes on Wednesdays, with absolute beginners at 7.30pm and intermediate beginners at 8.15pm (£5). Aidan holds a BA (Hons), and he's an accredited tutor for the National Harmonica League and HarpsCool, the Musicians Union body.