by Mick Tems
In this issue: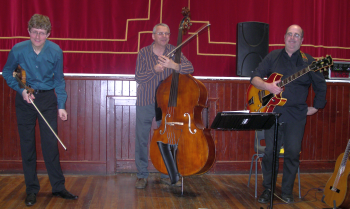 Take a bow: from left, Tim Kliphuis, Pete Kubryck-Townsend and Gary Phillips Photo - Mick Tems
TIM KLIPHUIS, GARY PHILLIPS & PETE KUBRYCK-TOWNSEND
Dinas Powis Village Hall: Monday, March 12, 2012
Tim Kliphuis, the amazing Dutch violinist, has been hailed as Stephane Grappelli's successor, did an absolutely jaw-dropping night to a select few at the hall; It was a very foggy Monday night at the fag-end of winter, and the good villagers of Dinas Powis obviously preferred to lock their doors and stay in their warm homes. Tim's trio, Welshman and master guitarist Gary Phillips of The Amigos and fabulous English double bass player Pete Kubryck-Townsend were oh so tight as they accompanied Tim through traditional Welsh tunes, which took on a new lease of life once Tim had touched them with his fiddle magic, and well-known numbers from the jazz repertoire. Tim finished tour of Wales and and UK, and then was off to San Fransisco to play in a duo with Fapy Lafertin, the incredible Belgian gipsy guitarist and expert on the Portuguese fado tradition.

Roots Unearthed, Level 3, St David's Hall, Cardiff: Tuesday, March 13, 2012
Dave Haslam and St David's Hall have built up Roots Unearthed, the Tuesday night series of concerts, into a must-see experience. Traditional icons like Peggy Seeger, Dave Swarbrick, Martin Carthy, Norma Waterson and her late, great brother Mike have joined forces with contemporary and innovative movers and shakers such as Flook, the Warsaw Village Band, Bellowhead and Kan in the intimate setting of the Level Three Lounge. The St David's Hall marketing department have latched onto the sheer artistry of some really fine, top-quality music, labelling it as "global sounds", and the crowds instinctively sense that they're going to have a good time. Chris Wood, singer and writer of songs, just fitted the bill perfectly.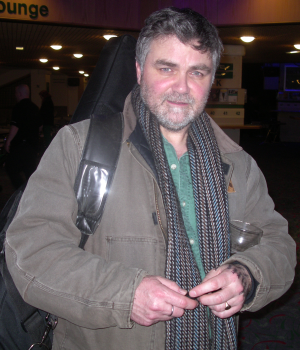 Chris Wood, guitar packed and ready to go
Photo - Mick Tems
Chris is a fascinating enigma. He likes to make the audience (and it WAS a massive audience) think that it's a non-show. No sequins, no glitz, no razzamatazz or spectacular dancing - just a solo bejeaned singer, eyes closed and barely moving, accompanying himself on a guitar which some would classify as minimal but is very subtle, complicated and endlessly flowing. He personifies the quiet anger of the little man; his contempt reaches far deeper into the caverns of articulate thinking. He talks to the crowd about the pleasures and frustrations, issues that get his goat, both poignant, funny and simply irritating, that are the facts of life when traditional trades (such as the Kentish fishing businesses that are in danger of disappearing) get in the way of a rich and greedy commuter London hinterland.
These are issues that wouldn't make a ha'pence-worth of difference, were it not for the fabulous, funny and intelligent, straight-to-the-point and razor-sharp songs he writes. Chris dismisses himself as "a protest singer", but it's just his way of self-deprecation. He wields the knife so artistically that his victims don't notice the wound. My Darling's Downsized expresses his satisfaction at his wife's determination to ditch her hectic job and do the vegetable patch instead; he introduces the biting anti-fat-cat politician song Caesar with the advice: "Don't vote." The award-winning Hollow Point, about the Metropolitan Police gunning down innocent Brazilian electrician Jean-Charles Menezes at Stockwell tube station, is full of menacing darkness but is told in a matter-of-fact way.
Chris had the audience on the edge of their seats for all his performance, and as the last song died away, they erupted with shouts of appreciation and thunderous applause. Chris had avoided that Folk Award-winning song all night, but the audience wanted more for the encore. A woman at my table was insistently shouting out: "Sing One In A Million – please!" Chris acknowledged her: "Oh, all right – but I've been falling over backwards trying to remember the words. If I mess it up, it's your fault."
Chris composed the tune to One In A Million, but his colleague, storyteller Hugh Lupton, wrote the marvellous words about the chip shop owner Bateman, his daughter Peggy Sue and the lovelorn fish frier Billy. Traditional storytellers are familiar with the well-known tale about the sweethearts whose life together seems doomed when the engagement ring is tossed into the sea, but, there's a happy denouement: the ring is safely delivered by a fish. Hugh brilliantly weaves the ancient tale with modern landmarks, and what better a deliverer than Chris? It's a complicated eight-minute song, with an impossible melody that somehow implants itself into the audience's brains but is too difficult to sing; and the many verses of the amazing lyrics have left many an amateur singer exhausted and defeated by the wayside. One In A Million is a hard and dangerous mountain to climb, but once you're up there, you should see the breathtaking view! It truly deserves its BBC Radio 2 Song Of The Year Folk Award.

Halfpenny Folk Club, Oldwalls, Gower: March 25, 2012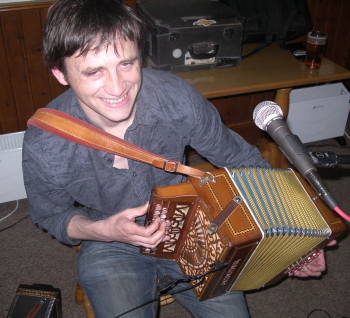 Andy Cutting "Discovering Narnia"
Photo - Mick Tems
June Tabor, that magnificent folk diva, has a few well-chosen words to say about Andy: "Hearing Andy Cutting play is like going through the wardrobe and finding Narnia. His music is glorious, joyful, moving, subtle, emotionally charged, a totally spell-binding experience that is never long enough."
I'll add gladly to that; Andy is a musicians' musician, and his commitment to and understanding of both written and traditional music makes him one of the most sought-after accompanying diatonic accordion players who have ever walked this earth. He's played with June, Martin Simpson, Kate Rusby, Chris Wood, the great band Blowzabella and with John McCusker's Under One Sky; he's even rubbed shoulders with The Who and with Dire Straights. McCusker says: "In my musical life, I've been lucky to work with a few musicians that I would call a genius; Andy without a doubt is one of these people. He is not only a true master of his instrument but a very inspiring musician to play with and be around. I've learned loads just by listening and watching him play. To top it all off, you couldn't meet a nicer fella."
Joy and Tony Toole run The Halfpenny Folk Club at Oldwalls, West Gower, with an exciting guest list all the year round – and the Gower Folk Festival, with its welter of guests, cherry-picked by the astute Joy, is a marvellous bonus. Andy started off with his well-known composition In Continental Mood, and gave us a really luscious treat, blessed by the Master. Those who don't know Andy will be fascinated at how a single squeezebox player can hold an evening together, especially when he says he can't sing – but Andy is on par with the greatest players of his time, including Riccardo Tesi, Marc Perrone, Fred Paris and the Breton Alain Pennec. It was a magic night, and I was really surprised at how the time had just evaporated. Andy makes a habit of doing that; he's a four-star geezer!

Roots Unearthed, Level 3, St David's Hall, Cardiff: April 3, 2012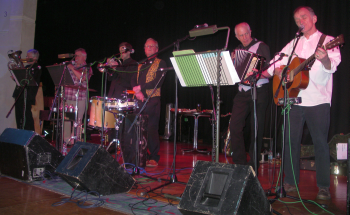 Brass Monkey: from right, Martin Carthy MBE, John Kirkpatrick, Martin Brinsford, Shane Brennan, Paul Archibald, Roger Williams Photo - Mick Tems.
Imagine, if you will, the stirring sight and the marvellous sound of not two, but three, brass musicians in the line-up as the augmented Brass Monkey made their triumphant debut in Cardiff. Paul Archibald, whose musical accolades spanned co-principal trumpet in the Covent Garden Royal Opera House to principal trumpet in the BBC National Orchestra of Wales, had a hectic schedule which meant he couldn't be at Brass Monkey gigs, so he sent what Brass Monkey affectionately call "The Boy" – trumpeter Shane Brennan - along. Shane, together with trombone player Roger Williams, the now-free Paul and percussion-cum-saxophone player Martin Brinsford make a formidable and thrilling brass section; the six-man band was playing its Welsh debut, and what a jaw-dropping debut it was. Together with Martin Carthy MBE and the Shropshire button accordion master, John Kirkpatrick, Brass Monkey are a glorious melange of classical brass and a living, vibrant English tradition, with John testing his accordion to the very brink, Martin thumping the hell out of strings the size of telegraph poles and Martin percussing everything in sight. Another triumph for Roots Unearthed and for Level 3!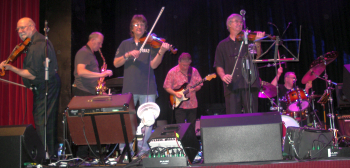 Fiddlers three: Brian McNeill, Ian Cutler and Peter Knight, with Dave Mattacks on the drums.
Photo - Mick Tems
The Muni Arts Centre, Pontypridd: April 7, 2012
Hugh Crabtree, melodeon player, singer, organiser and boss of Feast Of Fiddles, surveyed his magnificent musical juggernaut on the second night they visited The Muni; an inspiring coup for Rhondda Cynon Tâf arts director Geoff Cripps, but a disappointing night in terms of ticket sales. East of Offa' s Dyke, a Feast Of Fiddles concert could be guaranteed to be a sell-out. But the Valleys public had only themselves to blame for missing a formidable 11-strong line-up a phalanx of mouth-watering fiddlers which consisted of Brian McNeill, ex-Battlefield conspirator; Ian Cutler, Bully Wee musician who played for the 1970s five-star cult movie The Wicker Man; Peter Knight (Steeleye Span and Gigspanner); Garry Blakely, fiddle teacher in trad and classical styles; and Tom Leary, Jack of all trades in the fiddle business including the John B Spencer Trio, Little Johnny England and John Davie of Gryphon.
A solid body of guitars, bass and the well-loved drumming of Dave Mattacks - now living in America and playing alongside Rosanne Cash – anchors the sound of those fiddlers. Feast Of Fiddles started off on a roar by gleefully playing The Magnificent Seven theme tune, quickly varying the repertoire so all the individual players could display their considerable talent. Brian McNeill was so impressive with his medley of traditional Scottish tunes, and Peter Knight delighted everybody with his composition, Sharp Goes Walkabout. All to soon, the gig came to end, and the shout that exploded from the audience persuaded Feast Of Fiddles to do an encore. A magnificent night from a magnificent band.

Glanfa Stage, Wales Millennium Centre, May 5, 2012
A clash of events conspired against me on the occasion of the WMC's impressive early summer salute to Welsh folk music and all that it promises. May 5 was also the celebration of the opening of the Wales Coast Path, right alongside on Roald Dahl Platz, and my group Gwerinwyr Gwent were invited to dance there. Dathlu Calan Mai means Celebrating The First Of May - I managed to catch three stunning bands, and what I saw and heard made me very glad I had stayed for a few hours.
I sadly missed Al Lewis, and Huw M's set was almost half-done by the time I squeezed into the WMC's foyer. Huw, aka Huw Roberts, is an acoustic guitar-playing quality songwriter whom I sincerely hope that I'll be enjoying much more in the future. Huw, supported by wonderful classical 'cello, accordion, keyboards, ukelele and glockenspiel, weaves Welsh and English lyrics with tender loving care, notably in his song The Perfect Silence, the first track on the latest CD, called Gathering Dusk. One striking aspect is his fascination for digital loops, which he amply demonstrated in his set – shades of KT Tunstall!
Carreg Lafar (Talking Stone or Echo Stone) are five really impressive musicians who have triumphed in many trips touring America, at the Celtic Colours Festival in Cape Breton Island, Canada, Glasgow's Celtic Connections, Asturian festivals and at the vast Lorient Interceltique too. They proved without question just why festival organisers want them back, hitting the perfect spot in their first song Profiad (Experience) and turning the heads of the punters who stayed to watch in fascination. Carreg Lafar have a magnetic and unique power; singer Linda Owen Jones mesmerises and elates the audience with her commanding, fabulous voice and her shimmying form, constantly dancing to squeeze the last drops of energy out of a traditional tune. Founder member Antwn Owen Hicks has a ball on gaita (Galician pipes) and the Welsh pibgorn, while co-founder James Rourke masters flute and whistles superbly and fiddler Rhian Evan Jones contributes to the whole magnificent Carreg Lafar sound by really making her instrument sing. Danny Kilbride, the trac chairman, joined the band in 2006, and he colours the band's tasteful arrangements with imaginative and inspiring guitar. All in all, Carreg Lafar are riding on a veritable winner.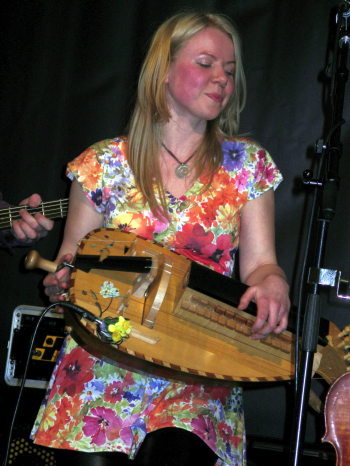 Estonian in Wales: Sille Ilves from Taran at Calan Mai. Photo - Mick Tems
The band never let the tension drop, churning out new and traditional material in machine-gun-like fashion. Meic Stevens' song Dic Penderyn, lamenting the Merthyr martyr, Glan Môr Heli and Gwangwyn build up to a proud and beautiful Aberhonddu, while Tri Pheth explodes with a mighty and glorious noise, Antwn making the pibgorn and the bagpipes fly and Pentreffest's director Jon Mills leading a joyous line of dancers through a Laridé a huit temps.
Carreg Lafar climax with Y Cadno, and then the set was over all too soon. An hour with the band is really a profiad, an experience, well worth going to see – a load of festival directors can't be wrong!
I was looking forward to seeing and hearing Taran, Gerard Kilbride's daring Welsh dance 'n' drum creation where traditional instruments collide dizzily with state-of-the-art digitalware. Singer and frontwoman Sille Ilves, hurdy-gurdy and fiddle at the ready, was looking radiant; she was accompanied by her husband, Sild musician Martin Leamon (who is looking more like a young Vin Garbutt these days.) Danny Kilbride swapped acoustic guitar for bass, while Gafin Morgan strutted his stuff on saxophone, pibgorn and gaita bagpipe. Dave Danford (percussion and keyboard) and Felix Peppler, behind an battery of keyboards and winking lights that would make Rick Wakeman shout out with joy, served as band book-ends; behind this glorious mayhem stood Gerard, fiddle, pibgorn and midi-bagpipe at his beck and call.
Taran's whole basis is seeking old Welsh material which can played on Welsh traditional instruments (Sille's hurdy-gurdy was the delightful exception here), blending digital drumbeats and today's dance rhythms in a heady melange of venerable music and new pop, but always giving the trad instruments pride of place – and of course the instruments win out easily. That's what they were made for!

ALASDAIR FRASER & NATALIE HAAS
Roots Unearthed, Level 3, St David's Hall, May 29, 2012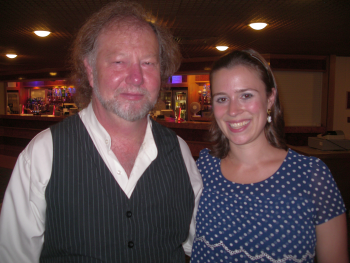 Alasdair and Natalie; Fiddle and 'Cello on Fire
Photo - Mick Tems
Alasdair Fraser, long regarded as Scotland's premier fiddle ambassador, and sizzingly-talented young cellist Natalie Haas, are a stunning revelation – and full marks to Roots Unearthed organiser Dave Haslam for letting Cardiff music enthusiasts hear a full set of the duo's incredible repertoire. Alasdair and Natalie have their hands full giving show after show to Scottish audiences, and this was the first time they have played in Wales; this was a rare and completely satisfying magic hour.
Clackmannan-raised Alasdair now lives in California with his wife and children, and California-born Natalie now teaches classical and folk music on the 'cello in Boston, Massachusetts. Alasdair writes new compositions and plays traditional Scottish material, and he and Natalie conjure up a breathtaking blend of classical and wildfire traditional Scottish culture, just purely instrumental. His brilliant style made the fiddle sit up and beg, coaxing a sparkling shower of notes out of it. Natalie's grin was as charming and confident as her playing, fashioning completely beautiful 'cello harmonies which enhanced Alasdair's fiddle.
Alasdair and Natalie's concert was just one of many rare and joyous occasions which have been the highlight of the Roots Unearthed series. There's another high spot coming up on Tuesday June 19, when Dave introduces The Warsaw Village Band; fantastic Polish musicians who have researched the rich culture and history of their country. Prepare to be amazed!