ALLAN YN Y FAN: Blackwood Miner's Institute, March 28, 2018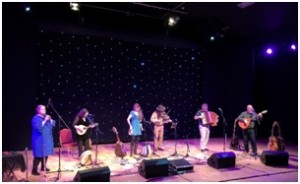 Widely regarded as one of Wales' foremost traditional bands, since their formation in 1996, Allan Yn Y Fan have taken Welsh traditional music all over the world (writes Dave Chamberlain). This Wednesday, however, saw the band performing closer to home with a gig at one of their favourite venues.
The evening took the format of two halves with an interval, and this six-piece band entertained us with a selection of traditional Welsh songs and tunes interspersed with original compositions, mainly from the pen of founder member Kate Strudwick but also with contributions from Chris Jones and Alan Cooper. All the music was taken from across the band's 22-year career and took us on a journey from the Festival Interceltique at Lorient in Brittany to sparsely-attended performances in Ireland, before returning to Wales across a stormy Irish Sea, stopping to remember Kate's former landlady and her cat along the way.
The songs were mainly entrusted to Catrin O'Neill who, since joining the band in 2015, has taken on the role of lead vocalist and her vocal style adds a haunting quality to such songs as 'Dafydd Y Garreg Wen' and 'Lisa Lân', both of which take the passing of a loved one as their subject matter. Catrin's versatility means she was equally at home singing about hopeful love, as in 'Ym Mhontypridd Mae'n Nghariad', or the celebratory staples of the Mari Lwyd in 'Pwnco' and 'Canu Cwnsela' or rousing songs of workers' rights, as in 'Gorthrwm Y Gweithiwr' with its dire warning to the Victorian ironmasters of Beaufort.
This evening had all the ingredients needed to make a memorable performance; six talented performers who obviously enjoy performing together and transmitted that joy through their music to an appreciative audience, a quality venue with friendly staff and a crystal-clear sound system ensuring that none of the music's nuances were lost.  It was a pleasure to attend this concert and I look forward to seeing Allan Yn Y Fan perform again in the not too distant future.