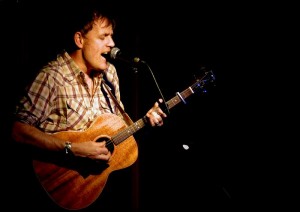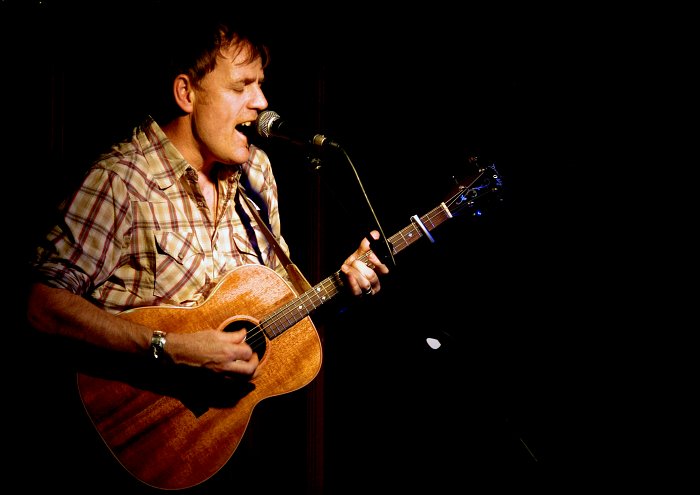 MARTYN JOSEPH: Roots Unearthed, L3 Lounge, St David's Hall, Cardiff, January 16, 2018
There's an old and well-loved newspaper headline proclaiming: "Local Boy Makes Good" –  and Roots Unearthed concert seats were sold out two weeks ago for this local boy. In fact, the seats could have been sold out twice over, and the L3 Lounge was jam-packed. The audience turned out to cheer and greet Martyn, whose busy schedule lists lengthy tours of the USA and Canada, Germany and Belgium; the Penarth singer-songwriter joked: "Next year, let's move the gig to over there" – indicating the 2,000-seater hall. The crowd roared back its approval.
With a successful career spanning 30 years and recording an impressive 32 albums, generating over a cool half-million sales, Martyn hoovers up more and more followers with his piercing, brilliantly lucid views of freedom, justice and equality of life; he fights the bullying, powerful dark forces of greed and avarice, race hate and corporate lies, and his shining sword is his words and his music. Heavily influenced by Bruce Springsteen and Bruce Cockburn, Martyn extends the boundaries of literary folk, rock, soul and Americana, and he confounds those critics who seek to put him in any old pigeonhole. Many dub him with the accolade "the Welsh Springsteen", but this man really is unique.
Martyn swaps his five guitars, including his 12-string and four-string acoustics and a lone Fender Telecaster, which he elegantly plays for just one song. He treats the audience to two lengthy sets, cheerfully remarking: "I hope you didn't come here looking for party songs!" and plunged into a rocking 'Lonely Like America', his razor-sharp description of a beautiful, breathtaking country and beautiful, breathtaking people, overshadowed by the extremes of decay, uncertainty, doubt, poverty, guns and crime. He plunges his poetic knife into the Trump administration without ever mentioning the President's name: "His intentions look like 666!" In 'Proud Valley Boy', he honours the black American singer, actor and activist Paul Robeson, who championed and stood with the South Wales miners until the McCarthyites withdrew his passport and forbade him to travel. (He tells the story of a concert which was luckily situated right on the Canadian border with the US; Robeson stayed legally in America, but he sang to the delight of 15,000 Canadian fans, who had travelled the vast country just to hear the great man perform.)
A typical Joseph concert is raw, pulsating energy throughout. Martin polishes and hones his words and music to inspire and excite the worldwide crowd, encouraging and coaxing the fans to sing the choruses back at him. He possesses an absolute shed-load of fiery, beautiful songs, including 'Here Come The Young', the fateful day when masses of newly enfranchised voters, alienated and angry at rigid, uncaring Government mantras and the appalling Brexit lies and scam, kick May out and soundly install Corbyn in Number 10. He salutes the Cardiff audience and sings a battery of his Wales-based material, including 'Dic Penderyn', the martyr who was wrongfully accused of stabbing a soldier during the Merthyr Tydfil uprising of 1831 and hanged; thousands signed a petition calling for his release, but Home Secretary Lord Melbourne wanted one rioter to die as an example to all the rest. 'Land Of Evermore' showed Martyn's regard and affection for Wales, and 'Sunday Over Cardiff Bay' emphasises his love for his city and his son. He is the people's poet, speaking out for the Welsh nation in song and proud rhyme – and an avalanche of utterly memorable hook lines and enticing ear-worms.
He toasts the crowd with 'This Glass': "Fill it up with the humble and selfless; those that build bridges, not walls." He salutes Aneurin Bevan, the father of the NHS, now weakened and battered because of Government policy; in 'Nye', his words encourage the people to fight and save it: "The purpose of power is to give it away – this is my truth, tell me yours." But the most poignant and charming high spot comes when Martyn shows his love for his mother – who is in the audience – by writing her a personal song as a present: 'Her Name Is Rose'.
When the gig is over, fans rush to buy Martin's latest album, his Official Bootleg Volume Four, recorded live in Derby on January 26, 2017. In the brief introduction, Martyn commends the Derby crowd for a great night; but it's my humble opinion that this Roots Unearthed homecoming triumph, with the packed Cardiff voices roaring a myriad of harmonies, has the edge on that.
Mick Tems