Tradition is under attack as leading lights campaign against the cuts.  FolkWales Online Magazine editor MICK TEMS reports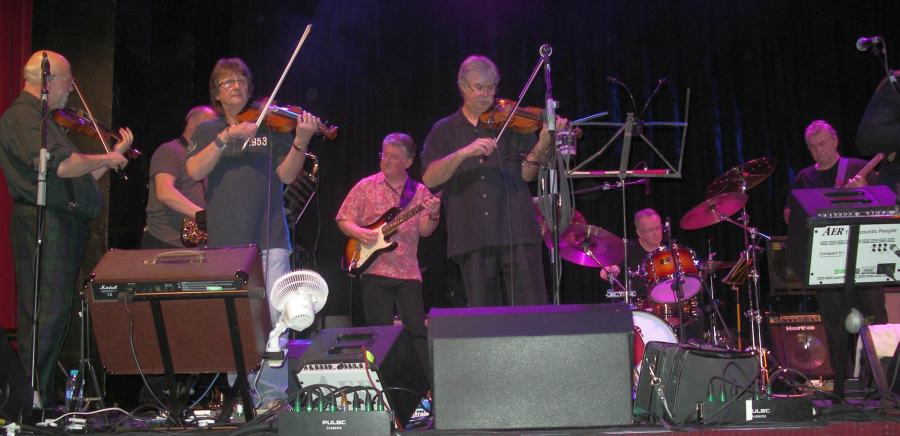 Rhondda Cynon Tâf becomes a cultural desert – flashback to happier days at The Muni Arts Centre, when Feast Of Fiddles rocked it up: Brian McNeill (ex-Battlefield), Ian Cutler (ex-Bully Wee) and Peter Knight (Steeleye Span and Gigspanner) are having a ball, with Dave Mattacks (ex-Fairport Convention) on drums. Now the Muni is closing, because of Chancellor Osborne's austerity mantra
Playwright and panto favourite Frank Vickery has slammed proposals to slash theatre and music services in Rhondda Cynon Tâf, which could mean drastic cuts in folk-roots provision across the whole of South Wales.
Hollywood star Michael Sheen has already urged Welsh councils not to cut funding for the arts as they plan how to balance their budgets, following Neath Port Talbot's decision to withdraw its support for the West Glamorgan Youth Theatre Company, the drama group with which the famous actor used to perform. Neath Port Talbot says not-for-profit organisations cannot be immune from cuts as it tackles a funding gap of nearly £40 million over the next four years, caused by Tory chancellor George Osborne's austerity policies.
It comes after Rhondda Cynon Taf council announced proposals to shut the Muni Arts Centre in Gelliwastad Road, Pontypridd, and operate a reduced programme of shows in the Park and Dare in Treorchy and Aberdare Coliseum.
Frank, 60, who was brought up in Rhondda Fawr, lives in Gelli and wrote and starred in the critically-acclaimed production of Peter Pan, says Rhondda Cynon Tâf would be hit the hardest if these premier arts centres were to be shut or be downgraded. He emphasises that The Muni provides a vital service to the community and provides an important form of escapism, and Rhondda Cynon Tâf should not be putting a price on the arts.
Frank says that the Muni's closure would leave a gaping hole in the community, and he could not understand Rhondda Cynon Tâf's thinking; the Muni not only acts as a theatre but as a community centre for those who want to grab a coffee, host a meeting or even have a wedding, and it is the best-used theatre in Rhondda Cynon Tâf. Frank's pantomime this year was probably the most successful of all time; it sold out more or less every night in Pontypridd.
He says that theatres and arts venues should not be seen as a place to make money; they are there to provide a service. Closing such a venue could lead to an increase in crime and stop younger generations from taking up the performing arts, and a campaign needs to be started against all the cuts.
Geoff Cripps, Rhondda Cynon Tâf's artistic director, has always earned praise for maintaining a policy of bringing high-quality roots music to the borough. The cuts will bring fears of a barren roots music desert across the council's area.
Frank says that the whole population of Rhondda Cynon Tâf should stand up and shout out loud against the Muni's closure – it is a strategically-placed building and a truly special venue which people should fight to retain.
Osborne's mantra would affect the Night Out grant schemes, on which all the folk clubs and many different venues rely. The City Of Cardiff says it will stop Night Out from this May. Llantrisant Folk Club, in the Rhondda Cynon Tâf village of Pontyclun, is still waiting to hear what will happen to Night Out; but it looks likely, with all the slashing of funds, that the Night Out scheme will be in danger.