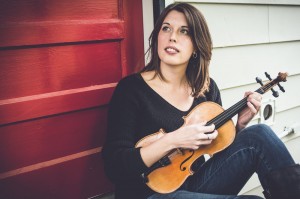 BELLA HARDY: Roots Unearthed, L3 Lounge, St David's Hall, Cardiff, October 31, 2017
Bella Hardy is a giggling, chatty bundle of energy, a great fiddler and a spellbinding songwriter; She was on tour – sadly, her only date in Wales – showcasing Hey Sammy, her new album and her ninth, which will be released on November 24. Her musicians were her old touring companion, the wonderful guitarist Anna Massie, and pianist, clarinettist and co-writer Tom Gibbs; it was quite a pared-down line-up from the last time she was in the L3 Lounge.
Bella playfully confuses and traps anyone who mistakenly thinks that being a folk singer will consign yourself to a particularly deep and dark pigeon-hole: an imaginary conversation might go like this:
Where did you go last night?" "We saw Bella Hardy." "Who?" "Bella Hardy – she was appearing at the L3 Lounge in the Roots Unearthed series." "Nah – Roots Unearthed sounds too folky for me… what does she do?" "She plays fiddle and writes wonderful songs." "Fiddle? Is it Irish music?" "Not exactly – a marvellous grand piano player accompanies her, and he doubles on clarinet." "Oh… so it's classical music?" "Noooo, strictly not. Bella has just come back from Nashville, where she has collaborated on some written songs." "Nashville? You mean, all that Yee-hah barn-dance stuff?" "Certainly not – Nashville is the undisputed capital of country music, but the city is leading the way and has blossomed into a burgeoning songwriting scene. Bella was won over by the whole American culture; she also spent six months in China as the British Council's Performer In Residence in Yunnan Province, where she wrote the new album's songs 'South Lake' and 'Stars'. The acoustic guitarist's name is Anna Massie…" "Acoustic guitar? Not 'Blowing In The Wind' and all that folky scene?" "I believe not. Anna's also a pretty mean electric guitarist as well." "So she's a rock chick?" "No, nothing could be further from the truth. Anna also plays guitar, banjo and fiddle with accordionist and bagpiper Mairearad Green…" "Oh, I see – you mean, Andy Stewart and The White Heather Club?" "Well, Aly Bain and Jerry Douglas's Transatlantic Sessions could be closer." (silence) "…Who's Aly Bain?"
…And so on. Remember, they do walk amongst us…
The BBC Radio 2 Folk Singer of the Year Award winner, born and brought up in  Edale in Derbyshire's Peak District, walked onto the stage and plunged into her triplet of written songs, 'Redemption', 'Learning To Let Go' (about her experieriences in California) and 'Driving Through Harmony', an American town which inspired Bella to write a song about its pretty name. She co-wrote 'Queen Of Carter's Bar', mildly influenced by the Scottish ballad 'Tam Lin', and tri-wrote the desperately-sad 'In My Dreams'; however, she slaps down the disgraced Harvey Weinstein and Sir Michael Fallon philosophy with her self-written hymn to womanhood 'You Don't Owe The World Pretty'. Anna and Tom stuck like leeches to Bella when she delivered the switchback 'Busy Head' and 'Heartbreaker', which she co-wrote with Tom.
Bella told the audience that she lived in Glasgow, and her close neighbours were friendly Rumanians; Sammy was their little boy. She wrote the album's title song, which pinpoints ignorant intolerance and far-right media hate, and revisited her older songs, such as 'The Herring Girl' (which won her the Radio 2 Award), 'Three Black Feathers' and 'The Seventh Girl'.
The L3 Lounge was crowded, the CD stall was pretty hectic, and – although it hasn't been officially released yet – Bella was kept busy signing stacks of the new Hey Sammy, the instrumental rock-influenced line-up of which is markedly different to Tom's piano and Anna's simply stunning guitar work. The five accompanying musicians have changed, but Tom is still there.
Mick Tems