THE RACHEL NEWTON BAND: Roots Unearthed, L3 Lounge, St David's Hall, Cardiff, June 27, 2017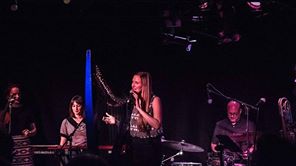 Folk Awards multi-winner Rachel Newton has chalked up many impressive plaudits as a founder member of all-woman band The Shee and harper with The Furrow Collective and The Emily Portman Trio, so she's not a stranger to South Wales. However, the new Rachel Newton Band played their debut concert for the first time here, and the audience clapped, cheered, shouted for more of her bubbling, laughing personality and the beautiful, breathtaking atmosphere which five musicians create – this was the scintillating sound of modern Scotland, landed right slap bang in their laps.
Apart from her mainstay electric harp, Rachel also plays fiddle, viola and piano; she released many albums with her four collaborations, but she recorded her first solo album, The Shadow Side, in 2012, following it up with Changeling in 2014. Her 2016 collection, Here's My Heart Come Take It, was awarded Scottish Album Of The Year; Rachel and the band plunged right in with the title track, taken from the Max Hunter Folk Song Collection. She sings in English and Gaelic, and she introduced a wonderful Gaelic piece with the translation: "I Fancy The Girl With Brown Hair Who Looks After The Cows." Her performance includes several stirring Gaelic songs, including the rhythmic waulking tradition; she translated one title as: "My Duncan Went To The Hill And Never Came Back".
Her band consists of the usual suspects, supple fiddler Lauren McColl and brilliant percussionist Mattie Foulds, with keyboardist Sarah Hayes and brass player Mikey Owers filling in. Lauren is a member of all-woman fiddle quartet Rant, based in the Scottish Highlands and the Shetland Isles, and Salt House, the Scottish trio with singer-writer Jenny Sturgeon and guitarist and singer Ewan McPherson, both of whom have recorded solo albums. Lauren has also collaborated with many illustrious bands including Blazin' Fiddles, The Strathspey and Surreal Society, The True North Orchestra, Julie Fowlis, Ewan McLennan and Siobhan Miller, and has played viola and fiddle on many albums (including Ewan's Fetch.) Mattie is the founder, producer and engineer of Caribou Recording, located in Penicuik, a short hop from Edinburgh, and Here's My Heart Come Take It was Rachel's third album session working with him. His impeccable drumming fills the song or tune out with delicate, decorative artwork, a style rather reminiscent of classical jazz. Mikey plays a tasteful array of instruments, including bass trombone, trombone, flugelhorn and sousaphone; his brass-work, and Mattie's empathetic percussion, create a magic other dimension where Rachel can soar and fly.
She has collected a mesmerising portfolio of little-known songs and tunes, and has added an enhancing touch by composing the melodies; Mikey added the flugelhorn to the sombre, dark ballad 'The Bloody Gardener', while Rachel delved in the Max Hunter Collection again to deliver the rare and eerily-disconcerting folk song 'Poor Lost Babe'. However, she rang the changes once more with her stunning arrangement of the Hank Williams country hit 'I'm So Lonesome I Could Cry' – stark, simple harp riffs and minimalist accompaniment did the trick for me. For the encore, Rachel and the band saluted country queen Dolly Parton with a rip-roaring, butt-kicking version of 'Jolene' – is there no end to Rachel's gleefully surprising and totally engaging versatility? I'll bet you a pound to a penny that this band's debut won't be their last.
Mick Tems