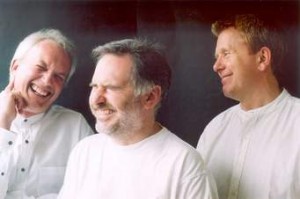 COOPE BOYES AND SIMPSON: Roots Unearthed, Lefel 3, St David's Hall, Cardiff: May 9, 2017
Barry Coope, Jim Boyes and Lester Simpson – three Yorkshire and Derbyshire singers with names that resembled a firm of solicitors – came together in 1990, the core of the Derby-based ceilidh band Ramsbottom; they sing close-harmony acapela in an exhilarating, startling way and fine-judge their eloquent repertoire, carefully selecting their own songs and other excellent writers with the defiant, reasoned attitude that would make Theresa May spit blood with rage. They have toured Europe and America, collaborated with writer Michael Morpurgo, sang at Passchendaele and other battle slaughterhouses of The Great War and recorded 18 albums, both themselves and collaborating with other like-minded musicians. After 27 years, they are calling it a day; Jim is living in a Belgian village near the town of Ypres, and the travel has just got too problematical. They are appearing at 25 gigs this year, including Jim's 'local', Dranouter Festival in Belgium, and, back in the UK, Towersey Folk Festival; their last appearance will be at Derby Folk Festival on October 7, and they will go their separate ways.
The trio took the opportunity to plug their latest and last album, Coda, in its entirety, throwing in some tasty morsels which were not included in the CD. They plunged in with Jim's composition 'The Avenging Angel' – set to the tune of 'Palms Of Victory' by New York Methodist minister John Barnet Mathias – which promises retribution for scheming warmongers all around the world. 'Bound By The Fishing' was written for a residency at the coastal town of Aldeburgh in Suffolk, and Barry, Jim and Lester went into two May songs; the first, 'From Hereabout Hill', a beautiful poem by Sean Rafferty, is part of their performance Where My Wellies Take Me, based on Claire and Michael Morpurgo's book. Their harmony is spot-on, inventive and inspiring; they tributed the songwriting of Peter Bond and Bill Caddick, who co-wrote the anthem for solo artists and the endless road: 'One Hand On The Radio, One On The Wheel'. They rang the changes in the repertoire, showcasing Norfolk traditional singer Sam Larner in 'Napoleon's Dream' and the irreplaceable Michael Marra's eccentric and funny writing in 'Frida Kahlo's Visit To The Taybridge Bar'.
Jim was commissioned by conductor and folk singer Janet Russell to write a song for local choir Settle Voices about the old green ways used by drovers to move cattle from Scotland and the fascinating stories about pipers who accompanied the stock; thus, 'The Drovers' Way' was conceived. Lester wrote 'If I Were Them', pinpointing the largest mass migration since World War Two and the rise of the far-right wing; Lester also wrote the clever 'PET Song', which as a keen cyclist he sees large amounts of discarded plastic water bottles littering the country roads. Americans used about 50 billion plastic bottles last year, and the US recycling rate is only 23 per cent…
Lester's 'Twilight Hunter' centres on Canada's North West Passage, which frozen pack-ice made inaccessible to Victorian explorers. Nowadays, ships pass freely because of global warming, and the very real dangers to the Inuit. 'The Man That I Am' is writer Boo Hewerdine's statement on the forced migration to Australia of children from the UK, which was only abolished in 1970. However, Jim's 'Children Of Palestine' pointed an accusing finger at the homeland-grabbing Israeli Government and the British Administration, inspired by poet Ghayath Almadhoun, born Palestinian but a passport-holding Swedish citizen: "Where are you now, children of Palestine? Where are you now, oh where can you be? Pursued over borders so far from our homeland; Forced over the borders and into the sea." Or: "Where are your olive groves, children of Palestine? Where are your peach trees, where can be they be? Supplanted by forestry, playgrounds and car parks; haunted by ghosts in a forgotten dream."
Jim's 'Anthem For The Planet's Children' (set to a tune by Hans Leo Hassler, who died in 1642) is the trio's complete philosophy, watchword and look on life: "Beware of those who chide us / and unity despise / they only would divide us / by spiteful deeds and lies…" After the inevitable encore, Barry, Jim and Lester closed with the well-known and well-loved hymn, 'Only Remembered', and the crowded audience joined in with harmony and sang the chorus back to them. This was a consummate, rousing, quite delightful night; Coope, Boyes and Simpson are leaving a yawning gap in the folk scene, and we sure will miss them.
Mick Tems