MÁIRE NÍ CHATHASAIGH & CHRIS NEWMAN: Llantrisant Folk Club, Pontyclun Institute Athletic Club, March 15, 2017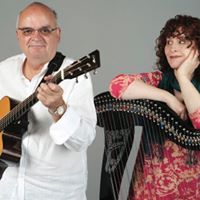 One of my greatest regrets was that I missed a rare appearance of the The Casey Sisters at this year's The Gathering Irish traditional festival in Killarney; circumstances conspired against us, and we remained in South Wales while Máire, Nollaig and Mairéad weaved that special kind of magic in the Gleneagles complex in County Kerry. So I was particularly looking forward to seeing and hearing one-third of this sibling trio playing her wonderful and enchanting harp with the stupendous jazz guitar master Chris Newman; this sizzling partnership can really light the blue touch-paper and generate loads of excitement.
Máire and Chris live in Hebden Bridge, West Yorkshire, and both run Old Bridge Music. They have recently returned from two amazing foreign trips – one month in New Zealand in January and performing in the North Texas Irish Festival in Dallas. Their entrancing quality musicianship is guaranteed to put a legion of bottoms on seats; they kicked off the first set with a fiery Irish piece called 'Stay Where You Are, You Rogue' and went straight into 'Swinging The Lead', an eye-popping jazzy delight composed by Chris. In contrast, Máire interpreted a beautiful Irish air entitled 'Molly St George', and both plunged in together to the bluegrass tune 'Tell Her Lies And Feed Her Candy'. The folk club audience was hushed by a plethora of moving Irish airs, including 'Bright Falls The Air' and the stark 'Connemara'; and Máire and Chris neatly stitched up the first half with Andy Hornby's 'Pheasant Feathers'.
Set Two served up a whirlwind of utter proud quality, including The traditional jig 'The Gander In The Pratie Hole', James Scott Skinner's devilish 'The Triplet Hornpipe', Turlough O'Carolan's gracious 'Elinor Plunkett' and the wild splendour of 'The Fair-Haired Boy', the prancing Christmas joy of 'Three Ships From Sussex' and Nollaig's brilliant 'Flying Off The Handel'. Chris's fingers were a blur as he coaxed his guitar to conjure up a glittering shower of notes; Máire, too, altered harp levers with jaw-dropping alacrity as she pirouetted through the musical keys with expert abandon. Chris's flamboyant tune 'Stroll On' brought the house down, and the delicate encore 'Ginny's Waltz' was soothing and just lovely. The audience drifted on home on a high spot; it's really satisfying to see such unique performers as Maire and Chris being appreciated and applauded with so much warmth.
Mick Tems