---

Expand the Table of Contents to find the review you want
DECEMBER 2022
---
MICK'S QUICKS
The Furrow Collective are viola and saw player Lucy Farrell, harper and fiddler Rachel Newton, banjo and concertina player Emily Portman and guitarist Alasdair Roberts; their latest digital EP is The Longest Night (Hudson Records), comprising four exquisitely beautiful carols, 'Halsway Carol', 'The Cherry Tree Carol', 'The Lambskin Carol' and 'The Wexford Lullaby', enveloped in shimmering, high-voiced harmony – a quartet of heart-warming midwinter folksongs to really savour. FolkWales verdict: Thumbs up!
USA-born acoustic guitarist, lovely singer and impressive veteran songwriter Annie Capps has released a new solo album, How Can I Say This? (Yellow Room Records, YRR024), a collection of super, sharp-edged songs which she calls "a love letter to my younger self." The ebony-smoke of Americana hangs heavy, but I'll wager a hundred to one that if she tours alone in the UK, folk audiences would listen to her mind-nourishing material, embrace her and come to her shows again and again. FolkWales verdict: Thumbs up!
The Irish Times says that Muireann Nic Amhlaoibh has "One of the earthiest and most distinctive voices, not just in traditional circles, but anywhere". Her album with the Irish Chamber Orchestra, Róisín ReImagined (independently released, no catalogue number) is just exquisite. FolkWales verdict: Thumbs up!
Illinois composer and acoustic guitarist Ben Bedford's sixth album is Valley Of Stars (Hopeful Sky Records, HSR404), concept songs about Hare and his magical adventures; Chas Williams and Ethan Jodziewicz accompany him on guitars and double-bass. Unfortunately, my mind kept drifting off to Neil and The Young Ones; too many ear-wincing scrapey chords, average writing and an instrumental that doesn't go anywhere – yawn, yawn. FolkWales verdict: Thumbs down
Eoghan Ó Ceannabháin is a Dublin-based singer, songwriter and multi-instrumentalist with his musical roots in sean-nós singing; his album with fiddle and viola player Ultan O'Brien won Best Folk Album at the RTÉ Folk Awards in 2021, and his promising debut solo album The Deepest Breath (independently released, no catalogue number) is like a cosy kitchen session. Eoghan comes up with bright contemporary material, mixed in with traditional jigs; among several musicians are Ultan, cellist Kaitlin Cullen-Verhauz and bodhrán player Conor Lyons. FolkWales verdict: Thumbs up!
---
MIST & WING
Step Into The Light (EP)
MISTCD001 (independent release)
You might be mistaken for supposing that Mist & Wing are on the other side of the Atlantic Ocean. Alan and Grace Murray are an Americana duo – think indie folk with hints of country, and if you mixed Angus & Julia Stone with The Jayhawks and The Chicks, this is what you would get. But Alan and Grace hail from the Isle of Skye and are graduates of the University of the Highlands and Islands Applied Music and the Royal College of Music. Alan is a wonderful songwriter, and his work showcases his skill as a keen observer and an engaging storyteller; growing up with a stammer, he found music to be good way of connecting that was easier than speaking.
The first title track on their debut EP, the impressive 'Step Into The Light', and the lovely chorus 'Dance Tonight' stand head and shoulders with the best songs; Grace lends her appealing voice in beautiful harmony, Alan embellishes acoustic fingerstyle guitar and there's hints of lap steel instruments. The pacey 'Country Mile' tells a tale of wanting to escape the city and head for the coast – but Mist & Wing show their true Hebridean selves in the exquisite, grand-style 'I Will Go'. Skye-based musician Calum Munro plays accordion on this song and the final serene fiddle-led instrumental 'Duntulm', which makes a completely satisfying end to all the five tracks. Incidentally, the duo's moniker takes inspiration from the Gaelic names for the Isle of Skye – but for now, their gigs in Wales are as rare as hen's teeth. You would be far better off buying this EP!
---
NOVEMBER 2022
---
HUSHMAN
Hushman

Hudson Records HUD031CD
www.hudsonrecords.bandcamp.com
Hushman is the nom de plume of Ewan MacPherson, guitarist and singer-songwriter of contemporary Scottish trio Salt House, with Jenny Sturgeon and Lauren MacColl, and six-piece Celtic fusion band Shooglenifty. This eponymous debut album is really delightful and relaxing; it's reminiscent of peaceful, warm summer days and it's also a lifegiving tonic as well. Ewan carefully crafts his songsmith's art with a fine bunch of written material; the only exception is the mysterious and rare Swedish ballad, 'Duke Henrik', which he found in 500 Nordic Folk Songs, transcribed by J N Ahlström in 1855 – a shining gem indeed.
Ewan's staple instrument is his fingerstyle acoustic guitar, but he dips into harmonium, synth programming and bowed bouzouki. He calls on musicians to enhance that dream-like sound, including Shooglenifty's drummer James Mackintosh, Lauren with her fiddle and viola, bassist Ben Nicholls and fiddler and vocalist Hannah Read. The album's style is Ewan's gentle voice double-tracked in wonderful harmony; the opening track is a gloriously sombre 'It's All In The Distance', followed by a heartwarming and life-affirming song of love, 'She Climbs The Munros'. Ewan has a magical knack of composing some memorable tunes, such as 'Playing Giants', 'Freshwater Salt' and the lovely earworm 'Beltane'; the final chord lingers on – and on, and on…
The album holds you entranced for the whole of the 10 tracks: the last song is 'Remedy For A Hollow Heart', and Lauren and Hannah play those sweet fiddles to reach the final conclusion. Hushman's solo debut is full of promise and quiet hope, and I'm looking forward to his next one with anticipation.
---
MICK'S QUICKS
Three Trad Records albums, posted from Belgium, came cascading through my letterbox the other day; the first is called Siger Rodeland (TRAD021) and is a must-hear tribute to the beautiful rural region on the east of Flanders where Hartwin and Ward Dhoore (of Trio Dhoore, the Belgian brothers) grew up. Hartwin magics his graceful diatonic accordion while Ward – who runs Trad – assists with mandola, guitar, piano, harmonium and soundscapes. The result is breathtakingly lovely. FolkWales verdict: Thumbs up!
The second album is Flandriens (TRAD022) by the instrumental duo Floriel, made up of Hartwin Dhoore and acoustic guitarist Jeroen Geerink, who have a passion for balfolk – continental dance music. This wonderful, hypnotic, rhymthic melody, created by Hartwin and Jeroen, is chockful of scottishes, mazurkas, waltzes, bourrees and everything else; it's a joyous dance night, condensed down to one CD. FolkWales verdict: Thumbs up!
The duo Loogaroo – diatonic accordionist Pablo Golder and acoustic guitarist and bouzouki player Florian De Schapper – proudly display the third album, Nautilus (TRAD023), 10 mouth-watering and head-turning instrumental tracks which tests their masterful virtuosity. Pablo composes six tunes and Florian four, and the whole show is a complete delight; favourites are the rippling opener 'La Chiave', the branle-influenced '7h45', which melts into dizzy guitar runs, and the beautiful 'Moreton Bay'. FolkWales verdict: Thumbs up!
After a few hopeful and promising albums, Merthyr Valley-born and now Portsmouth-based singer-songwriter Amy Goddard is really coming into her own with the 11-track Rise, made up mostly from her own pure and fragile-voiced material but tributing one of her favourite songsmiths, the late John Stewart. Amy's must-hear songs, such as 'Make Your Mark', the lovely 'Cornish Mist' and the life-affirming 'Rise Anew', could stand head and shoulders above all the commercial music industry. Guest musicians are Ross Ainslie on whistles and pipe and Hannah Fisher (of Idlewild and King Creosote) on fiddle. FolkWales verdict: Thumbs up!
The Tonic is a country dance and traditional song band comprising two Kent and Essex couples, Julie Atkin (piano), Gavin Atkin (fiddle and melodeon), Ollie Woods (percussion) and Malcolm Woods (melodeon). Their debut album, Feeling Better (independent release, no catalogue number) makes you want to sing, dance and have a really raucous time, and there's lots of information about the tunes and songs, both young and old. Maybe Cardiff's venerable Ruff dance club will invite them down to South Wales? I do hope so… FolkWales verdict: Thumbs up!
After losing both her parents, Ayrshire singer-songwriter and clarsach player Pauline Vallance has released her fourth album – The World's A Gift (independent release, PV002) as a tribute. She takes charge of the 11 quality self-written songs with her fascinating and uplifting voice, accompanied by James Grant on guitar, cellist Maya Burnham-Roy, percussionist Signy Jakobsdottir and Ursula Grant (harmony vocals). Pauline's daughter, Niamh McElhill, is the harmony voice in 'I Sing Because' – totally gorgeous! FolkWales verdict: Thumbs up!
Stupendous Shetland fiddler, singer and composer Barry Nisbet has created the true story of The Springbank Voyage (Rattled Rig Music, RRIG221) where the Clyde-built four-masted barque Springbank made her perilous journey from Hamburg, around Cape Horn to the west coast of Mexico in 1908. Many musicians, including American classical 'cellist Ellen Gira, contribute to the astounding tale. FolkWales verdict: Thumbs up!
Singer-songwriter and autoharp player Grey DeLisle, born in San Diego, California, tributes other songwriters in her debut album Borrowed (Regional Records, RR0617). She's also the most prolific voice actress in American animation history, performing over cartoon voices since 1996 from The Simpsons to Scooby Doo. Unfortunately, she veers into a completely left-field cul-de-sac, starting with an embarrassing version of 'Another Brick In The Wall' a puzzling 'You Only Live Twice' and ending with 'Willie We Have Missed You'. Hmm… FolkWales verdict: Thumbs down
Fellow Pynins are an Oregon-based contemporary folk duo with an anchor in the balladry tradition, consisting of Ian George (guitar, mandolin) and Dani Aubert (claw-hammer banjo, bouzouki); they play their instruments well and are pretty sharp on harmonies, but their unclear voices make it difficult to decipher just what they were singing about, as evidenced by their 2022 album, Lady Mondegreen (independently released.) Musicians contribute – but 'She's Like The Swallow', accompanied by brass, doesn't float my boat at all. FolkWales verdict: Thumbs down


---
LADY MAISERY
Tender

LMCD05
***** FIVE STAR CHOICE! *****
Stunningly gorgeous! The uniquely captivating Lady Maisery – Hazel Askew, Hannah James and Rowan Rheingans – are back with their first studio album for an interminably long six years. Three of the most accomplished and adventurous explorers in modern folk have created a musically audacious, boldly political and manifestly personal record that reaches far beyond their previous work; They take turns at composing head-swivelling free-form verses, and they honour and tribute women songwriters like Tracey Chapman, the late Lal Waterson and Icelandic experimental artist Björk – and all the time, those beautiful angelic voices just twist and dance in breathtaking three-part harmony.
All three are accomplished musicians; Hazel masters harp, diatonic accordion, harmonium and five-string banjo, while Hannah plays accordion, percussion and sansula (thumb piano) and Rowan is extremely adept on viola, five-string banjo and electric guitar. However, the instruments' individual sound is tantalisingly stark and minimal; for example, Hazel writes about 'The Fall', where she outlines women's quiet anger, uncertainty and defiance against male misogyny, while their instruments form a enveloping, comforting drone that somehow swells to a threatening, disquieting attitude – a typical Lady Maisery magical trick, and it's so eye-widening and mind-nourishing.
The opening album track, Rowan's song, is a desolate masterpiece, a delicate poem of splendour where she bids goodbye to her love in the depths of winter; soft and gentle three-part vocals rise and fall. 'Echoes', Hannah's creation, uses staccato accordion and viola, and Rowan coaxes her viola into a brief, soaring flight; a glimpse of a ghostly, David Lynch-like steam (or beam) engine can be heard. Hazel's 'Scientist' paints a future apocalypse in climate change; the final breathy voices are strangely compelling but all the same discomforting. 'Rest Now' is one of Rowan's work, with the same shimmering harmonies anchored to a lone banjo – it's all quite amazing and astounding.
African-American singer-songwriter Tracey Chapman wrote the classic '3,000 Miles', and the seething accompaniment reaches a threatening crescendo; the inestimable and must-see Björk penned the brilliant 'Hyperballad', and Lady Maisery deserves a medal for interpreting and even recording the artist's quirky and super-complicated reasons to love someone. In contrast, Lal Waterson was a unique and very much-missed songsmith; the mysterious and incredibly lovely 'Child Among The Weeds' was released on the 1972 Bright Phoebus album, which displayed Mike and Lal's songwriting accompanied with Richard Thompson's guitar and other folk-rock musicians including Martin Carthy, Dave Mattacks and Ashley Hutchings. Rowan, Hazel and Hannah have made a superb job of Lal's work with a spine-shivering acapella interpretation: "Just sing him a lullaby, lullaby all the long night through…"
The whole Tender album is quite exquisite; the final piece, Hazel's 'Birdsong', is jaw-droppingly precious, with echoey, clear voices and viola taking wing and making a satisfying ending to a perfect collection. All 11 tracks are to be really treasured. In fact, Lady Maisery are on a promotion tour around England, but they miss out Wales or Scotland; you'll have to drive to The Hive, Shrewsbury (November 19) or The Station in Kingswood Estate, Bristol (November 24). After all, a gig with Rowan, Hazel and Hannah should be well worth the long ride.
---
THE TRIALS OF CATO
Gog Magog

Independent album; no catalogue number
The Trials Of Cato are just one of the success stories in the wonderful world of folk. Two Welshmen from Wrexham, banjo and bouzouki player Robin Jones, guitarist Tomos Williams and Yorkshireman Will Addison formed the original Trials trio while they were working as English teachers in Beirut; jokingly referring to themselves as "the biggest British folk band to ever come out of the Levant", they returned home from Lebanon in 2016 and set about blazing a trail like no other on the UK folk scene. Critics acclaimed the edgy verve and sheer originality of their debut album, Hide and Hair; and they headlined in the Welsh Folk Awards in Cardiff's Millennium Centre – but then the pandemic intervened. After an enforced lay-off for over a year, Will departed and Yorkshire's prodigiously talented mandolin maestro, Polly Bolton, took his place to bring a whole new dimension to the set. Polly also added Irish bouzouki and clawhammer banjo to the equation – and the dazzling effect of their second and newest album is quite stunning and immediate, with the addition of Robin's chunky banjos and fluent bouzouki and Tomos's acoustic and electric guitars, bass, keyboards and spacey percussion. I saw the new-look band in Newport's Tredegar House Folk Festival in May this year; they went down a complete storm, with Polly acting her extremely visual, lovely self to the highest degree.
Gog Magog was a legendary yellow-jacketed giant who delighted in crushing the Cambridgeshire townspeople and sailing ships with his mighty feet, and it's an absolute punchy corker of an album. The band wrote furiously and collaborated for the whole of the 12 tracks; it was recorded in New York earlier this year by Donald Richard and Sean Boyd at Artfarm Studios and mastered by top engineer John Davis at London's Metropolis Studios. Davis has worked with the likes of U2 and Led Zeppelin, and he dubbed Tomos, Robin and Polly "The Sex Pistols of Folk" – quite an appropriate epithet,  and it's one hell of a collection.
The album fires off with synth-percussion heralding Robin's funky, insistent banjo and Polly's quirky, compelling voice introducing 'Paper Planes'; the slinky, super-groovy instrumental 'Gog Magog' follows, with the ear-bending mandolin and banjo rolling and tumbling together, and 'Ring of Roses' paints a vivid picture of a modern plague – the weird and spooky "All fall down" vocals just about takes the cake. In complete contrast, the Welsh-language 'Aberdaron' – written by war poet and Bangor university lecturer Sir Albert Cynan Evans-Jones CBE, born on April 14, 1895 and died on 26 January 26, 1970, who was more commonly known by his bardic name of Cynan – is just blissful in its own jig-time, with acoustic instruments washing over and absolutely spot-on three-part harmonies. Aberdaron is the pretty coastal village at the tip of the Llŷn peninsula, and Cynan dreams about becoming older with a bit of money in his purse and retiring to a lonely cottage by the restless sea; however, the market forces' tsunami of buying second homes has grown more and more competitive so that Llŷn villagers just cannot afford to buy a house and live in their rightful area. One glaring example: only a wooden beach hut, with no power and no facilities, was put on sale this year at an eye-watering price of – wait for it – £120,000. The protest banners are quite right: Wales is not for sale…
Black Shuck is a ghostly Norfolk dog, and the song 'Where Black Shuck Roams' is intense and immediate. 'Boudicca c. AD 60' pinpoints the battling warrior queen of the Iceni; but just as you thought they had switched to East Anglian history, Robin, Tomos and Polly confound everyone by jumping on the instrumental wagon and naming the hypnotic, must-hear tune with the Welsh word 'Dawns'. Even the popular chestnut 'Bedlam Boys' gets a complete facelift; the trio strips down the tune and traditional verses while the song emerges lean, hungry and ready to face the world. 'Balls To The Wall' is a flurry of mandolin and banjo artistry, and 'As Green As You' leaves the audience breathless. Gog Magog is a defiant statement which triumphantly throws down the gauntlet to those who wrongly suppose that folk music is old hat and irrelevant – more power to the Trials' elbows!
---
 

OCTOBER 2022
---
GAVIN FAIRHALL LEVER
Gavin Fairhall Lever

Penny Fiddle Records PFR2207CD
Excellent fiddler and singer James Patrick Gavin makes up one-third of the ear-catching London-Cornish trio TEYR; however, it was during James' solo Chewing The Fat CD project that double-bassist Tim Fairhall and guitarist, vocalist and keyboards player Adrian Lever formed this threesome, which was originally known as The James Patrick Gavin Trio but is now renamed Gavin Fairhall Lever. This eponymous album was written in 10 days in The Isle of Skye and recorded in two days by Julie McLarnon, assisted by Carl Small at Analogue Catalogue in Newry, Northern Ireland, and it represents a new-look contemporary slant of the folk music born of their diverse roots – a fresh attitude that transcends into freeform out-and-out modern jazz, without compromising this earthy traditional musical culture that is in our blood for hundreds of years.
All three contribute to the very individual songs and tunes; 'Stanley Hills' is the first track, a parcel of land overlooking the Waveney River on the Norfolk/Suffolk border, where Adrian was bought up. The shifting, liquid music seems to imply that the musician travels to many lands, but when the time over, this is where he plants his boots and calls home. 'Ann Walker' is Gentleman Jack Ann Lister's lover and partner, and the song tells a 200-year-old dark tale. 'Flower of the Sun' is a translation of the Basque plant Eguskilore, which is put in the front door to ward off evil spirits, and 'Lasta' means swallow in Serbo-Croat-Bosnian; the soaring vocals seem to dance, swoop and fly.
Gavin Fairhall Lever's ecstatic and adventurous music is a giddy series of tone poems; the sizzling, smoking fiddle and the insistent, questing guitar dart wild and free over a solid anchor of the double bass. Tim wrote the delicate 'Martha By The Loveny' and 'The Dying Of The Light', as a musical tribute to the poet Dylan Thomas. 'The Basque Set' fires up the awakened senses, with the breathtaking and ear-popping fiddle simply going for broke. Gavin wrote the mighty strathspey 'The Great Debate'; the middle tune is 'The First Month of Spring', a reel composed by the late, great fiddler Tommy Peoples and brilliantly executed by Gavin. The last track, 'White Horses', blossoms out in a shower of amazing sounds; and what a blissful finale.
The trio create a heady mélange of fierce and lovely traditionally-inspired instrumental pieces coupled with intelligent, razor-sharp composing and surefire musical virtuosity. Definitely tasty fodder to feed the hungry mind – and can I have seconds?
---
JAMES KEELAGHAN
Second-Hand

Borealis BCD276
James is back! The excellent Canadian singer-songwriter and impressive guitarist has assembled a mighty crowd of session musicians for his latest wonderful record, which includes drums, bass, piano, accordion, Hammond organ, guitars, pedal steel and backing vocals. One wonders how big a stage it would take to fit all these in… anyway, enough of these idle musings. Long ago, the young and very long-haired James came down to Llantrisant Folk Club three times and really delighted the cheering packed room; he performed alone twice, but the third time he toured with two amazing accompanists, which promised very good things to come.
Nowadays, the close-cropped and silver-haired James is 62 and the artistic director of the Summerfolk Music and Crafts Festival in Ontario's Owen Sound for many years – but he still handsomely delivers with a capital 'D'. He hasn't stopped fashioning wonderful melodic songs, fantastic earworms which have a habit of waking you up at the dead of night, and you can't help but humming that bloody tune. James plies his trade around the world as a mesmeric master storyteller; 'La Cattiva Strada', 'Before The Morning Sun' and 'Eulalie' are just three of his must-hear creations, and his writing displays his concern about social problems and justice in society.
The opening track, 'Walk On', is a full-blown storming come-all-ye, with James encouraging and inciting everyone to come together and strive for a better and fairer world. The band plunges in with gusto and punch – the South Wales vernacular and quite appropriate slang is 'giving it dap'. His warm, deep-brown voice is oh-so-satisfying and emotional, too, like aural sweet 'n' sticky molasses that envelope the listener. The second track, the album-titled 'Second-Hand', is truly wonderful – and 'Just A Letter' transports everyone back to the dark, hypnotic tale. In contrast, James was born in Calgary, Alberta, but resides in Perth, Ontario; 'Alberta' is his love song or his fond anthem, and it seems as though the thousands of miles of Rocky Mountain chain is calling him home again. 'Gathering Storm' conjures up the fierce, towering rainclouds and the battering wind, but he emerges triumphant and strides on to fight another day.
James has walked many roads in his hectic and tour-filled career, but he retraces his remarkable life and his old Laskin guitar in the final song, the beautiful 'The Benefits Of Surrender'. The song keeps you hanging on and wanting so much more – "Lately I've spent too much energy fighting / the love I've been offered I find hard to receive" – or "I've been holding fast when I should be ceding ground / know that what goes out may yet come around / I've been making do when I could have had splendour / If I could accept the benefits of surrender."
However, James just refuses to give any more ground, and his armies of fans will applaud and love him for his stubborn and proud stance. Long may his pen keep on glittering!
---
SAM SWEENEY
Escape That

Hudson Records HUD032CD
Oh wow! Fiddler and bagpiper Sam Sweeney has recorded an absolute plethora of albums, first with the East Midlands-based band Kerfuffle, the mighty Bellowhead, Leveret, collaborations with Fay Hield, Eliza Carthy, Hannah James and other artists, including three solo CDs – but he has really come into his own in his latest self-composed offering. The sleeve on Escape That shows his hidden face as he triumphantly wriggles free from his maroon woolly jumper, and he writes: "Music has always been my way of escaping – the place where I find true quiet."
Sam has picked dependable acoustic guitarist Jack Rutter, double bassist and electric bass player Ben Nicholls and pianists and synth players Louis Campbell and Dave MacKay; he co-produced the album with the celebrated and respected Andy Bell, who recorded and mixed it at studios including Red Kite in the lovely Welsh hillside, Tesla and Hudson. Right from the start, the 11 instrumental tracks really jump out and grab you by the ears and everything else, Sam and his strident, singing fiddle rising above the heady wall of sound.
Escape That is decidedly different and markedly special. Sam and his session men certainly stand head and shoulders above any contemporary or commercial pop music. The opening track, 'Rose', immerses the listener in an ethereal consistent beat, the fiddle diving in and out of the electic guitar-and synth-led spacey echoes; 'Want To Fly, Want To Flee' follows with Sam taking the lead in a desperately pretty tune, and the title track ('Escape That') is a completely joyous romp, the busy solo guitar chivvying and the eloquent fiddle dancing and cavorting. The gorgeous chord which ends 'Pink Steps' smashes all past records for its longevity, and 'Deep Water Shallow (End)' blossoms out in a glorious synth crescendo, just as the keyboards follow the must-hear fiddle in 'Under Gigantic Clouds' and the lovely 'Yoddin'. The last track, 'Don't Worry, Trains', is a three-time finisher to end all finishers with Sam's fiddle ending on a high note.
As I said, Sam has had his hand in nearly 30 albums – but Escape That will really turn audiences' heads. It's original, immediate and it's Sam's own created music. Who could ask for more?
---
PLU
Tri

Sbrigyn Ymborth SY034
Wonderful, just wonderful! Plu (translated, Feathers) are the Sir Caernarfon-based sibling trio comprising sisters Elan and Marged and brother Gwilym Bowen Rhys; Tri is their third album since the ethereal debut Tir a Golau in 2015, and it's an amazing collection of new and very original music, recorded in Stiwdio Sain in the village of Llandwrog, Llŷn, with producer Aled Wyn Hughes (of Cowbois Rhos Botwnnog fame). Thanks to the Eos fund, musicians Carwyn Williams, Dafydd Owain and Edwin Humphries add broader instrumentation to Plu's acoustic sound; the album stirs up a heady melting pot of folk influences and appealing late-night contemporary pop as well. Above all, it's their heart-stopping, thoroughly beautiful and oh-so-unique three-part harmony voices that Plu rise heads and shoulders with the rest of the bunch.
Plu came together in the summer of 2012; in 2014, they were part of Horizons/Gorwelion, a scheme delivered by BBC Cymru Wales in partnership with Arts Council Wales to develop new, independent contemporary music in Wales. As part of this project, they played in massive events such as Hay Literary Festival and Festival No.6, as well as recording a live session in BBC studios Maida Vale. The band also represented Wales at Folk Alliance International in Kansas City in February 2016 and have also played some of Britain's largest music festivals, including Glastonbury and Green Man, including touring the Chubut Province in Argentina as part of the Patagonia Celtica festival.
Gwilym's impressive and strident guitar provides a solid base for Elan and Marged's sweet and demurring vocals, and it's his soaring voice that sets the seal on a perfect and satisfying set. The whole album is permeated with a soothing, feel-good atmosphere which heals the troubled mind, quietly restores hope and turns water into wine. The opener, 'Dinistrio Ni', has laid-back percussion, prowling electric guitars and mind-blowing crystal-clear harmonies; 'Llun ar y Setl' simply rises to a blissful crescendo, and 'Gweld Dim' introduces lazy beats and a slinky, infectious melody. 'Storm Dros Ben-y-Fâl' incorporates crashing piano, dramatic drums and gorgeous, shimmering voices; in contrast, 'Deio'r Glyn' is in stark unison.
The last track, 'Cân Pryderi', closes the show with a fitting and most entrancing finale, and Elan, Marged and Gwilym richly deserve resounding epithets for their emotive, dramatic and must-hear angelic repertoire. Please buy this record – and da iawn, pawb!
---
MICK'S QUICKS
Those genre-breaking merry pranksters Rob Heron & The Teapad Orchestra offer a strong whiff of cajun, blues and vibrant New Orleans in the sax-soaked The Party's Over (Tea Pad Records, TPCD008). With one exception, all the 10 tracks are admirably written by Rob, whose tortured voice goes through every emotion. Favourite songs are Rawhide-flavoured 'The Horse That You Rode In On' and the gumbo-filled 'The Doctor Told Me'. FolkWales verdict: Thumbs up! 
As a lock-down project, Well Road Productions commissioned a body of music to celebrate the poetry of the famous Borderer and honorary Australian, Will H Ogilvie, who died in 1963. Four musicians, singer-songwriter Ian Bruce, Perthshire fiddler Pete Clark, accordionist Ian Lowthian and Blazin' Fiddles founder Bruce McGregor, recorded 18 of Ogilvie's poems in the very commendable album The Land We Love (Raglen Record Company, LUMCD0116). Favourite tracks include the Reivers' 'Ho! For The Blades Of Harden', 'Clydesdales', 'Ettrick', 'The Hooves Of The Horses', 'A Scotch Night' and the well-loved title verse. FolkWales verdict: Thumbs up!
Watch out for Wise Woman – Charlotte, Anna, Lydia and Maddie, four South Wales and East Anglia-based women who are striking out in self-penned startling and shimmering harmony which they've dubbed "Power Folk" and "Nineties Girl Power". They have released the impressive 'Fen Woman' as a single and brought out a four-track Thread EP which contains the immaculate 'Fen Woman', 'Lay Low', 'Storyville' and 'River Song' – as Janice said, "Oi'll Give It Foive!" FolkWales verdict: Thumbs up!
You would think that wonderful songwriter and stunning lap steel guitarist KB Bayley was American, but no; the Weissenborn player was born a Geordie and raised in the south coast of England. His latest album, Flatlands (independently released, no catalogue number) contains ten must-hear songs, six immaculately crafted by himself and four by his favourite songwriters (Jean Ritchie's 'The L&N Don't Stop Here Anymore', Tom Waits' 'Johnsburg Illinois', 'The Black Crow Keeps On Flying' by Kelly Joe Phelps and Jason Isbell's 'Maybe It's Time'.) Apart from Gavin Thomas' harmonica on 'Driftwood Avenue' and 'Year Zero', KB performs entirely alone – truly magnificent! FolkWales verdict: Thumbs up! 
That well-loved singer-songwriter and Welsh firebrand, Mr H, is in a reflective mood when he releases his four-track EP Benn (independently produced, no catalogue number). He provided a retirement home for a 29-year-old gypsy cob horse after he had worked hard all his life at a trekking centre, and in a few weeks their trust and a firm friendship developed. Three other songs – 'Dying Game', 'Song For Bess' and 'Tragedy Of Life', mark display the acoustic guitarist's pensive, thoughtful side. FolkWales verdict: Thumbs up! 
London-based composer, singer and songwriter Esbe records her eighth album and turns familiar nursery rhymes and folk songs completely on its head with the stunning, self-multi-tracked a cappella Blow The Wind Southerly (New Cat Music, NC222). Ethereal harmony voices combined with brilliant arrangements give 'Oranges and Lemons', 'Three Blind Mice' and 'Scarborough Fair' a new meaning and life; it's just jaw-dropping. FolkWales verdict: Thumbs up! 
Ground-breaking quintet A Moving Sound was founded in in Taipei, Taiwan, by singer, songwriter and dancer Mia Hsieh and multi-instrumentalist, composer and producer Scott Prairie; they release their third album, Starshine (ARC Music, EUCD2957) in which instruments like zhong ruan, erhu (Chinese fiddle), satar (Chinese lutes) are blended brilliantly with western strings and percussion in support of Hsieh's emotive and evocatively vibrant voice. It's quite amazing. FolkWales verdict: Thumbs up!
The five-member Concrete Prairie are very into what they call 'bruised Americana', but they're from the UK instead; traces of fiddle and banjo can be heard amongst twanging guitars and thumping percussion. However, their eponymous self-written album (independently released, no catalogue number) veers wildly into rock band status, and the lead singer's Western drawl is indistinctive and unclear – not my scene at all. FolkWales verdict: Thumbs down
---
ALISTAIR SAVAGE
Tunes From The River

Woodland Records SAV006CD
The River Clyde flows through Glasgow, and this mighty river is the inspiration for Alistair Savage's impressive and really beautiful album; it's the prolific composer and respected fiddler's sixth release, the final piece of a trilogy which follows the unaccompanied fiddle suite Alone With History (2016) and the contrasting When Barley Reaches Shore (2018), featuring established collaborators Ewan Drysdale on piano and and double bassist Iain Crawford. Both of these instrumentalists return, alongside a host of celebrated folk musicians including the legendary flautist Eddie McGuire and piper Rab Wallace from the Whistlebinkies band, woodwind virtuoso Ewan Robertson, Perthshire fiddle ace Pete Clark and guest appearances from two Finns, Vilma Timonen on kantele and Timo Alakotila on piano.
The title track is dedicated to the lives lost at the Clutha helicopter disaster in Glasgow in 2013, whilst 'The Rocks Of Kilchoman' is equally dedicated to the fallen soldiers of HMS Otranto who were involved in a shipping disaster off the Islay coast. The live sound is expertly captured by engineer Colin Steven in a range of settings including Edinburgh's lovely Canongate Kirk, as well a few tracks recorded by Dougie Frew in Glasgow's renowned venue The Old Fruitmarket – the audience clearly appreciates and loves the crisp, strident fiddles, the stunning bagpipes and the rippling flute.
The whole album is a wonderful celtic creation; further pieces are inspired by the Isle of Skye, historic sites in Lewis and Harris, Alistair's Ayrshire homeland and past visits to the USA. Tunes From The River should make him mighty proud; it's a cracking work of art.
---
CHLOE MATHARU
Small Voyages

CM2022
Harper and silver-voiced singer Chloe Matharu, accompanying guitarist Mike Chant and Chloe's dad drove from Pembrokeshire and performed some enchanting songs in Llantrisant Folk Club; we were based in The Windsor pub in Pontyclun at the time, which must have been a good few years ago. However, Chloe disappeared from view; she had moved to Scotland, married and taken a job in the Merchant Navy – first as a deck cadet in oil tankers, sailing around the coasts of Scotland, and then as a navigational officer, voyaging over the world.
Now Chloe is back; her home is in Inverclyde, and she's released her debut album – dedicated "to my husband and my daughter". Her harp and her lovely soprano voice is hauntingly beautiful; double-tracked vocals are strikingly harmonised. She writes about her life in Pembrokeshire, the River Clyde in Scotland and the high seas; the migratory 'Arctic Terns' provides a song about long-distance relationships, while 'Ships In The Night' tells of her other half sailing in the Northern Hemisphere while she was working in the Southern Hemisphere, a year which they spent apart. The title track, 'Small Voyages', is of her tanker training and the familiar Scottish ports she saw; 'Frozen World' was inspired by spells of snow in winter, and 'Flood Plains' paints the dark summer rainstorms – you might have heard BBC-Wales weather forecaster Derek Brockway describing "the Pembrokeshire dangler"!
Brian MacDonald recorded and produced Chloe's eight songs at his Dramatic Studios in Ayr, and he plays penny whistle, accordion and violin. Her album shows such promise; and the next one should be a little gem.
---
ELIZABETH DAVIDSON-BLYTHE & DANIEL QUAYLE
The Coast Road

Scarleod Records EDBDQ001
Incredible fiery fiddler Elizabeth Davidson-Blythe and Manx guitarist and multi-instrumentalist Daniel Quayle release their impressive debut album – and what a hell of an album The Coast Road is. Boston-born Elizabeth and Daniel are based on The Isle Of Man, which has a sound reputation for proud Celtic music. In fact, Manx fiddler Tomàs Callister (Mec Lir, Ìmar), Scottish banjo extraordinaire Ciarán Ryan (Dallahan, Ciarán Ryan Band) and Manx musician David Kilgallon (Mec Lir, Neear Nesañ) assist them and play along together on five of the nine tracks – but Elizabeth and Daniel still remain the top dogs and the shining stars on this offering, which brings together exhilarating influences from the Isle of Man, Ireland, Scotland and Estonia.
At the time of writing this review, the duo were on tour in Estonia; this album was recorded by Elijah Ivanov at the Clockwork Stuudio in the Estonian town of Tartu. The Coast Road is entirely instrumental, largely original and a few traditional; Elizabeth is the main composer but doffs her cap to other writers. Right from the start, the duo firmly stake their ground; 'The Croft' is a breathless barnstormer, twin fiddles rising to frenzied heights and the burning guitar whipping up the pace with its jazzy syncopation. Anyway, you haven't had much time to catch your breath when Elizabeth and Daniel are off again, this time to tripping jigs and full-on stomping reels in 'Daybreak'; tumbling keyboards sound an introduction to the busy fiddle in 'The Wave', and Ciarán adds some sizzling banjo to 'The Train'. The couple fox and dumbfound everybody with gleeful time-signature switches in 'Cherry Mountain', and the ubiquitous reels gets another showing. David includes shimmering strings to the beautiful air 'For Ewen', and there's a brace of catchy and memorable tunes in 'Down The North' and '28 South'.
The final title track, 'The Coast Road', is a joyous belter with Elizabeth, Daniel and Ciarán giving it some welly; it's an absolute finisher, and the curtain closes on a very fine repertoire. The duo can be well satisfied with this album – after all, they're amazing musicians.
---
VRï
Islais a Genir

Bendigedig BENDI10
***** FIVE STAR CHOICE! *****
Hallelujah! Exhilarating, inventive and totally inspiring trio VRï have triumphantly hit the nail on the head with their second album, which throws a spotlight on the Welsh cultural upheaval, the fascinating history of the meteoric rise and slow decline of stern, hellfire Methodism and the long-lost Welsh songs and dance-tunes that had been played and sung for hundreds of years. Viola and violin virtuoso Patrick Rimes, 'cellist Jordan Price Williams and expert violinist Aneirin Jones have unearthed 200 years of Welsh folk culture, suppressed by militant religion – and their crystal-clear harmony voices and brilliant string arrangements, which display many breathtaking and completely memorable tunes, has won them prestigious Welsh awards and made them a respected band to be reckoned with.
Their acclaimed debut album, Tŷ Ein Tadau (House of Our Fathers), earned them a string of accolades; now Islais a Genir (A Sung Whisper) is released on October 28, and it's earth-shattering and boundary-breaking. Patrick, Jordan and Aneirin magically transform the old well-loved folk songs and raucous, wild tunes, liberally stirred in with the strong and burning hymn-singing frenzy that was as solid as the Welsh stone chapels that housed many a congregation. It's entrancing, exciting and ingeniously executed.
In fact, Islais y Genir was recorded in StudiOwz, a converted chapel in Clarbeston, Pembrokeshire; the ringing sound totally captures the celestial atmosphere. There's even a 46-page mini-book, complete with loads of photographs and historical introduction, which tells the story: "When the great Welsh hymn-writer William Williams saw the northern lights above his farm in Pantycelyn, Carmarthenshire in the early 1770s, he attributed their wondrous sight to the success of the success of the Gospel in Wales and throughout the world. A new fervour was indeed taking hold of the nation and sweeping away the staid, old prescriptions of the Anglican church, its patrons and its landed gentry. It promised to set souls in fire and fill them with an intimate knowledge of God by means of scripture, sermons and hymns; hymns that bound communities together in one voice and sent the hearts of working men and women heavenwards until they lost all feeling of shame and inferiority, all sense that their lives were stretched or backward. Wales no longer felt like a land on the margins; it felt like a new Jerusalem.
"If Henry VIII's Act of Union made many people feel like exiles in their own land, Methodism provided the spiritual engine for a rebirth of pride and self-belief. Chapels as solid as mountains, built to last until the Second Coming, large enough to accommodate huge and eager congregations, became the polyvalent hearts of the new coal, steel and state towns. You might stumble in a regular service, a wedding, a baptism, a funeral, a temperance meeting, a Young People's Society gathering, a Band of Hope practice, Sunday School, a 'spiritual' class, a children's worship, a thanksgiving celebration or the grand celebrations of hymn singing in four-part harmony known as cymanfa ganu."
However, Methodism frowned on the age-old Celtic ways of singing, dancing, drinking and carousing. A countless legion of songs, tunes, dances and storytelling were banned, lost or destroyed – but VRï have mined glittering nuggets that shed a new light on a vibrant folk tradition, harnessing a wild energy and sense of fun, all supported with the delicate sensibility of their classical training. It's a unique 'chamber-folk' soundscape, a reinterpretation of music which was written for the harp but daringly remolded for fiddle and 'cello.
The first track – Y Gaseg Felen' – jolts you awake with superb three-part voices, underpinned by harmonium, as if they were in chapel; 'Aberhonddu' quickly follows, a tale of a young recruit who is preparing to leave his Brecon barracks, his dear home, to fight in the Napoleonic wars. Patrick, Jordan and Aneirin smartly move to 'Y Gaseg Ddu', a Quebecois-flavoured 'pieds' song about a man who loves his horse so much that he continually plies him with loads of food; the horse, understandably, dies, and the song ends with man begging for pennies so that he can buy another horse. 'Yr Ehedydd' contains three classic tunes; the first, 'Codiad Yr Ehedydd', or 'The Rising Of The Lark', refers to the great Welsh freedom fighter Owain Glyndŵr, who in his struggle for independence in the 1400s was going by the nom de guerre as Yr Ehedydd in hope of confounding enemy saboteurs; this great, old melody celebrates Glyndŵr's victories against the English. The two following tunes, 'Yr Hen Ogledd' by Aneirin and Jordan's slip-reel 'Haf Bach Mihangel', are exhilarating and exquisite.
'Glanhafren', an old hymnal tune, gives way to the Glamorgan ox-driving song 'Cainc Sain Tathan', and the unbelievable tales the driver sees on his travels grow even more incredible: for example, the verse translates as: "I saw two mice pulling a handcart full of earthenware pots and salt from Ewenny to Cardiff". 'March Glas' is a bragging song: "I have a stallion that can jump higher than any horse in Cardiganshire…" The slow and stately air 'Glan Meddwdod Mwyn' translates as 'Good Humoured and Slightly Drunk' – a lovely mission statement. It nearly became the Welsh national anthem before the composition of 'Hen Wlad Fy Nhadau'.
Beth Celyn is a stunning singer and poet who VRï have been collaborating with for a long time; she voices the traditional song about 'Y Cap o Las Fawr' – a fine lace cap which her sister Mari owns, and she wonders if she can buy one of her own without her sister finding out. Beth adds her spoken, angry poetry in both Welsh and English; Patrick, Jordan and Aneirin whip up a totally wondrous maelstrom of barnstorming  proportions. Jordan was commissioned by the Arts Council of Wales to discover new voices in the Afan Valley and write a piece for them; 'Foel Fynydda' is a result, and it poses the question of what it was like to be gay 200 years ago. The marathon instrumental suite 'Gwenno' is dedicated the band's dear friend and fiddler Gwenno Roberts and her new baby Eiri Elias, and Beth researched the life of the 19th-century milkmaid in the song 'Canu'r Canrifoedd' and discovered the extraordinary mix of strength and tenderness that the job required. Being a milkmaid was no easy task, as Beth illustrates when she delivers her twin song 'Brithi a'r Buarth' – what an entrancing, exciting artist.
Islais a Genir admirably ends with the May carol 'Briallu Mair', sung in praise of the start of summer and gleaned from the amazing collection of Sioned Webb and Arfon Gwilym; the carol blends in and out with a melodious tune from Iolo Morgannwg's collection which he said that he heard it 'Mewn eglwys yn Sir Freicheiniog" – "in a church in Breconshire."
I just cannot stop playing this uplifting, lovely album; you just cannot beat the sheer ingenuity of the three instruments combined with the fiery, proud regard and respect of the age-old folk music. I keep discovering a plethora of delightful, subtle ear-benders which are positively overflowing around the 15 tracks, which hold so much wonderment for me. Islais a Genir has certainly set the bar incredibly high – but I have every confidence in Patrick, Jordan and Aneirin's ability to conquer that. Ill bet you a pound to a penny that the next VRï CD should be an absolute corker.
---
SEPTEMBER 2022
---
JON BODEN, SETH LAKEMAN, BEN NICHOLLS, EMILY PORTMAN, JACK RUTTER
Sea Song Sessions
Topic Records TSCD612P
For all of you Tok-Tok fans who mistakenly confused sea songs with sea shanties, John Boden, Seth Lakeman and their learned company of singers and musicians would like to gently bend your ears and broaden your knowledge. Sea shanties were work songs on sailing ships, designed to ease sailors' dangerous and back-breaking tasks by means of coordinating steady and simple rhythms so the men could pull on the anchor, heave a capstan and run up heavy canvas sails all together. Sea songs, which the seamen called forebitters, did no such thing; they told stories of handsome jolly jack tars, handsome women who went to sea and fooled everybody by posing as men, and the woeful tribulations of landlubbers who signed their lives away in service in the King's navy – a veritable treasure chest of musical tales from an island nation's maritime tradition whose political and social history is so undeniably tied to its relationship with the sea.
The concept for Sea Song Sessions came to them in 2021, when Jon and company were asked to prepare an evening of sea-related songs for the Folkestone Festival. Of course, his celebrated work with Bellowhead – who are no strangers to sea-faring songs – Ben Nicholls' band, Kings of The South Seas (who play exclusively maritime-influenced music) and Seth's own extensive body of work from the south-west of England, as well as Emily Portman and Jack Rutter's sizeable maritime portfolio – all formed the natural foundation and inspiration for these artists to conceive the project. They chose to record material from each artist's repertoire, traditional songs and some newly written for these sessions.
Sea Song Sessions launches off with a brace of angry, singing fiddles, a stomp box, Seth's razor-sharp vocals telling the well-known tale of 'The Rambling Sailor' and the whole band hitting the crescendo – an excellent way to start. The second song, 'The Dreadnought (Bound Away)' is the story of a ship setting sail across the Atlantic – and the listening audience has got used to its sea legs and settles down to enjoy the 10 tracks. Only two shanties are included; and Emily absolutely turns 'Rock 'n' Row Me Over' (sic) on its head with a sweet, beautiful arrangement, with the musicians joining in with some spot-on harmony. 'Short Jacket and White Trousers' is her gleeful tale of a maid's duping of a sea captain by pretending to be a boy; and her rendition of Lal Waterson and Lal's son Oliver Knight's lovely song 'Some Old Salty' is just adorable. Jon wrings every drop of emotion out of 'Salvation Army Band Girl', and the fierce traditional 'Fire Marengo' is a rare shanty stormer.
The whole album is completely fascinating; the varied songs and 'The Good Ship Anny' melody offer a refreshing and bracing briny taste – just experience the waves, feel the keen wind and smell the ozone! (The Sea Song Sessions company went on board the tallship Anny Of Charlestown, sailing along the coast of Cornwall and performing at four sold-out concerts at the end of September.)  The final track is an elderly, sightly-out-of-tune upright piano accompanying Jon and party harmonising the traditional American folk chorus, 'Deep Blue Sea', popularised by Pete Seeger; it's the kind of unforgettable earworm that wakes you up in the dead of night, endlessly humming that bloody tune… what a marvellous ending to boot.
The album artwork is based on a painting, 'Taut Ropes With Brick', by the Cornish artist John Henderson, who passed away in April. Ben met him a couple of times: "I always remembered his witty, dry humour and him talking about his photo-realist paintings of maritime rope. There was something compelling about this artist who had focused on ropes from the sea and yet made incredible paintings which expressed so much more. Sea songs are like this – a narrow subject matter but one that tells much bigger stories about the wider world. When we were looking for an album sleeve, one of his pictures was an obvious choice."
---
WORDS OF A FIDDLER'S DAUGHTER
The Tears Of Jenny Greenteeth

Under The Eaves UTE006
Spectacular fiddler Adam Summerhayes, inspirational accordionist Murray Granger and Adam's daughter, poetess Jessie Summerhayes, have been incredibly prolific on a scale of industrial proportions these days. Adam and Murray – The Ciderhouse Rebellion duo and one-half of Anglo-Irish quartet The Haar – are busy creating many spontaneous and uplifting freeform musical works and albums; it was only inevitable that Jessie would join them in a trio, which has been re-named Words Of A Fiddler's Daughter.
The Tears Of Jenny Greenteeth is their third album, and it's Jessie's epic 14-track adaptation of the traditional folk tale Jenny Greenteeth; Jessie wrote the narrative for a collaborative live production with Ballet Folk. In the show, she shares the stage with Murray, Adam and six dancers. All nine interact throughout, transporting the audience to the valley of Greenwater and Jenny the miller to witness a dark yet triumphant story. The production is originally the brainchild of Ballet Folk UK founder and pioneering director/choreographer Deborah Norris; Katie Whitehouse of From The Whitehouse folk agency is the co-producer. So far, it has been performed live in folk festivals at Cambridge, Purbeck Valley and Summer By The River, with more shows to be announced.
Adam and Murray very ably rise to the occasion – in fact, their mesmerising and intoxicating accompaniment paints a vivid picture of love and forgiveness overcoming fear, sadness and greed, where nature triumphs over the poisons of industry. I won't reveal the story, but the musicians swoop effortlessly between serene beauty, deep and dark evil and frenzied, joyous abandonment; in the final narration, 'The Tickity Trees Are Dancing', Jessie, Adam and Murray wildly cavort and jig together as one, her verses forming hypnotic and insistent drumbeats; their sense of timing is immaculate.
Jessie says that she wrote the script in collaboration with Deborah Norris and talking to the team: "It's a huge narrative – 23 pages – drawing on fundamental human concerns such as the environment, concerns about over-industrialisation and the flow of the river. The story has a traditional feel but is very relevant to current times." Jessie, Adam and Murray have shaped such wonderful aural creations since they came together as a trio; and I'm really looking forward to their future albums.
---
AUGUST 2022
---
THE PITMEN POETS
Bare Knuckle

Independent album; no catalogue number
The Pitmen Poets are superb singer and songwriter Jez Lowe, ex-Lindisfarne musician Billy Mitchell, Warhorse Songman Bob Fox and actor and folk singer Benny Graham; Bare Knuckle, their third album, is out now and they're busy touring in October and November this year. Sadly, this will be the last and final tour – and they're not coming to Wales, either. Llantrisant Folk Club tried to get them, but to no avail – so if you want to see them live, you have got to face the prospect of a long drive. They're appearing in Huntingdon Hall in Worcester on October 13, the Philharmonic Music Room in Liverpool on October 25 and the Walker Theatre in Shrewsbury on October 26.
With a handful of exceptions, the coal industry is nearly gone now – in South and North Wales, Northumberland, Durham, Yorkshire and Lancashire, the Scottish coalfields, Kent and the Forest of Dean. The Pitmen Poets sing of the days when coal was king, but the decline was on the horizon and the inevitable Thatcher-led axe was swift and sharp. The quartet lead us down the pit with tales of injustice and desperate hardship, liberally laced with good humour and great songs to boot.
The Geordie miners' song 'Byker Hill' starts off the show, not the familiar folk-clubby version but the more accessible traditional tune with Jez, Bob, Billy and Benny sourcing new verses and breaking into gorgeous harmony; The Pitmen Poets quickly follow up with Jez's title song, resurrected and included in his Wotcheor! album, which he recorded with The Bad Pennies. 'Bare Knuckle' paints a picture of the rise and fall of the coal industry, with the uncaring Westminster government arrogantly ignoring the pleas for financial help; Jez's completely singable chorus concludes: "We should stand up and fight bare knuckle once again."
Alan Hull, the late, great Lindisfarne writer and musician, was gone too early; the Pitmen Poets salute one of his memorable crowd-rousers, 'Marshal Riley's Army', and they deliver Alexander Barrass' clever and sarcastic song 'The Driver' a capella. However, there's an ear-wincing mispronunciation in the Idris Davies poem 'The Bells Of Rhymney', the melody adapted by Pete Seeger; Davies, a miner turned poet, did not name the poem, the fifteenth in his work Gwalia Deserta, an account of the General Strike of 1926 and the absolute desperation and the poverty that followed. (It's actually pronounced RH-um-ni… and full marks to the quartet for including the long-lost verse: "To the south things are sullen say the pink bells of Brecon".)
Jez really is a very incisive and pretty wonderful writer; his second song is 'The Checkout Queue', where he describes the absolute dereliction and devastation caused by Westminster indifference and, sure enough, there's a fellow in the checkout queue whose gullible and ignorant attitude will keep the expensive chauffeur-driven limousines running for the Rees-Moggs of this world. Jez brilliantly pokes gentle fun together with hard-hitting razor-sharp barbs in a delightful blend that makes your heart sing and resolves you to change this sorry, angry land for the better.
Apart from Jez, the Pitmen Poets mine very strong songs from writers from the folk world and rock stars as well; Dire Straits guitar man Mark Knopfler wrote the catchy 'Sailing To Philadelphia', while the quartet combine Bruce Springsteen's 'Factory' and the late Cape Breton singer Rita MacNeil's 'Working Man'. Ed Pickford wrote the magnificent 'Worker's Song' and Jez, Bob, Billy and Benny wrap it up with Jock Purdon's 'Joe Hill Blues'. If the Pitmen Poets do decide to call a halt, then Bare Knuckle must surely be their last defiant swan song. And what a sought-after souvenir it is.
---
LAMBREGO
Migrants' Song Cycle

Independent album; no catalogue number
Acoustic guitarist Fernando Machado and vocalist/flautist Hannah Dunster are the creative core of Lambrego's unusual and distinctive Brazilian-British music; the duo perform their shows in Britain and Brazil, and collaborate on a regular basis with a number of Brazilian, British and African artists in their larger-scale shows and in the recording studio.
Lambrego have recorded three EPs, but Migrants' Song Cycle is their first full-length album; Fernando and Hannah stir in a dreamlike mélange of Brazilian sounds and influences and British idiosyncratic freeform writing interspersed with heady summery accompaniment; the opener, 'Onde Comença', is a child's voice questioning: "Where does it start? When it starts…" followed by ethereal flutes and echoey angelic voices. The second track is the gentle and sensuous 'Winter Wreath'; Hannah turns on her plain and simple but very appealing voice, while Kadialy Kouyate from Senegal plays the kora and translates lyrics into Mandinka. Fernando comes into his own with the Brazilian-Portuguese 'Beira Do Mar' and 'Tempo De Ser', and Hannah paints a picture of lupine fear in 'Wolf'. 'Love Is Not For Free' is a clever put-down against the Westminster Government's callous greed and uncaring indifference, and 'Collectives' was composed by Fernando and Beatriz Tomaz, who vocalises the song. And all around the album, Tracey Milliner and Noga Ritter sweetly harmonise and hit the notes with spot-on precision.
Hannah, Fernando and an incredible number of 18 international musicians have stitched together this disc; they include percussionist Alba Cabral – who plays super-high berimbau on the last track, the intricate 'Flow' – and double bassist Enrique Galassi. Lambrego are the ones to watch for, and I'm looking forward to their second future album.
---
VARIOUS ARTISTS
Voices From The Cones (double CD)

Independent album; WTK002
For over 400 years, the glassmaking industry nourished the communities of Stourbridge in the English West Midlands. The immigrant French Huguenots once settled in the area, and worked at their skills; consequently, it became the most important glassmaking area in the land. The massive brick-built glassmaking furnace cones once towered to the sky and were a unique landmark of this particular part of the Black Country; but now the industry has faded away, with the last factory apprentice, Malcolm Andrews, teaching artisan makers who are the last link of this glassmaking chain.
In 2019, Alan Ellsmore of the Ruskin Mill Trust – which was built on the site of the old glassworks – invited Midlands singer-songwriter Dan Whitehouse to write a song cycle based on this social history. The project was supported by National Heritage Lottery funding, sourced by a Ruskin Mill Trust and a Metropolitan Borough of Dudley joint bid. Dan and storyteller John Edgar were then given access to an oral history which featured interviews with over 100 glass workers who contributed their memories of the glass trade. The actual live show, augmented by fascinating and hypnotic tales of the incredible John, came together and was featured at the International Festival of Glass in 2019 and again in 2022, as well as at the Yorkshire Festival of Storytelling in 2021.
Disc One is the songs, and Disc Two is the story; Dan writes the lion's share of the songs, writes the account, sings and plays the guitar, while contributions come from local artists such as Elizabeth J. Birch, Kim Lowings, Nicole Justice, Chris Cleverly and Angella Corinna. Voices From The Cones is a heady mélange of folk songwriting, electronica, hip-hop and rock; Elizabeth's 'Rouse Ye Women' charts the women chainmakers' successful 10-week strike for equal pay in 1910. John's music hall-style 'Front Door' paints a picture when glassworkers had to top up their pay by going round the pubs and selling little glass trinkets that they had made; and Nichole's 'Flip Flop' tells the story of percussive glass instruments which were often dangerous, made by glassworkers and sold in the drinking houses. Chris's 'The Last Apprentice' is a cameo of Malcolm Andrews, who saw the factories closing and the responsibility he felt in passing on the skills of the craft. Dan wrote 'The Old Savoy', the name of a cinema in Stourbridge where local boys and girls had their first fumbling lessons in sex education; and Angella sings 'The Rose Bowl', which described a beautiful glass container, presented by the owners as a wedding gift. Glassmaking was hot and thirsty work, and 'Free Beer' tells the tale of young apprentices had the task of fetching the bottles from the pub back to the factory; and Dan and Katie Whitehouse harmonise on 'Hands, Heart, Head', the story of the Glasshouse site which now contains Glasshouse College, craft workshops, social enterprises, a performing arts centre, studios and a 40-acre farm and woodlands in the surrounding hillside.
Voices From The Cones is a thoroughly laudable effort, a 'radio ballad'-like song cycle which most importantly marks the International Year of Glass in 2022. Honorable mention must be to musicians John Elliott, Gustaf Ljunggren and Lukas Drinkwater; the only niggle is that the songs are repeated on the two discs. Disc Two is the whole superb narration, and the songs fits snugly into place; therefore Disc One is a little bit superfluous.
---
MICK'S QUICKS
 Sizzling banjo player, contralto singer and prolific songwriter Mean Mary, aka Mary James, is a hypnotic and very entertaining folk-Americana artist and book author as well. Her album, Portrait Of A Woman (Part 1) (Woodrock Records, WDRK4303), homes in the female psyche and produces such memorable and tunes as 'Cranberry Gown', the funny 'Bridge Out' and the wonderful 'Clouds Roll By'. Highly recommended. FolkWales verdict: Thumbs up!
Hot on the heels – released in only four weeks – follows the Mean Mary and The Contrarys four-track EP Hell & Heroes Vol 1 (Woodrock Records). The Contrarys comprise bassist David Larsen and drummer Allen Marshall, and Mary cranks up her rock 'n' roll side with some electric banjo and guitar. FolkWales verdict: Thumbs up!
Folk singer-songwriter Steve Wallis was raised in Byron Bay in Australia's New South Wales, but he relocated to Paris; he joins the queue of born-again navel-gazing rock musicians who are wearing their painful hearts on their sleeves. Kara McKee contributes some striking harmony vocals in Nothing Stays The Same Way For Long (SWM001-CD1). FolkWales verdict: Thumbs down
Methinks, must give Liverpool's hero bard Alun Parry a gig in South Wales sometime – in the meantime, the ultra-prolific songwriter has released a 15-track package of intelligent and really catchy songs called Sweet Optimism (Parrysongs PARRYCD008). He alternates between solo acoustic ('Presidential Pardon') and rock-guitar-led sharply barbed lyrics ('Friends And Influence') to the highly whimsical ('I Dated A Therapist') to the funny-satirical ('I'd Rather Be The 'Orse'). Nice one, Alun! FolkWales verdict: Thumbs up!
Mesmerising Ethiopian artist Minyeshu was born in the city of Dire Dawa, moved to Addis Ababa where she joined the Ethiopian National Theatre, a treasure trove of like-minded souls eager to express their deep-rooted traditions; then to Belgium and the Netherlands to develop a career as a singer, dancer, producer, actor and choreographer. Her wonderful, startling and very jazzy left-field album, Nesta (ARC Music Productions EUCD2945) blends keyboards, saxophones, bass and percussion with instruments of her Ethiopian culture, such as the masengo, washint and the kirar; it's completely authentic and extremely hypnotic. FolkWales verdict: Thumbs up!
---
KATIE GRACE HARRIS
The Toledo Sessions

Triumph Recordings TR1001
Please watch out for multi-instrumentalist, songwriter and lovely singer Katie Grace Harris, who is releasing her wonderful debut album on Friday, August 27. Lukas Drinkwater of Polyphonic Recording is producing The Toledo Sessions, and adds guitars, double bass, percussion and 'cello – and some of the most highly regarded artists on the scene contribute, including Phil Beer, Reg Meuross and vocalist Odette Mitchell, whose soaring harmony voice can delight and uplift the minds of any crowd.
Katie is now living in an Oxfordshire farm, but she says that she's had the privilege of travelling the world all over the world for work, growing up in Southampton, Lulworth Cove in Dorset, Scotland and all points everywhere. The Toledo Sessions was inspired by her childhood memories of the father driving around in his rusty blue Triumph Toledo and gently implanting folk songs into her. Katie reminisces: "These times were special, because it's where my love of music began – singing songs of James Taylor, Ralph McTell, Hughie Jones and The Spinners – usually on our way to collect Mum from her nursing shifts."
Hughie Jones did write 'The Ellan Vannin Tragedy', and it was first recorded on the vinyl LP An Evening with The Spinners. Katie specially picks out the true story, which is given pride of place – first on her 10-track album. She tells the familiar tale of how the 375-ton paddle steamer met her sorry fate in a storm in Liverpool Bay on December 3, 1909, and her voice paints such a vivid picture that hard-bitten Hughie worshippers will view the song in a new light; Lukas applies some doomy percussion and Odette sings shimmering harmony, her entrancing, must-hear voice creating sparkling waves for the rest of the album. The second track, 'Bedlam Boys', is derived from a satirical love poem which guitarist and singer Nic Jones wrote the melody; and the third track sees Reg and Katie fabulously harmonising on the adorable 'Counting My Footsteps To You', just one little gem that can put him on a pedestal as a national songwriting treasure.
Katie plays piano, piano-accordion, tin whistle and shruti box, and she adjusts her warm and sweetly alluring vocals to subtly transform two traditional sea shanties ('Rio Grande' and 'Leave Her Johnny') into becoming 'she'-shanties. She composes at least four of her own songs, and that's the delicious icing on the cake: the hypnotic melody and her intelligent lyrics leave a lasting impression on everybody. 'Ghosts of Lulworth' recounts that local folklore says the ghosts of dancing girls could be seen on the beach, with sightings lasted through the Second World War, 70 years ago; Katie says that 'Haul Away Hallsands' is a tale of the most awful of greedy crimes, when a South Devon village, which was home to 157 people, fell victim to uncaring profiteers dredging the protective shingle from the bay. After the bitter storm of 1917, nothing was left; 'Come One, Come All' is Katie's short and sweet Royal Navy anthem, hinting at the press gangs of old; and 'Betsy McLeod's Lament' is her sombre tribute to the abandoned ruins left by the Highland Clearances and this period of great social injustice – she sings her solo tale, accompanied by Alex Duncalf on 'cello.
This is a most impressive and thoroughly likeable album; full marks to Katie, the musicians and Lukas for wrapping up such a satisfying package. As I said: Watch out for her. She is well worth it.
---
LODESTAR TRIO
Bach To Folk

Naxos World NXW76258-2
Question: How do you process Johann Sebastian Bach, ultra-prolific German composer of the late Baroque period, with Nordic folk music, a Norwegian Hardanger fiddle and the Swedish nyckelharpa? Answer: It works brilliantly, as British-German classical violinist Max Baillie will tell you: "Bach was very much into folk traditions and was rooted in his local culture. His music bridges the devine and the Earthbound."
Olav Luksengård Mjelva, who plays Hardanger fiddle, is a founding member of the Norwegian-Swedish band The Nordic Fiddlers' Bloc, as well as playing in an award-winning duo with Erik Rydvall; Erik plays the nyckelharpa, a traditional keyed Swedish violin which sounds completely mysterious and utterly fabulous. The formation of Lodestar Trio dates back some years, when Olav and Erik were working on their third album. Max, a self-confessed Bach fanatic, was searching for a new creative collaboration. A friend sent him a video of Olav and Eric, and he was immediately struck by these mystical, magical Scandinavian stringed instruments. His curiosity deepened when he saw another video of the pair interpreting Bach's inventions. Max sent them an e-mail to enquire whether they might be up for collaborating. Some months later, Max flew to Rǿros in central Norway, a few kilometres from the border with Sweden, to meet up with them. Following three days of intense jamming and improvising, they hit it off and Lodestar Trio was born. But then the pandemic struck, and plans were put on hold; however, come August 2021, when travel became possible again and the trio were finally able to record this wonderful album in a lovely church in Rǿros.
Of the 17 tracks, Bach composed the lion's share of eight works – including the well-known and well-loved 'Air from Orchestral Suite no. 3 BWV 1068'. Of the others, Max heard Tarquinio Merula's baroque-sounding 'Claccona' when he was in Senegal, and he immediately fell in love with its effervescence and energy; Olav's 'Hjaltaren' is a tribute to Shetland, which used to belong to Norway until 1472; the French baroque composer Jean-Baptiste Lully's 'Loure from Alceste Orchestral Suite' blends in perfectly with nyckelharpa, Hardanger fiddle and viola; the traditional Norwegian minuets are stunning and beautiful; Max composed 'Rolling To Rǿros' because "Erik and Olav each had an original tune and I didn't want to be left out"; Erik's gay and joyful  'Jubileumspolska' is designed to lift anyone's spirits; and Olav's 'Deliverance' is a fitting finale because Lodestar Trio have played it in the end of their sessions.
This must-hear album wins a gold medal for its appealing serenity, freshness and sheer ingenuity. In the hundreds of years since his death, the folk community is paying its respects; in particular, I've reviewed guitar master Chris Newman's album Breaking Bach, and harpist Catrin Finch is interpreting his Goldberg Variations in concert yet again, displaying his intricate works to new audiences. Lodestar Trio bring a startling and very different perspective to Bach's many compositions, subtly blending his German works with Northern Scandinavian traditional culture, a whole new entity being fuelled by a rich classicism. No doubt about it – Olav, Erik and Max have totally cracked it in massive spadesful.
---
JOCELYN PETTIT & ELLEN GIRA
All It Brings

Independent release: no catalogue number
***** FIVE STAR CHOICE! *****
Hot on the heels of Canadian fiddler and step-dancer Jocelyn Pettit's stunning Wind Rose album comes this wonderful, captivating ten-track package, recorded in Gran's House in Biggar, South Lanarkshire with Jocelyn and classical 'cellist Ellen Gira as producers. Jocelyn first met American-born Ellen in Glasgow, Scotland, the nation where she has made her home. Complemented by Jocelyn's sparkling pieds, they bring life and fire into their original and traditional tunes and songs from Scotland, Ireland, North America and Scandinavia. Both Jocelyn and Ellen are accomplished musicians, but it's their love of the fiery and desolately beautiful celtic music that just sends critics and audiences alike into raptures.
First up is the sound of Jocelyn's steps, smartly setting time to Quebècois multi-instrumentalist and ex-La Bottine Souriante member Michel Bordeleau's gay reel 'Fleur de Mandragore', followed up by 'Gillian Head', written by Cape Breton's late, great fiddler Jerry Holland. Jocelyn and Ellen have the magical knack of striking a shower of glittering sparks to their whole performance. The second track is a brace of traditional 'Powder Room Jigs' ("named in honour of spontaneously playing tunes in a special space with great acoustics") and the shanty 'Across The Western Ocean' – not the lungalongashantyman version, but the delicate, wistful song which Irish emigrants sung when they were making their way to America – and Jocelyn and Ellen score some spot-on harmonies there. Jocelyn and Ellen observe: "As a duo often separated by the Atlantic, we hope this song resonates with you as much as it did with us." The rhythmic, expressive 'Cumberland Gap' just leaves you buoyant and breathless, while the two-tune track 'Arising' sees Jocelyn and Ellen painting dazzling colours with the traditional 'Maids Of Mitcheltown' and the Sharon Shannon/ Jim Murray's dizzy reel 'Neckbelly'. In contrast, the traditional 'Jonnie McGill', learned from an old Scots collection, was written for an 18th-century 'cello player – Ellen, please note!
In the global pandemic, 'Though The Ether' is Jocelyn and Ellen's interpretation of trying collaborate with each other from afar, often on different continents. The 'cello takes an amazing, cartwheeling pride of place with Ellen's composition 'The Invasion Of The Houseplants', while it and fiddle bring to a triumphant finish in Ed Reavy's 'The Whistler of Rosslea'. 'Last Train To Glasgow', which includes Ellen's tune 'Drenched In Tennent's', brings back memories of a late-night train ride and playing this set along the way. 'Atholl Brose' is named after that traditional Scots drink, blending whisky, oats and honey; some swear blind that it was 18th-century fiddler and composer Neil Gow's favourite tipple. The final track is Jocelyn's life-affirming anthem, and the album title, offering Ellen's tune 'In Hope' as an accompaniment to drive away the dark days.
In contrast to Wind Rose, Jocelyn and Ellen go proudly alone to produce what must be the most joyous and uplifting album in the entire galaxy. Only two guest musicians – Adam Dobres on guitar and Lauri Lister, who plays the cajon on 'All It Brings' – subtly blend into Jocelyn and Ellen's intricate accompaniments. All right, I may have been exaggerating – but if you listen to the whole show, you'll know that I was right.
I want to bring Jocelyn and Ellen to Llantrisant Folk Club so I can bask and revel in their fabulous sound. Perhaps my hopes will be realised – there's a British tour coming together in the early spring. Where the hell is Tinkerbell?
---
RUSTY SHACKLE
Under A Bloodshot Moon

Independent recording – no catalogue number
Long, long ago, I was invited by the then-chairman Steve Lake onto the Tredegar House Festival committee to boost the dwindling audience. The festival was primarily dance orientated, which meant that after the dancers were done, the crowd drifted away. My suggestions met with opposition, but they were quite simple: book inspiring bands and get copious barrelfuls of all kinds of real ales in – the more the merrier. For the final evening concert, I booked the top-drawer Brass Monkey with a very young Calan supporting, and just for starters in the Morgan Room, I added Roland Emmanuel's Roots and Galoots and 'boy band' hopefuls One String Loose, a group which evolved out of sessions at Newport Irish Club.
Nowadays, the Festival has really shot up to all proportions, and this year in the new, improved concert tent, Caldicot-based Rusty Shackle set the delighted crowds jigging crazily and were the stars of the show. Rusty Shackle's long-serving members – amazing fiddler, banjo player and vocalist Scott McKeon and guitarist Baz Barwick – are the only two left from their One String Loose days. The personnel is made up of guitarist and lead singer Liam Collins, bass guitarist Ryan Williams and drummer George Burrell – in fact, the band are so popular that they can command a huge audience and topped the bill on the one-day open-air show in Caldicot Castle in August.
Rusty Shackle have released four successful albums in their 12 years of playing together, but Under a Bloodshot Moon is markedly different. After the covid pandemic and the weirdness of 2020 kept everyone apart for so long, the band finally got back together for a long weekend of writing in an old dairy barn. Working day and night, the songs tumbled out in a spate of pent-up emotion and musical synergy. It's a flurry of folk-rock songs, peppered with storytelling and full-pelt sizzling energy – and Scott really does work his socks off here. The album delves deeper into the Celtic soul and is full of hope and optimism, counting the days when the band could be performing again – and it scores a defiant gesture with the clear message that music is back, and how.
Rusty Shackle deliver the 13 songs at breakneck power and scintillating harmonies, from the dark 'The Devil's Pulpit' to the hopeful and comforting 'Lanterns', the happy 'Lost In Tokyo', 'Gallows Song', the mysterious 'Ghost', and the life-affirming 'Coming Home' – what a great chorus to end the album. There's even a lovely bonus track, too!
---
JULY 2022
---
PHARIS & JASON ROMERO
Tell 'Em You Were Gold

Smithsonian Folk Ways SFW40246
www.folkways.si.edu/pharis-jason-romero/
A while ago, Pharis and Jason Romero charted out a transatlantic tour and their appearance was eagerly anticipated by the regulars at Llantrisant folk club; but when the covid epidemic struck, their planned foray was just one of the thousands of casualties. Guitarist Pharis and renowned banjo maker Jason are pure craftspeople, living in the small community of Horsefly in the foothills of the Cariboo Mountains in central British Columbia, Canada. They transformed a dilapidated barn into a comfortable recording studio and banjo workshop; Jason, who moved from Colusa in California to be with Pharis, has spent years developing his own personal designs. The pair has recorded seven albums since they met at a fiddle convention in 2007, and on this recent offering, his handmade instruments take centre stage. There are eight different banjos, and Jason has christened them to show their unique individuality: Mother, Papillon, Big Blue, Gourdo, Clara, Bella, The Beast and Birdie. It makes you wonder just how many banjos he would choose to take on a flight – but on Tell 'Em You Were Gold, he exhibits them all. Each instrument has a detailed description and colour photographs in the very informative and quite absorbing booklet.
Pharis and Jason's hallmark is beautiful, bright harmonies and lovely old-time music played with exquisite skills; the couple ply hypnotic and bewitching sounds, and they're both masters of solid-gold Americana – or Canadiana, if you want to set things right. The opening track, 'Souvenir', constitute Pharis's words, a completely hummable tune and the Big Blue banjo that just sounded right and clicked; the chorus line is the album standout title. The Birdie banjo and guitar instrumental, 'Cold Creek Shout', is a medley between 'Coal Creek March' from Tom Sauber and Pete Steele and 'Baptist Shout' by Kurt Surphin and Frank Jenkins; Pharis and Jason observe: "We also give a cold creek shout when we jump in the river in January after a sauna." 'Rolling Mills' (Gourdo banjo) is from the singing of George Landers, and 'Sour Queen' (Papillon and The Beast) is an exhilarating romp between the Romeros' stunning harmonies and local musicians including pedal steel guitarist Marc Jenkins, bassist Patrick Metzger, mandolinist John Reischman and fiddler Trent Foreman.
Clara and Bella are two banjos given pride of place on 'Pale Morning' and 'Train On The Island'; and Grace Forrest's fiddle sings out in 'Lady On The Green'. Pharis and Jason have a magical knack of blending traditional songs and tunes with their own unique composing; 'Cannot Change It All', 'Black Guard Mary' and the melody 'SS Radiant' ("For our son, Sy") stand out here. The final track, 'Old Bill's Tune', is a timeless instrumental which traced the beginnings of their song, 'Ballad Of Old Bill'; Grace and Patrick can be easily heard, and it's a fitting close for Tell 'Em You Were Gold. Please tour over here again, you marvelous couple; the Club will be welcoming you with open arms.
---
TOPETTE!!
Bourdon
YPT004
***** FIVE STAR CHOICE! *****
Two immensely pleasurable events have landed on my plate – first, the habitual liar, fraud, cheat and narcissistic bombast has been booted out by his own Tory horde; and second, the beaming Andy Cutting handed this exquisite Topette!! album – the latest one – into my waiting hands. What's this, you mutter; surely a corrupted, incompetent toe-rag being given the chop and your review of a thoroughly wonderful CD do not compute? Ah, but they do, I reply. Topette!! is in the vanguard of an ever-strong and positively blooming European folk movement, which is now in the process of being seriously damaged by bloody Brexit. Hark back to long ago, when the UK voted to join the European Union. Welsh, Scottish and English musicians had taken advantage of this progressive and free-flowing EU system. Borders had all but disappeared, and the UK had all but embraced the demise of the eye-wateringly expensive work visa policy. In the bad old days, I remember the carnet laws; my dance band had to get through the French border, and we had to list and check every electric lead, every jack-plug, every microphone before the guards would send us on our way. Crossing the border would take over a weary hour or – if you were really unlucky – two hours.
However, armed with a stinking poo-bag of complete and utter lies, jeers, sneers and untruths, Johnson and his cronies completely deceived the gullible voters with his empty slogan of "Get Brexit Done!" and "It's oven-ready!" (He didn't get Brexit done and it wasn't oven-ready, which is lies piled upon lies.) I campaigned that Wales and the UK should remain in the EU, and so did the Welsh Senedd, Plaid Cymru, the Liberal Democrats, the Musicians' Union, the SNP, the capital of Cardiff and the entire Parliamentary constituency of Pontypridd. Furthermore, Brexit created problem after expensive problem. One result, as happened this long weekend, was the nightmare traffic hell at Dover, complete chaos of exasperated drivers and desperate families queueing for many hours to get their passports stamped by the French authorities before they had even boarded the ferries. The final straw is that BBC News reports that some EU countries are not allowing UK blue-card disabled drivers to park anywhere. Brexit is a complete and utter disaster and a lying Westminster scam, perpetrated by lying Westminster scu… – I should better stop now, because I am still bloody seething. My only hope is that Wales, Scotland and Northern Ireland should sue for independence and re-apply for EU membership right now – and I mean Right Now.
The five-member Topette!! embraces musicians from two countries; apart from wonderful diatonic accordion maestro Andy, the band comprises Frenchman Julien Cartonnet, a powerhouse on bagpipes and banjo who resides in the community of Rivolet in the Rhône-Alpes region; Frenchwoman Tania Buisse, from the city of Chalon-sur-Saône in the Bourgogne-Franche-Comté region, who steers the band with propulsive bodhrán; must-hear fiddler extraordinaire James Delarre; and Barn Stradling's irresistible bass, which proves very compulsive for the ears and dancing feet. Bourdon, their third album, is French for a bumblebee – and it also describes a bagpipe drone. The sleeve informs us that the album was made in Bristol "in a spirit of European friendship and co-operation" – gently thumbing the nose at the Rees-Moggs of this world.
Topette!!'s remarkable and unique Euro-sound is very hypnotic and completely addictive; in Bourdon, French, Scottish and English tunewriters pile in and contribute with 11 tempting and tasty tracks. First up is Barn's composition, the slinky and sultry 'Just Heavy'; a bumblebee's buzz can be heard, and gradually Andy's marvellous accordion and Julien's sparkling banjo take up the strain. The winding, twisting melody is repeated again and again until Topette!! are really motoring. That folk diva, June Tabor, hit the nail exactly on the head when she compared the audience encountering Andy's musicianship as "going through the wardrobe and finding Narnia" – she couldn't be more right.
Second track is Julien's 'Pot Neuve', a frenzied bagpipe extravaganza with his nimble fingers flying off the chanter, quickly and efficiently followed up with 'De La Flamme' (composed by Julien's musical colleague Fred Paris, member of La Chavannée and a legendary French vielle and diatonic accordion player.) The traditional 'Mazurka À Lucas' is just lovely, and 'Polka Know' is a typical brilliant Andy tune; Scottish fiddler and Oysterband member Ian Telfer dreams up 'Dixie's', a switchback helter-skelter, and the whole of Topette!! joins in on the traditional Swedish tune 'Halling Fràn Härjedalen Efter Per Myhr'. It's a superb melody – and anyone who spells it wrong is a rotten potato…
James composes the desolate and very beautiful bagpipe-and-fiddle tune, 'JLP', and he writes the mega-danceable 'Winstanley's'; ex-La Bamboche musician Bernard Blanc wrote 'Les Trois Canards', and Topette!! tack it on behind. Barn's 'Clander's Batch' segues admirably well into the Oxfordshire Morris dance 'The Blue-Eyed Stranger', and the band just keep cooking on gas; Andy's accordion and Julien's banjo are nigh on exquisite. James' 'The Year Of The Metal Rat' and the Stradling/Delarre/Cutting trio of tunes ('Le Sac De Jambon'/'Ange'/'Long Legs') are sheer delights. Michael Hurley's leisurely 'Hog Of The Forsaken' paints a picture of an American farmstead in shimmering summer – and Bourdon ends fittingly with the minor-key French traditional slow air 'La Couturiere', Julien's bagpipes standing out in the splendid array of instruments.
I have played this album many, many times, and I'm still not tired of it. Topette!!, true to their international co-operation and understanding, perform stunning dance tunes with absolutely razor-sharp precision, peppered with amazing arrangements and a magical, uncanny sixth sense. It should be mentioned that Barn and Andy are members of the mighty Blowzabella, whose playing championed and popularised Euro-music all through the years; however, Bourdon remains my favourite album right now. Hands off!
---
WORDS OF A FIDDLER'S DAUGHTER
Ironstone Tales

Under The Eaves UTE005
This is the second album in a wider multi-media project depicting the community of Rosedale which lies in a quiet, peaceful valley, some miles beyond the town of Pickering, terminus of the North Yorkshire Moors Railway; however, Victorian get-rich-quick entrepreneurs and greedy exploitative industrialists had already discovered valuable ironstone in the beautiful wilderness. It became known as the Yorkshire Klondike, and the hills were battered and blackened with smoke, the roar of furnaces and the clamour of three thousand workers. Now, lonely ruins mark financial failure; the railway's extraordinary engineering, the mines and the kilns never paid off. The valley has returned to serene splendour.
Poet Jessie Summerhayes has fashioned a wonderful array of words which depicts the ironstone industry's rise, decline and fall; Jessie's father, inspirational fiddle virtuoso Adam Summerhayes, and exhilarating accordionist Murray Grainger are The Ciderhouse Rebellion duo, whose sole aim is to paint startling and vivid freeform musical portraits, energised by historical artefacts and stunning geological landmarks which can recite the whole story.
Eight poems make up Ironstone Tales. The first track, 'Where Lightning Goes To Die', was recorded near the spot where legend has it that the earliest ironstone was found in the valley, thus industrialising the whole area; Second is 'A Beauty Unplanned', which focusses on the ruined arches of the old calcining kilns. 'When The Moor Walks' is on forgotten hope and the abandoned navvy camp. 'Asleep In My Hat' concentrates in the boys in the mines who tied string around their trousers to guard against rats. Jessies's poems are real stories of the valley, combined with her love of folk tales and memories of her childhood spent playing amongst the ruins; together, Jessie, Adam and Murray are weaving a thrilling, moving presentation that tell it like it was, dazzlingly enhanced by the musicians' in-the-moment creation.
Verdict: Ironstone Tales is well worth the Arts Council Of England lottery fund – so says I.
---
JUNE 2022
---
TAMSIN ELLIOTT
Frey

Penny Fiddle Records PFR2206CD
Tamsin Elliott is a Bristol-based folk musician, composer, film-maker and co-leader of co-leader of the fusion project Solana. She conceived this work in the aftermath of a couple of years of severe health issues. She says: "Frey is the name of the surgery I was waiting for when the pandemic hit, which has not yet happened owing both to the pressure on the NHS but also, happily, to the health benefits that this slower pace of life has afforded me."
Dylan Fowler's Studio Felin Fach in Abergavenny has the magical ability to generate the most pleasing and inspiring music, and Alex Garden (from The Drystones) recorded Frey, with Tamsin producing the album. Frey inhabits a soundworld true to Tamsin's English folk roots, with modal and rhythmic echoes of her time spent in Egypt; the project is bulging with her 14 compositions with Tamsin using her stark and beautiful accordion, her lever harp, flute and whistle. Sid Goldsmith contributes cittern and double bass, with just a little soupçon of voice and effects; Rowan Rheingans and Tamsin's brother Rowan Elliott add fiddles, violas and voices. Ricardo de Noronha is the percussionist and Soufian Saihi plays oud.
The opening track, 'Uma's Song' is hypnotic; the gay jigs 'Old Wax Jacket' and 'A Coat Of Sawdust' are refreshing pick-me-ups; 'Lullaby' and 'I Dreamed I Was An Eagle', both written for lever harp, shifts into a more solemn mood. The finisher, the mysterious air 'Cygnus', just leaves the listener wanting more. The eastern-style riffs are fleeting and transient; however, Tamsin takes command, and the whole essence is peaceful and soothing. The Lost ARC in Rhayader has recently welcomed her trio to Mid-Wales; let's hope that Tamsin's future gigs will be many.
---
MICK'S QUICKS
Glasgow-based international music festival Celtic Connections commissioned award-winning Scottish harper and singer Freya Thomsen to compose the wonderful and startling suite Release (independent label, no catalogue number). Originally titled Community and Stardust, the project blossomed and brought a wealth of passion and musicality to the album: Sarah Allen's punchy, rhythmic alto flute, Shanti Jayasinha's soaring flugelhorn and Colette O'Leary's lilting accordion, as well as cellist Louise McConagle, on James Maddren on drums and percussion and bassist Cameron Maxwell. Above all, Freya's sparkling clàrsach comes tripping and dancing through. FolkWales verdict: Thumbs up!
The slimmed-down Calan have released an English-language single, 'Jail Caerdydd', taken from their last album, Kistvaen (Recordiau Sienco). The original Welsh-language traditional song told of a hapless lad being thrown into Cardiff clink – and dog lovers will will appreciate where world-class harpist Shelley Musker Turner sleeps on tour. While guitarist Sam Humphreys, fiddler Patrick Rimes and accordionist and singer Bethan Rhiannon move from hotel to hotel on their procession across the country, Shelley won't be separated from her two dogs. And if that sometimes means sleeping in her tour van with River and Celyn – and her full-sized celtic harp – so be it: "They're very protective and very warm," she says. "When you've played your heart out at full volume, and the place has been bouncing, they're just what you need to come back to, a peaceful place." FolkWales verdict: Thumbs up!
Gloucestershire-based English country dance band Bosun Higgs consists of percussionist Carly Rose, Keith Holloway on melodeon, Martin Banks (banjo and autoharp), bass saxophonist Neil Gledhill and fiddler Taz Tarry, experienced dancers and musicians who have long track records with The Old Swan Band, Token Women, Random and Grand Union. Their album, A Most Peculiar Vintage (WildGoose Studios WGS439CD), is a delightful 11-track romp through traditional and band-composed tunes such as 'Fred Pidgeon's No. 1', 'Bang-up Polka' and 'Double Figure 8', and the five-piece clunks and wallops its way through as only bucolic dance combos can. FolkWales verdict: Thumbs up!
Glasgow poet-singer Sheila K. Cameron asked ex-Battlefield Band member Brian McNeill if he could work on some songs to go with her eleventh album With You In My Life (Glalell SKC1710CD). Unfortunately, Brian's inspiring genius could only cushion what is 17 tracks of Sheila lamenting a complicated affair; wearing her painful heart on her sleeve can sometimes get a bit numbing. FolkWales verdict: Thumbs down
Accordionist, fiddler and self-taught instrumentalist Calum Iain Macquodale has spent many years playing venues across Scotland and his brand of West Coast music never fails to get people dancing. At the age of 72, his long-awaited debut album About Time (Independent release, AT2021) packs a mighty punch which had everybody jigging and reeling; accompanied by his daughter Alison, who plays the Blair digital chanter, and accordionist and drummer friends, Calum powers his way through step dances, Highland schottisches, hornpipes, two steps and self-composed waltzes. FolkWales verdict: Thumbs up!
Guitarist and singer-writer Jason McNiff sounds almost Dylanesque American, but he was actually born in Bradford, Yorkshire, to an Irish father and a Polish mother. His new album, Tonight We Ride (Tombola Records, TR2024CD) is his tribute to Bert Jansch, Leonard Cohen, The Beatles, Dire Straights, Townes Van Zandt, The Waterboys and other musicians, plus two of his own songs, 'I Remember You' and 'Shadow Ships Of Deptford'. He stamps the 13 tracks with his unusual unique voice. FolkWales verdict: Thumbs up!
Accordionist Yvonne McLeod had just rented a room from Glasgow bus driver and singer-writer Colin McEwan when Johnson announced the covid lockdown; the nearly two-year result is a project called Luthrie Lockdown with Yvonne, drummer Martin Dibbs and recording engineer, bassist and cellist Pete Harvey playing Colin's highly personalised songs. Unfortunately – and here's a mixed metaphor coming up – the debut album Stronger Than Before (Independent release, LL22001CD) doesn't light the blue touchpaper and fails to float the reviewer's boat. FolkWales verdict: Thumbs down
Scottish singer-songwriter Hannah Rarity scores a resounding ten-track hit in her third album, To Have You Near (independent release); her gorgeous, confident voice is enhanced by some excellent session musicians, including guitarist Innes White, violinist Sionead Aitken, viola player Patsy Reid and bassist James Lindsay. All the songs just cannot be beat, but the photo-finish winners are 'Home', 'My Friend' and the late Davy Steele's stirring anthem 'Scotland Yet'. FolkWales verdict: Thumbs up!
Tasha Smith Godinez is Professor of Harp at the University of San Diego, California, and director of the San Diego Harp Academy; Out Of The Desert (Ennanga Records, ENN 20003) is her first collection of semi-traditional themes and startling original compositions, and percussionist Christopher Garcia and viola player Domenico Hueso do their best to enhance the tingling atmosphere. Godinez is a dazzling and proficient harpist; from 'Mulatta' right through to the finishing 'V: Return and Ascent', the tension never lets up. FolkWales verdict: Thumbs up!
---
JOCELYN PETTIT
Wind Rose

Independent release: no catalogue number
***** FIVE STAR CHOICE! *****
Oh, wow! Jocelyn Pettit is a breathtaking and really entrancing fiddler, singer, step-dancer and composer who comes from the West Coast of British Columbia, Canada. She delights and mesmerises audiences when she tours in Canada, the United States and Europe; she holds a master's degree from the Royal Conservatoire of Scotland in Glasgow, and her roots are her Scottish, Irish, French and Malaysian heritage. Wind Rose is her third entirely independent release, and it's a fiery, vibrant and thoroughly beautiful stormer.
With all her considerable influences, Jocelyn is drawn to Scotland even more. Wind Rose displays her excellent band from British Columbia: whistler and vocalist Erik Musseau, guitarist Adam Dubres, bassist Boris Favre, percussionist Lauri Lyster, percussionist and vocalist Joel Pettit and pianist Siew Wan Khoo. But across the thousands of miles from Canada to the British Isles, four rock-solid Scottish sessioners are enhancing her album even more: guitarist Ali Hutton, bodhran player Martin O'Neill, cellist Ellen Gira and pianist and whistle player Chris Grey.
Jocelyn is a really exhilarating and soulful musician; her amazing fiddle sparks fire in the reels, jigs and strathspeys while lifting the audience in the oh-so-beautiful waltzes and airs. First up is the title track and her striking composition, 'Wind Rose', and her band is flying and soaring with her dancing and playful strings; the acoustic guitar rises and falls and carries on with the insistent melody. 'Migrations' follows, a double set which writer Jeana Leslie christened 'The Loon And His Quins', segueing on to the sparkly Jocelyn tune 'Open Skies'. Dougie MacLean wrote the classic 'Ready For The Storm', and Jocelyn rises to the occasion excellently; moreover, Dougie's song introduces her lovely, sure voice, and Kate McGarrigle's 'Cheminant à La Ville' provides her with the opportunity to sing in French Canadian. And just listen to her interpretation of Loreena McKennitt's 'Never-Ending Road'; the good things comes in threes!
Jocelyn says her two-tune set 'Cowcaddens' was "inspired by Glasgow, its amazing people and vibrant music scene" – and 'Kitchen Ceilidh' simply zooms along from the fierce strathspey 'Moxham Castle' to the breathless 'Jean's Reel', finishing up with Phil Cunningham's raucous 'Wing Commander Donald MacKenzie's'. Her two tunes, the artful 'Silk And Spice' and the elegant 'Royal Gala Waltz' ("For my family in the beautiful Okanagan Valley") just can't be beat.
I would have thought that Jocelyn's performance is a wild and wonderful Nova Scotia-like sound, but it's very much more than that. The final track is 'Transatlantic Jigs', with two of her must-hear tunes ('Dawning' and 'Tides And Currents') drawing to a fabulous close and – pardon me for using the old South Wales jargon – Giving It Dap. No doubt about it: Jocelyn has really impressed me, big time. In the coming year, she's touring in Canada and the United States, with no prospect of an appearance here – c'mon, Celtic Connections, what are you waiting for?
---
MANDOLINMAN & ANSATZ DER MASCHINE
Houtekiet

Trad Music TRAD019
MANdolinMAN is Belgium's finest mandolin quartet, consisting of Andreas Boone (mandolin, electric guitar, violin, synths and q-chord), Peter-Jan Daems (10-string mandolin, acoustic guitar), Maarten Decombel (mandocello, acoustic and electric guitar) and Dirk Naessens (mandolin, violin). The band was formed in 2011 and performs traditional Flemish tunes in a very eclectic and go-ahead style, touring several times in Canada, Brazil, Scandinavia, France, Spain and Germany.
The theme is Gerard Walschap's classic 1939 Flemish novel, which reflects very well the universal and timeless character of this collection of tunes and the contrast between old and new. This feverish epic centers on the foundation of the village of Deps and the central character, the irresistible, primitive wildman Jan Houtekiet is a pagan gospel about the origin of civilization, human nature, life and death.
Mathijs Berthel, aka Ansatz Der Maschine, accompanies MANdolinMAN on this album, adding synths and beats, samples and soundscapes. Guest musicians are Rozanne Descheemmaeker, who plays French horn on two of the tracks, and percussionist Robbe Kiekens; recording engineer Luc Weytjens captures Robbe's sharp, tight drumwork, the forerunner for the opener 'Rigodon', a mesmeric dance tune which magnetically hooks the swaying throng. The stately 'Houtekiet (Proloog)' follows on, and the quartet return to strings again. From then on, the band leads the audience on a merry caper through the branle-style 'Zinnedans', 'Rozenland', 'Hoorndrager', the beautiful 'Minuetto' and the lively, gay 'Haspeldans', Mathijs enhancing the arrangements with his spacey effects.
The recurring and last tune is 'Houtekiet (Epiloog)', and MANdolinMAN and Mathijs swell and swirl the wonderful volume up until a stark, pregnant silence descends – what a finisher, and what a delightful album to boot.
---
MAY 2022
---
THE JAKE LEG JUG BAND
Live At Audley Theatre (double album)

Green Bullet Records GB 2201
***** FIVE STAR CHOICE! *****
Liam Ward, that wonderful harmonica player and erstwhile Swansea member of late lamented trio The Rumblestrutters, introduced me to The Jake Leg Jug Band, one of the hottest and most entertaining combos around. They home in on the 1920s and 1930s American prohibition era, when alcohol was banned; this only led to a sharp rise in criminal gangs, illegal speakeasies and shady dealings in opium and cocaine. I really loved their last album, Goodbye Booze; they have now expanded to a sextet, consisting of new musician Alex Clarke, who sparkles on saxophone and clarinet, leader Duncan Wilcox (vocals, double bass), Neil Hulse (vocals, guitar), Bryony-Rose (vocals, washboard), Jack Tasker (vocals, banjo, mandolin) and Liam, now living in Gloucestershire, (vocals, harmonica, jug and kazombone, which he described as "the love child of the kazoo.") No doubt about it – this live double CD, recorded for a sell-out audience in the splendid Audley Theatre in the city of Stoke-on-Trent, Staffordshire, is their seventh offering and is absolutely the dog's whatsits!
So, why The Jake Leg Jug Band? This goes back to the depression, when hard-up musicians built themselves home-made, cheap instruments, such as frying-pan banjos, kazoos, washboards, jugs – in fact, the jug band culture was booming to sky-high proportions. In the prohibition era, people used to concoct home-made hooch, nick-named 'Jake' in the Caribbean. If person stumbled or walked unsteadily after drinking too much, he was a victim of 'Jake Leg' – hence the pertinent description.
All are mighty fine singers and musicians, but I must mention Bryony-Rose for her smoky, sexy voice to die for, Liam for his harmonica fireworks and Alex for her wonderful sax and clarinet, which raises her up as the cream of the jazz talents. This sizzling double album is positively jumping; despite the long covid lockdowns and the lay-offs, when all musicians were forced to abandon gigs and tours, the band is as tight as tight can be with their near-the-knuckle hokum-filled night of jazz, blues, ragtime and gospel. From the opening 'I Can't Dance (I've Got Ants In My Pants)', through 'I Had To Give Up Gym' and Bryony's smoldering, double-entendre 'Kitchen Man', right into Disc Two and the naughty 'Caught Us Doing It', 'My Pencil Won't Write No More', 'Who Rolled The Stone Away', 'Hot Nuts!' and the memorable finisher 'He's In The Jailhouse Now' – it's as if The Jake Leg Jug Band and the whole theatre are magically transported, and you are the delighted audience. What a brilliant money's worth!
---
VIGṸELA
A La Manera Artesana

Arc Music EUCD2955
Vigüela are Juan Antonio Torres, his sister Carmen Torres, Maria Nieto, Luis Garcia Valero and David Mollón, five musicians who live in the village of El Carpio de Toja in the Spanish heartland of Castilla La Mancha, south-west of Madrid and 40km west of Toledo. Vigüela's strength comes from their vibrant community and their traditional lifestyle; they don't wear costumes and their ultra-professional approach has seen them performing in international stages in WOMAD in the UK, Førde in Norway, Columbia and Uzbekistan. Juan Antonio, the leader and founder of the band, says: "Those who hear us who are not involved in the community think that this music is super-new and super-modern – but those in the communities get very moved by the music because they can they feel the spirits of their ancestors around them."
This fascinating album encompasses 21 tracks, to guitar-led traditional songs from the region of La Mancha, unaccompanied tonadas, usually about bullfighting, and the incredible sound of the zambomba – a stringed drum which is played by rubbing the stick, producing a deep and extremely strange whoop-whoop – topped off with the malaguena-style 'Camina' (Walk), with a chorus of voices heralding the end; guest artist Jorge Pardo plays the flute here. Vigüela employ all kinds of intensive and thoroughly exciting percussion, including hand-clapping, cowbells, metallic mortar, strummed bottle, frying pan, castinets and tambourine; their principal styles are guitars, the lute and the guitarro manchego.
One striking thing is that the La Mancha style has need of very strong voices to carry the tradition, and Vigüela supply just that – wonderful open-throated singing, both male and female, spine-tingling vocals that paint a vivid portrait of everyday life in a little Spanish settlement of 2,000 souls. From the inspiring 'Estrellitas Matutinas' (Morning Stars), inspired by the fourth volume of Magna Antologia del Folklore Español by the folklorist Don Manuel Garcia Matos, to 'Jota el Estilo de El Carpio de Tajo – Cualquier Jota no la sé' (Jota in the style of El Carpio – I Don't Know Any Other Jota), Juan Antonio and the band hit the nail on the local head. The zambomba accompanies the a capella singing, from 'El Cantar del Pollito' (Song of the Chicken) to 'Que Vengo de Lavar del Rio' (I've Just Come From Washing). Vigüela tell the stories of two romances: 'Finiquito de un Gañan' (Severance Pay of a Farmhand) and 'El Cantar de Andrés José' (The Song of Andrés José, about the misfortunes of a Columbian migrant arriving in Spain.)
Vigüela round off a fine plethora of songs with the wonderful 'Camina'; session flautist Jorge Pardo accompanied on the flute, and Juan Antonio pays this tribute: "A little clove, a little cinnamon, and a special touch to finish off the recipe… Six musicians together, listening, playing and singing simultaneously – recording the sound live, without retouching, without fixing mistakes. All authentic music and improvisations, just as it comes straight from our soul." Like the amazing tapas that welcomes you in a friendly Spanish bar, this album feeds you to the point where you're quite content and full to the brim. Gracias, amigos!
---
APRIL 2022
---
HANNAH READ & MICHAEL STARKEY

Cross The Rolling Water
Hudson Records HUD028CD
These two must-hear musicians will be appearing in Llantrisant Folk Club on June 8, 2022, and I'm really looking forward to hearing the singing, ringing fiddle and busy, chattering banjo of a brace of talented artists who must be the among the best conveyors and teachers of Appalachian music everywhere. Fiddler and singer-songwriter Hannah Read met banjo player Michael Starkey at an Appalachian old-time session in Edinburgh in late 2019. From the very moment that they first struck up a tune together, there was an immediate meeting of musical minds – and Hannah and Michael showed the way in becoming a dynamic fiddle and banjo duo, unearthing ancient and proud tunes and songs deep from the old-time tradition, as well as newly self-composed material.
Hannah is an award-winning Scottish musician based in Brooklyn, New York City. She moved to the United States to study American fiddle styles, plunging deep in the thriving string music scene. She has toured many times, both playing alone and collaborating with American performers far and wide – including Tony Trischka, Sarah Jarosz and Jefferson Hamer – as well as being one part of the BBC Folk Award-winning Songs of Separation. Michael, who lives in Scotland, is a multi-instrumentalist, music teacher and old-time banjo enthusiast. His golden rule is to keep things simple – clear banjo notes and melody lines shored up with a magnetic, absorbing and infectious driving rhythm. Recent projects include performing with Edinburgh-based quartet Wayward Jane and Faultlines, a collection of Lisa Fannen's poetry set to music.
This debut album paints a vivid picture of rural Appalachia, interspersed with some fine American songwriters and pebble-dashed with a couple of Starkey tunes. The pretty 'Apple Blossom' melody is a mouth-watering opener, followed by Michael's composition 'Blue River' – and fiddle and banjo duel and dance with each other in 'Charleston', learned from Narmour and Smith, a popular 1920s and 30s old-time string band, and the Plank Road Stringband, 1970s revivalists from Lexington, Kentucky. Hannah and Michael learned the lyrical and completely outstanding song 'Shenandoah' from Vermont-born singer-songwriter and guitarist Anaïs Mitchell, who recorded eight albums; Hannah's breathy and beautiful voice, her delicate guitar and Michael's lazy and sympathetic banjo all jell together in perfect trinity. Anaïs's poetry forms this album's title.
The duo learned the tune 'Rose Tree' from Kenny Hall, a blind fiddler and mandolinist who was born in San Jose, California in 1923 and died in 2013, aged 89; strangely enough, his notes are incredibly similar to a traditional Scottish tune called 'Leather Away The Wattle-o'. The busy and phrenetic 'North Missouri Waggoner' came from Nile Wilson, born in Missouri in 1912 and died in 2008, aged 95; 83-year-old Allen Reynolds, a country songwriter and record producer, wrote 'Ready For The Times To Get Better', and Hannah and Michael do an excellent job; and 'Waltz De La Funguy' is reminiscent of lazy summer days in the Louisiana bayous. 'Old Kentucky Whiskey' – learned from Noah Beavers, farmer, miner and fiddler, born in Elkville, southern Illinois, in 1897 and died in 1990 – is raucous and joyous; and Hannah and Michael round off the album with 'Johnny Come Along', learned from fiddler Clyde Davenport, born in Mount Pisgah, Kentucky, in 1921, who kept stored up in his musical memory more than 200 fiddle tunes.
Hannah and Michael have certainly opened my eyes to the wealth of Appalachian fiddle and banjo tradition with their superb musicianship and their thorough knowledge – I totally recommend this wonderful album.
---
IBERI

Supra
ARC Music Productions NXW76162-2
Simon Broughton, editor-in-chief of Songlines magazine, says that there's an ancient Georgian legend which tells of God distributing land among the peoples of the earth; however, the Georgians were just too occupied in drinking and feasting to turn up on time. When they finally arrived, there was nothing left. They protested: "But, Lord – we were only late because we were toasting you." God was so pleased by this compliment that he gave them the land he was keeping for himself – lush, warm and fringed by the wonderful Caucasus Mountains. The Georgians have a strong tradition of singing in praise of wonderful food and fabulous wine; in fact, winemaking has been in production for some 8,000 years.
Iberi is the nine-strong male-voice group which takes its name from Iberia, the old Greek and Roman moniker for the eastern part of Georgia. It's a spectacular polyphonic tradition in which church music, historical ballads, lullabies, work songs and 'table songs' for feasting and drinking are thrown together; bass and high voices tumble and roll with sizzling energy, and they have performed across the world from Europe to the United States and from Asia to Australia. Supra means a tablecloth, but it's usually translated as a feast; it's a ritual in itself, and the celebration includes food, wine and song, sung around the table. The album has 13 electrifying tracks which includes an incredible 13 toasts – to the glory of the Lord, to the motherland, the ancestors, the person, the parents, friendship, to deceased ones, to the next generation, to deeds, to love, to sweet memories, to dignity and the truth. The sound of those open-throated male voices is just thrilling and spine-shivering.
Highlights are the opening track, 'Kataisi Mravalzhamieri' (Blessings from Kataisi), 'Mkholod Shen Erts' (Only For You, a love song to the girls and to Georgia), 'Sisona Darchia', the name of a hero who fought against the Ottoman invaders in the 18th century, 'Shen Khar Venakhi' (You Are The Vineyard, a church hymn dedicated to St Mary, the patroness of Georgia), 'Kharatia' ('Goblet', a Supra song about drinking wine) and 'Kovel Sneulebaze' (Harder Than Any Illness, a love song composed by the Sisters Ishkneli.) Iberi brings into sharp focus what it means to be Georgian and to sing praises to the homeland, to feasting, to the women, the beautiful mountains and the stunning wine. Iechyd da, lads!
---
HEIDI TALBOT

Sing It For A Lifetime
HEIDITCD1
Heidi's break-up from her husband of 11 years, Scottish folk musician John McCusker, has forged a remarkable album that was recorded in one soundproofed room in an Edinburgh house that was being sold. She was looking after her two daughters, at the same time negotiating the separation with John, who always produced her recording sessions. Any great upheaval is a period of self-discovery; missing the intimate, end-of-the-day discussions that she had with John, Heidi found herself – as she says – "Having to live and die by my own decisions."
Heidi's album brought together many musicians who were scattered 3,000 miles apart, including her friend, guitarist and Dire Straits leader Mark Knopfler, drummer Bill Smith, viola player Patsy Reid, singer Amelia Powell, first violinist Seonaid Aitken and cellist Alice Allen. She also sought out Appalachian fiddle legend and country producer Dirk Powell in his studio in Lafayette, Louisiana, but the covid epidemic put a stop to that. As the new songs were gathered from the spring of 2021, Heidi recorded material with her engineer Cameron Malcolm, sending files to Dirk each night.
The result is just superb – Dirk has reinvented Heidi as a transatlantic artist with a combination of self-penned songs and exquisitely chosen favourites, reflecting the huge changes in her personal life. He also contributes backing vocals and many instruments: acoustic and electric guitar, fiddle, piano, accordion, banjo, percussion and mandolin. The opening track, 'Sing It For A Lifetime', was written by Heidi and Dirk in the space of 15 minutes; it's a joyous, life-affirming piece and well worth the coveted place at the top. Heidi's children, Molly Mae and Jessica, join her in the chorus; her lovely soprano voice is fragile and butterfly-like, but it's still steely-strong in the most delightful style. Leonard Cohen's 'Famous Blue Raincoat', after all these years, is still a mighty piece of songwriting, and Heidi salutes just that with shimmering strings enhancing and emphasising the meaning; and if there's any justice in the world, Dirk's 'Empty Promise Land' would be a sure-fire hit, with Knopfler fingering the frets and making beautiful music, which masks the dark lyrics.
'I Let You Go' is Heidi at her most personal, soul-searching self – and the Talbot/Powell composition 'Broken Mirror' gets the listener thinking hard and long. However, she expertly picks respected songwriters of any shape and form, such as the brilliance of Boo Hewerdine, Bob Marley, the Willie Nelson team and no other than the magnificent Dolly Parton, to wrap up the album and deliver it as a mouth-watering present.
Her globe-trotting experience stands her in good stead; she hits upon a magical blend of Celtic tradition and Americana that was already in her bloodstream. Born in County Kildare, Heidi was entranced by her Irish mother's Crystal Gayle and Patsy Kline records. She emigrated to the United States as a teenager and her performing career began in the bars of New York, with a five-year stint as part of the American supergroup Cherish The Ladies. Despite the heartache and the headache of the split, Heidi Talbot has grown to be her own artist and her own confident woman.
---
MICK'S QUICKS
Halifax, Nova Scotia-based Ellen Gibling executes a delightful solo harp in her really impressive 12-track debut album The Bend In The Light (independently recorded, no catalogue number.) Her love and her regard with Irish traditional music has reached an important stage when the listener becomes absolutely transfixed by the jigs, reels and beautiful airs; indeed, several contemporary celtic composers pile in to enhance the age-old and very rich repertoire. Ellen's 'Side By Each' set of jigs is especially worthy of mention. FolkWales verdict: Thumbs up!
Renowned London Irish button accordion virtuoso Andy Martin grew up playing with the best of traditional musicians in the golden era of music in the Big Smoke, and his remarkable debut album Will We Give It A Go? (independent release, MARTY001) attracts such stellar names as John Carty (Patrick Street), Gerry Diver, Gino Lupari (Four Men And A Dog), Matt Griffin (Seamus Begley Trio) and Trevor Hutchinson (Lunasa), Elaine Conwell (The London Lasses), Sinead Egan (The Egan Sisters), Tad Sargent, Kevin Boyle and Barney Morse Brown. Andy's wonderful dexterity cartwheels into reels, jigs, waltzes hornpipes, barndances and airs, and his distinctive style beckons you out of the studio and into the welcoming pub session. Absolutely cracking. FolkWales verdict: Thumbs up!
British Columbia singer-songwriter Miriam Jones and her husband settled in London and released the startling solo electric guitar-driven album Reach For The Morning (independently produced, Miriam Jones Music MJM5CD). Her emotive voice and her hypnotic style are quite compelling; highlight is the acapela folksong 'How Can I Keep From Singing', composed by Baptist minister Robert Lowry. From Lionel Bart's gritty opener 'Who Will Buy?' to the final crowd-pleaser 'Glory To His Name', Miriam possesses darkness and soul but warmth and accessibility too. FolkWales verdict: Thumbs up!
Double-bassist and vocalist Nina Harries recorded her EP Water (Penny Fiddle Records PFR2201EP) on her narrowboat in a Midlands countryside canal, a floating haven where she writes about stresses, strains and the relationship between the bass and the female voice. The six tracks contain highly personable and private stuff which are much too left-field for the FolkWales ambit, including that giddy multitracked maelstrom of voices; it's all very weird and disconcerting. FolkWales verdict: Thumbs down
Paxton & Morris are husband and wife Maggie Kenny and Drew Wegg; their post-covid album Is It Safe Out Here? (PMCD001) includes friends Joe Broughton and the Urban Folk Quartet, Kevin Dempsey and John Wallace, but their brand of easy-listening entertainment falls short and disappoints. They are supposed to honour the songwriters, but the 11 tracks (especially Sydney Carter's 'Crow On The Cradle' and Thompson/Swarbrick's 'Crazy Man Michael') are not credited, and the words are a little bit unclear. FolkWales verdict: Thumbs down
Irish concertina wizard Cormac Begley sets out to explore the bass and baritone concertinas on his second digital album, B (Bandcamp); he performs many exhilarating reels, slow airs and jigs on supposedly unwieldy instruments and demonstrates how the humble squeezebox can be very nimble and nifty. FolkWales verdict: Thumbs up!
Still on the digital label Bandcamp, Lewis McLaughlin is a Glasgow singer-songwriter who strays into the blurry border between folk and pop; his album Feel The Ground You Walk Upon contains ten tracks on which the meanings aren't quite clear. Good advice to Lewis – try to project the voice a little bit more. FolkWales verdict: Thumbs down
---
BELSHAZZAR'S FEAST

That's All, Folkies!
WildGoose Studios WGS437CD
So, that's it – after 25 long years of touring, gigging, creating marvellous music and delighting festival audiences with their gentle jokes and pranks, Belshazzar's Feast have decided to call it a day. The two Pauls – Sartin and Hutchinson – have embarked on a Farewell Tour, which starts in Canterbury on April 19 and finishes in Bretforton, Worcestershire, on May 30. Sadly, the tour doesn't touch Wales: however, there's only about half-an-hour's drive across England where you can see them in the town hall in Bishop's Castle, Shropshire, on April 29 or Upton-on-Severn Folk Festival on April 30. Moreover, Belshazzar's Feast have sent us a wonderful memento: an absolutely dizzy plethora of ancient dance tunes, traditional songs and poems, classical snatches of Mozart, Beethoven and Vivaldi, mummers' plays, morris cants and apple tree wassails, performed as only they can. The 14 tracks are taken from their seven WildGoose and three Unearthed albums, plus three previously unreleased songs and tunes – as they say: "When you hear them, you'll understand why…"
FolkWales Online Magazine has strict house rules about compilation albums, but I don't care – I love their fabulous performances and their self-deprecating put-downs too much. From 'Boda Waltz' (from their first WildGoose album, One Too Many) to the audacious live 'Beethoven's Piano Concerto for Oboe' from Unearthed's The Whiting's On The Wall, Belshazzar's Feast have provided sheer entertainment wherever they hold stage. Paul Hutchinson's mastery of accordion and Paul Sartin's stunning ability on fiddle and oboe just about caps it all – by the way, the Sartin vocals, honed to cathedral choir status, are full of sizzling passion and are spot-on to an absolute tee.
The two lead a merry dance through Playford ('Gathering Peascods') to Kynaston ('Neat, Mr John') to 'Lovers' Vows/Dawson's Delight', a Sartin-Hutchinson wedding present for their friends; 'Gethsemane', a bleak Rudyard Kipling poem, written after his son's death in the Great War; also in the Great War, 'Home Lads, Home', Cicely Fox Smith's poem blended with Sarah Morgan's beautiful melody; a Paul Hutchinson composition called 'Bumpers'; and a stately 'Hampshire Mummers' Song', with Christmas celebrations intertwined with a deeply religious meaning. Not one track is wasted – in fact, That's All, Folkies! Is a mighty tribute to Paul and Paul's jaw-dropping and super-intelligent musicianship. Once you have seen them, you'll come away with a smile on your face and laughter in your heart.
---
CATRIN FINCH & SECKOU KEITA
Echo

Bendigedig BEND19-2
***** FIVE STAR CHOICE! *****
This moving and thoroughly wonderful album celebrates the tenth anniversary of harpist Catrin Finch and Senegalese kora master Seckou Keita – two virtuosos from Wales and West Africa who were born thousands of miles from each other but are drawn together by their love of a certain stringed instrument. It's been a long time since I saw Catrin and Seckou's first incredible performance at St David's Hall in Cardiff; as the concert ended, I joined the crowds heading out of the hall and met my friend, who was obviously ecstatic by what he had witnessed: "It was so-o-o-o atmospheric", he enthused. "The audience just floated into the bar and down to the street…" I know what he meant – anyone who has seen and heard their timeless magic will cannot help but admire and love the soulfulness of their music and its ability to lift the spirits and transport them to a sunnier, happier dreamworld.
The seamless union of the 47 strings of Catrin's harp coupled with the 22 strings on each neck of Seckou's double kora is quite remarkable; two different cultures, two histories and two personalities merged into a single inspiring musical journey has become a rare world-music hit. Catrin and Seckou create fabulous, heady notes that not only champions their exquisite instruments but blends delicious fragments from the Western classical, celtic, folk and contemporary genres and West African griot and song traditions. Their first album, Chychau Dibon, and the second, Soar, were simply the harp and the kora deliciously intermingling with each other; however, Echo has the two musicians collaborating with three violins, two violas, a 'cello and a double bass in the ecstatic opener 'Gobaith' (Hope). Catrin took a scrap of a tune that had surfaced during a soundcheck session with Seckou and remoulded it into this gentle ode to optimism – and right from the start, the other seven tracks just keep the listener's ears glued and and hooked.
Apart from 'Gobaith', there are six tracks to savour. Seckou's warm-velvet voice can be heard on 'Chaminuka', the second piece, which began life as a commission that Catrin and Seckou worked on for the BBC-TV series Don't Forget The Driver. It's dedicated to Seckou's friend and fellow musician, the late Chartwell Dutiro. Seckou fell in love Chartwell's instrument, the mbira or thumb piano; harp and kora imitate the lovely lilt of Zimbabwean mbira music after the strings swoop in. To honour Chartwell's memory, Seckou sought help from Bruce Ncube to be able to sing in the Zimbabwean language Shona, as well as in his native Mandinka: "You continued you ancestors' work, then you left. There's an empty space here that I notice from time to time – but you have filled that space with your knowledge and blessings".
'Dimanche', the third set, is dedicated to Sunday – or any other day of the week. The words, which are sung in Wolof, translate: "Today I won't work; today, I feel like someone who will never work again in his life – so I'll just make the best possible use of this day, which is special to me." Seckou deftly runs his notes like an incredible golden shower, and in 'Dual Rising', kora and harp delightfully and brilliantly spar each other. Back in Seckou's homeland in southern Senegal, the track 'Tabadabang' translates as 'go to a mysterious end'. Seckou tells of elders discussing matters of importance; if a child was listening, he would be sent away by telling him to fetch a fictitious object – such as lo yiro – on a wild goose chase. When he returns much later empty-handed, the meeting is ended.
'Jaleh Calon' means, in Mandinka and in Welsh, 'Smile Heart'; the song started life in Catrin's home studio, when she was working with the idea of an underpinning heartbeat as part of a project about music and healing. Her research involved taking to NHS workers, such as audiologists who were treating tinnitus, and a PhD student in Bangor University who was studying nada yoga, 'the yoga of sound'. She learned about a discipline called entrainment, where someone's heart could be trained to beat in perfect synch with the rhythm of a piece of music – and 'Jaleh Calon' sounds like and imitates the beating of the heart. Seckou's kora is the heart, Catrin fills in some glittering golden raindrops and the strings sound as if the sun is just coming out – absolutely gorgeous!
The seventh and final piece is called 'Julu Kuta' – New Strings in Mandinka. Most instruments achieve the chromatic scale, but it's difficult for the harp and impossible with the kora. However, Seckou says: "I wanted to take the kora to the heart of somewhere else" – so in 2007, with the help of his cousin, he fashioned the double-necked kora and took it over to his grandfather's house. His grandfather, a kora player and maker of great renown, said: "Seckou, you know you can't re-create the kora." Seckou replied: "I'm just adapting the framework you gave me, Grandad." Here, in a glorious eight-and-a-half minutes, is Seckou's showcasing of his kora – and it's a tribute to the spirit and innovation of the duo. Catrin and Seckou played the piece in Liverpool in October, 2021. She says: "The kora buffs were going: 'Oh my God! How's he doing that chord sequence!" It's truly magnificent, and it brings Echo to a triumphant finish. May Catrin and Seckou continue to make their truly special and unique music for ever.
---
THE CIDERHOUSE REBELLION
Genius Loci 2: The Valley Of Iron

Under The Eaves Records UTE004
www.theciderhouserebellion.com
***** FIVE STAR CHOICE! *****
Of all the surfeit of amazing albums that folk innovators Adam Summerhayes and Murray Grainger have recorded, this incredible little gem just about tops the lot. Award-winning fiddler Adam and inspirational accordionist Murray took it upon themselves to set off and find what the Romans called the 'genius loci' – the spirit of the place – in rural England; the first offering, Genius Loci 1: The White Peak in Derbyshire, was released in 2021. The second collection of spontaneous melodies, Genius Loci 2: The Valley Of Iron, focusses on Rosedale, which lies at the heart of the Yorkshire Moors. For over a year, the pair visited and revisited the valley as it is today – lonely, haunted and beautiful. The Ciderhouse Rebellion drew upon Rosedale's history, bringing to life the ironstone industry which is now vanished and gone and the lives of the thousands of people that had worked there. The remarkable result is that this brilliant work of music is completely stunning – and it is immensely pleasurable to experience two great masters create such wonderful sound-portraits which they fashion with such skill. They say in the album sleevenotes: "This is improvised music of the moment, as though spun from the wind and weather, improvised from the whispers of history and as if created from the very stones of the valley itself."
Genius Loci 2: The Valley Of Iron involves no voices, just two acoustic instruments. The wonder is that Adam and Murray conspired to conjure magic out of thin air and ply their craft with commendable professionalism and striking alacrity. The album forms part of a wider multimedia project, Ironstone Tales, that will come to being in the later part of 2022.
The ten compositions describe the Rosedale scenery in vivid colour, and The Ciderhouse Rebellion take such delight in taking their time and wringing out all the fleeting notes; for instance, 'Moor's Edge Above Old Kilns' lasts over six and a half minutes, while the shortest is 'Mine Entrance Above Old Kilns', with only four minutes. 'Navvy Camp at Green Head Brow' sets the opening scene, with Murray's shimmering accordion introducing the story and Adam's vibrant fiddle leading the endless dance. 'Black Houses On Rosedale Branch East' is starts with a heady maelstrom of frenzied bows and keys, all the time fading away but finally peaking again; The beautiful splendour of 'Cottages At High Baring' paints a picture of quiet serenity and timelessness, while 'Old Kilns Above Stables Farm' is a mad tarantella of joyful sound.
Fiddle and accordion blend deliciously and sedately in 'New Kilns Below East Mines', while the andro-like 'Bank Top Kilns' ups the pace and but changes the rhythm with a giddy switchback-like mood. The last track, 'Swindle Howe Road', is a lovely, desolate tone-poem; you could almost taste the ensuing silence, which lingers on for a very long time. This album has had a profound effect on me; I feel that I'm doing a disservice to Adam and Murray for entrusting me with such an entrancing collection. Reviews, adjectives and epithets seem lame and shallow when The Ciderhouse Rebellion perform such an utterly breathtaking show as this. Excuse me when I bow to their altar… five-star choice this definitely is!
---
BEN & DOM
Shoulder (EP)

Under The Eaves Records UTE006
Ben and Dom are experienced choir leaders and community musicians from South London; the startling and thoroughly wonderful harmonies comes from their close friendship and a shared love of singing together which has lasted for many years. Ben takes the high notes and Dom songs the low notes; the pair say that this commendable debut EP would have been impossible to produce but for the funding from Arts Council England, a week in residency where some of these songs found their first beginnings and everyone at the EFEx studio – the effect of echoing voices has greatly enhanced the vibrant intensity.
Ben and Dom write the six tracks, and their message stands for male expression and sensitive feeling. All the songs are completely unaccompanied; the complicated vocals tumble and turn with the opening 'Lopsided', which is about an ancient tree. 'By Your Side' is a life-affirming love song, and the chorus confides: "I'll give you my shoulder as constant as the day / I'll give you my shoulder, so sit awhile and stay." The one-minute 'Atlas' develops the EP title theme: "Take the world off my shoulder and into the arms of a friend." The menacing 'Crow' has a stunning coda where multitracked voices wash and flow like the restless sea; 'A Beautiful Man' leads to the serenely majestic finisher 'From One Man to Another', where ten additional voices – including Stephen Taberner, instigator of the Spooky Men's Chorale – roll and cartwheel with spectacular splendour. Shoulder is a mouth-watering and promising debut, and I'm already looking forward to Ben and Dom's next fascinating project.
---
THE HAAR
When Old Ghosts Meet

Under The Eaves Records UTE006
***** FIVE STAR CHOICE! *****
The Haar is an Anglo-Irish quartet which consists of spectacular fiddler Adam Summerhayes, creative accordionist Murray Grainger, bodrhán player Cormac Byrne and golden-voiced singer Molly Donnery. Adam and Murray are the prolific duo The Ciderhouse Rebellion and have recorded many amazing albums; the very latest one, Genius Loci 2: The Valley Of Iron. is out now. When Old Ghosts Meet, The Haar's second offering, is a brilliant reworking of ten well-loved Irish favourites, old chestnuts from the beautiful opener 'Carrickfergus' to the classic 'Wild Mountain Thyme'; Molly, Adam, Cormac and Murray have daringly turned this oh-so-familiar repertoire completely on its head and produced what is an inspiring and delightfully bold work of art.
Molly's dramatic, wonderful vocals sets the scene for 'Carrickfergus', her smouldering, unique solo voice absolutely soaring and swooping with Adam, Murray and Cormac probing, searching and experimenting to discover new freeform melodies to sample. The popular pub singalong 'Danny Boy' and the serene 'Donal Óg' promise some great and startling things to come, but the band really break out and blossom with a minor-key 'Wild Rover' and a super-rhythmic 'She Moved Through The Fair', which lingers for a gorgeous seven and a half minutes; it's just sheer heaven, with Cormac doing incredible percussive stuff and Adam and Murray absolutely flying.
'Home Boys Home' and 'Whiskey In The Jar' are a heady brace of delights, Cormac audaciously conjuring the sound of a full drum-kit with his bodhrán, Murray's accordion going for broke and Adam's violin reaching for the stars in a breathtaking powerhouse of sound. 'Wild Mountain Thyme' is the perfect finisher; Francis McPeake of the respected McPeake Family fashioned the verses from the Scottish traditional song 'The Braes o' Balquhidder', but The Haar's over-seven-minute offering is dark, moody, magical and magnificent. Molly caresses her breathless voice and Adam's stunning violin is a pretty good likeness of a rock guitar god. Verdict: One of my cherished and jealously-guarded albums – hands off!
---
MARCH 2022
---
THE EXMOUTH SHANTY MEN
Tall Ships and Tavern Tales

WildGoose Studios WGS438CD
The Exmouth Shanty Men, Devon's 'original buoy band', was formed in 2007. They dress as old-time merchant sailors on stage, and this double album of songs is taken from their two-part stage show of the same name. The first disc has 17 traditional shanties from Liverpool, the West Indies, The Gulf of Mexico and all the seven seas around, and the second disc has 16 traditional and written salty repertoire that sailormen like to sing in a drinking den. Tall Ships and Tavern Tales was recorded live and unaccompanied in the nearby Lympstone Church, East Devon, by WildGoose co-director and recording engineer Doug Bailey.
The men answer to such unlikely names as Cannon Fodder, Levi Shore, Curly Quill, Mal de Mer, Wayne the Anchorman, Cameron Nails, William Rowlocks, Eamon Fyre and Alfredo Heights; Disc One opens with the old traditional tall-ship shanties and forebitters, starting with 'The Leaving Of Liverpool' (learned by American collector Richard Maitland from a Liverpool sailor in the late 1800s) to the unusual Barbadian work song 'Down Trinidad' and the eighteeth-century 'Spanish Ladies'. The informative notes say 'Down Trinidad' was collected by James Madison Carpenter from a Welsh sailor; in fact, Carpenter collected it from a Cardiff seaman, Richard Warner, in 1928.
Disc Two is the second half their show, and it's set in a quayside alehouse. Landlady Helen Highwater leads with Tim Laycock's 'Heaven's A Bar', and Cannon Fodder belts out the Newfoundland ditty 'Jack Was Every Inch A Sailor', a loose and comical retelling the biblical story of Jonah and the whale. 'Betty Stogs' is a pean of praise for a particularly well-loved Skinner's Brewery beer, written by the shantymen's former first mate and brewery agent, Martin John Nicholls. The group perform song after song, from 'Yarmouth Town' to Tom Lewis's 'Sailor's Prayer'; Tall Ships and Tavern Tales is very useful for chorus song-fuelled folk fans or shanty enthusiasts, who can look up and learn the copious maritime cannon. It goes without saying that Doug Bailey must be congratulated for recording a massive wealth of folk archive material in the WildGoose catalogue and reference library.
---
MICK'S QUICKS
Sincere FolkWales apologies for this late review, but Dorset duo Ninebarrow have absolutely come up trumps with their five-star album A Pocket Full Of Acorns (independently released, no catalogue number). The 11 tracks, including the opening song 'Come January' and the final 'Sailors All', are brimming over with exquisite harmonies from Jon Whitley and Jay Labouchardiere, brilliant songwriting which embraces with traditional cannon and summery, warm sounds; cellist Leo Mackenzie, John Parker on double bass and Evan Carson on percussion enhance the impressive production. 'Cry Unity' really hits the high spot. FolkWales verdict: Thumbs up!
Dundee six-piece combo The Craigowl Band have double-celebrated their 40-year existence and the 50th birthday of the National Association of Accordion and Fiddle Clubs (NAAFC) with the independently-released album 50 40 (KC2021CD), which contains some 15 sizzling reels, jigs, strathspeys, fiddle solos and scottisches for Scottish dance fans and armchair listeners alike. The line-up consists of accordionists Kevin Clark and Bruce Quirie, fiddler Stella Wilkie, pianist Dennis Morrison, Neil McMillan on double bass and drummer Graham Jamieson; it's hugely enjoyable. FolkWales verdict: Thumbs up!
Adam Ross is a Scottish singer-guitarist-songwriter who founded the Moray band Randolph's Leap; his debut solo album, Looking At Mountains (Olive Grove Records OGR0047) features 10 life-affirming songs, his high tenor voice interweaving with Jenny Sturgeon's delightful harmonies and Pedro Cameron's violin. From the opener, 'The Quiet Joys Of Parenthood', to the finishing track, 'When The Music Ends', it's a really feel-good offering. FolkWales verdict: Thumbs up!
My God, the Scottish contemporary scene is absolutely flying and soaring; composer, musician and producer Barry Reid has made a big move from the city of Glasgow to the rural landscape of the Highlands and has called this magnificent album Breathing Space (Rose Croft Records RCRCD101). Several musicians help out, including fiddlers Laura Wilkie, Lauren MacColl and Patsy Reid, flautist Hamish Napier and whistler Ali Hutton; Barry uses a wealth of instruments, including acoustic guitar, synthesizers, harmonium, Ableton drums and samples, and creates a wonderful sound which is totally hypnotic, completely relaxing and pretty uplifting as well. FolkWales verdict: Thumbs up!
La Típica Folklórica are eight exhilarating France-based musicians who play three violins, two bandoneons, double-bass, piano and the bombo drum; the album, La Diablera, (TAC Faubourg du Monde TAC043) represents the vast country of Argentina from Le Rio de La Plata in the north to Patagonia in the south. The sizzling repertoire veers wildly between contemporary compositions with full-on avant-garde jazz to soaring scat singing; for example, if you wanted to hear some traditional Argentine tango, then this isn't the medium to listen. Still, you can't help but marvel at some wonderful dexterity and occasional flashes of squeeze-box wizardry; after all, this is Argentinian folk, Jim, but not as we know it. After much consideration, I'll have to give it the benefit of the doubt. FolkWales verdict: Thumbs up!
After her split with John McCusker, her husband of 11 years, Heidi Talbot releases an on-line promo single to her forthcoming album, Sing It For A Lifetime; 'Empty Promise Land' features a duo with Appalachian fiddler Dirk Powell and Mark Knopfler's guitar, and it's achingly beautiful. FolkWales verdict: Thumbs up!
---
FEBRUARY 2022
---
BEINN LEE
Deò
BL21
***** FIVE STAR CHOICE! *****
This six-piece power-band from Uist in the Outer Hebrides was formed in 2013 and consists of pianist Anna Black, fiddler Maíri Thérèse Gilfedder, drummer Seoras Lewis, multi-instrumentalist Pàdruíg Morrison (accordion, piano, trombone and synth), bagpiper, flautist and whistler Micheal Steele and vocalist and guitarist James Stewart. Deò, their second offering, is a swaggering, triumphant display which showcases proud and vibrant Scottish tunes and a number of new go-ahead compositions. Renowned and respected piper Fred Morrison describes their sound as "a breath of fresh air; the feel of the Uist music runs beautifully throughout the album and the sensitive vocals and top drawer musicianship add up to one of the most exciting prospects I have heard in a long time."
Beinn Lee's performance is a magical mix of strong Gaelic island culture and a no-holds-barred, super-daring music-making, a little bit like the American West Coast scene – or the band's repertoire could be described as Scottish West Coast! Thereby hangs a tale: Maíri Thérèse's great-grandfather, Donald 'Sunndachan' Macphee, was an undertaker, a whisky agent and a coal and grain merchant from Benbecula. He was a well-known tradition bearer and one of a very few island fiddlers, often seen cycling around with his fiddle on his back. He taught renowned musician Iain McLachlan many tunes in the old style when he was a young boy; in the opening track, 'Sunndachan', his stentorian voice rings clear as a bell on a 1953 recording, when he would have been 70. Micheal plays the bagpipes and he also composed the first tune, which breaks out in a dizzy reel, written by Allan MacDonald Glenuig – absolutely storming stuff.
Beinn Lee proudly veer from traditional Gaelic culture to rock band status. Pàdruíg writes the second track, 'Anam Soar', an original Gaelic-language song which was first released as a single; insistent drums and a bubbling synth are the bait which hooks the pop masses. 'Still On Standby' are two-parted jigs which were written by the late Norman MacLean, whose major influence stretched across Gaelic and traditional music; the musicians pay a handsome tribute to him, and the set concludes with an Irish slide which Beinn Lee learned from Angus and Kenneth MacKenzie. 'Tha Mise Dal Dhachaigh' was written by Norman MacDonald; he worked on a ship bound for New Zealand, and the song describes how he looked forward to getting home to Cadh' an Tarbeart and the dear ones he loved most. However, the accordion cranks up and Beinn Lee wallops into 'The Black Bay Shuffles', four juggernaut reels; 'A Dan J. Campbell Reel', found by Maíri Thérèse's son, is followed by a tune learned from the Arisaig fiddler Gabe McVarish, and next is one by another superb musician John Martin. The final reel is commonly called 'The Drunken Piper', and the band rocks and rolls as if there was no tomorrow – utterly astonishing and thoroughly delightful as well.
This album is a well-deserved winner, and members of the band pile in and compose such head-turning songs and tunes. The lovely 'Sail With Me' was written by Pàdruíg, who also wrote the melody 'The Downpour Distillery', in honour of The North Uist Distillery Company and maker of the famous island gins; Maíri Thérèse wrote 'Jamie and Lucy Finn' for her sister and brother-in-law's wedding, and 'The Fall' was written by James and is deeply personal and soul-baring. Beinn Lee draw upon and learn from the welter of Scottish culture; 'Trip To Heisgeir' was inspired by Pàdruíg's 21st birthday, 'Yester House' is a fierce strathspey which was composed by the famous Neil Gow and 'The Wild Boar of Invermoriston' was written after Micheal's late-night drives and a very close encounter with the said animal. 'You're My Best Friend' is an out-and-out favourite, and the album concludes with the two wonderful sets of tunes, 'Dram By The Fire' and the jig medley 'Lose The Shoes'. It's sheer heaven.
Well – when the dust has died down, Beinn Lee is flying the Saltire flag for Gaelic and Uist tradition blended in with a magical fire that entices in the crowds. It's so much better than that.
---
HARTWIN DHOORE TRIO
Valge Valgus

Trad Records TRAD013
Hartwin Dhoore is the diatonic accordionist member of Trio Dhoore, three outstanding musicians and brothers who are based in Flanders, Belgium. From 2015 to 2021, Hartwin lived in Estonia, the Northern European country and Baltic state where he reaped so much inspiration for his contemporary compositions. In the Estonian language, Valge Valgus means White Light; two very talented souls from Estonia, violinist Sofia-Llys Kose and guitarist Carlos Liiv, have joined Hartwin on the trio's first and new album – and the nine marvellous tracks score absolute winners.
The Hartwin Dhoore Trio has a magical knack of faultlessly blending his accordion, the violin and the guitar; Nartwin, Sofia-Llys and Carlos just get in there and create a wonderful repertoire of acoustic tradition and go-ahead musicianship as well. Hartwin writes a plethora of startling and wonderful pieces, from 'Algus' (Beginning) to 'Udu' (Fog), 'Ösel Valss' (Osel Waltz) and 'Allikas' (Source). The three really contribute to the burgeoning and bubbling Estonian music scene, which is unquestionably sky-rocketing to the stars right now. I have marked Valge Valgus down as a long-lasting favourite.
---
ALAW
Drawn To The Light / Denwyd i'r Goleuni

Taith Records TRCD00025
***** FIVE STAR CHOICE! *****
Master guitarist Dylan Fowler, dazzling violinist Oli Wilson-Dickson and golden-voiced treasure Nia Lynn have triumphed again with ALAW's third stunning album. The departure of famed accordionist Jamie Smith left a huge hole in the group; however, Nia admirably and efficiently filled it in and smoothened the musical surface. She also lit the blue touchpaper on ALAW's creative artistry and sent the trio soaring to wondrous lands anew. Nia is the daughter of musician, researcher and Yr Hwntws frontman Gregg Lynn; she joined Gregg's newly-formed band just before the pandemic hit. Now she is back together with Oli and Dylan, and Oli was so impressed with the new member that he felt inspired to write some pretty jaw-dropping tunes. These compositions have been included on Drawn To The Light / Denwyd i'r Goleuni, with Nia collaborating on melodies and lyrics.
This album is oh-so special… from the very first track, Oli and Dylan explore the melody and the chords, the violin and guitar gently probing, while Nia's sultry and soulful contralto voice introduces the well-loved traditional song Hiraeth. The stanzas may be familiar, but the trio take it one magnificent notch further; Oli absolutely sparkles, Dylan expertly steers the powerhouse rhythm and Nia just soars – her hypnotic vocal range is reminiscent of June Tabor's smoky presence, but refreshingly unique. She also fills out ALAW's sound with her delightful harmonium riffs; on the second track – Dylan and Oli's invention 'Wês Wês' and Oli's spirited melody 'Gorymdaith y Gwyfod' – her notes simply swirl and blend in empathetically with the two instruments. Nia, Oli and Dylan are just flying on the third track, 'Betawn in Fachgen Ieuanc &c I.M.' and ALAW's Estonian friend Tuuliki Bartosik's breathless, super-complicated 'Leo's Slängpolska'; it's just heaven.
If there's any justice in the world, 'Fill The House' should be a storming, life-affirming hit single; Nia takes the lead part and Oli piles on some lovely, rich harmonies, and the coda is an out-and-out firecracker. Oli and Nia devised the tune of Ieuan Glan Geirionydd's turn-of-the-18th-century 'Baled Y Morfar Rhuddlan', violin and guitar catching fleeting snatches of harp arrangements while Nia's voice blends dissonantly in – strong stuff! Nia's impassioned vocals sculpt 'Bwthyn Fy Nain' into a very great traditional song, and Nia and Dylan employ a brace of startling tabwrdds for Oli's solo viola tune 'Having Doubts' and 'The Memory Of Llanedi'.
One fascinating fact is that Nia uses her voice as another instrument; a fine example is Oli's rousing tune 'Ty Fy Llystad', just after the beautiful traditional piece 'Digan y Pibydd Coch'. The defining sound of ALAW is totally on-its-own; Dylan reaches lofty chords that other mere mortals cannot aspire to, Oli quite simply is a violin god and Nia's majestic vocals and deft keyboards have the habit of turning male knees into jelly. The closing track is the traditional quiet lament 'Dai'r Cantwr', a heart-stopping tribute and a worthy finisher. As our Frank said on BBC Radio Wales' Celtic Heartbeat: "Simply incredible… it really is outstanding." And so say all of us!
---
DEEPAK PANDIT, PRATIBHA SINGH BAGHEL
Inheritance (EP)

Sufiscore GMJSSHIGT001
www.thesoundcafe.com/post/deepak-pandit-pratibha-singh-baghel-take-indian-romantic-poetry-music-to-stunning-new-heights
'Thumris' are 19th-century romantic Indian poems and melodies; producer and violinist Deepak Pandit and Hindustani star vocalist Pratibha Singh Baghel have breathed a remarkable new life into them with musicians from the Budapest Symphony Orchestra in this delightfully long-lasting EP – or could it be a short CD? Anyway, Thumris are a unique genre of semi-classical music that focusses on emotion, love and romance and are associated with dance, dramatic gestures and mild eroticism; they are injected with oodles of traditional culture as well. Thrumris are a magical mix of ancient tradition, melded with Indian classical ragas as well – all in all, a very revealing and wonderous style musical art.
'Thumri' comes from the Hindi verb 'thumakna', which means 'to walk with dancing steps so the ankle bells tinkle'. Deepak Pandit was born into a Qawwali family, surrounded and inspired by devotional Sufi music for his formative years; he's one of India's leading violinists and composers. For Inheritance, he chose four thumris that would best reflect Pratibha Singh Baghel's musical vision and her soaring, exquisite voice. The violinist and singer studied all the Thumris, how they had been sung by the original singers, and they emphasised on the words and phrasing.
The thumris are 'Hamari Atariya', 'Saiaan Bina', Lakhon Ke Bol' and 'Babul Mora'; Pratibha's beautiful swooping and falling voice, coupled with shimmering strings, conjures a magical presence. Recorded in Seventh Heaven Studios in Mumbai and mastered at London's Abbey Road, this is art music dancing closely with proud tradition – and the four pieces will surely stand the test of time and will greatly contribute to Indian genre and culture.
---
JANUARY 2022
---
GLEN PETERS
Just For The Record

Fflach 373N
Wales-based singer and songwriter Glen Peters lives in Pembrokeshire and runs the events at Rhosygilwen Mansion arts centre, south of Cardigan town and the village of Cilgerran in the north of the county. He discovered the burgeoning London folk scene as a recently-arrived Indian immigrant in the 1970s; encouraged by singers like the mighty Bob Davenport, he performed at the Islington Folk Club, soon developing his unique style of adapting traditional songs to cover political messages of the day. He became involved in singing and collecting his own songs and running his own folk club. Now, 40 years later, he has recorded his debut 11-track album, the proceeds of which all go to Unicef's global vaccination programme.
Glen plays guitar, octave mandolin and traditional mandolin. Two fiddle luminaries, Eliza Carthy and Angharad Jenkins, help out, and ex-Pressgang accordion member George Whitfield is prominent on two songs. Pembrokeshire musician Alan Coy blows sousaphone, Angharad James is the pianist and Patrick de Broux plays hurdy-gurdy. There are six traditional, musical hall and Shakespeare pieces, including Bob Davenport's 'There's Bound To Be A Row' and 'She Does Like A Little Bit Of Scotch', and Glen writes the other five: 'Damascus Skies', about a young Syrian boy whose body was washed up on a Turkish beach as he and his mother tried to flee the war in his own country; 'Slaving For Your Craving' centres on the Chinese cockle gatherers who perished in Morecambe Bay; 'Lord, You Never Told Me' points the finger at Tony Blair's decision to invade Iraq; 'The Sun Is Quite A Hottie', written for his grandson about concern for the warming climate; and 'Aurora', which depicts the sun goddess of dawn.
---
SUTHERING
If We Turn Away

BR003CD
The noun Suthering denotes the sound of the wind through the trees or wind under a bird's wing; the feminist duo Suthering is Julu Irvine and Heg Brignall, two storytellers who champion female characters, creating tales for women and unearthing the female heroines of folk. They moved from Bristol in 2019, just before the pandemic locked down the country, and they live in Dartmoor in the county of Devon, where they run two community choirs; they also run their company Folk Singing Retreats, which offers singing weekends for adults in Cornwall.
What drew them together as songwriters was their shared love of collecting stories and turning them into hard-hitting, beautiful songs. Heg lends piano, Julu plays flute, guitar and whistles and their soaring, high-pitched harmonies strike inspiring sparks – it's a very different, joyful and unique sound. Their debut album consists of 10 absorbing tracks, with the feminist angle heavily slanted; the opener, 'Black Bull of Norroway', written by Julu, tells the story of a scared young girl who journeys through unknown lands and becomes fearless young woman. Another Julu song, 'This Land', centres on a growing awareness and concern about the growing catastrophes in a changing climate; the album title came from this line: "Fragile's this land we made and heavy's the price if we turn away." Heg's song, 'Kingfisher', released as a single in January, describes the many lockdown walks along the canal which ran past their house; the kingfisher was a ray of hope during a very dark time. Heg wrote 'Downfalling' about her grandad's time as a prisoner of war; and the traditional Silly Sisters' song 'Blood And Gold' was a jaw-dropping live one-take, Julu and Heg's unaccompanied voices magnificently cartwheeling and tumbling, 'Boatman', written by Julu, is a stunningly pretty piece, inspired by the lockdown; its message is that a simple act kindness and compassion can bring a ray of light, and it's well worth a satisfying finisher.
Julu, Heg and Lukas Drinkwater produced the album and Lukas recorded and mixed the tracks at his Polyphonic Recording studio in Stroud. For enhancement, Lukas added his double bass and Aaron Catlow's violin.
---
JACKIE OATES & JOHN SPIERS
Needle Pin, Needle Pin

Recorded independently, no catalogue number
https://www.jackieoates.co.uk/
One of my favourite moments at our wonderful folk club was the sheer delight of seeing Jackie and John in the flesh and performing totally live; the magical combination of her demure, sweet vocals and her dainty five-string viola-playing, supported by his crystal-clear harmonies and masterful, empathetic melodeon, just captivated the audience. The two of them form a hypnotic web which can be very precious and unique; I felt really privileged to be part of the experience that night.
Jackie and John first started performing together during spontaneous guest spots at the Nettlebed Folk Club in South Oxfordshire. They shaped extended sets and worked on material from their local county, including the 'Lace Tells' – songs and rhymes sung by the lace-making girls, learning the intricacies of the task and as an outlet for the tribulations of the time. The Lace Tells formed Jackie's radio ballad The Lacemakers – the Lost Art Of Telling. Jackie and John's debut album, recorded live by Richard Evans at his house in Bath in 2020, features tunes and songs of English, Flemish and French origin, and the Lace Tells form a major part.
Jackie settled in Oxfordshire, but she was born in Congleton. The opening title is the renowned John Tams song 'Congleton Bear', the Cheshire town famed for its dancing bear who apparently dropped dead on the night before the town's wakes; the church bible was sold in order that the town could buy a new bear. 'Beatrice Hills Revisited / Old Hog Or None' is a cameo of Gloucestershire-born Beatrice Hills, who was in her 70s when she sung and played for the collector Russell Wortley in 1956, along with her sister Emily; and 'Gallons of Brandy / Fox Tell' is a fiery Speirs-composed slip-jig, followed by a lace tell which was sung by Buckinghamshire children, a local story in which a girl narrowly avoided a sinister fate by her worthless lover.
The second theme, Stitch Upon Stitch, are eight tracks belonging to Jackie's radio ballad; Mike Cosgrave adds piano. 'There Was A Lady All Skin And Bone' was a popular lacemakers' Halloween ballad, 'The Bone Lace Weavers Song' marries three Bedfordshire lacemaking song fragments and the lacemakers used to chant Shakespeare's 'Come Away, Come Away Death'. 'Death And The Lady' was the popular ballad for weaving lace, and 'Lace Tells' were a quartet of children's songs. 'Cattern Day Tells' were a triad of Flemish lacemakers' holiday songs. The album finishes with L'P'tit Quin Quin' (The Little Child), a song in the Picard language of Northern France of a lacemaker who is telling her little one to go to sleep so she can get on with her work. Needle Pin, Needle Pin contains many undiscovered and interesting gems – check it out.
---
DECEMBER 2021
---
GWEN MÀIRI
Douze Noëls

TELYNEG001
***** FIVE STAR CHOICE! *****
Gwen Màiri grew up in a Welsh-speaking home in Scotland and is also a Gaelic learner. She studied pedal harp at the Royal Scottish Academy of Music and Drama, and her busy career includes being a clàrsach instructor for Sgoil Ghàidhlig Ghlaschu, a pedal harp tutor in the Royal Conservatoire of Scotland, working with professional orchestras and chamber groups, tutoring the Welsh youth folk ensemble Avanc and a songwriting commission from the National Library of Wales; her playing can be heard on the albums of Gwilym Bowen Rhys and the musicians' juggernaut 10 Mewn Bws. I reviewed her wonderful debut offering Mentro, awarded her five stars and I eagerly looked forward to her next exciting project.
This is such a lovely and stunning album, and it's completely instrumental. Back in 2020, Gwen originally developed an 1897 collection as sheet music for students. The collection was called Douze Noëls Basques en Dialecte Souletin – translated, twelve popular Basque carols in the Zuberoan dialect. However, she grew so attached to Douze Noëls that she could not resist elaborating on her own arrangements and creating a performance version. Then came the deadly covid lockdown; however, Gwen kept her project completely solo. With socially-distanced guidance from Stwdio Sain's engineer Aled Wyn Hughes, she battled against the sound of roadworks and gardening to record in a covid-proof way at home – and this is the amazing result.
The brightest jewel in the crown is the well-known 'Birjina Gaztettobat Zegoen'. The formal translation is 'There Was A Young Maiden', and it was popularised by the West-Country parson Reverend Sabine Baring-Gould under the title 'Gabriel's Message': "The Angel Gabriel from heaven came / His wings as drifted snow, his eyes of flame…" Gwen interprets this beautiful carol expertly with such an empathetic and delicate reading, so completely perfect for the Festive Season.
She tells the wondrous story of the Nativity with an inspiring, hypnotic stance, and the carols seem to flow from her fingers: 'Kanta Zagun' ('Let's All Sing'), 'Hots Aingureikin' ('Let's Go With The Angels'), 'O Eguberri Gala' ('O Christmas Night'), 'Oi Betleem!' (O Bethlehem!') and 'Kanta Beza Bitoria Boztarioz Mundiak' ('Let The World Sing Victoriously With Joy'). Gwen not only 'strikes the harp gladly' – the instrument positively sizzles and vibrates in her masterful magic presence.
Gwen's album finally ends with 'Hirour Erregereki' ('With The Three Kings'), leaving the listener hanging on each precious note. It doesn't matter if you cannot understand the Zuberoan dialect of the Basque language – just take my advice: Buy your partner Douze Noëls for a Christmas present, and they will love you forever.
---
CHRISTY MOORE
Flying Into Mystery

Sony Records LC00162
***** FIVE STAR CHOICE! *****
My admiration for Christy Moore knows no bounds – and that's really saying something. From the musician with the wonderfully innovative Irish quartet Planxty, he progressed to the stunning mega-band Moving Hearts – including the founder Donal Lunny, guitarist Declan Sinnott and uilleann piper Davy Spillane – before branching out solo and appearing in a plethora of sell-out concerts. He's a veritable mighty showman and star – but his welcoming personality and his calm, deep-brown voice would transform a vast auditorium into a cosy kitchen music session for his friends. He is that unique and so very, very special.
Christy's latest 12-track album is his tribute to the songwriters who have carried several torches and really put Ireland on the musical map, combined with his own take on two traditional songs and two gems that he has written (or co-penned). First up is 'Johnny Boy', penned by the late Thin Lizzy guitarist Gary Moore, and Christy whispers his way through a delicate, pretty song which is steeped in memories; next is 'Clock Winds Down', Jim Page's grim one-minute-to-midnight global warming warning, and Paul Doran's beautiful work 'Greenland'. The title track, 'Flying Into Mystery', is Wally Page and Tom Boylan's razor-sharp cameo on the fishing trade, and 'Gasún' is Tom Tuohy and Ciaran Connaughton at their writing best. Mick Hanly's 'All I Remember' is his gentle put-down on the Catholic education and establishment, while Ricky Lynch's 'December 1942' is a sombre portrait of life under the Nazi occupation.
Christy plays guitar, and the six session musicians include James Blennerhassett (double bass), Mark Redmond (uilleann pipes) and Seamie O'Dowd on a variety of instruments such as guitars, harmonica, bouzouki, mandolin, fiddle and banjo. However, Christy maintains the most minimal sound – a wisp of banjo here, a trace of mandolin there. He even breaks out in a traditional 'diddly' mouth music – pure bliss. It all adds up to taking in the singer and the song; and when he delivers 'Bord na Mόna Man', the fantastic poetry takes brilliant flight – it's so very Irish, very Christy in the first degree.
Christy is a magnetic storyteller, and he's at the top of his trade, too. For instance, he combines with Wally Page to write 'Zozimus & Zimmerman', a true account of him and his partner witnessing the great American legend Bob Dylan, "the king of vaudeville",  performing live at a Dublin concert. It's respectful, sincere and quietly funny in an intelligent, entertaining way that only Christy could imply: "Some old singers rest upon their laurels / Some old hoofers hang up their dancing shoes / But when kings and queens and laureates came calling / Zimmerman still had lots of gigs to do…"
The last track is Christy's final tribute to Dylan's writing, 'I Pity The Poor Immigrant' – a gravely topical and vitally important set of words which focus on the upheavals of Afghanistan and the cruel world, where tens of thousands are desperately seeking shelter and the inflexible, uncaring methods of the Westminster Home Office. What a thought-proving, uplifting album; I'll treasure Christy's performance always.
---
NOVEMBER 2021
---
MARTYN JOSEPH
1960

Pipe Records PRCD034
***** FIVE STAR CHOICE! *****
At the age of 61, Martin Joseph can look back with pride and satisfaction on a glittering performing career spanning four decades. 1960 is his 23rd album, and suddenly he is transported back into a 10-year-old Penarth boy who is learning the guitar; Martyn's musical trail soon leads him to Glenn Campbell's version of the Jimmy Webb-penned 'Wichita Lineman', before he discovers the wonderful world of Crosby, Stills and Nash, Joni Mitchell and Bruce Springsteen. In the meantime, Martyn's father shadow-boxed his son in the forlorn hope that he would toughen up and learn to stand on his own two feet; nowadays, Dad is in his eighties and a nursing home resident in the hazy mist of Altzheimer's, a shadow of his younger self. It's time to take stock – just as in the stunning opener, 'Born Too Late', Martyn questions: "How long does it take for a man to know himself?"
'Born Too Late' is full of regrets and missed chances. He toured with Art Garfunkel in 1994, and Art persuaded him to relocate to Nashville, where so many great songs and tunes in what was called 'New Country' were being made. Martyn never got there – and he never got to Laurel Canyon and Los Angeles to hang out with Joni, Steven, David, Graham and Neil Young either. As he says: "I was born too late, but the defining question suggesting that life is about whether we're born out of our time but what we do with our time. What would have happened if I'd lived a different life, for example lived a little earlier, in the days when some of my favourite songs were being written".
1960 is a deeply soul-searching and personal album. He doesn't mention it, but there's a strong suspicion that the covid lockdown has heavily influenced his writing; he recorded, engineered and mixed the album at his own place in Wales, and on the majority of songs, Martyn multi-tracks himself on vocals, backing harmonies and a variety of instruments including acoustic, electric and bass guitars, piano, harmonica and programming; he even sorts out the hand-claps.
The second song, 'Felt So Much', paints a vivid 1965 picture of his faraway teenager days, that Renault and Dad at the wheel, window open and elbows out; Janis Ian (remember 'Society's Child' and 'At Seventeen'?) joins him on harmony vocals and piano in 'House', which he co-wrote with BBC radio presenter and author Simon Mayo. Massachusetts musician and songwriter Antje Duvekot lends her lovely echoing voice in the shimmeringly beautiful 'We Are Made Of Stars'; and Martyn raises a joyful ruckus on the spiritual-sounding 'Down To The Well', fellow Welshman Andrew 'Wal' Coughlan accompanying him on bass guitar. The guitarist-songwriter solos on 'Trying To Grow', and writes the immortal lines: "I got stuck like a rabbit, rigid with fear / but there's moments in those headlights when the path is so near…" That just about sums the concise feeling up.
Martyn picks and chooses the session musicians quite sparingly, like sprinkling gold dust. The dependable Andrew is there on 'Under Every Smile', as is The Haar's percussionist Cormac Byrne and trumpeter Rupert Cobb; Scottish contingent Duncan Chisholm and Innes Watson play viola and violin on 'In Your Arms'. However, Martyn is completely alone when writes his affectionate letter to his Dad in the highlight song of them all, 'Shadow Boxing': "The bottom line is love, my Father / The bottom line is love."
The bonus track is solo Martyn with his simple guitar singing 'Wichita Lineman', tracing  back to his boyhood, the early years and fleeting memories of that Renault and his Dad shadow-boxing. It's profoundly moving and stunning; it couldn't possibly be a covers hit, but the artist develops and shapes the song and really comes to terms with himself. There's no doubt about it –1960 is a very fine album indeed.
---
MICK'S QUICKS
Scott Murray is well known for his 50 years of folk music, his time in Scottish group Sangsters and his 2012 album, Evenin's Fa; his new offering of self-composed songs and tunes, There Was A Love (Independent release, PARTAN02CD) was made just after his 75th birthday, and Karine Polwart described it as "A thing of great beauty." Murray's gritty voice and eight musicians, including harpist and harmony singer Corrina Hewat, Lau accordionist Martin Green and pianist, arranger and producer Dave Milligan, share the bewitching accompaniment. FolkWales verdict: Thumbs up!
Geronimo is the solo recording project of Jeroen Geerlinck, impressive musician of Belgian bands Snaarmaarwaar, Hot Griselda and Spilar; he's a producer and studio engineer who is very active on the Belgian folk scene. His new album is Run High (Trad Records, TRAD015), on which he plays acoustic and electric guitars, electric bass, synths and drum programming; first off is an acoustic guitar solo, then his compositions gloriously build up to a heady bandwagon of intelligent progressive rock. It's folk, Jim, but not as we know it – but what's not to like? FolkWales verdict: Thumbs up!
Aberdeenshire-born Iona Fyfe is steadily gaining a reputation as one of the best young folksingers around; this time she's written a lost-love song single in the Scots language, 'The Cauld' (streaming release, Bandcamp). Pianist Michael Biggins is featured, and the musicians are guitarists Graham Rorie and Jack McRobbie and electric bassist Charlie Stewart. FolkWales verdict: Thumbs up!
The Last Inklings are ex-Kadia musicians Leonardo Mackenzie and David Hoyland; beautiful 'cello, percussion, synth and crystal-clear harmonies abound in their debut album The Impossible Wild (Gillywhisky Records, GWR0002), which explores nature, myth and superstition in the modern world. Irish poet Robert Perceval Graves, born in Dublin and died near Harlech, Gwynedd, influenced them in 'Hunter's Folly', and their lyrics are soul-searching and profound. FolkWales verdict: Thumbs up!
New York City-based Caesar Pacifici & Brian Brooks have recorded their third album, Brigands (independent release, no catalogue number) with pleasant guitar work in the Irish reels and jigs, but the whole thing crumbles apart with some pretty limp performing and singing. Fiddlers Kevin Burke and Tony Fitzgibbon accompany the tunes; however, the last traditional song, 'The Beauty Of Kashmir' (real title, 'Cadgwith Anthem') just peters out and falls flat on its face – very disappointing. They could learn so much from the uplifting, spirited voices of the Cornish fisherfolk. FolkWales verdict: Thumbs down
 Ken Pomeroy is a Cherokee singer-songwriter from Moore, Oklahoma; she performs the lyrics of a writer well beyond her years, and she has been compared to Joni Mitchell and Patti Griffin. Christmas Lights In April (Horton Records, no catalogue number) finds her and her acoustic guitar completely solo and alone; she weaves songs like a true artist. Check her out. FolkWales verdict: Thumbs up!
The gruff, mid-western drawl of Mr Alec Bowman_Clarke makes you suppose that he's American, but he's not; this singer-songwriter, guitarist, photographer and filmmaker comes from Glasgow, and he co-owns Corduroy Punk Records with his partner, Josienne Clarke. His debut 'lockdown' EP, A Place Like Home (CPR06CD) contains five hard-hitting articulate songs, with Josienne on clarinet, saxophone and vocals; Lukas Drinkwater engineered and played guitar, bass and keys. Fine and intelligent stuff indeed. FolkWales verdict: Thumbs up!
---
OCTOBER 2021
---
REG MEUROSS, HARBOTTLE & JONAS
Songs Of Love & Death

HAT 024
Here's yet another collaborative collection from the fallout of the covid pandemic of 2020 and 2021! Reg Meuross is a pretty marvellous songsmith – in fact, it was the great Martin Carthy, MBE, who described him as "a mighty songwriter". He has been a constant presence in the devolved nations' folk clubs and music venues throughout his 30-year career, with 13 solo albums to his name; however, he has never delved into the traditional songs that have so influenced his writing. He says: "Over the years I have played with some of the finest folk musicians – but during lockdown I began to look more closely at the songs of these islands, songs that were ever-present at the clubs where I played."
When David Harbottle and Freya Jonas, Devon-based husband and wife, enquired if he was interested in a meeting of musical minds, Reg's first thought was one of his favourite folk songs, 'Lord Franklin'. The 1850 broadside ballad had been fondly remembered since the teenage Reg – who was just learning the guitar – heard John Renbourn's version: "I loved what we did together so much that we decided to continue work of all ten songs." And that song has been included now as the third track on this album.
It's easy to dismiss Songs Of Love & Death as just another collection of familiar folk fodder, but that's really not the case; the album just tugs at your sleeve and urges you to delve into the familiar folk canon, discover what their history is and what makes them tick. The songs are absolutely brimming with Reg's persuasive, appealing voice and his flowing guitar, added to David and Freya's lush, melodic sounds. Subtle, beautiful harmonies abound, and cittern, concertina and harmonium swell the imposing production. Engineer Josh Best-Shaw recorded this fine display of the best-loved folksongs in the 1,000-year-old St Petroc's church at the Devon community of South Brent.
First up is the Irish song 'She Moved Through The Fair', and already a lot of unanswered questions are piling up. Did his young love die? Did she come to him in the flesh, or was it his lover's ghost? What happened to their wedding? There are so many queries which have been buried in an age-old folksong's myriads of variations. The second track is the lovely English song 'As I Roved Out', which is popular in Ireland, Scotland and a slightly bawdier Irish version; all ten songs, from 'Adieu Sweet Lovely Nancy' to 'I Wish The Wars Were All Over', cannot be faulted.
The eighth track is Reg's interpretation of 'Anachie Gordon', a ballad from the North-East of Scotland which tells of the Gordons of Elgin, the Frasers of Saltoun and the forced marriage of a young girl and a rich suitor. It rose in popularity and became the favourite song of June Tabor and the Oysterband, The Unthanks, Jackie Oates and Belinda O'Hooley, Loreena McKennitt and Jon Boden amongst other folk literati. The folk process makes very interesting reading: Nic Jones recorded the ballad on his 1977 album, The Noah's Ark Trap, and Mary Black learned it from him – however, she misheard the first verse "Buchan is bonny" and interpreted it as "Harking is bonny". In actual fact, the ballad is titled 'Achnachie Gordon'; Joe Rae sung it on the 2001 Musical Traditions album The Broom Blooms Bonnie, and has said: "I have been singing this for more years than I care to remember, certainly in public since the 1950s… could Mr Jones have heard a recording of this ballad? I doubt this and as I have never heard him singing this, I leave it to the musically gifted among you to compare the traditional tune, as sung by me, to that composed by him. I use the term traditional as it is now well over a hundred years since my gutcher learned it." Dr Sheila Douglas commented:  "The pronunciation of Auchanachie has to be seen in the context of Gaelic, from which it comes. A broad vowel must be followed by a broad vowel in the spelling of a word (and a narrow vowel by a narrow) and these extra vowels are not pronounced. The pronunciation today is Annachie – often aspirated consonants disappear in spoken Gaelic."
As I said – delve into the old songs, and you have pull out certain juicy, earthy hidden roots. And it's all because our Reg followed Mary Black's mispronounced place-name…
---
DEUX SANS FRONTIÈRES
Deux Sans Frontières

Stoneridge Records Stone181
This is a truly lovely debut album which, I have to confess, slipped through the FolkWales net – my sincere apologies for that. Deux Sans Frontières are fiddler Mark Prescott and octave mandola player and guitarist Mike Gulston, occasional musicians at the Pentreffest European dance club based in Rudry Parish Hall, near Cardiff, and familiar and well-loved sonneurs at the famous Grand Bal de L'Europe in the community of Gennetines, Auvergne, plus forays in The Netherlands, Belgium, Germany and England.
In recent times, Mark has focused on his fiddle accompaniment of singer songwriters and in his instrumental work on the music of France and Brittany. In Wales, he established his reputation for an enthusiastically infectious teaching style. Mark and his friend Steve Hyde used to run an evening music class in Llantwit Major, the Vale of Glamorgan, which evolved into The Thingumijigs community ceilidh band, and he has been a teacher at Pentreffest. Mike's involvement with French and Breton music began as a dancer with the London French dance club On Bouge, and he is highly regarded as a dance teacher as well as a performer. He began playing French and Breton dance music with two bands, Boa and later Pach Pi; then he joined GIG CB! (the George Inn Giant Ceilidh Band, who play at Gennetines) which brought him into contact with Mark. He has recorded two albums with singer Blanche Rowen – company manager for trac Cymru, the folk development organisation for Wales – and one solo album, Barking.
Deux Sans Frontières translates from the Gallic tongue as two players who know no borders, and they perform in a select circuit inhabited by Eurodance enthusiasts and boundary-breaking musicians. The album consists of traditional and contemporary dances, plus Mike and Mark's original tunes; they create an appealing sound, hypnotic music that just tugs at your sleeve and makes you want to fall in love with your partner and get up on the dance floor. The first track, 'Suite de Maraîchines', transports everyone to Brittany and the joyous fest noz; prancing, strutting fiddle and powerful guitar invite and cajole one and all to move your feet. The two salute their Euro-colleagues with some mighty fine compositions; Dave Shepherd, fiddler with Eurodance band Blowzabella, wrote the beautiful mazurka 'The Rose Of Raby' and Cliff Stapleton (ex-member of Blowzabella) had a hand in 'The Dream' waltz, while Mark and Mike do magnificent justice to the two tunes. The purposeful guitar starts off in a solo Breton-spiced 'Suite An Dro', and Mark falls into the compulsive rhythm with some snakey, weaving playing; Breton guitarist Soig Siberil wrote 'The Road To Kerrigouarc'h', and Deux Sans Frontières doff their collective caps to the Welsh tradition by performing 'Dacw Ngariad' and 'Hen Ferchetan', two tunes that blend in smoothly with the An Dro.
'Rossignolet' is a traditional eight-time waltz; and fiddler and hurdy-gurdy player Ravi Sawney penned the pretty mazurka 'Benjamin's', matched with Mark's mazurka 'Stoneridge'. The wild 'Auvergne Bourrées' capture images of dancers throwing themselves with crazy abandon; On Bouge and La Chavannée (the wonderful dance band from Central France) are credited with the inspiration behind Mark and Mike's set. Thierry Mirebeau wrote the waltz 'Humeurs', and Anne Marie Summers composed the gorgeous mazurka 'The Wrong Turn'; and Mark and Mike pay tribute to Frères de Sac – bagpipe and recorder player Christophe Sachettini and his younger brother Jean-Loup, who plays the diatonic accordion – for their brilliant arrangement of the complicated Breton dance 'Kost Ar C'hoat', which inspired Deux Sans Frontières. (Christophe is a member of Grenoble-based supergroup Dedale; Jean-Loup learned the diatonic accordion from Dedale's leader, the brilliant Norbert Pignol. Frères de Sac have transformed into Frères de Sac 4tet, with woodwind players Marie Mazille – who plays nyckelharpa – and Marie Mercier.)
The last track is the busy, fierce 'Plinn DSF', which Mark and Mike wrote; it's a return to their beloved Brittany, after a whirlwind tour which has taken them and the audience on a grand tour of France. There's a final thank-you: "Dedicated with love to the dancers… our constant inspiration". Or maybe it's Deux Sans Frontières, who inspire and excite everybody in the dance halls everywhere?
---
DAMIAN CLARKE
Covered 4 Cancer

Vox Pop VOX031
Folk-rock Pressgang band-member Damian Clarke and his hammered dulcimer spent the painfully-long covid lockdowns by putting together this charity album and helping to raise funds for Cancer Research and The Stroke Association. Damian, who also plays hurdy-gurdy and makes his living as an artist, was one of the many people who encountered a stroke. He says: "I lost the use of my left arm and hand for a few weeks in 2019 and had to re-learn the fine motor skills necessary for music and Art. Most of my paintings were drawn and composed using my left hand."
During the lockdowns, Damian decided that as he was unable to perform live, he would like to use the time in a positive way. He took the unusual step of recording ten well-known commercial songs that he felt could be re-interpreted using his favourite instrument, the hammered dulcimer: "I'm not usually known for covering pop songs", he admits. "There are some songs that I played when I learned the guitar in the late 1960s, or we sang in harmony in my father's car, or that I had enjoyed dancing to."
If you suppose that I'm banging on about a covers album, then think again. The hammered dulcimer has a precise knack for fitting snugly into pop material. There's a Lindisfarne smash, 'Meet Me On The Corner', with a fabulous chorus which everybody can sing along; a Prince hit, 'Manic Monday', and one of Steeleye Span's lovely chart-toppers, the unaccompanied 'Gaudete'; Damian's voice is multi-tracked here! The Beach Boys performed the traditional 'Sloop John B', and the hammered dulcimer is a perfect match for the jangly guitar introduction; while Joni Mitchell watched 'Both Sides Now' shoot up The Top Ten. Christy Moore recorded Jimmy McCarthy's 'Ride On', and Tom Petty composed 'Freefalling'.
In complete contrast, 'Bella Ciao' is a 19th-century Italian protest song which was written to rail against harsh working conditions in the rice fields in Northern Italy, and 'Nkosi Sikelela' is the South African National Anthem – again, Damian harmonises with himself, or selves. Labi Siffre, who was a member of the Pontypridd Writers, wrote 'Something Inside So Strong'. A bonus track is a nice surprise: The fiery Welsh tune 'Hoffed Ap Hywel' is performed on an accordion – is it by George Whitfield, by any chance? – and segues into the hammered dulcimer, which plays out the Irish jig 'The Rakes Of Kildare'. Remember, all proceeds go towards these two deserving charities. Please give generously…
---
SARAH MCQUAID
The St Buryan Sessions

Shovel And A Spade Records SAASCD002
This album is a direct consequence of the covid lockdown; it was conceived in the spring of 2020, when Sarah's gigs and tours were cancelled and postponed because of the pandemic. Thanks to a successful crowdfunding campaign, she was able to finance a live solo recording in the lovely 1,000-year-old church of St Buryan in the western tip of Cornwall – not far from her home. Covid regulations meant that the church was entirely empty, without an audience – but the multi-instrumentalist and singer-songwriter's performance is her most emotive and powerful yet.
This is the sixth offering that Sarah has recorded, and it really is something of a stunner. Martin Stansbury, her longtime sound engineer and manager, placed ambient microphones throughout the church's acoustic space to capture her breathtakingly beautiful sounds encompassed in her 24-year career – from 'Charlie's Going Home', recorded in her first album, When Two Lovers Meet, to her Ibanez electric guitar riffs from her recent collection If We Did Any Deeper It Could Get Dangerous.
Sarah revisits the 15 songs in The St Buryan Sessions, starting with the lovely a capella 'Sweetness And Pain' as her deep, rich voice reverberates around the church. She picks up her DADGAD acoustic guitar and performs 'The Sun Goes On Rising', a mother's heartbreak, then switches to the Ibanez for 'If We Dig Any Deeper…', making intelligent use of the echo box – Sarahs in perfect harmony! She switches to piano for 'The Silence Above Us', then to menacing drum for 'One Sparrow Down'. Her subtle mastery and captivating songwriting reached parts which other singers long for – she has the rare knack of opening the gateway to her heart and mind, letting the listener feel and touch  a true innovator's soul.
The layered chords and the pretty progression masks the warning lyrics and the deadly menace of 'Yellowstone', when it looks like all humankind will be pretty much snuffed out in a cataclysmic volcanic eruption; the time estimate must be – two thousand years? Two hundred years? Gulp – now? The 1945 jazz classic 'The Autumn Leaves' takes on a whole new meaning in Sarah's slowed-down passionate interpretation and touch – and she doffs her cap in reverence to Jacques Prevert's original French lyric. 'In Derby Cathedral' is absolutely gorgeous, with her echo box being kicked in for the second time and a flood of angelic voices surging and ever-flowing. She moves over to the piano and performs the late songwriter Michael Chapman's 'Rabbit Hills', who sadly died this year in his eighth  decade; and Sarah wraps up the virtual concert with her acoustic guitar and her 'Last Song', which extends for over six minutes.
There's no applause in these strange and disconcerting times, because no-one's listening – covid regulations means the church must bar the door to all and sundry. But Sarah has made something magical happen; and Martin has recorded her entrancing and hypnotic set. It all goes to show that in the awful, terrible pandemic, some artistic brilliance can shine a light somewhere. Sarah – we salute you.
---
JASON ROUSE
Fieldish Recording

Independent release: no catalogue number
Jason Rouse is a contemporary artist who comes from the rugged, spectacular west of Ireland and now has emigrated to South Wales; he's a pure exponent of the Irish uilleann pipes and his playing is detailed, expressive and typical of the style found in this region. He is the custodian of several sets of uilleann pipes and has taught and played internationally. He co-chairs the South Wales Uilleann Pipers Club and is organising concerts, classes and festivals, with the aim of promoting Irish music in Wales.
The uilleann pipes is the national bagpipe of Ireland; the bag is inflated by means of bellows strapped to the musician's right arm, the chanter and the ingenious regulators – each regulator key sounds a different note when opened. Jason plays a set of pipes pitched between C and B, made by Geoff Wooff at his workshop in Miltown Malbay in County Clare, and he's influenced by the artistic performing of a host of great pipers – including Seamus Ennis and Leo Rowsome – who have stamped their mark on the traditional history and culture of Ireland.
Fieldish Recording is for the fans of all the old Irish field recordings. Tapes such as these were passed between musicians like sacred relics, sometimes finding their way onto a commercial release, but more often than not locked away within the closed circles. Jason taped himself on an old Awia cassette recorder, the one that he has kept in his pipes case since taking up the instrument all of 21 years ago. It has captured many concerts, recitals, lessons and pipers over the years. The selection of tunes on this album reflects a long-time graduation and the influences of different pipers over the course of this journey.
There's a hand-written warning on the CD: "Crackling noises OK – do not correct!" The album launches off to a sizzling trio of reels ('The Silver Spear', 'Speed The Plough' and 'Mrs McLeod's Reel'), the beautiful air 'Buachaill Ón Éirne' and the jig 'Wallop The Spot'. There's a set dance, 'Rodney's Glory', and then Jason picks up a John Sindt whistle – still making whistles at the age of 78 – for a brace of polkas. Jason returns to the pipes for two lovely mazurkas: 'The Irish Mazurka' and 'Shoe The Donkey'.
He runs through a gamut of pipe tunes, from the fiery jigs 'The Lark In The Morning' and 'The Atholl Highlanders', through 'The Spanish Cloak' waltz to his last cracking finisher, the cheeky fake-minstrel song 'Oh Susanna', written by Steven Foster. Jason is on the road to enhancing the reputation and the wonderment of the uilleann pipes by releasing this fine album; I've already made a mental note of preserving it in the Favourite Sounds file!
---
SEPTEMBER 2021
---
VARIOUS ARTISTS
Sense Of The Place

Independent release: SFC001
Stonehaven Folk Club, founded on the North-East Scottish coast in 1987 by a small group of enthusiasts who were passionate about folk music, has twice been voted the BBC Alba Folk Club Of The Year and has received several accolades for its work in support of the living tradition. Recently, the club set up Folk-in-Crisis Fund, in conjunction with Hands UP for Trad, to provide financial relief for performing artists who were seriously impacted by the covid-19 pandemic crisis. The club commissioned ten artists to create a legacy of original songs rooted in the North East of Scotland, in particular the coastal communities – and a grant from Aberdeenshire Council made this happen.
The ten artists are Iona Fife, deeply rooted in the North-East tradition and Scots Singer of the Year at the Alba Scots Music Award; Claire Hastings, winner of the BBC Young Musician of the Year; Orcadian guitarist Kris Drever, Lau member and winner of seven BBC folk awards; singer Mike Blackburn; Jenny Sturgeon, writer and featured artist for Travelling Folk and BBC Radio; singer-songwriter Findlay Napier, teaching artist and master storyteller; Bob Knight, well-known and well-loved around the North-East folk clubs; Steve Byrne, Malinky band member and writer in his native Scots tongue; Irene Watt, singer, clarsach player, ethnomusicologist and teacher who runs three choirs; and Paul McKenna, featured in BBC Scotland's Transatlantic Sessions. Joining them are very accomplished musicians Aaron Jones (vocals, cittern, guitar), Mhairi Hall (piano, harmonium, whistles) double bassist Emma Smith, pianist Jen Austen and Malinky member Mike Vass, who plays fiddle, tenor guitar, mandolin and baritone ukulele; he's also a top producer, who lends his expertise in Sense Of The Place.
The album fires off to a mighty kick-start with Iona's elegant song-crafting in her bloody ballad 'Lady Finella' – born in 950AD, she assassinated King Kenneth II to avenge the killing of her son. Strathfinella Hill and Den Of Finella, near the coastal village of St Cyrus, are said to have taken their names from the Lady. Claire's 'Keeper Of The Light' was inspired by the lonely Todhead Lighthouse and a keeper who was swept away by powerful waves in 1917; and Kris paints a vivid picture of the artist Joan Eardley, who did much of her elemental and formative work in portraits and vistas of Catterline Bay. Mike writes 'Boat Memories' about the decline of the fishing industry and its effect on families and communities, and Jenny's 'Violet Rae' describes a Mearns woman emigrating to America; she was "leaving the red clay earth" to embark on an uncertain life. Findlay writes of the amazingly true story of 'The Snowdrop', where the selfless Alex Ritchie survived a Greenland wreck; and Bob fashions a song about the celebrated clipper ship 'Cutty Sark', whose designer was Hercules Linton, born in the coastal village of Inverbervie, just south of Stonehaven.
In 'The Sands O St Cyrus', Steve traces his family history through his great-great-grandmother, Eliza Gordon, who was born in the village of Benholm; she married James Gordon of Tarland and they settled in Montrose. Eliza died in her 40s, and several of her six children succumbed to TB in their late teens. One child who survived was Steve's great-grandfather; he moved down to Arbroath, where Steve's grandmother, his mother and Steve were born. Irene comes from a long line of fisherfolk, and in 'Calloused Hands', she tells the story of the menfolk all going to the North Sea to earn a living. The last song – and a perfect finisher – is 'Far From Home', in which Paul researches the life of Helen Milne, born in Stonehaven; in the Great War, she volunteered to head for India where she bravely saved hundreds of wounded men. She died at the very young age of 31, never to see her birthplace any more.
Sense Of The Place is a thoroughly attractive album, and it emphasises the importance of the long line of the writing tradition in the North-East coast of Scotland. Stonehaven Folk Club and Aberdeenshire Council deserve to be congratulated for bringing the idea into being and helping the artists financially in the covid pandemic – but praises go to the ten artists, who contributed such stunning efforts and brought this collection to the launching pad. Well done, each and all.
---
NARAGONIA
The Guesthouse Sessions: Naragonia invites

Trad Records TRAD016
***** FIVE STAR CHOICE! *****
Spectacular Belgian diatonic accordion virtuosos Pascale Rubens and Toon Van Meirlo formed the duo Naragonia in 2003; she also plays violin and lends her voice, and he plays bagpipes, bombarde, flutes and soprano saxophone. Together, they make such breathtaking and inspiring sounds; Pascale and Toon compose strong, infectious melodies of utter quirkiness, meshed with gorgeous simplicity and crossed with eye-popping complicated mastery. They have performed throughout Europe and the USA, including the marvellous Dranouter Festival in Belgium, and their November workshop weekend at Halsway Manor, near the village of Crowcombe in Somerset, is a total sell-out. Their last offering for the Belgian Trad Records was Silentski, released in 2020; however, the covid pandemic took hold and absolutely destroyed concerts, gigs and theatre life. During this long period with no work and no income, Pascale and Toon took it upon themselves to organise seven livestream virtual sessions, with Naragonia collaborating with different musicians and writing 14 exhilarating compositions; and this winning album is the triumphant outcome.
The Guesthouse Sessions combines a series of tracks where Pascale and Toon invite one or two musicians, including percussionist Jo Sanders, soprano saxophonist Philippe Laloy, pianist Veronique Rubens, Simon Leleux on percussion, ud player Tristan Driessens, guitarist Maarten Decombel, vocalist Guy Swinnen and guitarist and pianist Jeroen Geerinck. Toon and Pascale's children, Charlotte and Mathijs, contribute voices on Pascale's pretty track, 'The Swallow', and Mathijs also plays trumpet. Jo accompanies Naragonia in the opener, Toon's delightfully switchbacked 'Gooik', named after the Belgian village where an annual festival is held every July. Pascale and Toon deftly juggle a shower of lovely notes with their diatonic accordions, leaving the virtual audience panting their tongues and wanting more. Simon's gentle booming percussion and Tristan's restless ud form a backdrop for Pascale's beautiful composition, the minor-key 'Alio'; and Guy's rock-pop voice is utterly perfect for two of Reineke Van Hoorweghe's lyrics, 'Songlines' and 'We Map The Stars', for which Pascale writes the dreamlike melodies.
Toon and Pascale have a solid track record of playing together with other musicians from different countries, including the lovely diatonic accordionist Andy Cutting, our own Fernhill, Paulo Lameiro and Gregory Jolivet, Blowzabella band member and superb hurdy-gurdy wizard. They make a brave and courageous stand for forging inter-European new music; in the very dark days when our so-called Philistine leaders seem hell-bent on building ugly walls which separate these islands still further from our neighbours, Naragonia's explorative philosophy and intelligent attitude is a shining beacon from the impending Brexit storm.
The two writers enjoy an equal number of tracks – seven, to be precise. Toon composes some sizzling, dazzling music in which the two diatonic accordions are absolutely soaring and swooping, tumbling and cartwheeling over each other; Pascale, on the other hand, chooses her own path and ventures down a different, delicate road. Her voice features on the graceful, memorable waltz 'Tout La Temps', and she caresses the accordion keys on the absolutely gorgeous instrumental 'FC Burns'.
Their style of performing is refreshingly unique, and it's tantalisingly reminiscent of some of the great classical works. There's no doubt about it – Pascale and Toon are at the top of their tree in the Euro-music stakes. Five stars!
---
THE MAGPIES
Tidings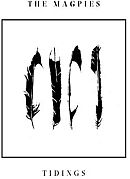 Independently released; no catalogue number
The Magpies are an impressive high-energy all-woman trio from Yorkshire, and since they burst onto the scene in 2018 they have been creating excitement wherever they have played with their own original interpretation of transatlantic folk. The slimmed-down version is Celtic Connections Danny Kyle Award-winning guitarist, banjo-player and singer Bella Gaffney, amazing clawhammer banjo player and singer Kate Griffin and acclaimed fiddle-player and tunesmith Holly Brandon; They have appeared in several festivals, including the mighty Cambridge, and they took on a hectic Wales, England and Scotland tour in September, launching off at the Acapela Studios in Pentyrch and finishing with Downend Folk Club in Bristol.
The original Magpies was a quartet made up of Polly Bolton (vocals, mandolin, banjo and bouzouki), Holly, Bella and cellist and singer Sarah Smout; engineer Dave Boothroyd recorded this line-up for Tidings. Impatient mandolin and stomp-box herald the impressive 'Two Magicians', with some heart-stopping harmonies in the chorus lines; and the band is off again in the breathless, switchback 'Catharthis', written by the wonderful Liz Carroll. Bella explores some deep female experiences in the touching 'Run River Run' and 'No More Tears' – and the summery banjo salutes Gillian Welch with the Appalachian-sounding 'Rock Of Ages'. The lovely, familiar 'Galway Shawl' suddenly redefines itself with a really inspiring arrangement as well, and a breathy, beautiful voice drawing the audience in with its developing denouement.
Holly's instrumental 'Foss Island' is serene and spectacular, with fiddle, mandolin and 'cello cartwheeling over themselves in a jig-time fantasy, while Polly's mandolin fires off a sparkling shower of exhilarating notes in 'Shuffle Set'. Polly, too, is the writer of 'Golden Girl', a weird little story-song with harmony voices dipping and diving; and she christens the final track 'Balls To The Wall', a mandolin-led melting-pot with crazy time signatures and complicated scores that would make other timid bands just give up in frustration. What a very fine finish – and Bella, Kate and Holly should have no problem about winning themselves a horde of new fans as well with their effervescent musicianship and pioneering attitude. Go, girls!
---
BAGGYRINKLE
Shaking Plaster From The Wall

Independent release: ORRCD03
What is a baggyrinkle? It's is a soft covering for cables – or any other obstructions – to guard against chafing the sails. Baggyrinkle is also the name of the Swansea shantymen, who were brought together by Dave Robinson and Terri Kennedy, officially the business manager; the shanty choir is still singing together in their 27th year, and past roles include a doctor, medical scientist, nurse, headmaster, jewellery maker, businessman and NHS manager. The crew is Terri, Tony Beddow, Ken Bond, Alan Clifford, Dave James (Dave the younger), Andy Baker, Kevin Howcroft and Gareth Cornfield. The elder Dave – now in his venerable eighth decade – has bowed out and retired, well satisfied with the hundreds of sea songs that Baggyrinkle have dusted over and revived. They've been several times to Ireland, sung in England, The Netherlands, Germany, The Baltic and many appearances in Wales, where the elder Dave and his men organised the successful Swansea Shanty Festival – an wonderful achievement.
Shaking Plaster From The Wall is their fourth album, and this time they ring the changes; out of a generous batch of 20 chorus, mining, fairground and sea songs, there's only one shanty left – and that's the Welsh-language 'Codi Angor' (Weighing Anchor). Baggyrinkle's track notes are very informative and helpful, but the research slightly differs here. J. Glyn Davies, friend of shantyman Stan Hugill and head of Celtic Studies at Liverpool University, worked in the Liverpool-based Cambrian Line from 1892 to 1896 and says that the Welsh language was commonplace; however, as Davies writes in his books – Cerddi Huw Puw (1923), Cerddi Robin Goch (1935) and Cerddi Portinllaen (1936) – there were no Welsh tall-ship shanties. He wrote shanties for Welsh children, so they could feel the excitement and hŵyl of the sea – and this was one of them, sung to the shanty 'Across The Western Ocean'. As with many fine Davies sea songs, 'Codi Angor' was absorbed into the Welsh culture – and the Swansea lads give it their all.
Sailors working on The Cambrian Line had a natural sense of harmony, and Baggyrinkle are stoutly maintaining the four-part tradition with a proud swagger. Nick James recorded the album at the Barham Centre, a community building based at Mount Pisgah chapel in the Gower village of Parkmill. Andy takes the lead to the Keith Scowcroft/Derek Gifford belter 'When All Men Sing' – a welcome opener. Next up is the traditional Welsh love song, 'Ar Lan Y Môr' (Beside The Sea), with flowers describing a man's true love: lilies for purity, thyme for virginity and rosemary for faithfulness. Cicely Fox Smith's poem 'Copper Ore' illustrates the Jane Price ship from Swansea, heavy laden and helplessly sinking; and Gareth takes up the melody in the mining song 'I Can Hew', written by David Dodds. Dave (the younger) wrote 'Nights Are Eternity', about the woman's feelings when her maritime lover sails away, and Tony joins him. North Eastern songwriter Jez Lowe penned 'Black Diamonds' after a famous pub in his hometown; meanwhile, Ken makes a good job of the Colin Wilkie song 'You Won't Get Me Down In Your Mine', and he contributes an extra verse as well.
Alan's voice tells the tragic account of the Hull-based trawler Gaul H243, which went down in the Barents Sea in 1997 with the loss of all 36 crew; Richard Grainger, from the fishing town of Whitby, wrote this gripping story of the 'Trawler Gaul'. Pitman's son Alex Glasgow wrote 'Close The Coalhouse Door' for a radio programme; he added the 'bairns' verse after hearing about the terrible Aberfan disaster of 1966, where tons of black slurry engulfed Pantglas School. These are the black years scarred by South Wales mining history – Baggyrinkle mark the Welsh miners' fight with the 'Sliding Scale' coal strike of 1898, where Valleys coal owner William Lewis and the other coal magnates instigated a cruel scale based on the miners' wages and the price coal fetched in the open market. However, the folk process is very powerful – and it could be that the Northumberland influence smothers the hymns of Wales.
Baggyrinkle doff their collective caps to the great writers of the folk scene, including Steeleye Span's Rick Kemp, the awe-inspiring John Tams, Dave Webber and their own Dave James. Shaking Plaster From The Wall ends with a reprise of the title track, and a loving tribute to the late Johnny Collins, who coined this phrase. Johnny accompanied the lads as a distinguished Baggyrinkle member on a tall-ship tour of the Baltic. I can just imagine Johnny's rip-roaring bass rumble and the chorus rounds as they disappear from view…
---
AUGUST 2021
---
STEVE ASHLEY
Steve Ashley's Family Album Revisited

Talking Elephant TECD465
The Steve Ashley Family Show, with Steve singing his unusual and wondrous songs, was first performed in Cheltenham in January, 1979; the cast featured Fairport Conventioners Chris Leslie, Dave Pegg and Simon Nicol, Martin Brinsford from The Old Swan Band, a couple of dancers and a slapstick pastry cook. Steve repeated the show a few times with the addition of the late and sadly-missed Bruce Rowland and the harmony group Capes; he says that the most memorable performances were fundraisers for Help The Aged and The International Year Of The Child.
Steve had hoped that an album of the show would be released in 1980; however, the record companies were unwilling to take the risk. Come 1981, Steve was busy playing for festivals and benefits for CND, and his previous songs were left on ice. The Family Album was eventually released on Dave and Carole Pegg's Woodworm label in 1982 – and Peggy, who produced the album, says: "It was one of our first releases and to my ears, still stands up today with the quality of songwriting and the 'vibe' of all the musicians involved. It was great fun to do and I still love listening to it. It's lovely to know it's being made available again."
Who's releasing it? Take a bow, Talking Elephant Records, who have re-titled it Steve Ashley's Family Album Revisited. One track has been reinstated from the previous album, and Steve has included a poignant a capella solo memorial to his friend Bruce. Also included are the Albion Band's Trevor Foster on drums, Mark Powell on keyboards, Capes, copious sleeve notes and an article by Simon Jones of Spiral Earth. The well-loved songs are here – from 'Family Love, 'Born To Rule' and 'Pancake Day' to 'Once In A While', 'I'm A Radio' or 'The Rough With The Smooth." Steve is totally on his crazy own when he impersonates a confused  stray dog in 'Lost And Found' – in fact, the pooch is pictured in a gatefold sleeve of the 1979 company, which includes a very young Steve and Fairport surrounded by babies, toddlers, children and friends. A worthy souvenir!
---
SPIERS & BODEN
Fallow Ground

Hudson Records HUD024CD
***** FIVE STAR CHOICE! *****
It was 1999 when 'Squeezy' John Spiers and Chicago-born Jon Boden first went on the road and really pricked up the public's ears by several degrees; by the time they called it a day as a duo in 1914, they had recorded six amazing albums, won many folk awards and planned a ten-member band called Bellowhead, which rocketed to popularity and played to an absolute host of sell-out concerts. Jon and John explored various new solo projects for many years until the revived Bellowhead released their Reassembled CD – and the very good news is that they are back together now, and this excellent new collection is pretty well bound to chalk them another accolade.
Breaking away from the dazzling orchestral arrangements so typical of Bellowhead, Fallow Ground is Spiers and Boden completely on their own; just vocals, melodeon, fiddle and stomp box, nothing else. However, they create a unique, magic sound which grabs the crowd by its collective shirtsleeves and compels them to listen – soaring, crazy bow, powerhouse squeezebox and Boden's tortured, beautiful voice introducing the opening track 'Bluey Brink', a dark Australian ballad from the late Peter Bellamy which tells of drinking sulphuric acid and a beard catching fire. Next up is 'Butter and Cheese and All', a Bellamy version of Sam Larner's 'The Greasy Cook', which keeps the pot boiling and bubbling, and syncopated instruments plus dancing boots build it up to a satisfying climax. The swaggering fiddle cuts in with 'Cuckoo's Nest', an extremely unusual Morris dance tune from the village of Filkins in the Cotswolds; 'Saltash' and a pace-quickening 'William Irwin's Modal Hornpipe' brings the trilogy of melodies to a triumphant end.
John composed 'The Fog' after experiencing the desperate hopelessness of the thick winter mist that never goes away; 'Giant's Waltz' was written by Jon after a visit to the majestic Giant's Causeway in the North of Ireland; and 'The Ironing Board Hornpipe' was named in an attempt to remind John to use it more often. The most pleasing aspect is that Spiers and Boden mix and match a fine clutch of traditional material with their written repertoire and other contemporary songs – Graham Miles' 'Yonder Banks' is a prime example. It all goes into this wonderful global community called The Folk Scene, and Squeezy and Jon are top of the tree with their inspiring and exciting musicianship.
Each and every one of the 11 tracks is to die for. 'Hind Horn' is mostly from the North of Scotland and the tune is French-Canadian. 'Goddesses' and the minor-key 'The Red House' are taken from Playford's Dancing Master of 1651; musicians in Wales play a popular major version of 'The Red House' called 'Tŷ Coch Caerdydd' (The Red House in Cardiff). The album title, 'Fallow Ground', is usually named 'As I Stood Under My Love's Window' or 'The Cock'. 'Funny Eye' is an incomplete tune from the 19th-century manuscript of John Henry Gilpin of Bampton, so John finished it; and 'Cheshire Hornpipe' was learned from John Kirkpatrick, who found it in Daniel Wright's An Extraordinary Collection of Pleasant and Merry Humours Never Before Published, Containing Hornpipes, Jigs, North Country Frisks, Morris's, Bagpipes and Rounds, with Several Additional Fancies Added. Fit For All Those That Play Public. The sombre 'Reynardine', with its dark, malevolent poetry, serves as a warning to all maidens everywhere: beware the werewolf or some evil force that will get you pregnant.  John plays the last track – 'Bailey Hill' and 'Whittingham Clumps' with its see-sawing shower of notes – with a one-row-four-stop D melodeon, made in Welshpool by the remarkable Rees Wesson; John admiringly describes it as "an absolute doozy of an instrument!"
This is a precious little gem of an album; the more I play it, the more I love it. In other words, Fallow Ground will serve as one of the eight discs that I'll take with me when I get wrecked on a desert island…
---
CHRIS NEWMAN
Breaking Bach

Old Bridge Music OBMCD23
***** FIVE STAR CHOICE! *****
I consider that I'm not a religious guy, but I definitely make an exception of bowing down and worshipping Chris Newman's fabulous musicianship and his golden guitar artistry with the wonderful Irish harper Máire Ní Chathasaigh. But in March 2020, along with just about every other artist everywhere, Chris found himself completely without live work due to the global covid pandemic. He writes in the album sleeve notes: "Regular gigs in arts centres, village halls, folk clubs, music societies, churches and festivals, as well as every overseas tour, simply vanished overnight. With zero warning we all had completely empty diaries with no prospect of knowing when things might return to normal."
After a brief period of wondering "what on earth do we do now?" it occurred to Chris that this would be an ideal time to work on a scheme that had been on his mind for some time. He went into the Old Bridge studio – which he and Máire own – to make a recording and interpret twelve pieces written by Johann Sebastian Bach on a flatpicked steel-strung guitar – and this is the commendable result.
Bach, born in Eisenach, Germany in 1685 and died in 1650, is regarded as one of the greatest composers of the late Baroque period. He is revered for his instrumental compositions such as the Cello Suites and Brandenburg Concertos, keyboard works such as the Goldberg Variations, The Well-Tempered Clavier and the Toccata and Fugue in D minor and vocal music such as the St Matthew Passion and the Mass in B minor. However, Chris rises above Bach's substantial works with stupendous ability and masterful empathy; and the first track is the dazzling 'Allegro', the nearly seven-minute shower-of-notes excerpt from the Violin Sonata No 3 in C Major, BWV 1005, which is utterly breathtaking and something of a tour de force to learn. Chris totally commands and coaxes his guitar to new heights; Bach never composed for the flatpick, but Chris's sheer mastery makes the listener believe that the venerable composer was missing out somewhere. This piece is the more remarkable; Chris admits that he doesn't read music, and that "memorising these tunes has been something of a challenge." Challenge? It's a major triumph!
The excerpts from the 'Cello Suite No 1 in G Major, BWV 1007, form three tunes which have been transcribed from G major to D major – the sedate 'Prelude', the gay 'Courante' and the tripping 'Gigue'. The Flute Partita in A Minor, BWV 1013, consists of four outstanding tracks; 'Allemande', 'Corrente', 'Sarabande' and the pretty 'Bourée Anglaise'. Chris leads the virtual audience through three excerpts from the Violin Partita No. 2 in D Minor – 'Allemande', 'Corrente' and 'Gigue' – with impeccable alacrity and considerable skill.
'Allegro', the excerpt from the Violin Sonata No 2 in A Minor, brings to a satisfying and scintillating end what has been a completely fascinating and demanding project; Bach's intricate switchback compositions would surely tax musicians' minds and the courage, but Chris has proudly shown that he's the first – and the only – flatpick guitarist to record the works of the German master with an impressive album. Five stars to him!
---
OMAR SOSA & SECKOU KEITA
Suba

Bendigedig BEND18-1
This remarkable album is the second from the collaboration between Senegalese kora maestro Seckou Keita and Omar Sosa, one of Cuba's most prolific artists and seven-times Grammy-nominated jazz pianist. Their pairing unites Cuba and Senegal across the Atlantic's vast expanse; their debut offering, Transparent Water, has toured worldwide since 2017 to enormous critical acclaim, and once again they are accompanied by Venezuelan percussionist Gustavo Ovalles.
Seckou is lauded and respected for his brilliant musical pairing with Welsh harpist Catrin Finch, and the duo have produced a brace of breathtaking albums, Clychau Dibon and Soar. Suba is Sunrise in Mandinka, Seckou's native tongue; and according to Omar, the connection was ancestral. Born and raised in Camaguey, Cuba's oldest and most sophisticated city, Omar has always considered his homeland to be a province of Africa. Seckou grew up in Casamance, the southernmost province of Senegal; his mother's family have been griots – hereditary bards – and kora players for three centuries. His father was a descendant of the great Sunjata Keita, founder of the medieval empire of Mali.
All the basic tracks were recorded at Fattoria Musica in the German city of Osnabrück, and Omar and Seckuo offer a rare type of magic. Suba is where world music collides brilliantly with world jazz, and Seckou's voice and his wonderful kora take the lead on the first track, 'Kharit'; gradually, Gustavo joins in on gentle rhythmic percussion, and Omar's piano blends and waltzes gracefully with Seckou's dancing, swirling instrument. It's completely radiant and rhapsodic, an extraordinary musical statement of Omar and Seckou joining hands of friendship across thousands of miles of ocean. The mystic, drifting 'Allah Leno' is punctuated by the staccato piano, and Jacques Morelenbaum's drifting 'cello paves the way for the starkly beautiful 'Korason'. Seckou's vocal on 'Drops Of Sunrise' is a sheer delight, and 'Voices On The Sea' is a drama in sound, where Dramane Dembélé's flute weaves in and out among the water percussion and the shimmering instruments.
Incidentally, Omar, Gustavo and Seckou are armed with all kinds of percussion, including marimba, talking drum, maracas, bongos, cowbell and calabash; indeed, Seckou and Gustavo experiment with brightly-coloured boomwhackers – musical plastic tubes which can be played by children, teachers and highly-professional musicians alike. Seckou's soaring voice swoops and flies on 'Maam', with the powerhouse piano taking the lead; Omar comes to the fore again on the lovely instrumental 'Floating Boat', with Jacques' sedate 'cello dropping in; and 'No One Knows' is brought to a entrancing end as the piano, kora, 'cello and lazy, summery percussion float off into the night – what a finish! Omar and Seckou's musicianship and empathetic connection with their respective nations is a refreshing breath of pure air – and I look forward very much to their next album.
---
MEL BIGGS
From Darkness Comes Light

Talking Cat Recordings TCCD2103
***** FIVE STAR CHOICE! *****
Mel Biggs is a Derbyshire-based musician, a performer and a highly regarded teacher of the diatonic accordion – in common parlance, a melodeon or squeezebox. She has recorded three exciting albums with the Anglo-European trio Moirai, with Jo Freya and Sarah Matthews, but her latest debut solo has spent an incredible 15 years brewing until she felt confident enough to undertake her own particular project and to go into the studio.
However, she need not have worried – it's a beautiful production, and it has brought admiring compliments from her fellow masters Andy Cutting and Simon Care. Andy has showered praise on her: "For several years I have watched Mel develop and grow as a box player and musician, and listening to her first solo record gives me great pleasure. A strong body of work, beautifully crafted and recorded." Simon nails it: "The overwhelming feeling is of someone who has carefully created, nurtured and delivered a complete musical journey from start to finish." Glittering pearls of wisdom, indeed – and Mel certainly deserves it.
She is well known as a singer, but From Darkness Comes Light is entirely her own spellbinding instrumental compositions; there's only one traditional track, the graceful May Morris dances 'Mounthills' and the skipping-and-striding 'Coleford Jig', in addition to a swelling heavenly choir of her multi-tracked voices ('High Places'.) First up is 'A New Day Dawns', where she coaxes the trembling squeezebox to new heights, and segues into a glorious crescendo which she titles 'Dream Big'. Mel is graced by a wonderful quartet of session musicians: piano accordionist Kat Biggs, guitarist and cittern player Jon Loomes, fiddler Bridget Slater and mandolinist and octave mandola player David Squirrell. Jon recorded, mixed and mastered this lockdown album in September, 2020 and March, 2021 – and David's parts were recorded at home by Peter Millson, who ran sound from David's patio to uphold social distancing regulations.
Mel's fresh and sparking compositions are all the remarkable when you listen to her teaching method that she gives to her squeezebox pupils. The golden rule is: learn to play by ear, "because it enables the pupil to build a stronger connection between you, your instrument and the people around you." Mel teaches students how to listen to music with analytical ears to understand the layers of which it is made up – and listening repetitively allows the students' brains to build a mental blueprint from which they can then build a tune. She says: "The most important skill in making music is listening. Through patient guidance, you'll learn how to let your ear guide your fingers."
Sound advice, indeed – and her inspiring melodies create the satisfying template for sheer and boundless enjoyment. The poet Gerald Manley Hopkins invented the word 'shivelight', and 'Shivelight In Spring' engenders a new hope and optimism; and 'Oppland Upland' is a lovely cameo for a breathtaking view of the Norwegian Oppland mountains. 'Shimmer' is the heat haze in high summer, and 'Long Shadows' is reminiscent of the fading summer and the falling sun. 'Catching Flies' is her tribute to cats everywhere; and 'Winter Weather Warning' is the story of the Malvern Hills, a big storm blowing in and extreme weather warnings all over the news. Mel didn't stop – "a good thing really, because I found this tune up there." 'Silver Linings' describes a depressing Black Dog day, despite Mel's philosophy: but every cloud…
Her expressive diatonic accordion playing is really quite delightful, and she can stand up proudly with the folk world's great composers. The final track is 'Katy's Theme', a swirling, waltzing melody which acknowledges the thriving French tradition and the welcome effect it has had on discerning musicians like Mel. Her solo squeezebox clearly traces out her own entrancing tune, one which – as she says: "had lived with me during my darkest time… I thought at first that Katy was an invisible friend, someone who was watching over me." As Mel reflects in what this piece has done to her now, she realises that Katy has become her aspirational alter ego: Why I'm in no way the finished article, she is all the things I struggle to embrace in myself. Katy is confident, Katy speaks for herself, Katy takes no crap. Be more Katy. This track is a statement of where I am now, where I've come from, but most importantly – where I'm going next…"
Dear Mel, you're overtaking Katy and leaving her behind with this precious and fabulous album. The world is your oyster…
---
CHARLOTTE PETERS ROCK
The Human Condition – 1

Manatee Press MP07
https://charlottepetersrock.blogspot.com/
Birmingham-born Charlotte Peters Rock is a poet-songwriter and a singer who performs regularly at Chester Folk Festival, Northwich and other folk clubs, around Europe and Russia. She completed her project The Peaceful Weavers Of Peterloo and has sewn up a series of 72 songs and four CDs about lifeboat rescues from the coasts of North Wales and England; now she is embarking on another album which tells the story of the history of these islands and the way people are – their foibles, their angers, their sadnesses, their pleasures and their work.
Her deep vibrato voice and excellent a capella verses just capture and ensnare the audience. An ardent Labour supporter, Charlotte swings the sword against greed, selfishness, corruption and cronyism; her opening track, 'For Times To Come', is her six-and-a-half-minute juggernaut demolition job on the lies, charlatanism and attacks on civil liberties which the rich, the privileged and the far right employ to keep the population subdued.
The Human Condition – 1 is a volume of poetic snapshots of industrial unrest and life in the northern counties, encapsulated by 140 years from 'Jackson The Busker' in the 1920s, the pre- and inter-war cameo 'John Jem an Willie an Winnie'; 'Captain Swing' is a vivid account of the 1830s resistance movement, when labourers rose up over the introduction of new threshing machines and the loss of their livelihoods; 'Barnardos Girl – Dilys' is based on the shocking history of Empire and the overseas removal of the children, and the closing song is the poignant life-or-death piece 'Can I Hold Your Hand'. Food for thought – and a considerable amount to chew over.
---
KHASI-CYMRU COLLECTIVE
'Sai-thaiñ ki Sur – The Weaving Of Voices

Naxos NXW76155-2
***** FIVE STAR CHOICE! *****
In the 1840s, Welsh Calvinistic Methodists launched overseas missions to the Khasi and Jaiñtia hills in Meghalaya, a state in North East India which borders Assam and parts of Bangladesh. The missions lasted until 1969 and had a profound effect on Khasi culture and society, the consequences of which still being played out today – a coincidental example is 'Ri Khasi', the Khasi anthem, which is strikingly identical to 'Hen Wlad fy Nhadau', the Welsh National Anthem. The Methodists were more concerned with evangelisation rather than colonisation, and they focused on improving literacy, education and healthcare. In the process, they suppressed many elements of Khasi culture and would have been viewed by many Khasis as colonisers; subsequently, the Seng Khasi movement was formed in 1899 to counter the efforts of the region's missionaries and to protect traditional Khasi culture. But as a cultural and linguistic minority within the British state, the Welsh were more sympathetic to the threat that British imperialism could pose on a small nation. They were dedicated to the Khasi language and printed ancient Khasi literature – and some Welsh missionaries represented Khasi interests against the exploitative practices of the East India Company and the British Empire.
In May 2016, Welsh writer and multi-instrumentalist Gareth Bonello – aka The Gentle Good – began studying for a PhD in music and performance under the supervision of Professor Lisa Lewis at the University of South Wales. His doctorate was part of a larger study that explored the connection between Wales and the Khasi Hills through artistic collaboration. The project produced a theatre piece called Performing Journeys with a mixed Welsh and Khasi cast, Gareth being musical director. He became a regular visitor to Meghalaya and embarked on a three-year session with Khasi musicians – and 'Sai-thaiñ ki Sur is the proud result.
Recorded in the city of Shillong and in villages around Meghalaya, this album explores folk songs, poetry, missionary hymns, folklore and historical and contemporary issues affecting both societies. Gareth plays a duitara – a four-string plucked Khasi instrument – as well as his guitar and 'cello; Khasi musicians include Risingbor Kurkalang (duitara), Rani Maring (maryngod, tangmuri), Jewel Singkli (duitara), Prit Makri (muiñ – a thin piece of carved bamboo attached to a cord and placed on the mouth), and Mebanlamphang Lyngdoh, who plays duitara, ksing, ka bom and kynshaw. Risingbor Kurkalang, Rani Maring and Maban Dingdoh are the keepers of a tradition passed on for generations. During his stay in Shillong, Gareth would improvise with poet and performer Lapdang Syiem and her musical collaborator Apkyrmenskhem Tangsong; her impassioned words: 'To The Men With Hate Speech On Their Lips', with a percussion backing, is a defiant banner of femininity, with the 'cellos sounding in drone and in harmony. Gareth also met the Khasi songwriter, DJ and vocalist Desmond Sunn; they both composed the track 'Kam Pher' in a forest outside Shillong, racing the sunset to finish writing before the cold set in. Gareth would meet superb musician Benedict Hinniewta to jam and compose with duitara, guitar and a bamboo flute called a besli; 'Hediad Ka Likai' is a thing of sheer beauty, with fingerstyle guitar and besli weaving and circulating.
'Sai-thaiñ ki Sur kicks off with Risingbor Kurkalang's sparkling composition 'Mei Mariang', played on duitara; Gareth follows up with the 19th-century writer Daniel Protheroe's hymn 'Pererin Wyf' (A Pilgrim Am I), and an exotic cuckoo heralds the thundery afternoon in Gareth's duitara melody 'Bryniau Cassia' (The Hills Of Khasia). By contrast, Shemphang Thangkhiew's shimmery song-tune 'Ka Sit Tula' is utterly spellbinding. 'Wel, Bachgen Ifanc Ydwyf' (Well, A Young Boy Am I) has Gareth's warm, quiet voice, blended with duitara; 'The English-language 'Soso & Waldo' drifts and floats into its very own gorgeous chord progressions and magical lyrics; and the final track, 'Alawon Cenhaty' is the ubiquitous duitara playing a medley of traditional and age-old Welsh tunes – 'Erddygan y Pibydd Coch' (The Red Piper's Air), 'Tri a Chwech' (Three and Six) and 'Marwnad yr Heliwr' (The Hunter's Elegy).
It's all breathtaking, gripping, wondrous stuff – and Gareth's 'cello, gorgeous harmonies and elegant, eloquent songwriting certainly scores as well. It's taken him and the Khasia musicians three years to achieve the recordings and the true story of how the Welsh missions resisted The East India Company and the British Empire and stoutly preserved Khasi culture, language and traditional music; Gareth, and the entire Khasi tradition, deserve a doctorate on this one.
---
JULY 2021
---
TEYR
Estren

Sleight Of Hand Records SOHR2104CD
***** FIVE STAR CHOICE! *****
TEYR are an excellent and charismatic London-based trio, consisting of uilleann piper, low whistler and percussionist Dominic Henderson, accordionist and keyboards player Tommie Black-Roff, hailing from the far west of Cornwall, and guitarist James Patrick Gavin, who plays violin and viola. Many ears pricked up when they released the acclaimed debut album, Far From The Tree; James kept the pot boiling when he recorded the absolutely beautiful and pretty marvellous solo collection, Chewing The Fat, which featured Dominic, Tommie and other guest musicians as well as exploring the lay lines between the London Irish and Fermanagh. Now Estren is here, and it defies anyone and anybody who feels disappointed. Estren – a Cornish noun that translates as 'Stranger' – a cracking, fizzing collection, totally bubbling over with brilliant scores, masterful instruments and inspiring arrangements – in fact, I'm just about falling in love with it.
Ten musicians lend their helping hand, dropping in and out of the tracks – including Holly Harman, violinist and owner of Penny Fiddle Records, cellist, composer and vocalist Abel Selaocoe (born in South Africa and 'spotlighted' in a full-page article in the August-September issue of Songlines magazine), Synth-player and vocalist Ruth Corey, violinist Flora Curzon, concertina player and vocalist Sid Goldsmith and viola player Amy-Jane Fisher. Co-producer Ian Stevenson works wonders with the album; he recorded and mixed the tracks, and he also played bass, electric guitar and percussion.
Estren gets off to a bounding, punching start with 'Shannon Frisk (Arrivals and Departures', two stunning tunes which developed and blossomed while James was waiting in the lounge at Shannon Airport; he mentally wrote the first few notes, and the whole caboodle just takes off and flies. Uilleann pipes, accordion and guitar rise, fall and somersault with wild abandon and with eye-popping dexterity – a helluva tonic for jaded ears.
TEYR learned the fine ballad 'Estren / Stranger' from Hilary Coleman – derived from East Cornwall singer Mary Treese in 1891 – and the verses eventually became the seed of the album. It tells the story of emigrating Cornish folk – 'Cousin Jacks' – and is still sung in the South West. Hilary takes the lead here, and her clear and confident voice is a delight. Dominic, Tommie and James break into a wonderful dreamlike variation, and Sid lends his voice and his concertina for a pretty corking song.
'Threshold' is somewhere between a slip-jig and triolipolska, and is "a melody for summer nights of music and dance" – while Dominic's song 'Gone Is The Traveller' has Ruth voicing the three stanzas as Flora, Amy-Jane, Holly and double-bass player Nina Harries make up a string section. 'La Bestia' is a strangely hypnotic bayou waltz; violinist Alastair Caplin and vocalist and cellist Abel are guesting here. Well-known traditional song 'The Drummer' is an absolute stormer, with Ruth's lovely diction ringing out the story and TEYR providing slinky, artful accompaniment; and the trio's composed 'Flower Of The Sun' and 'Kuusilta' draws the listener to The Basque Country and Finland, inspired by the Eguzkilore, the plant in Basque culture was a gift from Amalur, goddess of the earth, and is used to protect families.
Estren builds to a climax with the Cornish-language 'An Tros (The Noise)' and the TEYR-composed 'Little Giants' victory march: "Our tribute to the little giants of this world, the brave souls who carry on and show us there is a better tomorrow." It's an amazing album, worthy of all that Dominic, Tommie and James have really put into it and contributed their hopes, dreams and their ideas. In the immortal words of the delectable Janice: "Oi'll give it foive…"
---
THE MEADOWS
Dreamless Days

Pokey Cupboard Records POKEYCD03
The Meadows are four Carmarthenshire siblings, three sisters and a brother – Titania, the youngest, is lead voice and she also plays piano and chimes; Melody plays flute, whistles and tambourine; Fantasia is a pianist and violinist and Harvey is adept at violin, guitar and bodhrán). Father James Meadows manages and promotes the family, who have been classically trained by some of the greatest of British and Welsh musicians. Their debut five-track EP, Through The Fair, was released; and many ears pricked up when they recorded their first album, The Force Of The Tide, which included a number of traditional songs. Dreamless Days is their second 'lockdown' album, and this time they have broken away from the tradition by writing fresh original material – the only exception is a single wonderful song composed by Swansea legend, Jesus Christ Superstar leading actor and friend Steve Balsamo.
The Meadows' sound is alluringly unique, with angelic female voices tumbling over like a bright sparkling waterfall and Harvey's violin creating a soothing, succulent foundation. The stark, unhurried piano serves as a steady musical metronome; the keys and the chords keep time, and the whole atmosphere is one of pastoral peace and simple beauty. However, the band can spark up some rousing tunes and songs – for example 'Merlin's Oak', written by Fantasia and Titania and encompassing the rich Welsh folk-tales including the bwbach, the Welsh goblin, the Gwillgi, the mythical black dog that haunts lonely Welsh roads, the lady of the lake from Llyn y Fan Fach, the fierce warrior princess Gwenllian who led an army against the Normans, and the sad tale of unhappily married Branwen and her giant brother Brân who came to rescue her, wading across the Irish Sea.
Fantasia composed the jig-tune 'Castell Dryslwyn', one of the family's favourite haunts with the ruined castle overlooking the magnificent Tywi Valley with its rolling farmland and winding river; and the band put their heads together to come up with the lovely 'Gelli Aur', the 60-acre wooded parkland and arboretum surrounding Golden Grove mansion, once the home of the Vaughan and Cawdor families which was a cherished childhood playground. The Meadows spent many happy hours wandering through the woodland, catching butterflies or admiring the imposing manor house.
The album's main subject is on sleep and dreams, and I want to declare an interest here; I brought a wonderful Native American dreamcatcher, decorated with birds' feathers, from a park rangers' shop in Colorado, and the delicate web is supposed to channel dreams and guide them to the house. The dreamcatcher proved an absolute bargain; I installed it in the window, and every night without fail, vivid and really pleasant dreams come flooding back! Anyway, I digress – the opening track is 'Lullaby', which Titania wrote: "Lay your head on the pillow / Let your eyes rest in sleep." The theme continues with 'Elusive Dreams', composed by Fantasia and inspired by a recurring dream since she had since was a child. She says: "It's about change, faith, memories, uncertainty and the curious way these play out in dreams."
Fantasia has been the principal writer of Dreamless Days; 'Dried White Rose' was taken from her dream, and her piano takes the lead in Titania's song, the album's title. 'There's You' is gorgeously pretty and provides the lyrics: "I never saw you coming / I never saw my dreams come true" – and Steve certainly helps by penning 'Dream You Into Life'. Fantasia completes the cycle by writing 'Spin Me A Dream', but on the last track, she returns to the band's favourite coastline by composing 'The Tide' – a very fitting finishing song. The Meadows style themselves as a Celtic crossover band; this album proves that these siblings are very much in a rural field of their own.
---
CHRIS CLEVERLEY
Live From The Glass Isle

Independent release: no catalogue number
Chris Cleverley describes himself has "a UK Altfolk guitarist and songwriter" – which is a little bit matter-of-fact and much too modest. A striking and individual fingerstyle musician who creates his dreamy magical world with powerful, haunting songs, Chris is inspired by the age-old tradition; wisps of well-known folk melodies seem to drift in and out of his repertoire, but he uses his knowledge as a springboard where his new music takes off and flies.
He's been based in Birmingham for the last 11 years, and the city is where he cut his teeth – but, he says, it's time to go now: "This was my base from where I got my music career off the ground. So many great times with inspiring musicians on the scene over the years; Dan Whitehouse, Amit Dattani, Ruthie, Michelle, Katie and the Bonfire Radicals crew, all the city's promoters who have done me solids; Moseley Folk & Arts Festival, Hare & Hounds Kings Heath, Tower of Song and of course the amazing people who've come out to so many countless shows. But I'm looking forward to getting stuck into the South East scene."
Chris returns to the Birmingham area to the Dark Horse in Moseley on August 5 for the launch of his mini-album, Live From The Glass Isle; the seven tracks, plus a bonus song, were recorded live at Glastonbury Tor on August 1, 2020 – Lughnasadh – after he had walked up the spiral path at dawn. 'The Scarlet Letter' is an impressive opening track which produces a sparkling shower of notes as he fastens onto the story; and the well-known and well-loved shanty takes a whole new meaning as Chris interprets 'Shenandoah or The Blood Red River'. 'The Low Light Low' has teasing but fleeting traces of the maritime song 'Lowlands Low', while 'The Arrows And The Armour' shows his songwriting maturity, as does the beautifully mysterious 'Madame Moonshine'. The bonus track is called 'Rachael', and it's a perfect finisher.
Many pundits are singing Chris's praises – including Folk Radio UK, which has called him: "One of the most vital voices of his folk generation". The thrilling combination of his soaring tenor and his liquid rippling strings, not to speak of his absorbing, probing songsmithery, will have a warm and a welcome impact.
---
JUNE 2021
---
MICK'S QUICKS
On VE Day 2021, Reg Meuross digitally released the single The Bevin Boys (Bill Pettinger's Lament) to acknowledge the contribution made by 48,000 young male conscripts who were chosen by lot to work down the mines. Bevin Boys carried out vital and very dangerous mining; they were targets of abuse from the public, who viewed them as draft dodgers or cowards, and the police frequently stopped them as possible deserters. The War ended in 1945, but the final conscripts were not released from service until March 1948. Their contribution to the war effort was not recognised until 1995 when the Queen mentioned them, and they were allowed to take part at Remembrance Day at London's Cenotaph. Reg's hard-hitting verses and thoroughly memorable chorus was commissioned by Martin Pettinger, the son of Bevin Boy Bill Pettinger, to acknowledge the great contribution made by these young men. Phil Beer adds fiddle. Folkwales verdict: thumbs up!
Excellent troubadour and easy-flowing guitarist Tom Clelland, dubbed "The Van Gogh of songwriting" by the Glasgow Festival of Songwriting, has released a glittering gem of a double CD entitled Handpicked & Collected (MODESTINE002). He chooses 23 items from his four albums, Little Stories, Next Time, Life Goes On and A Garden Of Songs; the only exceptions are 'The Grassmarket Butchers', a Lanarkshire Songwriters' project about the Covenanters, 'The Ghost With The Squeaky Wheel' from the tribute album Have A Nice Life, and an unreleased song 'Berries', the story about the fruitgrowers in the Clyde Valley. Tip-top quality. Folkwales verdict: thumbs up!
Whyte is Gaelic-language duo Alasdair C. Whyte (vocalisation) and Ross Whyte (piano and electronics); the double-CD Maim (Independently released, WN0030) was born out of a partnership with Theatre Gu Leòr, which saw a run of sold-out shows at the Tron Theatre in Glasgow, prior to the Mid-March lockdown. The production and album explore the panic and horror a generation experiences when time is running out, coupled with a desire to take a strong stand against language and climate extinction. Very dark, etherial and disturbingly weird. Folkwales verdict: thumbs up!
Flook musician, whistler, flautist and Armagh resident Brian Finnegan absolutely triumphs in Hunger Of The Skin (Brian Finnegan Music, no catalogue number), the remarkable nine-track album which jazz, rock, inspiring Irish innovation and spoken voices brilliantly collide. Stunning compositions mix with beautiful airs; more than a score of notable guests also feature, including all the Flook members, Patsy Reid, bassist Ian Stevens, Colum Sands and guitarist Jenn Butterworth. Producer Seán Óg Graham also sessions with a plethora of instruments, including keyboards, bouzouki, button accordion and ukulele – quite amazing. Folkwales verdict: thumbs up!
Leveret – Sam Sweeney, Andy Cutting and Rob Harbron – release a delightful double album of their concert performance work, Variations Live (LEV CD05), which contains 15 scintillating dance tunes and airs from France, Belgium and England. Recorded before audiences at King's Place in London, The Sage in Gateshead and St George's in Bristol, violin, diatonic accordion and concertina ebb and flow like an endless tide and bring complete contentment and elation. A warning: the CD is limited to a thousand copies, so order early. Folkwales verdict: thumbs up!
Michael McGovern is a 25-year-old singer-songwriter-guitarist from Glasgow, and he releases his impressive debut mini-album, Highfield Suite (Cauldron Music CMCD004). Eight high-quality songs with startling harmonies, mature lyrics and memorable melodies; this one will go far. Folkwales verdict: thumbs up!
---
CHRISTINA ALDEN & ALEX PATTERSON
Hunter

Independent release: no catalogue number
www.christinaaldenandalexpatterson.com/
The 2020/2021 covid pandemic tore at thousands, perhaps millions, of folk, jazz and classical musicians' daily bread. The Norwich songwriting trio Alden, Patterson and Dashwood were exactly in the same boat, struggling to survive when there were no income and no gigs. They say: "This came as a big shock, and was initially very hard to come by in terms of losing our work and our sense of identity." Undeterred, Christina Alden and Alex Patterson recorded this delightful, home-made album at home in The Folk House on King Street, Norwich; their house is in the middle of the city centre, but covid had made the streets eerily quiet and they were able to record everything. Hunter comes with an eco-friendly cardboard package; Christina designed the CD, which contains the beautiful artwork of a lone fox and a flock of birds in the front sleeve and themselves playing the guitar and fiddle.
Christina and Alex are firmly on the side of conservation and rebuilding natural sources; first up is the album theme tune, which tells of an unusual friendship and companionship, inspired by Finnish photographer Lassi Rautiainen. In Finland's northern forests, a grey wolf and a brown bear – two solitary animals – were found to have formed a magical bond, playing, eating and hunting together. 'My Boy' is a true story of Indonesian Aldi Novel Adilang, who was swept out to sea when a storm knocked his wooden hut off its moorings; he survived 49 days at sea before being rescued by a vessel. The lovely 'New Year Waltz' was spent huddled between two microphones on a cold winter's day; and 'Brooklyn' is about the uncertainties of migration and hopes of a new life.
With all their gentle pastoral songs and tunes, Christina and Alex set the scene and stamp themselves firmly in the contemporary folk circle. Christina's lovely voice and tinkling, rippling guitar go hand in hand with Alex's soothing fiddle and soaring harmonies; her gentle banjo and his range of viola, 'cello, tenor guitar and shruti box are a breath of sheer originality. Having said that, 'My Flower, My Companion And Me' is the one single traditional song about love and loss; Christina and Alex heard it from Greg Russell, who learned it from Jackie Oates, who learned it from Norma Waterson, who in turn learned it from New York and Vermont tradition bearer Helen Schneyer – that's the folk process for you.
'The Fox Song' is an Arctic Fox's incredible 2,000-mile journey, taking it from Norway to Canada in 76 days. The tune 'March' was recorded back in 2020, and 'Land Corridors' is a warning about greedy human nature; the land between woodland and field is essential for wildlife to move between habitats, but most of these safe ecosystems have been destroyed. 'The Greenland Shark' is another warning about fragile strands that are in danger; and the closing 'Reed Cutting' centers on Alex, who used to work with a wonderful man named John while they were carrying out conservation in Suffolk. John had a strict method of doing tasks in multiples of nine – nine habitat piles, nine drops of rain before stopping work and paying wages in multiples of nine.
What a warm, peaceful album – and Christina and Alex should be roundly applauded for delivering their performance in such a wise and professional manner. Maybe these strange times will be over in future, and Noel can join them again. There is always hope…
---
HUW DYLAN
O Feirion … i Dreforys

Independently produced: no catalogue number
Huw Dylan Owen was born in the Meirionydd town of Dolgellau, in the shadow of the soaring crags of Cader Idris, and now lives in the Swansea suburb of Morriston. This extraordinary debut album is a musical scrapbook connecting his birthplace to the industrial south; it's a heady mixture of familiar folk tunes interspersed with rock themes, hypnotic Welsh-language poetry, intonation and what he calls: "Rap traddodiadol" – weird, wonderfully raw and very appealing.
He has been involved over the years with the Welsh musical scene, including Gwerinos – instigators of the popular Dolgellau folk festival Sesiwn Fawr, which has been storming on for many years – Yr Alltud and Mari Lwyd. He's a poet and an author of a book about Welsh folk sessions; indeed, the album sleeve has one of Huw Dylan's verses: "Ar hyd heol hudolus / am ennyd dymunaf eich tywys / O fro i fro dewch ar frys / O Feirion i Dreforys" (Along the enchanting road, I wish to lead you – from area to area, come quickly from Meirionydd to Morriston.)
O Feirion… I Dreforys focuses on Huw Dylan's work, however he graciously gives way to other poets. First up is 'Cyflafan' (Outrage), a cywydd curated by the late bard Dafydd Wyn Jones, with nice backing harmonies from sisters Heledd and Mirain Owen; the second is englynion composed by teacher, publisher and bard Gerallt Lloyd Owen, who was born in the parish of Llandderfel, Merionethshire in 1944 and passed away on July 15, 2014. 'Llwydwyll Gwareiddiad Llydaw' (Dusk of the Breton Civilisation) tells of a lonely old woman in Brittany and Breton culture's eclipse. Huw Dylan's 'Cau'r Hen Le' (Shutting the Old Place) is a desolate, sad comment; and 'Mudo' (Migrating) depicts a bird and its long flight from Soweto, across the Sahara to journey's end in a Welsh house – and 'Gwenllian' shows a very dark shadow in the history of Wales. She was the baby daughter of Llywelyn ap Gruffudd, the last native prince of Wales, who was tricked and killed by the English army at Irfon Bridge, Cilmeri, in 1282. Gwenllian, heiress to the royal family at Aberffraw, was taken prisoner and sent to the remote Sempringham Priory in Lincolnshire. She died after 54 years, confined to the priory. Mirain Owen takes the lead in Huw Dylan's song, which commemorates a forgotten lady and a terrible injustice. England tried to suppress and sweep under the carpet, for hundreds of years and for this day now.
'Uchder Cader Idris' (Cader Idris's Heights), 'Gregennan' (a cameo of the lakes, the great mountain providing an imposing backdrop) and 'Ymdaith Dolgellau' (Dolgellau March) are three of the rocked-up tunes; other traditional melodies keep popping up in Huw Dylan's poems. Catrin Rowlands sings 'Gorchuddia Fi' (Cover Me) and Heledd Owen is the backing vocal on 'Llwybrau' (Paths). The final track is 'Eirth' (Bears), which Huw Dylan's band played over ten years ago for an audience at the Waterside Museum, Swansea, Once the dust settles, the verdict is that he shapes O Feirion… I Dreforus in his own, unique bard's way – and the very best of luck to him.
---
BETHAN NIA
Ffiniau

Pili Pala 01
***** FIVE STAR CHOICE! *****
Pontypridd harpist Bethan Nia has finally recorded her elegantly beautiful debut album, released on her own label – and she could dine out many times with the wonderful story that not even Terry Pratchett or JK Rowling could have imagined. A struggling Welsh musician boarded a train and found a man in her seat – which turned out be Michael Eavis, organiser of the mega-gigantic Glastonbury Festival. Eavis moved as soon as he realised his mistake, sat opposite her and soon they got to talking. He discovered that she played the harp for a living and asked her to perform at the opening of his village hall, which he had donated funds for its renovation. All this led to an appearance at Glasto's Avalon Stage, when she wowed the crowds – including The Levellers' singer and guitarist Mark Chadwick – with her songs and tunes that would appear on this album. Chadwick invited her to join the band, which was playing on stage that very night. She said at the time: "It was sensational. I couldn't believe my luck that a giant gig had fallen into my lap."
Bethan went on to win the Danny Kyle Award at Glasgow's Celtic Connections and entertained thousands at the Lorient Interceltique Festival in Brittany – however, she started a family, and the flurry of gigs had to be shunted into the sidings. Now she is back with Ffiniau, which translates as Borders or Boundaries, and the 13 fine and wonderful tracks are just ready to captivate audiences. It's all thanks to Charlie Francis, for several years the trusted album producer and live mixer with American rock band R.E.M. Charlie relocated to Cardiff, and he produced, recorded and mixed Bethan's album. Charlie plays keyboards for Ffiniau, and he also dips into ebow, acoustic and bass guitars and piano and supplies the vocal harmony.
Notable session musicians come and go, including viola player Sally Greenwell, fiddler Oli Wilson-Dickson, percussionist Jack Egglestone, Gareth Bonello (acoustic guitar, vocal harmony and 'cello) and crwth-player Gillian Stevens. Charlie waves his magic wand to create a serene, peaceful, feel-good atmosphere, with Bethan's lovely and enchanting voice ringing clear; it's quietly hypnotic and so subtle, and the gorgeous production tugs at the listeners' hearts and minds and persuades them to play the album again and again.
Bethan divides her album into several well-known and well-loved traditional songs and tunes, a clutch of self-written material and a trio of contemporary composers' pieces. Let's start with the revered familiar Welsh cultural repertoire, which has been covered and recorded many times by a legion of Welsh, English and American artists – entirely understandable, when you consider the stunning quality of the music and lyrics. She opens with the 18th-century 'Bugeilio'r Gwenith Gwyn' (Watching The White Wheat), the tragic true story of Wil Hopcyn, Ann Thomas (The Maid Of Cefn Ydfa) and squire's son Anthony Maddocks, but she rises above the crowd with her celtic harp absolutely shining and her beautiful echoing vocals leading the way – and just listen to those arrangements. The follow-up, 'Ym Mhontypridd Mae 'Nghariad' (My Love's In Pontypridd) is truly magical in its fragile femininity, while the record holder with the most covers – 'Ar Lan Y Mor' (On The Sea Shore) – enhances greatly with Jake's gorgeous, lazy percussion and Sally's summery viola. Jake kick-starts the desolate minor-key 'Beth Yw'r Haf I Mi?' (What Is Summer To Me?), and Bethan voices a single, heart-stopping vocal harmony; it's deliciously spine-shivering and invitingly slinky. By the way, her partner, Richard Reast, translates all the lyrics.
Charlie's inspired imagination has Bethan's echoed voice bent and fractured to the nth degree on 'Cân Yr Ychen' (Song Of The Oxen); it's all alluringly mysterious. She records a brace of traditional airs – 'Tŷ Fy Nhad' (My Father's House) and 'Diferion Y Gerwyn' (The Droppings Of The Mash Tub) – live in Price's Bakery in Pontypridd; chatty, cheerful voices can just be heard. 'Balad Sgêr', written by W. Rhys Nicholas with Brychan Jones contributing the third verse, describes the lonely isolation of the crashing sea and Skêr Farmhouse in the approaching storm; and Gareth and Bethan share the loveliest harmony in the plygain carol, 'Gwêl Yr Adeiliad' (Behold Creation). The tumbling melody 'Kananaskis' describes the spectacular Rocky Mountain land to the west of Alberta, Canada; it was composed by James O'Grady, and Welsh harper Harriet Earis taught Bethan the tune.
Bethan adds a little exciting spice to Ffiniau on her quartet of self-composed songs; the freeform 'Between Land And Sea', 'Outside' and 'Winter's Song' show her original writing maturity, while 'Between The Lines' is the perfect finisher; her fabulous vocals and swelling accompaniment just keep on soaring to the end. This is a memorable album and a winning one to boot; let's have another one, please!
---
MÀIRI MACMILLAN
Gu Deas

Independent release MMM1CD
Màiri MacMillan was brought up in Milton, a tack or tenant farm on the Hebridean island of South Uist; it takes its name from the Scottish Gaelic of Geàrraidh Bhailteas, and it was on this tack that 18-century Jacobite heroine Flora MacDonald was born and spent her childhood. Màiri has spent her life surrounded by the Gaelic language, culture, music and song, and she comes from a family the a strong Gaelic background. Gaelic is her first language and Gaelic songs and traditions are always an important part of family life.
This is the long-awaited album from her; Gu Deas translates as South or Southern, and Màiri deftly and expertly displays eleven songs from South Uist tradition bearers. Joining Màiri are four wonderful and talented musicians: Mhairi Hall, (harmonium, piano, flute and whistle), Megan Henderson (fiddle and voice), Ali Hutton (bodhràn, guitar, whistle and great highland bagpipes) and Rachel Newton (clàrsach, electric harp and voice).     She sets the atmosphere just right with the brisk and dancing opener 'Mairead nan Cuiread' (Wily Margaret), a trippingly hypnotic waulking song; Mairi, who learned the song with Kate Nicholson leading the verses, describes "The energy and the spirit, the women coming together to waulk the cloth is magnificent." In contrast, 'O Phiuthrag Ole O Phiuthar' (Oh Wicked Confidant O Sister) tells the story of a woman who falls in love with a mythical creature who is half-man, half-horse; she is betrayed by her sister.
Màiri's sweet and lovely voice runs the gamut of Hebridean culture, from 'B' Feàrr Leam nan Tigeadh Mo Robairneach Gaolach' (I Wish The Return Of My Clever Darling), which she learned at school, to 'Mo Rùn Geal Òg (Cumha Uilleim Shiosalaich)' (My Fair Young Love (William Chisholm's Lament) – a really fine closer. Mhairi, Megan, Ali and Rachel do such precise wonders with the accompaniment; combined with Mairi's confident, must-listen-again vocals, it's a strong advertisement for South Uist.
---
MAY 2021
---
RÃO KYAO
Gandi

Galileo Music GMC093
www.discogs.com/artist/196064-Rão-Kyao
Mahatma Gandhi was one of the greatest spiritual and political leaders of the 20th century; he was born in 1869 and assassinated on January 30, 1948 by Nathuram Godse, an advocate of Hindu nationalism. An Indian lawyer and an anti-colonial nationalist, Gandhi led the successful campaign for India's independence from British rule. He employed Satyagraha – resistance to tyranny through mass non-violent civil disobedience. What started as a relatively small-scale peaceful walk to protest against British salt pans in Dandi, Gujarat ended with thousands of protesters joining in the march. Gandhi reached down and picked up the salt grains in his hands, claiming the salt for India.
Portuguese bamboo flute master Rão Kyao – real name João Maria Centeno Gorjão Jorge – recorded six albums in the course of many years, and his seventh honours the great man. He produced Gandhi using traditional and modern instruments, including Portuguese guitar, accordion, harmonium and the viola braguesa, from Braga in north-west Portugal; Rao's warm, lovely bamboo flute blends in with the proud and peaceful music, including Gandhi's favourite devotional song or bhajan, 'Vaishnav Jan To Tene Kahiye Je', written in the 15th century the Indian poet and composer, Narsinh Mehta. Originally written for the devotees of Vaishnavism, the song is known for its profound teachings about human conduct.
'Marcha Do Sal' (Salt March) celebrates the march on the Dandi salt pans, and Rão Kyao performs so many tunes which form Gandhi's views on life: 'Respeito Pela Naturanza' (Respect for Nature), 'Deus É Amor' (God Is Love), 'Paz E O Caminho' (Peace Is The Way), 'Misericórdia' (Mercy), 'Sathya Graha', 'Independência' (Independence) and the closing coda 'Mahatma' create a beautiful, permanent work. He says: "Gandhi was always ahead of his time, a futurist. His philosophy is exactly what we need nowadays."
---
APRIL 2021
---
TRANSGLOBAL UNDERGROUND
A Gathering Of Strangers 2021

Mule Satellite MULE20
www.transglobalunderground.net
The highly commendable European Union Erasmus scheme was established in 1987 to allow students from EU member states to study abroad for a part of their degree; however, the English Tory prime minister Boris Johnson plumbed the depths of philistinism by scrapping all grants in Wales, Scotland, The North Of Ireland and England in his Brexit frenzy. Before that, Transglobal Underground musicians and core members Hamilton Lee (alias Hamid Mantu) and Tim Whelan (alias Alex Kasiek) used their money by journeying across the continent and collaborating mainly in Prague, Budapest and Sofia, searching in unexpected corners for traditional songs of emigration, immigration and travel across Europe – and their findings enabled TGU to create an ear-popping patchwork array of Balkan, English and Irish voices together with traditional Balkan kaval flutes, hurdy-gurdies, violins, hip-hop, pounding drum and bass dub, spacey synths and electronic bubbling farts in far-reaching, experimental cross-over folk-mix.
TGU are a group of London-based collaborationists with many floating members, past and present – including storyteller and lead singer TUUP, percussionist and lyricist (an acronym for The Unorthodox Unprecedented Preacher, real name Godfrey Duncan), Natacha Atlas on vocals, bassist Count Dubulah (real name Nick Page), Johnny Kalsi (dhol) and Larry Whelan (saxophone, clarinet, ney, shenai and string arrangements). A Gathering Of Strangers 2021 starts off finely with stunning open-throated Eastern European singing from Nóri Kovács in 'I Left My Sweet Homeland', accompanied by Iván Barvics on kaval and hypnotic percussion; and the follow-up, 'Hey You Shepherd', scores even better with a jaw-dropping trio of female voices (Eugenia Georgieva, Jazmina Stosic and Dessislava Vasileva) mixed in with Hungarian and Bulgarian kavals (Iván Barvics and Alexander Todorov), Eastern European gaida bagpipe (Apostol Georgieva), violinist Gundula Gruen, davul drummer Juan Pino, beats programmer Christopher Juul and hurdy-gurdy player Seren Hammerlund.
All the tracks are arranged and mixed by TGU; English folk singer and multi-instrumentalist Jim Moray swaps voices with Nóri Kováks in 'Lisbon / Soldier Song from Ӧrdöngösfüzes', and Eugenia Georgieva's incredibly beautiful vocals shine through the kaval, violin and lap steel guitar on 'When You Hear Me Sing'. However, Stuart Staples' histrionic tortured expressions in 'The Miner's Dream Of Home' does not float my boat – and the album goes downhill after that, with a plethora of annoying synthetic beeps and burbles. Martin Furey, son Finbarr Furey, performs 'Van Dieman's Land' to Bourama Badji's Mandika rap, and Weronika Grozdew-Kotaci interprets 'I Have Sold My Field' to hammered dulcimer accompaniment. 'Hudci' is one big noise, and the closing tune – the Irish traditional song 'Farewell My Dear Own Native Land', made famous by the late Cork-born traveller Margaret Barry – is a messy dog's dinner of production, with banjo, whistle and kaval fighting to be heard above the mayhem. The album is a bit of a curate's egg, with absolutely inspiring voices and wonderful ancient instruments sparring with DJs' electronics. TGU have come very close – but, regretfully, no cigar.
---
CATH & PHIL TYLER
Some Heavy Hand

Ferric Mordant Records FE12
Cath and Phil are a raw, stripped-bare Anglo-American folk duo, combining guitar, banjo, fiddle and voices with the thrilling sounds of Sacred Harp, the New England shape-note tradition which has lasted more than 200 years, Stephen Foster's plantation melodies, a Bellamy-Kipling song-poem and ultra-rare versions of country material. They tied the knot in 2003; before that, Cath lived in Massachusetts where she played bass guitar as part of the American folk-punk band Cordelia's Dad and was a member of shape-note singing quartet Northampton Harmony. Phil comes from Newcastle upon Tyne and has been a mainstay of the North-East folk scene for years. Before lockdown, they hosted a weekly night in Newcastle, while Cath is a respected Sacred Harp teacher.
Since they recorded Dumb Supper, their first album in 2008, they have gathered a collection of unreleased and rarely-heard tracks – including the follow-up CD The Hind Wheels of Bad Luck. The opening shouter 'Palms Of Victory' was their first recording in 2005 at Brancepeth Castle, about five miles south-west from the city of Durham; the last offering is 'Love's Old Sweet Song', composed in 1884 by G. Clifton Bingham and James Lynam Malloy and recorded at Cath and Phil's home for a Resonance FM Bloomsday programme. If you don't recognise the name, you will when Cath sings the familiar chorus: "Just a song at twilight…" 'Angeline' was adapted from Stephen Foster, who called it 'Angelina Baker'; they say their version owes a lot to Dwight Miller, who interprets the song slower than most. The James Rowe and R.H. Cornelius 1925 composition 'Give Me The Roses' was recorded at home for the 2014 Leigh Festival competition, and William Farrington's 1848 Methodist hymn, 'Dying Boy', is given the full hairs-on-the-spine a capella shape-note style. The album's title derives from Farrington's verses: "Mother, I'm dying now / There's a deep suffocation in my breast / As if some heavy hand my bosom pressed…"
The whole album is spiced with their no-holds-barred, stark and simple material; the well-known folk chestnut 'The Water Is Wide', recorded for a NARC magazine 2009 compilation, takes on a new meaning when it's given their down-home treatment, and 'Sunshine' – recorded from The Ox And The Axe 2018 sessions – develops a bleak and beautiful quality which is completely different from the usual show-biz vaudeville style. 'Our Fathers of Old', written by Rudyard Kipling and embellished with a Peter Bellamy melody, is a fresh departure from the American tradition; and 'Amazing Grace', John Newton's well-known hymn, dons a freshly made-up face enhanced with an unusual tune.
Only one thing is missing – and that is Cath's fiddle. That's a shame; perhaps in choosing the album's tracks, the fiddle got left out. Memo to myself: must investigate Cath and Phil's strange, wonderful repertoire…
---
HARBOTTLE & JONAS
The Beacon

Brook View Records BVR002
Devon duo David Harbottle and Freya Jonas combine a love of the richness of traditional folk with the compelling sound of their own dreamy songwriting; The Beacon is the fifth album under their belts, and the mixture of concertina, harmonium, banjo, acoustic guitar and cittern married to their beautiful and closely intertwined harmonies produce a fresh and original texture. Collaborator Annie Bayliss joins them on violin, accordion and three-part vocals.
The album is named after Ugborough Beacon, the ancient site that looms over South Brent, the Dartmoor village that David and Freya call home – the home to which they hurriedly returned from a cancelled tour of Germany, rushing to make it back to Devon before the UK entered lockdown in mid-March last year. The Beacon is their attempt to break away from the confines of the folk scene and sail ahead in the commercial pop industry wave; engineer and producer Josh Best-Shaw creates some very lush layers, with David multi-tracking, loads of echo and shimmering, drifting voices. What is more, they wrote and recorded the collection entirely in their living room during the 2020 covid pandemic.
The title track, where Harbottle and Jonas salute the site, is truly impressive; pounding percussion and sweeping violin heralds the coda. The pretty 'Edith Cavell' tells a sombre Great War story of how she was murdered by German troops, and Freya's 'I Make A Nest' is simply demurringly gentle. 'Whenever You See A Robin' is mindbogglingly complicated to an exhilarating degree, and 'Every Creature Is A Book' is really feelgood pop. Annie delivers some gorgeous viola in the instrumental interlude; and Freya's lovely voice shines through to the last traditional track, 'Black Is The Colour', which is utterly breathtaking.
What a fine album, but it's linked to a cautious comment: in trying to appeal to large audiences, the production is tending to drown out the words and the meaning. The average pop fan doesn't give two hoots about the lyrics, but the average folk fan certainly does. Let's sincerely hope that David and Freya don't fall between the commercial and folk stools.
---
MICK'S QUICKS
Reg Meuross is a prolifically industrial and very entertaining singer-songwriter; in fact, he's just one of my favourite contemporary guitarist-troubadours right now. He has just released an incredible seven albums, which speak volumes of the history of the man and his music. The Goodbye Hat (Hat Records, HAT014) is the 1996 introduction to the young Reg, with an array of session musicians – the title song has a unforgettable  'earworm' mighty chorus. Short Stories (HAT015, 2004), Still (HAT016, 2006), Dragonfly (HAT017, 2008), All This Longing (HAT018, 2010) and Leaves & Feathers (HAT017, 2013) provide oodles of marvelous material; Songs About A Train (HAT012, 2017) is a collection of unreleased songs, recorded between 2013 and 2017. What utter quality!
Edinburgh-born singer-songwriter Bob Leslie started off in the 1960s folk boom but found himself in the pop industry, courted by Kinks managers and Chrysalis Records; Back in Glasgow, he returned to folk and released Land And Sea (2017), The Barren Fig (2019) and his latest album, In Praise Of Crows (Big Red 5). Bob's booming voice eloquently explores the 12 tracks plus a bonus 'Bess Millie' – he plays electric, acoustic and bass guitars, and his talented daughter provides proves vocals on two songs. Verdict: a razor-sharp comment on life in Scotland today.
Aberdeenshire-born Iona Fife has released her new digital single, Scotland Yet, a preview of her forthcoming crowdfunding album. Written by the late lamented Davey Steele, it's a proud anthem which addresses to all Scots on the question of independence: "The choice will be upon us soon tae set oor destiny / I'll drink a toast tae Scotland yet whatever yet may be." A trio of musicians sets the tone: guitarist Jack McRobbie, double bassist Charlie Stewart and Graham Rorie (mandolin, fiddle, electric tenor guitar).
The beautiful Scottish song 'Black Is The Colour Of My True Love's Hair' found its way over the Atlantic to the Appalachian hills; Dartmoor duo Harbottle & Jonas hit the target with their promising digital preview single Black Is The Colour (Brook View Records), a foretaste of the just-released album The Beacon. Freya Jonas takes solo lead and plays harmonium, David Harbottle supports with guitar and cittern and Annie Bayliss adds violin to the lush arrangement.
Fruzsina Zsofia Rakoczy is an Anglo-Hungarian singer and concertina, recorder and bagpipe player, born in Budapest and now based in Manchester; her debut album Frontrunner (Talking Cat Records TCCD2002) is a mad whirl of traditional and pop themes concerning the mysterious horse, backed by The Horror Show (musicians Heather Sirrell, Edwin Beasant, Jon Loomes and Forbes Legato). Bagpipe, hurdy-gurdy and Rakoczy's stark voice combine to conjure an intoxicating upbeat sound.
Where The Wind Blows (EP Records EPR002) is the second album for Sardinian Elena Piras; She moved to London at the age of 18, and then to Scotland in 2006 to study at the Royal Scottish Academy of Art. it's a compelling mix of well-known and well-loved folk material and beautiful Scottish and Gaelic songs, including Robert Burns' 'Ae Fond Kiss' and the traditional 'Soraidh Leis An Áit', which local Borders radio have aired for her. Session musicians include pianist and mixer Angus Lyon and fiddler Seonaid Aitken.
The Daughters Of The Dessert's six-track EP Sorrow Soothe (New Cat, no catalogue number) is so left-field that it drops off and vanishes into space. It's the latest project that was born at the London Musicians' Collective Renaissance FM, comprising composer and producer Esbe, writer presenter Jude Cowan Montague and studio engineer Mia Kutathasan. Lots of pulsating synth and dissonant harmonies – disturbingly weird.
Jerry Akehurst spent this project building, insulating and equipping a studio on the isle of Iona in the Scottish Hebrides, harvesting 50 years of his best written songs. The result is An Old Man's Folly (JA2021, independently released), 13 heartwarming, feelgood tracks which are really generous, time-wise; the shortest song, 'Last Boat', is a mere four minutes and 15 seconds, while 'Heaven's Bounty' is a shade under five minutes, the folk-influenced 'Atlantic Charter' is six minutes and the magnificent 'Remembrance Day' lasts nine-and-a-half minutes – and time really does fly by when he packs in a plethora of enjoyable and must-hear material.
---
INTARSIA
Sistere

Coth Records COTHCD
***** FIVE STAR CHOICE! *****
Intarsia is spellbinding percussionist Jo May and innovative fiddler Sarah Matthews, who have worked together since 2018. The name of this remarkable duo derives from a blend of textures in textiles and woodcraft, similar to marquetry; but Jo and Sarah like to think of it as "an intricate blend patterned musical sounds using a variety of wooden instruments and voice – an acoustic intarsia." Jo has worked for different bands, including Against The Grain, Xoox and Token Women, while Sarah is a member of Cupola, Moirai and Derby band Cross o'th Hands – and Sistere is a latin verb meaning 'to stand still' or 'to take a stand.'
Sarah executes some pretty neat fiddle, viola and octave violin; Jo maintains a plethora of percussion instruments, including a tan tan, cajon, conga, pandeiro, spoons, bodhràn, assorted foot pedals and drums. However, the balafon takes the lion's share – it's a type of gourd-resonated West African xylophone which is spreading from Guinea across to Mali. Its recognisable and thrillingly exotic sound can be heard in the opening track, Jo's composition 'Mam Tor'; meanwhile, Jo and Sarah certainly ring the changes with their very tasty follow-up, 'Les Doigts De Carmen/ Round The Corner' – two gutsy, kicking tunes from the highly-respected hurdy-gurdy player Evelyne Girardon and the celebrated and well-loved diatonic accordionist Andy Cutting.
Sarah's beautiful and lusciously-low voice heralds the traditional song 'Once I Had A Spring Of Thyme', blended with the gloriously complicated tune 'Playing For Time' by ex-Cross o'th Hands member Doug Eunson, who engineered and mastered the album at Derby's Old Farm Studios. Jo and Sarah are absolutely brimming over with inspirational and exciting material; Jo conjures up her mind-boggling melody 'Double Figures', and Sarah is so stunning on the late Bill Caddick's 'The Barmaid's Song' – her a capella singing, accompanied by Jo's empathetic, quiet-but-insistent percussion, can move mountains.
The tracks come thick and fast; Jo's 'Always A Smile' is a dear tribute to her sister, who passed away in hospital, and 'Le Bandeau Perdu' is Sarah's lovely but sad story of the lost hairband at the St Chartier festival. Jo's 'Lost At Dusk' was composed at a scary time when she and a friend got thoroughly misplaced, just as the setting sun threw long, dark shadows. Sarah's dizzy jig, 'Amber's Great Adventures', celebrates one of her chickens who escaped many times; Jo adds some magical stuff on the balafon, and throws in 'Somewhere In Between' – a whimsical melody whose 7/8 time is guaranteed to have dancers tripping over themselves.
One remarkable and very noticeable impression is that Jo and Sarah play the tunes and the songs completely on their own; Doug touches up one or two subtle double-tracks for good measure. However, Sarah names the final track 'Sol Sistere', which praises  the wonders of our universe and the summer solstice – and Jo and Sarah join over a goodly score of singers, recorded remotely in the 2020 lockdown, as the chorus swells: "Let the sun stand still…" Buy it, I implore you!
---
MARCH 2021
---
JIM CAUSLEY
Devonshire Roses

Hröc Music HROC05
Here's one in the eye for those glitzy million-pound commercial productions! Jim returns to his roots for his lockdown home-produced album on his own label, proudly strutting his stuff and displaying 20 traditional, written and supremely local songs from Devon. What a magnificent collection it is – and he has already recorded 30 more down-home melodies and verses for his planned Devon trilogy. Born 40 years ago in Exeter, he lives in his home village of Whimple, in the heart of cider country and the wassailing culture. In these covid times, all the Devonshire Roses musicians recorded themselves at home – Jim is playing a battery of instruments including his piano accordion, button accordion, accordina and piano, Matt Norman is on his mandolin, banjo and mandola and Nick Wyke contributes his violin, viola, guitar, glockenspiel, ukulele and voice. Josephine and Ross, from the Causley family, supply vocals; and the Mariners Away Shanty Crew add luscious and lusty unison singing. Last, but not least, is artist Karen Cater's lovely painting, which serves as an impressive CD cover – the Welsh-language 'Dyfnaint' proper noun really leaps out!
First off is 'The Bell Ringing'; Jim adopts a jaunty swing and a bucolic accent, and the sound of church peals adds to the atmosphere. He stamps the ubiquitous 'The Rounding Of Cape Horn' as a true Devon song, and Brendon Valley farmer Margaret Palmer sang the gay 'Bampton Fair', which is still held every last Thursday in October.
'Childe The Hunter' is a true story, and Childe's Tomb marks the spot where Tavistock Abbey monks discovered his frozen body. In pre-covid days, Jim used to host Jan Stewer nights; Jan Stewer was the nom-de-plume of John Albert Coles, an author, teacher, journalist, performer and TV personality who wrote humorous letters and stories in the Devon and Exeter Gazette. Coles wrote 'What About A Little Drop Of Cider', which Jim and company take to the limit. In contrast, a navvy working on the Barrator Reservoir sang the beautiful 'Queen Of Hearts', taken down by the Reverend Sabine Baring Gould – who, despite all his faults, certainly made his mark on Devon tradition.
The Dartmoor ghost song 'My Lady's Coach' was one that Baring Gould learned from his nurse, Mary Bickle of Bratton Clovelly. Jim sings a bevy of the reverend's work, including the sombre murder ballad 'Ockington', an old name for Okehampton, 'Blackingstone Ravens', an unusual Devon variant of the 'Two Crows' ballads. Typically, Baring Gould collected many versions of popular cumulative song 'The Mallard' but discarded the words as nonsense. Jim learned a medley of versions from Bunny Palmer Henry Mitchelmore and sings the slewed, crazy words magnificently.
Devonshire Roses is brimming over with wonderful songs, including Phoebe Birch's Derby Ram-like 'Flemington Great Meat Pie' and 'Twenty One Years On Dartmoor', a 1930s song written by the American Bob Miller. It smacks of the traditional prison song 'Birmingham Jail', and Jim sings "Dart-i-moor Jail" to fit in with the rhythm. The album closes with the notorious 'Widecombe Fair'; Baring Gould collected many versions of this song, but was the first to give it the title of 'Widecombe Fair'. Jim says that the actual fair in Widecombe did not begin until 1850, but the first published reference to the song 'Old Cobley' was in 1761. Verdict: The Devon Songbook in glorious CD – it's fair to say that Roses definitely grow on you.
---
JENNY STURGEON
The Living Mountain

Hudson Records HUD021CD
The book The Living Mountain conveys the very essence of the Cairngorm mountain range in north east Scotland; it was written by Aberdonian Nan Shepherd in the 1940s, but it sat in her desk drawer until it was published in 1977. Singer and songwriter Jenny Sturgeon paints a fabulous picture of the brooding, empty splendour of the high country – and a number of session musicians complete the vivid, shimmering image. She is working on an audio-visual project of the same name, alongside award-winning curator, filmmaker, facilitator, strategist and producer Shona Thomson – a collection of songs and films triggered by Nan's book. Supported by Creative Scotland and Help Musicians, the show was supposed to be tour on 2020 and 2021; however, the covid pandemic jinxed that. Here's hoping that the tour will blossom and grow this year.
Jenny is an organic musician who forges the old and the new with a fine and rare skill and individual art. Her songs are seamlessly woven with nature, folklore and the beautiful, rugged wild country. Among her recordings is the 2016 geese-inspired CD From The Skein and the 2018 album Northern Flyway, with accordionist Inge Thompson, a virtual tone-poem which tracked the course of the migrating sea-birds. The Living Mountain successfully brings together all the emptiness and grandeur of nature's ways.
The celebrated producer Andy Bell recorded Jenny's songs in the remote Clashnettie Arts Centre, close by the Cairngorm range. Jenny plays a plethora of instruments, including guitar, piano, dulcimer and harmonium; Magnus Robb and The Sound Approach and Jez Riley French contributed field recordings of the copious wildlife which inhabits the thousands of acres – snipe, crested tit, snow bunting, golden plover, ptarmigan and red deer. Musicians include bassist Grant Anderson, viola player Mairi Campbell and cellist Su-a Lee; from the opener 'The Plateau' to the closing 'Being', ethereal harmonies and fleeting, wonderful strings abound. This album is like an isolated walk by yourself in the mountains; it soothes the mind and refreshes the soul.
---
FEBRUARY 2021
---
VARIOUS ARTISTS
Between Islands (double CD)

An Lanntair Records LANCD0006
***** FIVE STAR CHOICE! *****
In line with several creative ideas, the Between Islands Project had to be halted because of covid-19. Originally initiated by the An Lanntair arts centre in Stornoway, Lewis, and funded through the LEADER 2014-2020 regional cooperation scheme, the project had been working with 13 artists from Orkney, Shetland and the Hebrides. Musical performances were planned for the Shetland Folk Festival and Heb Celt in Lewis, but the virus put paid to that.
Project coordinator Alex Macdonald explains: "As the project was based on live events, initially we were at a loss as to how it could be saved. Thankfully we were able to redesign what was planned, and this double CD contains both live work previously captured and a series of entirely new tracks recorded in lockdown."
Between Islands encapsulates the songwriting project, with Orkney's Kris Drever, Willie  from Lewis and Arthur Nicholson from Shetland; the fiddle project, with Shetland's Maggie Adamson, Orkney's Louise Bichan and Lewis's Jane Hepburn Macmillan trading some stunning and beautiful tunes; and the folk project, with Orkney musicmeister quartet Saltfishforty, North Uist-born Julie Fowlis, Kathleen Macinnes (born in South Uist and living in Glasgow), Maggie Adamson, Jenny Napier Keldie and Neil Johnstone.
CD one is studio recorded and CD two live at An Lanntair; the many spectacular highlights include Saltfishforty and Jane Hepburn Macmillan's rollicking and swaggering 'The Curly Doddy/The West To The North/The Last Queen Of Burray'; the classic and serene 'Da Slockit Light', written by the late fiddler Tom Anderson after the passing of his wife; Maggie Adamson's 'Maggie Robertson's Reel/Cosgrave's Sound/Hurlock's Reel'; 'Fishing Puirt/The Stronsay Weaver', an unaccompanied puirt a beul which tells the story of the herring girls following the fishing fleet; and fiddler Douglas Montgomery's 'Howe Hornpipe', composed for his mother and father on the occasion of their fiftieth wedding anniversary – Howe is the family home in Burray where he grew up with his brother and sister. All the tracks are faultlessly superb, and they include Kris Drever pairing with Linda Macleod, Neil Johnstone linked with Louise Bichan, Arthur Nicholson duetting with Julie Fowlis, Maggie Adamson together with Kathleen Macinnes and Willie Campbell performing with Jenny Napier Keldie. All the artists absolutely strike sparks; Between Islands could have met with disaster because of the virus, but now this double album is a triumphant must-hear souvenir for all the world to share and savour.
---
THE CHAIR
Orkney Monster

Folky Gibbon Records FGCD0025
***** FIVE STAR CHOICE! *****
The Chair is a mighty kick-butt eight-piece dance band from the bleak and beautiful Orkney Islands; the line-up is drummer Erik Laughton, percussionist Robbie Thompson, bassist Andrew Gifford, guitarist Gavin Firth, accordionist Bob Gibbon, Brian Cromarty on banjo and mandolin, while Kenny Ritch and Douglas Montgomery magic up the singing, ringing fiddles. Orkney Monster is the long-awaited third album, and it's living aural proof that nobody can keep still when these cracking musicians get down and just rock. They have become synonymous for live concerts, festival highlights, late-night parties and the unique 'Orkney Stomp', which fits in snugly with 'The Orkney Soond' – in fact, Douglas and Brian make up half of the Orcadian quartet Saltfishforty, which the magazine Living Tradition recommends as "a class act from start to finish".
This album sizzles, backfires, steams and smoulders. Master tunesmith Gavin contributes his fair share, including the desolate-but-gentle epic 'Wee Davie'. Douglas and Brian write barnstorming tunes, Bob fashions the marvelous 'Margaret Davidson' while Kenny pens 'Fixing George', the first in the 'Fixing Jigs' set. First up is a sizzling  'Beachcombers' set, which fires off with a polka penned by Gavin, building up with Donal Lunny's 'Tolka Polka' and culminating with 'The Angry Seal', Douglas's shuddering juggernaut of a dance tune. There are only two songs, but the vocals and harmonies are really impressive and refreshing – American Tim O'Brien's juiced-up 'Walk Beside Me' and Tom Waits' wistful, wonderful composition 'Shiver Me Timbers'.
The Chair alternate between brash-and-swaggering original tunes – I'm just loving those fiddles! – and gorgeous, peaceful airs of beauteous splendour. Most of all, the traditional, chugging 'The Rose In The Gap' shouts loudly and clearly what the band is all about – a carnivorous energy-force coupled to a no-holds-barred attitude of creating never-ending hedonistic fun. No doubt about it – Orkney Monster places them fairly and squarely in the champions' league of exciting artists to watch, hear, experience and savour.
---
JANUARY 2021
---
WӦR
About Towers

ARC Music EUCD2935
***** FIVE STAR CHOICE! *****
The members of Llantrisant Folk Club were eagerly looking forward to experience the five-strong Belgian band WӦR coming to South Wales and playing their stunning set; alas, that wasn't to be. Baritone saxophonist Fabio Di Meo, fiddler, mandolin and banjoist Jergen Goegebuer, bagpiper, saxophonist and pianist Pieterjan Van Kerckhoven, accordionist Bert Ruymbeek and guitarist/double bassist Jonas Scheys cancelled their British tour – and on the resurgence of the covid pandemic, music, shows, singing, dancing and the whole way of life came to a shuddering stop.
This is the third album from this Flanders five-piece, and it's based upon the lovely tradition of the carillon – a set of tuned bronze bells, suspended in a bell tower. Belgium and The Netherlands enjoy the greatest concentration of bell towers in the world, with 68 in all. Carillons can vary significantly in weight, ranging from a few hundred kilograms to 40 tons; professional bellringers, or carilloneurs, play the music with a baton-type keyboard, where the keys are connected to the bells' clappers and sets them in motion. Around 1644, brothers Francois and Pieter Hemony together with the carillonneur Jacob Van Eyck developed a technique to tune the bells accurately. From then on, Carillons mostly played arrangements of folk songs; however, from the 18th century onwards, original compositions were written for the instrument. The First World War broke out, and 13 carrillons were destroyed; this caused a great outcry and led to the introduction of the carillon culture in North America. In 2014, UNESCO recognised the carillon culture in Flanders and French-speaking Wallonia as an intangible cultural heritage.
WӦR develop this remarkable album as a full-on and delightful assault on the audience's ears and minds – absolutely great and very startling writing, using hints of classical pieces melded to Belgian folk, and a never-ending battery of bagpipes, saxes, fiddles, accordion and echoing, ringing carillon stir the bubbling musical cauldron. The striking repertoire is entirely instrumental; voices would only break the spell of the scintillating atmosphere.
About Towers is overflowing with ingenuous originality coupled with a bonding love and regard of ageless Belgian tradition; from the opening 'Beyaert' to the entrancing 'Jolies Filles', the joyous 'Bien Amoureux' and the closing, quiet 'Cecilia', quite simply it's a gorgeous cracker. When I travel to Belgium, notwithstanding covid and the appalling Brexit nightmare, I will see and hear carillons in a different light now.
---
MOSSY CHRISTIAN
Come Nobles and Heroes

Talking Cat Recordings ORRCD002
Mossy Christian comes from Lincolnshire and is a talented player of the fiddle, anglo-concertina and one-row melodeon; Jon Loomes, the well-known hurdy-gurdy player who set up Talking Cat Recordings and co-produced Mossy's solo debut album, describes him as "a young performer who bears the mantle of tradition proudly." Influenced by source singers such as Joseph Taylor, Harry Cox and Walter Pardon, his dextrous musicianship bubbles with a sparkling vitality. Come Nobles and Heroes is chock-full of traditional and Kipling-Bellamy material from England's coastal counties and makes a very interesting listen.
Mossy's session musicians comprise the wonderful Johnny Adams (trombone and bass brass arrangements), Gina Le Faux (mandolin), Tim Walker (percussion and cornet) and Jon on guitar and hurdy-gurdy. Edwin Beasant plays bass bugle and Ruth Bibby lends a hand – or rather, two feet – at clog dancing, on the finisher 'Dan Leno'. First up is the ranting medley 'Market Rasen Feast / Louth Quickstep', learned from a manuscript which was compiled from 1823 to 1826 by Jushua Gibbons, a papermaker from Tealby, Lincolnshire, suitable for the band to get motoring. Methinks I hear Mossy double-tracked on fiddle and squeeze-box! Definitely one to watch…
---
NICK DOW
…Then As Now

OHM813
thetraditionbearer@hotmail.co.uk
I'm really looking forward to a Llantrisant Folk Club visit by Nick Dow and his lovely gypsy wife Mally on July 7, 2021 – covid and the new dangerous strain permitting. Nick, a Londoner who has located to East Lancashire, is a mesmerising performer, impressive guitarist and respected song collector, and he makes it his business restoring and renovating travellers' wagons. He has been performing and researching folk songs for over 40 years and is an acknowledged expert on the West Country tradition.
During the pandemic lockdown, Nick has taken the time to list together all the existing recordings that he owns. He recorded tracks for the BBC in 1990, with Nigel Canter on fiddle and Chris Robson on button accordion; however, the BBC eventually deleted all the recordings. Nick thought the tracks had disappeared – but, he says, imagine his delight when a long-lost cassette dropped through his letter box. A friend of Nick's had stored the BBC recordings in his loft and kept them for the last 30 years; little did he know that he had found he had found a precious gem.
A lot has happened in those 30 years; Nigel went on to join the bluegrass band Bowed Legged Skeeter – recent favourites at the Gower Bluegrass Festival – and had a successful music career. Chris became a light operatic singer; both are still playing and performing. However, the recordings have been remastered and …Then As Now has been made into a CD, with three extra unreleased tracks. The songs are from the Hammond and Gardiner collections or songs which Nick found in Dorset on his collecting trips, and he has polished his reputable repertoire as good as new. Fourteen entrancing stories, from the opener 'The Brewer Lad' and 'The Maid In Bedlam' to 'The Trees They Grow So High' and 'The Man Of Burningham Town', come up as bright as a new pin; furthermore, Nick will charge you the amazing bargain of £6.50, postage and packing included. What's not to like?
---
DECEMBER 2020

– no reviews
NOVEMBER 2020
---
RON JAPPY
Vincular

Bow Fiddle Records BWFDR001
***** FIVE STAR CHOICE! *****
The amazing Ron Jappy was born and bred in the village of Findochty on Scotland's North East coast and is a regular contributor to Porthcawl's Cwlwm Celtaidd festival; he was a member of The Strathspey Fiddlers and the rip-roaring Jamie Smith's Mabon, and he accompanied Joy Dunlop at the festival's new home in the Hi-Tide Inn. Ron is a graduate of the Royal Scottish Academy of Music and Drama, moving down to Glasgow to carry on with his studies there. An extremely accomplished musician, he is highly sought after as a composer, arranger, guitarist, fiddle player, pianist and producer – however, he most enjoys playing guitar with a long list of Scottish rising stars including Ainsley Hamill, Barluath, Claire Hastings, Hannah Rarity, Iona Fyfe, Mànran, Rachel Hair and Skerryvore.
Vincular is an adjective describing a link, a bind or a connection; Ron certainly connects with a long line of glittering musicians, including Ainsley on vocals, Scott Wood on bagpipes, whistle and piano, Alice Allen on 'cello, Euan Malloch on electric guitar, Innes Watson on viola, Grant Macfarlane on accordion, James Lindsay on double bass, Mairi Mackinnon on fiddle and Joy, who stepdances a treat. His fiddle, guitar playing and keyboards definitely light the blue touch-paper on the album, and his brilliant arrangements set the tunes and songs on fire. The opening track 'Trouble' – a trio of fiery Jamie Smith ('Jig Trouble In Little Blaina'), Ron himself ('The Barbers' Night Out') and Graham Mackenzie compositions – virtually explodes in your face. 'From The East' is completely different; the strutting strathspeys 'Mrs Ramsay of Barnton' and 'Marj and Grant Bremner of Everley' (another Ron classic) segue into J. Scott Skinner's tripping reel 'Miss Paul', while the whole band swings together in William Marshall's 'Lord Francis Russell'. Ron's 'Ashley Park' is joyful and fresh-faced, and Ainsley's sultry and quite wonderful voice tells the story of the traditional 'Mairead nan Cuiread'. Ron accompanied harper Rachel Hair on a spectacular New Zealand tour, and he composed 'Northburn Creek' to show the beauties of the land; 'Tactical Penguin', including Ron's tune 'Kirsty's', is a white-hot showstopper; and Ainsley comes to the fore again to wave the saltire for Ron's anthemic 'A Place Called Home'.
Ron traces his philosophy: "One of the true joys of being an accompanist is sharing musical experiences with a vast array of talented and gifted musicians… the premise of this project was to create a record coordinated, arranged and drawn together from the viewpoint of an accompanist. My passion is enhancing a work and shaping its musical identity; taking it to the next stage of its life… Through my role as an accompanist, I have brought together a collection of musicians to create an album of unique perspective." Does it work? You bet your cotton-picking life it does! Wow!
---
MICK'S QUICKS
I don't usually review Bandcamp singles, but The Haar recorded over six minutes of absolute magic in 'The Parting Glass', a beautiful taster from their second album, which will be released in Autumn 2021. The covid pandemic and the travel ban proved that being an Anglo-Irish band was not necessarily a good thing – nevertheless, Irish vocalist Molly Donnery sang the track, which was passed to bodrhán player Cormac Byrne, which was handed to accordionist Murray Grainger, who added improvisations. Adam Summerhayes listened twice before filling in with his shimmering fiddle. The result is alluringly stunning, serene of symphonic proportions.
Another Bandcamp single is the contemporary Devon folk duo Harbottle & Jonas composition 'The Beacon', with collaborator Annie Baylis on violin and vocals; it's the title track on their forthcoming album, which will be released in Spring 2021. Ugborough Beacon is the ancient site that looms over South Brent, David and Freya's home village. Angelic harmonies and lots of acoustic guitar, harmonium and concertina, but the production leans towards a certain poppier style.
And yet another Bandcamp single! Lowri Evans and Tom McCrae have formed the Evans McCrae partnership and have released the Christmas song 'Merry Christmas. My Darling (Drink Up)' with drums, a men's choir, accordion and loads of nostalgia. You can spend £1 just drowning in bonhomie and revelry, but it will be all over come New Year…
Baroque cellist Carina Drury comes from Dublin and lives in Hove now; her debut album Irlandiani (Penny Fiddle Records PFR2005CD) explores Irish musicians and authors, such as Neal and O'Carolan, being influenced by Italian baroque composers. Eimear McGeown (Irish flute), Aileen Henry (Baroque harp), Nathaniel Mander (harpsichord) and Poppy Walshaw (Baroque cello continuo) accompany her in a wonderful collection of Italianate, Irish and Scottish airs. FolkWales verdict: Thumbs up!
Acoustic guitarist Steven Clark has recorded his debut solo album The Lady Aurora (Independent release, LAR01), and 11 of the 13 tracks are original; he is a fair player, but it's the annoying harsh twangs, the awkward progressions and the string squeals that really set my teeth on edge. FolkWales verdict: Thumbs down
Liverpool bard Alun Parry has been incredibly productive in this Covid-19 emergency; he has released yet another digital EP, a seven-track home-recorded offering entitled The Lockdown Sessions (Vol 5), including his songs 'All Hail To The Market' (a slap-down on financial greed), the anthemic 'Over The Water', the banner-waving 'We Can Make The World Stop' and the 1984 Coal Strike account 'The Dirty Thirty' – fascinatingly peppered with Si Khan's 'Gone Gonna Rise Again', the Judy Garland favourite 'Somewhere Over The Rainbow' and the Liverpool football fans' roaring chant 'You'll Never Walk Alone'. Click on https://alunparry.bandcamp.com/album/the-lockdown-sessions-vol-5 – what a smasher. FolkWales verdict: Thumbs up!
His stage moniker is John Blek, but his real name is singer-songwriter John O'Connor, born in Glanmire, County Cork and adopted from French graffiti artist and Banksy inspiration Blek The Rat. His latest album is The Embers (WARR012/K&F046/HTC056), a perfect dreamy setting for John's impassioned, choir-like high-tenor voice and rich poetic insight. From the hypnotic opener 'Empty Pockets' through the eerie 'The Haunting' to the beautiful coda 'Walls', peaceful quality abounds. FolkWales verdict: Thumbs up!
Hmmm… I'm really not keen on the album Polaris (DK002) by Dan Korn and Joe Sharp; guitarist Dan takes the songwriting lion's share, and double-bass player Joe mops up the other two tracks. The result is a bit limp and totally forgettable. FolkWales verdict: Thumbs down
 I just love Rattle On The Stovepipe's seventh album Through The Woods (WildGoose Studios WGS432CD), absolutely bubbling with American history and a doff of the cap to to English folk as well. From the heads-up 'Bootlegger Blues' through the busily-chugging 'Boat's Up The River' and the well-known and well-loved 'Lakes Of Pontchartrain', the trio Dave Arthur (guitar, melodeon), Pete Cooper (fiddle, mandolin) and the multi-instrumentalist champion Dan Stewart fashion a cracking 23 tracks; the three written songs are Si Khan's 'Gone, Gonna Rise Again', Dave's 'Hungry Cotton Mill Blues' inspired by union organiser and singer Ella May Wiggins who was shot dead during a protracted strike in 1929. The third "new" song is 'Mama Went To Arkansas', written by Tom Ovans although Dave has added to it. This lovely collection is top-notch. FolkWales verdict: Thumbs up!
Americana singer-writer Johnny Steinberg sleepwalked into contemporary folk after being faced with redundancy; he has released his debut album, Shadowland (JS032020), recorded in Nashville, Tennessee, England and Denmark, and his memorable material is peppered with such songs as 'Hey Now Pamela', 'Dance Away The Darkness', 'Carrie' (nice one, that) and the Afghanistan nightmare 'Shadow Of A Man'. Co-producer Boo Hewerdine heads an impressive cast of session musicians. FolkWales verdict: Thumbs up!
Americana singer-songwriter Annie Dressner comes from New York City and has a thin, reedy voice, which makes it difficult to make out the meaning of the lyrics; her album Coffee At The Corner Bar (self-released, no catalogue number) has nice harmonies but instantly forgettable material. FolkWales verdict: Thumbs down
---
ASHLEY HUTCHINGS with BECKY MILLS & BLAIR DUNLOP
A Midwinter Miscellany

Talking Elephant Records TECD451
The 2020 covid epidemic has disrupted the midwinter celebrations and has thrown familiar pastimes into disarray. Our well-loved Mari Lwyd tradition, the lovely plygain singing and the Calennig customs has all been put into jeopardy and are seriously in danger of disappearing. In England, too, the enforced cancellation of the annual Albion Christmas Band tour has cast a shadow over the Season of Goodwill – there's no remedy for the thrill of a live performance, but this delightful album will surely make it a marvellous substitute.
This Christmassy offering from the Guv'nor, his son Blair Dunlop and impressive guitarist, singer and songwriter Becky Mills was recorded in a couple of days in Ashley's Derbyshire home. Producer Blair dodged the noise of the lumbering tractors many times to capture a perfect sound and a peaceful seasonal atmosphere.
Ashley and Becky teamed up a number of years ago to tour The Beginnings of Fairport, the fascinating story-song show tracing 50 years of Fairport Convention. A Midwinter Miscellany follows that theme of combining storytelling and music; Ashley has taken excerpts including George Eliot and Kenneth Grahame, and other writings and poems by William Makepeace Thackeray and G. K. Chesterton are given a different, burnished look. Ashley, Blair and Becky have composed solo songs or have frequently collaborated with their material; one high spot is Blair's mother, Judy Dunlop, singing with her son's guitar in Makepeace's 'Mahogany Tree' – Judy is a credited with writing the music as well.
Ashley is highly complimentary about Becky; when he has a new project, the first person he goes to is invariably her. He says: "It was a totally natural decision to invite her to contribute to this album – and working with my son Blair is a real pleasure… being part of this album gave him the opportunity of setting to music some of the words I chose as well as recording and producing this album."
This album will make a perfect and timely Christmas gift for your friends or your loved ones. A Midwinter Miscellany is chock-full of 13 tracks which will help you relax and sit down with some warming whiskies, precious ports or wonderful wines. Christopher Smart's 'Crocus Poem' heralds the collection and is followed up with Becky's pretty composition 'Crocuses'; Ashley co-composes the ear-catching 'Raggle-Taggle Lad' and (with co-writer Blair's striking harmonies) 'Her Name Was Mary'. Eliot's 'The Mill On The Floss' and Grahame's 'Animals' Carol' provide a sense of peaceful seasonal serenity; Becky wrote the music to the carol, and Ashley commissioned her to write 'Sweet November', about the month of melancholy, coupled with the loaded excitement that there could be a first flurry of snow any day. Becky sings the main part and Blair weaves some wonderful guitar and harmonises around her.
'Silence Of Snow' was co-written by Ashley and Rainbow Chaser fiddler Ruth Angell, and is amazingly beautiful; and Blair set to music the Chesterton poem 'The Christ Child Sat On Mary's Lap'. Ashley and Blair co-wrote the anthem-like 'Christmas Wreath', which is a perfect finisher. The whole album is absolutely pared right down, in stark contrast to the tinsel-laden vacuous commercial trash which assaults our ears and minds. Just imagine – on Christmas Morning, you might just be the recipient of Ashley's new present…
---
JUDY FAIRBAIRNS
Edge Of The Wild

WBM008
***** FIVE STAR CHOICE! *****
Published writer, artist and singer-songwriter Judy Fairbairns met her Wild Pioneer 40 years ago; he swept her up to the island of Mull in the Inner Hebrides, where they tried their hands at running a farm, a hotel and a whale watching business – all the time while raising their five children. She wrote a 2013 memoir called Island Wife, and she composes beautiful, dreamy material exploring her own view of life on the windswept Atlantic shore.
Her debut album is a glittering collection of nine peaceful, eloquent songs, ranging from 'I Have Sailed The Seven Seas' and 'Luna' through 'I Hold The Line' to 'Sometimes I Feel Beautiful', which is a perfect finisher. She draws inspiration from her book, and her songwriting is contemporary, poetic and thoroughly heart-warming – personal and uncompromising but instantly relatable. Judy hunted out producers Wild Biscuit, comprising Capercaillie's ex-bass player John Saich and composer, choreographer and photographer Mags Russell, who are based in Argyll in the west coast of Scotland. John and Mags have performed absolute magic on The Edge Of The Wild, blending in soothing piano, shimmering harmonies and soft and sympathetic percussion. And all the while, Judy creates a sense of empty space and lingering time as she paints a tranquil image of Mull's firm family ties, which is the island's lifeblood.
She writes in her notes: "My life has been extraordinary and music is my love. I have sung since childhood, anywhere, everywhere as if I cannot stop the melody, nor do I ever want to." Judy dedicates her life in song to "my five children, ten grandchildren, my husband the old sea dog, to my sisters who have always sung with me, my brother, and my dad who taught us all that music is the boat that will take us through any storm."
This is a remarkable, deeply satisfying album; Judy has created a collection of bright hope and confidence, and her lovely voice shines out as clear as a bell. She says the songs she writes are "inspired by all around me, the beauty of nature, the weather, the seasons, the moon-tides, the people in my village, something someone said in passing; these songs are formed from my thoughts about what I see, what I feel, what I long for and what I already have."
---
CHARLOTTE PETERS ROCK
Lifeboat Rescues: 1. North Wales

Self-produced; no catalogue number
https://www.etsy.com/uk/shop/LIBERTYnSONG
Charlotte Peters Rock is based in the Manchester area and is a poet, songwriter, singer and CD producer; she diligently has researched 18 songs and true accounts of the ships who were wrecked on the dangerous shores of North Wales and the island of Anglesey, and the selfless bravery and tremendous courage of the lifeboatmen and villagers. Her confident voice is unaccompanied, and she wrote the 18 absorbing pieces with complete accuracy, guiding the listener from the pages of history from the incredible valour of Frances Williams of Holyhead in 1838 to the destruction of the Rhyl Dragonfly on February 27, 2001.
These songs were mainly written in 2002; Charlotte says that two verses were added the 'The Royal Charter' in 2009, during the 150th anniversary commemorations of the terrible shipwreck at the little village of Moelfre on the coast of Anglesey. The steam clipper had docked in Melbourne, Australia, and put into Queenstown on the Irish coast – later Cobh – before setting out to Liverpool. The 490 passengers and crew included miners who were just returning from the Australian goldfields; the hold was full of gold. A fierce hurricane blew up in the October night and morning, and raging winds caused the ship to drift. Two anchors failed, and The Royal Charter was driven aground on Porth Helaeth, close to Moelfre. The villagers formed a human chain to rescue the poor souls, but it was too late. The ship broke up, and those who did not drown were thrown into sea and were battered to death by the rocks. Of the 490 passengers and crew, only 50 survived. The village was left coping with the most horrendous disaster; many bodies were laid out in St Gallgo's church, and Reverend Steven Roose Hughes was so affected by the tragedy that he died before two years was out. He was only 47.
Charlotte is not only a spellbinding storyteller; she's a factual historian as well. Many folk club singers should learn her songs so that we can honour and salute the rescuers, both land and sea, from the treacherous coastline from Fflint to Abersoch. Their heroism will never die.
---
OCTOBER 2020
---
DYBLE LONGDON
Between A Breath And A Breath

English Electric Recordings EERCD0026
Ex-Fairport Convention singer and Trader Horne musician Judy Dyble and Big Big Train band-member David Longdon recorded their first and – sadly – their only album. Between A Breath And A Breath was released in September, and many are of the opinion that this collection is her greatest work yet. However, Judy passed away fighting lung cancer at the age of 71 on July 12, 2020; her 50-year career is filled with a legacy of many with many singles and albums, her written songs and her auto-biography, produced with top music writer Dave Thompson.
Judy first came to my attention at Bryan Epstein's Saville Theatre in the heart of London in 1967; she fronted a young Fairport, who were supporting rock stars Pink Floyd in one of the Sunday night concerts. First up, Fairport shambled on and only played two numbers, 'One Sure Thing' and Donovan's 'Season Of The Witch' – but those songs were my road to Damascus, and I vowed to follow Judy, shock-haired teenager Richard Thompson and the rest of the band to the ends of the earth.
Fairport's history begins in November 1966; Her first band was called Judy and The Folkmen, and Ashley 'Tyger' Hutchings asked her to sing and play in some of the various jug-band incarnations with himself, Thompson and Simon Nicol. They needed a female vocal, mainly because of their reluctance to sing. After the Saville concert, Fairport released an acclaimed self-titled debut album, a treasured souvenir which sits in my album collection to this day; they picked up two songs of a little-known Canadian folk singer called Joni Mitchell from manager Joe Boyd's record rack, 'Chelsea Morning' and 'I Don't Know Where I Stand'. Judy sang lead on Fairport's debut single, a cover of a 1930s American track called 'If I Had A Ribbon Bow' – however, she and the band parted company, and Judy's life was filled with musical collaborations and many albums.
She and her then boyfriend Ian Macdonald recorded a number of tracks with pop group Giles, Giles & Fripp, until she split with Macdonald and left the band. Macdonald stayed, and the band became King Crimson and recorded a smash-hit album, In The Court Of The Crimson King. She worked with ex-Them member Jackie McAuley in the duo Trader Horne, and one album was released. A major festival, the Hollywood Festival in Newcastle-under-Lyme, was used to promote them; however, Judy left and an obscure jug-band called Mungo Jerry was called upon to fill the gap. They released another smash-hit single called 'In The Summertime' – but that's a different story.
Judy retired from the business and married DJ and scenester Simon Stable, who played bongos with Bridget St John and the rock band Ten Years After. His real name was Count Simon de la Bédoyère, and he was born near Paris; Judy, now a mother, worked as a librarian. 'France', parts one and two, forms a sizeable chunk of Between A Breath And A Breath; Simon and Judy holidayed in the family chateau, at once so peaceful and tranquil but scarred with memories of war. Simon died in 1994, and Judy was heartbroken; however, she started performing and songwriting again. Before Simon's death, she was a surprise guest with Fairport at their reunion festival, held that year at Broughton Castle; In Judy and David's latest album, 'Tidying Away The Pieces' is her way of coping with his passing.
Both Judy and David walk a very fine line between a former folk singer and a multi-talented rock musician, who has produced a glittering album; he multi-tracks on a host of acoustic and electric guitars, mandolins, pianos, harpsichords, vibraphones and other instruments and employs various session musicians, so much so that Judy's writing and carefully chosen lyrics seem a little drowned and lost in the juggernaut of amazing sound. First up is 'Astrologers', her put-down against the profiteering stargazers; 'Obedience' is the story of the five-week-old Ada Augusta King, Countess of Lovelace, torn between Lord Byron and his estranged wife. Judy's good friend was writer of enchanting words and illustrative artist Jackie Morris, and the album's title song, 'Between A Breath And A Breath' is – in Judy's words – "where the magic lies." 'Whisper' is the tale of Jackie Morris's aunt, who was unable to speak in a whisper and was ignored at family gatherings; it is also the account of a small girl who listened to her aunt's quiet stories. Judy says that the final song, 'Heartwashing', is: "when a relationship dies, when a romance ends, when a lover leaves – this is what was left. A picking up the self, a brushing down of the self, a putting away of the memories and a hopefulness of a looking forwards to whatever is next. Optimism conquers all."
It's a grand, magnificent album, always cartwheeling away from the traditional boundaries but often coaxed back along folk's straight and welcome path by her wonderful writing. It forms a memorable epitaph honoring her death. Dear Judy: Rest in peace.
---
PAT WALSH
Simply Whistle

Bunowen Music BUN001
www.patwalshwhistle.com
***** FIVE STAR CHOICE! *****
Pat Walsh has been part of the Manchester music scene for 50 years and is acclaimed as one of the city's best whistle players and composers. She is highly regarded by Northern musicians and Ireland, too – renowned Manchester fiddler Emma Sweeney, Cheshire's Tony Sullivan, County Mayo fiddler Julie Langan and whistler Marian Flannery Egan from Kilkelly have all queued up to salute her. Exhilarating musician Mike McGoldrick has masterfully produced her debut album and accompanies her on flute, whistles, mandola, tenor guitar and bodhràn; the wonderful John Doyle is there, playing guitar, bouzouki and mandola, and Tim Edey adds his unmistakable guitar. Marian Egan (whistle), Pat O'Reilly (bouzouki) and Stephen Doherty (piano) complete the list, which leads you to imagine that all the 19 tracks will be a gigantic hooley – but Pat's bright and sparkling whistle shines through, and the only addition is just one or maybe two sessioners.
If you mistakenly purposed that a lowly whistle wouldn't last a whole album out – well, I wouldn't bet on it! Emma says that Pat "has a lovely way of bringing music to life, with meticulous thought given to every tune she chooses to play – be it a trad piece or one of her own compositions." She leaps into the opening 'The Teacake Reel' / 'The Bellydancer', enhanced with John Doyle's imperceptible magic – and by the time that the second track ('The Forgotten Fling' / 'Miss Galvin's') is finished, you're totally hooked. Pat dances through 'Baby Matthew's Jig' / 'Emmet's Hedgehog', and solos on 'Humours of Whiskey' / 'Seamus Ennis' Lark In The Morning'; and she duets with Mike's flute on the reel 'Tie The Bonnet' – it's just fabulous.
The surprises just keep on coming. Pat executes a deft whistle duet with Marian Egan on 'Mister McDermott's' / Taylor's Fancy'; Stephen Docherty is on the piano. John Doyle is quietly stunning in 'The Lost Jig' / 'The Box Man', but it's Tim Edey's beautiful guitar on 'Kissing Cousins' / 'John Sindt's Favourite' that really makes Pat blossom and grow. I could rave about the whole 19 tracks, blended into an amazing two score tunes; all her little delights are absolutely golden, and it's the way she maintains a steady timing while skipping and floating butterfly-style that really knocks me sideways and wins my heart. Good on you, Pat!
---
FAY HIELD
Wrackline

Topic Records TSCD608
Banjo player and entrancing singer Fay Hield is an academic, lecturing in Music at Sheffield University and specialising in the role that folk music plays in the construction of communities; she is a partner of Bellowhead's former lead singer and fiddler, Jon Boden. Wrackline is her fourth solo collection; she collaborated with female quartet The Witches Of Elswick and folk supergroup The Full English, which included legendary players Seth Lakeman, Martin Simpson, Nancy Kerr, Sam Sweeney, Rob Harbron and double bassist Ben Nicholls. This band toured for two years, performed at many major festivals and released an eponymous album on Topic Records in 2013, winning Best Group and Best Album at the 2013 BBC Radio 2 Folk Awards and earning Fay a nomination for Folk Singer Of The Year.
Wrackline is the debris on the beach marking the peak of high tide; the foreshore between the debris and the waves is a no-man's-land, bridging beach and sea. Fay focuses on that mysterious otherworld of ghosts, fairies and the animal kingdom, where seal women change into selkies when they cross the dark boundary and into the unknown. Her accompanying band is The Full English slimmed down – Rob Harbron on concertina, guitar, harmonium, percussion and vocals; Sam Sweeney on violin, viola, nyckelharpa, percussion and vocals, Ben Nicholls on double bass and vocals and Ewan MacPherson on vocals and jaw harp. The album is Fay's first foray into songwriting; she fashions startling and moving material, combined with her respectful knowledge of age-old ways and the mythical unknown. As she says: "It is firmly within the realms of folk music, drawing heavily on traditions but looking at how they are still relevant for us today."
'Hare Spell' is a mighty starter; insistent, pulsing solo guitar introduces Fay recording Isobel Gowdie's 1662 witch trial confessions, sharing a spell to make her a hare, a crow or a cat, and the crescendo is pretty amazing. 'Jenny Wren' is her response to 'The Cruel Mother', trying to understand feelings of rejection and the despair of giving birth alone; and 'Night Journey' is a flowing combination between her melody and poet Terri Windling's verses, speaking of following impulses and into drifting into the unknown. 'Swirling Eddies' tells of a seal woman who crosses the shoreline's unknown border and thus becomes a selkie: "We must never cross the wrackline / where the water leaves her treasures…" – and she sings the epic 14th-century celtic ballad of the penniless 'Sir Launfal', where the valiant knight rides away with the elfin fairy to begin a new life together. Fay sets the English morris tune 'Black Joke' to this tale; coincidentally, Sir Launfal was said to be born in Wales and Caerleon was his home town.
Fay maintains her hypnotic hold for most of the album, from 'Call The Storm,' 'Cruel Mother' and the desperate sadness of 'The Old Grey Goose'; however, 'Pig Song' falls rather flat. Maybe the joke is too laboured; Benjamin Hapgood Burt and F. W. Bowers wrote 'The Pig Got Up And Slowly Walked Away' as a temperance song in 1933, and the American composer and entertainer Frank Crumit was the first to record it in 1934, along with several other artists – including Fozzie Bear in The Muppet Show. Anyway, it's only just a blip – and Fay is back on track with the late Maggie Boyle's ballad 'Sweet William's Ghost', the fleeting and lovely 'Wing Flash' and the final finisher 'When She Comes' – poet Sarah Hesketh's return-of-the-hare theme. The CD sleeve shows a stark picture of a fleeing hare, being pursued by arrows; inside the hare is a reclining naked woman. Fay says of her last song: "Being completely engulfed by an other to sensuously lose all sense of self."
---
RURA
Live At The Old Fruitmarket

RURACD003
***** FIVE STAR CHOICE! *****
February 2, 2020, was a very special night for one of the most exciting Scottish bands in the entire galaxy. The Celtic Connections Festival welcomed Rura to the iconic Old Fruitmarket in Glasgow's stylish Merchant City quarter, and the four outstanding musicians celebrated an incredible ten years of winning multiple coveted awards, playing in more than 20 countries, appearing in BBC-1's Hogmanay Celebrations and thrilling festival audiences from Cambridge to Shetland, Tønder to Winnipeg – and this is one absolutely stunning live album.
Celtic Connections was where it all started for the four-member band; they were victorious in the Danny Kyle Open Stage in 2011 and won the Best Up-and-Coming Artist accolade the same year in the MG Alba Scots Trad Music Awards. Four years later, they won the Live Act Of The Year in the same awards. The current line-up is piper and keyboardist Steven Blake, fiddler Jack Smedley, flautist and bodhran player David Foley and guitarist Adam Brown. For the five album, old pals get up on the stage and collaborate with Rura; the band's former members, singer-songwriter Adam Holmes and guitarist Chris Waite, as well as Treacherous Orchestra's Ali Hutton, piper and whistler Finlay MacDonald and Breabach's James Lindsay on bass and synths. Fiddlers Megan Henderson (Breabach), Patsy Reid and Seonaid Aitken and cellist Alice Allen augments the impressive sound as the string section.
The 1,200 audience whoops and hollers, cheers and claps, delighted at such an amazing show. Rura stamps their own individual mark on the opening tune, 'Catriona's' – written for Orcadian fiddler and Fara member Catriona Price – with Jack's wonderfully supple fiddle and David's dancing flute weaving in and out of the bodhran, keyboards and guitar. The repertoire is inspiringly contemporary, with a strong Scottish influence the driving force; the four musicians all get their collective heads together on the vast majority of go-ahead material, and the swirling mighty sound more than matches the likes of U2, Coldplay and the other rock gods. Next up is Fife composer Frazer Fifield's atmospheric and brooding 'The Dark Reel', with Rura just exploding and Steven giving it his all on the pipes; James Russell, Jack's grandfather, describes his Montrose safe haven at the start of 'In Praise Of Home', as Jack's beautiful fiddle imitates a seabird on the wing, rising and falling away, as the pipes slam in to emphasise the tune – and David's grandmother, Sheila Littlejohn, tells her story in the evocative and wistful 'I'll Never Forget', about her thirteenth birthday on board a ship bound from Jamaica to Scotland in the 1930s.
Adam Holmes lends his gritty rock voice on two songs of his own ('Mary' and 'Weary Days'), and Ali Hutton does his special magic on 'The Glorious 45'. Finlay MacDonald had just become director of Scotland's National Piping Centre, and 'Elliott's' – named for his son – builds to a crescendo as the rampant pipes break through and the whole band starts going for gold. The two-part 'Horizons' is a roaring climax, with the first piece blending into the second fizzler and inevitably leaves the audience wanting more. If you could not be at the Celtic Connections gig that night, then Live At The Old Fruitmarket is a superlative collector's item indeed.
---
SEPTEMBER 2020
---
WORDS OF A FIDDLER'S DAUGHTER
rúnian

TCR002
The incredibly productive and sensationally inspiring duo The Ciderhouse Rebellion – master accordionist Murray Grainger and 'Paganini of the folk world' Adam Summerhayes on fiddle – have joined forces with Adam's folk-poet daughter Jessie to form a trio, Words Of A Fiddler's Daughter. Their debut album rúnian plunges back into ancient magical secrecy: in Anglo-Saxon, rúnian means 'to whisper,' in Old Irish, run is a secret; in Old Norse, runar translates as mysteries; in Finnish, runo means a song or a chant; and in Middle Welsh, rhin is a magic charm.
Jessie Summerhayes' words are steeped in the same history and folklore that flows through the music of her father, tales of her beloved North East of England with her fresh and timeless voice. She is a natural wordsmith who has been immersed by music her entire life; she even slept in her father's violin case as a baby. One day, she showed her new poem, 'Young Water Eyes', to Murray and Adam in the hope that it might be read by her father over one of their wonderful and spontaneous creations. Instead, she was invited by Adam and Murray to read her own words while they improvised as they heard her speak. As Jessie continued to produce meticulously-researched poems, also drawing on the historical records and literary creations of the early-medieval period – The Magna Carta, the writings of The Venerable Bede, the Norse Sagas – both Adam and Murray realised that her work should stand alone, and Words Of A Fiddler's Daughter was conceived.
'Young Water Eyes' is still there, as well as the other seven compositions; Jessie's confident tones herald the eight-and-a-half-minute opener 'Oars In The Breakers', 'The Fire Of Vengeance' is short and sharp, and 'The Harrying Of The North' is a 10-minute epic. She holds and hypnotises the listener with 'A Silken Gold Chain', 'The Jet Worker', 'The Dyemaker's Daughter' and the final finisher, 'Golden Hoards' – and all the while, Adam's enthralling fiddle dances with Murray's spellbinding accordion.
The trio's spontaneous performances are totally unique and created for this moment; however, Jessie's verses are occasionally drowned by the resulting accompaniment, which is a shame. Nevertheless, poet and musicians have to walk the imperceptable line between her fine poetry and the rich musical improvisations, and it nearly works – but not quite. I found myself straining to catch her golden words and feeling frustrated and slightly helpless when those meanings were lost. Still, this album has got me well and truly hooked; I want to hear more of Jessie's writings, and I can revel in the fabulous music of Murray and Adam as well. I wouldn't mind betting that the next collaboration will be out of this world – as long as Words Of A Fiddler's Daughter will have made that oh-so-delicate sound-balance right.
---
STEVE TYLER
The Enduring And The Ephemeral

RUFUS5
Innovative West Country hurdy-gurdy player and brilliant multi-instrumentalist Steve Tyler has performed across the UK and Ireland and across Europe; he is a founder member of medieval music ensembles Daughters of Elvin and Misericordia, and in 2011 he co-founded Woodwose with bagpiper Katy Marchant to explore composing new music for historical instruments. He has toured with Puppetcraft's show The Tin Forest, played for French dances with The Wendigo and with Jon Swayne and Becky Price, provided music for radio, television and films and been involved in more experimental projects such as An English Journey Reimagined, with Shirley Collins. He also teaches hurdy gurdy, runs workshops or gives individual lessons – in fact the respected Blowzabella bagpiper and the English Folk Dance and Song Society's Chief Executive Officer at Halsway Manor, Paul James, paid this glowing tribute: "Steve Tyler is blessed with virtuosic technique and imagination. He is amongst the best players on the European scene."
The Enduring And The Ephemeral is the first album comprising Steve's own startling and creative compositions, and it really deserves to be heard. Jane Harbour of the Bristol band Spiro is there, contributing voice and violin on the concluding 'Lullaby', which she wrote with him; Katy Marchant plays bagpipes on the enormous 12-minute 'Exercise Two' and 'The Great Unconformity', plus shawm, recorder and voice; but the most poignant of all has to be 'Tethys', with Katy's improvisatory vocals and a single bass viol sample by the late Mike Edwards, cellist with the original lineup of the Electric Light Orchestra. Mike performed and recorded in a band with Steve but was sadly killed in an unlikely accident. He was always interested in new projects, and he would have loved to play on 'Tethys'; this 2007 sample miraculously fitted, as if he had had this piece in mind at the time.
However, Steve is multitracked all alone, and he plays hurdy-gurdies, cittern, reed organ, guitar, bass guitar, gothic harp and percussion; despite instruments going back hundreds of years, his go-ahead composing and spacey arrangements mark this as a totally relevant music of the future. The opening 'The Second Law' envelopes doomy and menacing bass, swirling gurdies and insistent percussion; the seven-minute 'Chronophage' is the follow-up, and the fanfare and coda is psychedelic-like restless, chattering instruments. The aforementioned 'Exercise Two' pictures an endlessly ticking clock, and Steve moulds this whole album into a thoroughly trance-like and hypnotic experience. It's all very moving and completely inspirational – and I'm looking forward to his next recording with the greatest of pleasures.
---
CALAN
Kystvaen

SIENCOCD006
***** FIVE STAR CHOICE! *****
These Five Star Choices keep on coming thick and fast! The multi-award-winning Calan has thrown down the gauntlet with a fierce pride and absolute spadefuls of brilliant musicianship – and I love it, love it, love it! Kystvaen is an old Welsh noun describing a tomb or burial chamber formed from stone slabs, and that's exactly what they do – unearthing an ancient national culture and fashioning songs and tunes sharply back to life for the 21st century. It's Calan's sixth full-blown album, with a tempting bonus of a Giggly EP and a single; guitarist Sam Humphries, alias Samiwel Elias Humphries, has recorded and mixed this punching, utterly gorgeous battery of sound which doffs the reverent cap to that rich source of Welsh tradition and beloved icon, Merêd Evans, and other early pioneers who between them helped to form this unique and beautiful Celtic catalogue.
The core of this young band is still there, and they have morphed into stunning and sassy acoustic players. Angharad Sian Jenkins is still striking sparks on the fiddle, and this is the first time that Calan have switched to her own label, SEINCO; Bethan Rhiannon waves the flag as the impassioned and magnetic lead singer, utterly confident accordionist and eye-popping clog dancer, and Patrick Rimes just cannot be beat on sizzling violin, bagpipes and other wonderful Welsh instruments. Harp player Alice French has emigrated to the lovely Kaikoura on New Zealand's South Island, and the fiery Shelley Musker Turner has taken her place. Shelley, who comes from Ceredigion and is based in Cardiff, is a harpist who designs and makes bespoke leatherware for musicians, the general public and Hollywood movies.
This is a mighty, intensely full-on and completely beautiful album, and the whole band have broken out and magicked these original songs and glittering arrangements. Patrick's super-confident voice tells the story of 'Jêl Caerdydd', a rip-roaring opener from the National Library in Aberystwyth, and Calan just rocks and rolls. Welsh dance tunes such as 'Cymro o Ble?', 'Cambro Brython' and 'Castell Caernarfon' slam in and out of the traditional and written material, and Bethan, Patrick and Sam keep on carrying the traditional torch by composing some sensational tracks. Of particular mention is Angharad's graceful instrumental 'Dolig Abertawe', which was written in the Christmas holidays back home in Swansea after a long hard slog at Oxford Brookes University; as Angharad says: "There was something about the fresh sea air and Mum's home cooking that made it a particularly creative time!" Calan might be known as a high-energy band, but this is quite simply gorgeously pretty.
Angharad's Mum Delyth is a class harper herself, and Calan delve into an old LP by her band Cromlech to retrieve the dreamy 'Mari Morgan', similar in tune to the Scottish song 'Lizzie Lindsay'. Once again, it's Bethan's voice that is the icing on the cake. The whirlwind 'Pat The Lucky Dog' has two Bethan-composed tunes and culminates with the amazing '2Gardi3' – Ar Log's Steven P Rees is the inspiration here. And Bethan's hybrid 'As The Night Closes In' is patently jaw-dropping, with the familiar swelling sound of Calan's voices punching in.
The band stamp their unique mark on these 15 tracks, and not one is wasted here; special mention must be given to the 13th cut, 'O. G. Greta': "When the last tree has been chopped and the last river poisoned… then will we listen to reason? A nod to one of our heroes." The ghost of Merêd must be smiling and giving Angharad, Bethan, Patrick, Sam and Shelley an approving thumbs-up.
---
SARAH DAVIES
More Than A Wave

Independently produced; no catalogue number
www.gwaunvalleybrewery.co.uk/index.html
There are many pleasant and memorable sights when you venture along Pembokeshire's remote and beautiful Gwaun Valley; for example, the ancient Calennig tradition, when children sing in the New Year just 13 days late, and the Gwaun Valley Brewery, where Len Davies used to fulfil his loving passion by brewing many real ales in cask and bottle. Len and his wife, Sarah, are retired now, but a new local brewer carries on the tradition. Sarah illustrates the beer labels on the brewery's bottles with her eloquent designs; she's a watercolour artist and teacher, who started painting about 35 years ago when she joined a local art class to make up the numbers. She was then living in Glanaman, near Ammanford, and she joined the local art society and regularly exhibited with them. In 1995, she completed a course in wildlife illustration and design at Gelli Aur College, near Llandeilo; following that, she went on a course in Swansea and began teaching watercolour at local art groups. She taught at Aberystwyth University for many years and held exhibitions at Pontardawe, Gorseinon, Swansea and Ammanford. She continues holding several exhibitions at her studio in Kilkiffeth Farmhouse.
Sarah is a songwriter and a guitarist; this is her debut album, and the 12 tracks were recorded at Studio 49 at the town of Narberth in Pembrokeshire with Dave Gould on bass and banjo, Barry Chantier on mandolin, backing vocalist Elizabeth Chantier and Richard Mann on concertina. Her music and lyrics are simple and pleasant, and she composes verses whenever there's an interesting cameo that catches her eye and mind.
Sitting outside the Gwaun Valley Brewery on a balmy October afternoon with a glass of real ale inspired Sarah to write her opening title track, and 'Stan' is about a real character who lived on a farm. If he was stuck for an answer, he would always say: "I forgot to ask Mother". 'The Brighter The Sun' is a picture of her brother John, who was in hospital before he passed away, and 'Going, Going, Going, Going Gone!' is the true story of Len and Sarah's farm sale. 'Poor Old Drake' tells the story of a hapless suitor, with quacks as the chorus; and 'Rhys And Menir' is a sad story of two lovers who lived in the accursed Nant Gwrtheyrn in Llŷn; after they were married, Menir ran and hid from her groom. She was never found. Years passed, and Rhys grew old. However, a lightning bolt split an oak tree, near Rhys's cottage, the ruins of which are still evident to this day; there lay the skeleton of Menir. (For an encore, the Mumbles Horse party sang 'The Mistletoe Bough', a similar tale of a lover marrying his bride, who ran away and hid. Years later, an old oak chest was discovered, and the girl's skeleton was still there, draped in a bridal wreath.)
'Heads We Win' is advice from a wise old farmer, who always put his rams in with his ewes in October, and 'My Auntie Plays The Banjo' is just nonsense – and fun, too. Sarah is also compere at the weekly Saturday evening Gwaun Valley Brewery Zoom sessions, where she sings her own songs on guitar.
---
AUGUST 2020
---
THE OLD SWAN BAND
Fortifived

Wild Goose Studios WGS434CD
The Old Swan Band have really celebrated an incredible 45 years of performing with this lovely and joyful collection, on which they salute dances and tunes from right around the world. And what a corker – Irish slides from Sliabh Luachra, Scottish two-steps, Swedish polkas, Australian scottisches and American quadrilles, Quebecois jigs, uniquely played as only a Gloucestershire-based bunch of musicians can. These feted veterans were the pioneers of the emergent ceilidh scene, spawning dance bands like The New Victory Band from Yorkshire, Umps And Dumps from Shropshire, Derbyshire-based Ramsbottom and Londoners Flowers And Frolics; they injected real verve and tingling tenacity into a genteel tradition that was in danger of disappearing up its own polite decorum.
The history of The Old Swan Band lies in the early 1970s with the London-based English country dance band Oak, one of a tiny handful who combined melodeon with fiddles. Oak were comprised of Topic Records manager Tony Engle, Peta Webb and husband and wife Rod and Danny Stradling, and they became known and loved around the South-East folk scene. However, Rod and Danny moved to the Cotswolds and formed The Cotswold Liberation Front, which morphed into The Old Swan Band – named after a Cheltenham pub – in 1974. They recruited fiddler Paul Burgess, percussionist Martin Brinsford and the teenage Fraser Sisters – nowadays, Fi plays fiddle and hammer dulcimer, and her sister Jo plays saxophone, clarinet and whistles. This new band took the staid English country dance scene by storm; beforehand, the English Folk Dance and Song Society ruled the roost for determined plimsoll-walking at Cecil Sharp House. In fact, fRoots Magazine cartoonist Lawrence Heath lampooned the members by nicknaming them DEAFASS – the Dance Earnestly And Forget About Song Society. The Old Swan Band shook up country dancing by bringing punchiness to a repertoire of tunes and a few songs, learned from the concertina player Scan Tester, the hammer dulcimer player Walter Bulwer, the melodeonist Reg Hall and the Copper Family. Their 1976 debut album, No Reels, was an acclaimed success, and another three albums followed; however, Rod and Danny left.
The depleted band recorded an EP in 1983, but did not return to the studio until 2004 – a gap of 21 years, by which time they had recruited 'new' members John Adams (trombone, fiddle), Neil Gledhill (bass saxophone) Flos Headford (fiddle) and Heather Horsley (keyboards). The musicians went their different ways and were collaborating with other bands. The Fraser Sisters recorded as a duo, and Jo changed her name to Jo Freya as a condition of joining the actors' union Equity; she joined Blowzabella and its spin-off Scarp, and she plays with Token Women (as do her sister Fi and Heather Horsley) and with her own pan-European group called Freyja. Martin Brinsford went on to join Brass Monkey, with Martin Carthy and John Kirkpatrick; Paul and Flos were founder members of the Mellstock Band.
This is a great album – The Old Swan Band really polish up the international dance scene as only experienced musicians can. The sleeve notes headline 'English dance music from everywhere'; the repertoire emanates from a plethora of influences, including the Sliabh Luachra fiddler Julia Clifford, Perth-born multi-instrumentalist and band leader Felix Burns ('Dancing Dustman' and 'Louis James Quadrille'), English concertina and Northumbrian pipes master Alistair Anderson's composition 'Road To The North' – and the band segue into 'Travellers' Joy' (written by Shropshire dancer Janet May to company a morris dance performed by Martha Roden's Tuppeny Dish) and 'Bälter Svens Paradpolkett', a polka learned from the Benny Andersson Orkestra, led by the former ABBA singer and which is strikingly similar to the polka 'Jenny Lind'.
No doubt about it – after more years than they care to remember, the band totally go for it and embrace these wonderful 28 tunes contained in 14 tracks as if there was no tomorrow. Nice arrangements, too! Let's fervently hope that The Old Swan Band will still be storming on for the next 45 years.
---
GAREFOWL
Cliffs

Penny Fiddle Records PFR2004CD
https://pennyfiddlerecords.bandcamp.com
Garefowl is the name of a project marking two sombre anniversaries connected to St Kilda, the wild archipelago which stands 50 miles out in the North Atlantic Ocean, west of North Uist in the Outer Hebrides – it's 180 years since the last great auk in the British Isles, or garefowl, was killed there, and it's 90 years since the last community of St Kildans was evacuated in 1930. Now all that is left is a small military base, built in 1957, and parties of volunteers who restore the ruined buildings of the settlement Hiorta for The National Trust, who own the entire islands. Multi-instrumentalist Ewan Macdonald and his father Murdo are descendants of Lachlan MacKinnon, one of the men who killed the great auk – and Ewan and his father created the project to pinpoint their family history.
Great auks thrived across the northern Atlantic, and St Kilda was a perfect breeding ground. However, they were hunted down to near extinction; their down was much prized for making pillows. In 1840, MacKinnon and four men were hunting seabirds on the cliffs of Stac an Armin. They captured a great auk which was sleeping on the cliff, but the frightened bird caused such an eerie commotion that un-nerved the hunters. Suddenly a storm blew up, and the men believed this strange bird was a witch. They beat it to death with rocks; it took an hour to kill it, the last great auk in the UK. Four years later, the last great auk left alive was killed by Icelandic hunters.
The album sleeve is a selection of six panels designed by the artist, Cally Yeatman of North Uist, who named the creation 'The Living Wall – Guillemot Cliffs'. The Cliffs project employs a vast array of instruments, including fiddle, cello, mandolin, harmonium, viola da gamba, percussion and a battery of synths; it's intended to build a celtic sound-poem, a picture of St Kilda which emphasises the lonely windswept grandeur which serves as a haven for millions of seabirds. It's a mix of traditional gaelic song and puirt-a-beul, contemporary tunes which have influenced the band of musicians and synth noodlings – irritating synth noodlings, if you ask my opinion. How can I give a proper hearing when there are all these intrusive electronic burblings kicking about?
'Hion Daila Horo Ri Ho Daila Là' – learned from a 1959 Joan MacKenzie recording – gets the album off to a good start, and Ewan's fiddle just dances; a young woman is angry with a potential suitor, who tells her he has not brought her a gift of seabird eggs to prove his bravery. 'Òran Hiortach' (The St Kilda Song) appears in print in 1784, and it is simply beautiful in its starkness; so is 'Mo Ghaol Òigear a Chúil Duinn' (My Love, The Young Man With The Brown Hair), based on a Mary Munro recording of 1963. The musicians adapted the puirt-a-beul song 'Cas Na Caora Hiortach O' (Oh! The Legs Of The St Kilda Sheep) from a 1950 recording of Peggy MacRae; Ewan wrote the ten-minute 'A Bird From A Rock', linking the true story of a young St Kildan in the early 1700s who was captured by pirates and the 1864 sinking of the Dargavel, a huge blow to the St Kilda community. Murdo wrote the gay, skipping tune 'Pink Sandals On The Street' when he was volunteering on St Kilda; Helen Annan, one of the cooks of the work party, used to dance along the street wearing an incongruously bright pair of pink sandals. She passed away in 2018. 'A' Fagail Hiort' (Leaving Hiorta) is another tune composed by Murdo, written as he rolled across the sea on one of the boats which plies between St Kilda and Harris in the Outer Hebrides, and it brings Cliffs to a fitting end.
I'll give the project a guarded thumbs-up – if they don't turn down those bloody synths, that is…
---
THE RHEINGANS SISTERS
Receiver

Bendigedig BENDI5
***** FIVE STAR CHOICE! *****
The Welsh label and Theatr Mwldan co-operative Bendigedig is entirely responsible for Anna and Rowan Rheingans' fourth album and absolutely stunning new release; it was  recorded by producer Andy Bell at the Giant Wafer Studios, located in the beautiful wilds near the village of Llanbadarn Fynydd, on the remote A483 Llandrindod Wells to Newtown road. The Rheingans Sisters are inventive fiddle-singers, contemporary composers and exquisite multi-instrumentalists. Rowan is well-sought-after on the UK folk scene as part of the BBC Folk Award-nominated trio Lady Maisery, as well as for her work with Nancy Kerr and The Sweet Visitor Band and the Songs of Separation network; she now lives in Sheffield. Anna gained a first-class diploma at the Conservatoire de Toulouse; she lives and works as a fiddler and teacher in this French city and is heavily influenced by Béarnaise and Occitan music, playing both the flabuta (three-holed pipe) and the tambourin à cordes, the elegant stringed drum.
The sisters grew up in the village of Grindleford in the Peak District National Park in Derbyshire; from a very young age, they were immersed by traditional music and were encouraged to pick up the fiddle by their historian-writer-musician and clog-dance teaching mother and their German father, a luthier of great reputation – he makes the fiddles and banjos which Rowan and Anna play. They have an incredible and unique knack of fusing thoroughly modern songs, swooping and soaring effortlessly and majestically with traditional European melodies which have proudly stood the test of time.
Their music is intensely proud and gentle, fleeting and featherlight, thoroughly hypnotic  and mesmerising. Rowan's opening song, 'The Yellow Of The Flowers' transports the audience into a timeless, summery dreamworld; the circulating fiddles buzzing like bees, drifting and dancing with each other, pinpoint shimmering harmonies. They spent a long time in Scandinavia, and 'Ostbjörka' brings memories of players and dancers who gather in a small Swedish village each Thursday night in July; it's a traditional Scandinavian tune, ignited by Rowan and Anna's arrangements. Butterfly-like, they flit and skip over moods and music, landing on countries as if they were flowers; 'Salt Of The Earth' is Anna's beautiful tribute to her Maghrebian friend, outstanding violinist and r'bab player Amine Tilioua, who lived in Toulouse and died much too soon. In contrast, Anna wrote 'One More Banjo' as a loving and relaxing salute to their parents' Peak District home and their father's musical influence, as the sisters duet with their instruments; they confess: "Neither of us remember the first time we heard a banjo, nor exactly when we became banjo players."
Anna and Rowan take the listener on a magic carpet ride of 14 musical wonderments, including the Canal du Midi in Provence and fighting the tiger mosquitos, French rondeaux and an Occitan shepherding song, wild Norwegian fiddling learned over three years from a 1935 recording from musician Jørgen Tjønnstaul (music described as "belonging to another world"), traditional dance influences from the Béarn and the Pyrenees, the Museum of Free Derry and an Irish mazurka, the Nagasaki bell which was rescued from the rubble of an atom-bombed cathedral, and fond memories of Anna's high-rise community in the centre of Toulouse. The last track, and a perfectly fitting one, is the traditional 'Waltz From Lozère', which Anna found and researched when she was offered a gig in this remote region, famed for its cheeses and its wolves.
The Rheingans Sisters are unique; their songs and tunes are special, completely absorbing, alluring, simple yet totally complicated. They are definitely not 'hummable' material – however, I woke up one night with Anna and Rowan's compositions ringing in my head. I class Receiver as being of gold-medal earworm status; I really treasure the album, and I hope their brilliant inspiration will last for a very long time. Once again: thank you, Bendigedig, for making the whole gorgeous thing possible.
---
JULY 2020
---
STACEY MCNEILL & JONATHAN SMITH
Leaving Autumn Town (EP)

Smjsmusic – no catalogue number
Stacey McNeill and Jonathan Smith are both songwriters, living almost 50 miles apart; her in the centre of the island of Anglesey, near RAF Valley, and him in the beautiful little ex-slate quarrying village called Cwm Penmachno in the Snowdonia National Park, high up the River Machno valley which leads down to Betws-y-Coed, just a few miles away. They decided to form a duo early this year when Jonathan was producing songs for Stacey's solo album – and the two realised their close bond and affinity where music-making was concerned.
They were just about to start work on their debut album – but the Covid-19 lockdown threw the whole of Wales into confusion. The Welsh Senedd imposed a ban on travel, but Stacey and Jonathan were not daunted. Leaving Autumn Town is the result of many Skype conversations to finish writing songs, plus many hours of solo home recording. Stacey says: "Fortunately, Jonathan is a very skilled producer and has worked hard to get it all together. Despite not being able to meet up, we've still been able to create something we're really happy with."
The six-track EP is a unique song-crafting cameo of what makes Stacey and Jonathan tick; they create a surreal otherworld of ethereal folk sound, sometimes experimenting with Americana; and although their fragile voices would seem to be blown away in the wind, their appealing harmonies form a firm foundation. Jonathan's rippling acoustic guitar set the scene for the opening 'Last Leaf', with a hint of 'cello drifting through – and the catchy 'Between The Lines' carries a snatch of lazy banjo as well. He employs delicate piano, percussion and violins, which are used sparingly and expertly in the production. 'The Secret Gardener' is the last dreamy, haunting pastoral-flavoured offering, and the album takes its title from the final lyrics of the song. Leaving Autumn Town is a first foray for the duo – but what a gentle, laid-back introductory fanfare.
---
REIMAGINE: BEYOND THE BORDER ONLINE
During the long, bleak months of the 2020 Covid-19 emergency, all festivals and folk music events have postponed their operations and are waiting to see what the future holds. Beyond the Border International Storytelling Festival, which had moved from St Donat's Castle grounds to a new West Wales home at the National Trust's Dinefwr Park,  was one of the midsummer casualties and closed its doors; however, I was specially invited to a virtual five-hour Zoom festival advertising a showcase of the spectacular delights that BtB will offer in 2021. Artists and musicians from Wales, Ireland, London and across the Atlantic in Minnesota State were waiting to hook the audience with their spellbinding performances and – thanks to the digital age – it meant that nobody had to leave the comfort of their own homes. Thanks, Zoom!
There were long, leisurely breaks between the five-hour stints: storyteller Tamar Eluned Williams hosted the mini-festival, and first up was Ireland's Clare Murphy and Minnisotan Kevin Kling, each telling Minnesota lightning and truck jokes, tales of Fianna warriors and The Faeries' Lament – the sound of the uilleann pipes directly corresponds to the cry of the hump-backed whales. Siân Miriam introduced us to the Tylwyth Teg, the little folk who inhabit the boundaries of Wales and who are given a wide berth by us ordinary mortals. Tawe Valley-born Ceri John Phillips told a rare story of the sombre, dark world of the sin eaters – the lonely souls, shunned by the populace who regarded them as pariahs, whose only job is to eat a bowl of cawl from a body of a dead relative and absorb all the sins into his being. Moch Bach was just seven years old when he came across the sin eater, who had eaten the sins of dead people from Pontardawe to the Brecon Beacons. The sin eater persuaded Moch Bach to follow him up the Darren Mountain to his shack, which he said was loaded with toffees. Moch Bach was just enjoying the last toffee, when the door burst open. There stood his parents, who begged him not to eat the sweets – but it was too late. The sin eater had tricked Moch Bach into eating all the sins; and Moch Bach became the sin eater himself, destined to eat all the sins for all the departed. He now lives in a lonely shack, and rues the day when he heard his Gran say: "You must not go up the Darren Mountain."
Owen Sheirs – Cynefin, composer and gifted guitarist – took the audience on a three-song tour around Ceredigion with his tales on Caradog Jones, bailiff on the River Teifi, traditonal songs of the Clettwr Valley and 'Y Deryn Du', found in Llandysul. His lovely DADGAD tuning was a work of art. Stunning Mair Tomos Ifans plays her harp and tells her entrancing stories all around Wales; she tells her audience: "The Tylwyth Teg don't wear pink tutus" – and breaks into a yarn about a fiddler who got spirited away while on the road to Llanidloes. And then there is TUUP – Godfrey Duncan, aka The Unorthodox, Unprecedented Preacher, an international storyteller, musician and poet who was born in London to Guyanese parents. Plucking his marimba, his super-long version of The Creation, introducing Overseas Man, Local Man, Woo-oo-man, Monkey, Snake and Spider, just caps it all – and he pulls a myriad of contorted faces to underline his gob-smacking tale. A wonderful entertainer, TUUP became a professional storyteller in 1981 when he joined forces with Ben Haggarty as part of the West London Storytelling Unit, which went on to become the internationally-acclaimed Crick Crack Club, where he still performs today. In fact, Carmel Crevola, International Literacy Advisor, says of him: "He is truly an elder of the storytelling revival in Britain. His style of total improvisation, fabulous capacity for mimicry and ear for a wild story is outstanding."
A rip-roaring ceilidh crowns the end to a mini-festival, and what better than caller Cate Haynes and the Urban Folk Theory. Cate demonstrates a social distancing dance that she's just written, and the band whips up a storm – everybody's virtually Zoom-dancing with themselves! If you want to purchase tickets for next year, the Beyond the Border website is https://beyondtheborder.com/ – the Festival runs from Friday, July 3 until Sunday, July 5, 2021. I can't wait!
---
JUNE 2020
---
THE CIDERHOUSE REBELLION
Untold

Nimbus Records NI6398
The InCider Sessions

Independently produced: TCR01
***** FIVE STAR CHOICE! *****
I was absolutely mortified when I guiltily confess that I hadn't heard of The Ciderhouse Rebellion; I have now. Anyway, I selected the two albums from the rapidly-growing but dangerously-teetering pile of plastic and stuck them on the CD player without reading the notes. However, not twenty seconds of the first track had played when a flash of realisation leapt into my mind – that sounds incredibly like The Haar!
More exactly, two members of The Haar – spectacular musician Adam Summerhayes (who the late lamented fRoots magazine hit the nail on the head when they described him as "The Paganini of the traditional violin") and Royal Academy of Music graduate Murray Grainger – are the Anglo-Irish quartet's musical powerhouse. Accordionist Murray and Adam had been in the process of recording a duo album at very great length; and now, on an evening in June, they had completed the whole take and had wrapped up at 7pm. Not being used to early evenings – with the two quite accustomed to according sessions until dawn – they decided to knock off an extra album of entirely improvised music. Well, dinner was not until eight…
There are strict rules for recording an album: you must prepare, rehearse and allow plenty of time. Untold followed none of these edicts – no preparations or rehearsals took place and the three tracks ('Chapter One', which lasts for half an hour and one minute, the contrasting 'Chapter Two' and the two-minute calm-and-serene coda 'Epilogue') were thrown together as recorded on-offs. The result is quite stunning; Murray's inventive, compelling accordion and Adam's shimmering violin brilliance are a magical and wondrous mix, combining completely energized freestyle mastery with utterly gorgeous collaborative fusion. It's exciting and totally marvelous, tumbling, wild, haunting and exhilarating. Their unpredictable and powerful interplay catches the listener unaware; it's as if a stream of consciousness were flowing, pounding and pulsing through the Untold' 45-odd minutes. With 'Epilogue', Murray used the reedier accordina, an instrument played by blowing instead of squeezing, which adds a certain mournful clarity to the gorgeous melody. This is a mighty album in spades.
In total contrast, The InCider Sessions is a limited production, born out of the covid-19 social distancing lockdown when Adam and Murray were separated 50 miles from each other – the accordionist in Lincolnshire and the violinist in Derbyshire. The problem was this: How can two musicians play together in real time when they cannot even sit in the same room? Even interacting and sessioning with each other was completely out, because of the internet time lags – so the duo had to employ an old-fashioned pair of landline telephones, a complex sequence of microphones, wires, mic'd-up earpieces and headphones wrapped in blankets as they recorded the album in their respective homes (and the back of Adam's car).
The result is quite amazing – twelve tracks including four traditional tunes, all lovingly dressed up to an unrecognisably elegant degree, plus one from Murray ('Moochew'), three melodies from Adam and four collaborations between them. Murray's composition is the perfect opener, sending billows of rolling sound cascading around the two counties; then he and Adam pile in with the venerable 'Salmon Tails', absolutely and very prettily rejuvenated by the duo's inspiring arrangements. Adam is proving to be a must-hear composer, with the lovely 'Time's Slow Dance', the rumbustious, fiddle-and-accordion-drummed jig 'The Highwayman's Rat' and the desolate 'The Forgotten Wedding', which lingers on for a full seven minutes.
In contrast, the windswept beauty of the traditional 'The St Kilda Wedding' creates a vivid sound-picture of the abandoned and ruined Hirta, the remote settlement on the treeless group of islands, 40 miles west from North Uist in the Outer Hebrides, across the wild Atlantic. The hundred-odd islanders gave in to government persuasion and evacuated St Kilda in the 1930s; now, the only inhabitants are military personnel, conservation workers and scientists, and the whole archipelago is owned by The National Trust. Adam and Murray have sculptured such a stark sound-poem of the lonely place; it's immediate, descriptive and gorgeous beyond measure.
The 18th century traditional Scottish air has the daring but questionable title: 'Sweetest When She's Naked' – and it stirs a hot debate over several different and very obscure explanations. One theory is that 'she' is the wonderful Scots whisky, and a dram without water or ice is referred to in Scots parlance as 'naked' or 'neat'. Anyway, both Adam and Murray artfully build up the foundations to conjure a crescendo of ethereal and mysterious music – like the whisky, it cheers the heart and refreshes the mind.
If you cannot purchase this limited album, The Ciderhouse Rebellion have broadcast The InCider Sessions on Youtube – it really is twelve of the most rewarding and inspiring tracks I have come across.
---
JOY & ANDREW
Dithis / Duo

Sradog Music SRM007
***** FIVE STAR CHOICE! *****
In this challenging lockdown year of 2020, amazing things keep happening; a welter of Five-Star Choice albums keep dropping through my letterbox. We all have a conviction that the folk scene carries on delivering inspiring, go-ahead and super-punchy material – and this one is a very special and unique debut album. After a decade working on very different musical paths, sibling duo Joy and Andrew Dunlop have come together at the Isle of Mull's creative and cultural beacon and art sanctuary, An Tobar, to lay down 11 shimmeringly beautiful tracks – and it's all recorded by An Tobar's music director and acting CEO Gordon Maclean, erstwhile double-bass player with the late lamented Edinburgh band Jock Tamson's Bairns.
Joy and Andrew come from the village of Connel on the Scottish West Highlands of Argyll and Bute, situated on the southern shore of Loch Etive. Joy was crowned Traditional Singer of the Year and Traditional Dance Champion at the 2015 Mὸd Pan Celtic Festival; she's the weather presenter on BBC Scotland and BBC Alba, in addition to frequent appearances on Radio Scotland and Radio nan Gaidheal. She also conducts the Alba Choir, Scotland's first ever Eurovision entry. Andrew is a versatile international musician, currently working as a pianist for Northern Ballet; he has won numerous awards and championships and is artistic director of the Lorn Live Chamber Music Festival in Oban. In addition, he teaches for Yorkshire Young Musicians and is an examiner for ABRSM, the examinations board and registered charity of the Royal Schools of Music, delivering countless thousands of music exams and assessments all over the world.
Dithis / Duo combines a magical blend of traditional Scottish culture, both ancient and modern, and dazzling keyboard mastery; the sheer simplicity of Joy's plaintive soprano voice and Andrew's brilliant piano arrangements make listening a real pleasure. 'A Mhairead Og' (Young Margaret) is a Gaelic version of the 'Polly Vaughan'-type tragic ballad that is sung throughout the British Isles and America too; in this account, the girl goes to the pool to bathe, just as the mother sends her son out to hunt for duck. As he passes the pool, he sees a flash of white and fires – but he discovers to his horror that he has killed his one true love. The age-old moral of the story is: he should have gone to Specsavers.
Joy and Andrew remember hearing the gay, strutting 'A Fhleasaich an Fruilt Chraobhaich Chais' (Boy With The Golden Hair) by Mary Pollock, an Islay native who taught Connel children their Mὸd songs on a Monday afternoon after school. The duo have made a mighty song of that, and Mrs Pollock would have been proud and overjoyed. In contrast, 'Solas M'aigh' is one of the most entrancing and majestic Gaelic songs composed in recent history; it was written by Blair Douglas for Father Colin Macinnes, who left his home in South Uist to work in Equador. The starkness is breathtaking; Joy's angelic vocals are overdubbed to create a heavenly choir, and Andrew's piano is delicate and sparing – such lovely, lovely stuff.
They audaciously and expertly ring the changes, from the tripping and tongue-twisting 'Puirt a Beul' (Mouth Music) through 'I Wonder What's Keeping My True Love Tonight' to Frank Higgins' heart-rending 'The Testimony Of Patience Kershaw', an actual statement which the 17-year-old Yorkshire girl gave to the Children's Employment Commission in 1842. Patience had been employed in the Halifax mines for six years, the only girl working with naked men and boys – and the brutal experience bruised her body and her modesty.
Joy and Andrew make a grand job of Scottish writer David Francey's wonderful song 'Saints And Sinners', and they revisit Edinburgh-based harp and fiddle duo Twelfth Day's delicate composition 'The Light Gatherer' – Joy, Catriona and Esther collaborated on the album Fiere, an exploration on the lives, loves and experiences of Scottish women, and this song was recorded. There's a brace of the great Gaelic love songs: the impressive 'A Mhic Iain 'lc Sheumais' (Son of John, Son of James) and the tragic 'Cadal Cha Dèan Mi' (Sleep Evades Me), Joy's description of a woman who has lost her love when he was drowned at sea. The last track is a perfect finisher: 'Ae Fond Kiss', the love-struck hopelessness which Robert Burns composed to Agnes McLehose. Their passionate relationship drifted apart, and Burns left Edinburgh and married. However, on the request of her estranged husband, Agnes sailed to The West Indies – and this song is the result. Joy and Andrew make a perfect combination; her passionate rendition melts into his empathetic accompaniment, creating a solid-gold musical pleasure. I, for one, will be heading north to hear them.
---
MAY 2020
---
MAIMU JÖGEDA
The One About…

Independent release: no catalogue number
***** FIVE STAR CHOICE! *****
Maimu Jögeda is a truly wonderful player of the piano-accordion; with her roots in a beautiful little village called Rõuge in Võrumaa, Southern Estonia, she has always been totally fascinated and influenced by traditional music. Folk was in Maimu's blood – she says: "Growing up in a culturally rich place, I was taking part of folk festivals from a different angle than expected. My father has been selling the handicraft he's been making, and me and my sister were always following him when he was selling his stuff at fairs, closely connected to folk festivals… all of that has a great deal in me becoming who I am today." However, she started learning classical music, then got into jazz: "And 15 years after, I ended up where I always belonged – in folk music!"
Maimu released her debut album Pühendus (Dedication) in the summer of 2017, with twelve compositions written and performed by her. FolkWales Online Magazine awarded her a Five Star Choice, and the very same year she was nominated at the Estonian Ethno Music Awards in two categories, for Best New Folk Artist and Best Debut Album. The One About… is her eagerly anticipated follow-up album; she divides her nine inspiring and really lovely accordion compositions together with three traditional Estonian bagpipe tunes. The bagpipe is named torupill in the Estonian language, with toru meaning pipe and pill being a general term for a musical instrument; it is made out of a chanter, three enormous drones and the stomach of a grey seal. The torupill played for dances and was flourishing in a number of villages around the Baltic Sea port of Tallinn, the Estonian capital, but it gradually lost popularity in the 19th century. The last traditional bagpipe player died in 1968, and the tradition could have died out at that point; however in 1970, Olev Roomet, a singer with a great interest with bagpipe playing, decided to retrain 25 new players so they could take part in a festival. Together with musical instrument maker Voldemar Süda, they made 25 bagpipes based on some of the surviving original instruments. Then father and son Johannes and Ants Taul started reviving the bagpipe-making tradition – and Ants' son, Andrus, carries on fashioning the torupill and has recruited more young players to make their own bagpipes.
Maimu learned to play the torupill, and the opening tune 'Katsung' is an accordion-scored traditional bagpipe piece from Karksi in Southern Estonia, played to signal that it's time for the party to begin – very appropriate! 'Saajalaul' is her tribute to Jakob Kilström, an Estonian bagpipe player from Kuusalu, and she fell in love with this traditional wedding march; the woman became a wife and was then 'handed over' to her husband. 'Torupillilugu' is an old Estonian tune which was discovered written down in a 1905 notebook; Maimu learned to play it on the bagpipe and then she adjusted it for the accordion.
Maimu has an incredible talent for inviting audiences in and making them feel quite home as she weaves her peaceful yet powerful magic. She writes and performs entirely alone, letting her accordion speak for itself. 'Melting' was born after reading Tessera, a book by Taavi Temmel, and an odd little love poem inspired her to compose it. 'Joululugu' was written in the Christmas season, when Maimu's heart was filled with thoughts of loved ones; and the accordion's fleeting, fluttering notes prompted her to name her tune 'Siisike' – or the Eurasian siskin, the tiny bird closely related to the finch family. 'Vaikesele Paul Robinile' is dedicated to Malle, whom Maimu describes as "My best friend, sister and biggest role-model." Malle became a mother this spring, and of course Maimu wrote this delicate, pretty waltz for little Paul Robin and "my dear sister." 'To All The Ppl I've Loved' is Maimu's praise of thanksgiving for folk music and the very dear friends she has met along the way; and the wistful, dreamy 'From Here And Now On' represents a very suitable ending.
Her compositions are pebble-dashed with luscious, fleeting dissonant chords which catch the delighted listener unaware. She possesses an unbridled desire to learn from the great accordionists (for instance the respected Estonian Tuulikki Bartosik, who performed in the Norwegian Church Arts Centre in Cardiff Bay recently; she was Maimu's teacher and mentor.) Right now in this uncertain Covid-19 age, she is marooned on the beautiful Danish island of Fanǿ, studying for the Nordic Master of Folk Music programme. The six students, all from different countries, were supposed to visit each Nordic nation, Iceland excluded; but coronavirus put a stop to that, especially contact lessons. Maimu and the other students had to put up with virtual playing via the computer, but she says: "Hopefully we can continue with real lessons in September."
She captures her own refreshing, exhilarating style which is very reminiscent of her rural upbringing; it's flowing with expression and passion, gutsy but graceful, soothing and rampantly pretty. It's Maimu…
---
 

APRIL 2020
---
THE HAAR
The Haar

Nimbus Records NI6404
***** FIVE STAR CHOICE! *****
This is a bleak and beautiful, utterly timeless album; it conjures up exciting and fabulous sounds which is reminiscent of the haar, the mysterious sea mist that rolls in from the wild Atlantic Ocean and then suddenly disappears in an instant. The origins of the band were drawn together when two musicians, bodhrán and percussionist Cormac Byrne and spectacular fiddler Adam Summerhayes, were standing in a packed late-night Irish pub at the Craiceann Bodhrán Summerschool in Inisheer (Inis Oirr, in the Irish language), the easternmost of the trio of Aran Islands in Galway Bay, when the traditional unaccompanied singing of this flame-haired girl silenced the crowd. Her name was Molly Donnery, and Adam and Cormac wasted no time in contacting her. The three arranged to meet next morning at The Plassey, the rusting hulk of a 1940 cargo vessel which was wrecked during a storm in March, 1960, and the fledgling trio captured on Youtube video their first version of 'The Lark' – there was no rehearsal, no arrangement, and Adam, Cormac and sweet-voiced Molly just performed intuitively.
Innovative accordionist, producer and sound engineer Murray Grainger was recruited to make up the quartet for the debut album; strangely enough, the band had not played before the recording, and Molly and Murray met for the first time in the studio. The effect was pretty stunning; what you hear is Molly taking command to nine grand Irish ballads and traditional songs, with absolute mastery from Adam (described as 'The Paganini of the traditional violin' by the late lamented fROOTS magazine), while there's an uplifting and totally inspiring interplay generated by Cormac and Murray.
What you hear is not some genius composing wonderful scores; it's just four musicians honouring the Irish tradition, experimenting and unlocking its unknown secrets. It's stark, minimal, breath-taking and mind-blowing. Molly is seriously in control for the opener 'The King's Shilling', the hypnotic 'The Green Fields Of Canada', the dual-language 'Siúil a Rún' and the County Down classic 'My Lagan Love', while the jaunty chorus song 'Two Sisters' hides a jealous sibling murder and a gory capital punishment. The last track, 'Craigie Hills', is a lovely and a very fitting ending.
Last year, I reviewed Cormac and Adam's audacious debut offering Stone Soup, in which fiddle and bodhrán brilliantly danced and weaved on a spontaneous flight. Now Molly and Murray have joined the band, and The Haar can take the gorgeous sound further beyond and away to the stars.
---
TIM CRAHART
Faith, Hope & Common Folk

Independently released (no catalogue number)
Singer, songwriter and guitarist Tim Crahart comes from Risca in the old county of Gwent, and this is his very first album; both he and Greg Rowlands staged a concert in Dan-y-Graig Church in Tim's home village in February and donated the princely sum of £500 to the Australian Bush Fires Relief Fund. Tim says that as the show drew to a close, both he, his daughter Iona and Greg sang together and joined in the chorus; it was a pretty memorable night.
This album is Tim's opportunity to record a clutch of self-written material, and it's a true family album; Iona adds her confident and steady voice for two of his songs, 'The Temptation' and 'Tell Me Martha'; his daughter Caley took some eye-catching photos (including the Mr Happy shot, taken at the end of Osbourne Avenue, near the Gloucestershire county cricket ground in Bristol!) and Tim's wife Deb closely watched her husband through the recording sessions and always pointed out when he could do a better take.
The opening song, 'Broken', describes the Valleys' defiance in adversity and austerity, but it adds a glimmer of hope; and a nagging-but-very-pleasing earworm burrows in the mental mind when Tim and Iona join in harmony in the unforgettable chorus of 'The Temptation.' He traces out his music-and-love philosophy in 'Call Me A Fool', and he rouses the republican masses with 'Common Folk'. He acts as a one-man band, harmonising with himself and strumming a strident guitar, bouzouki, banjo and mandolin; in fact, Tim sums up his 14 songs in the album notes: "It's about what matters to me and my faith and my politics are clearly intertwined and evident here… some people have described them as being radical. I don't know about that, but in these dark times I that I have faith, I have hope and I have an unerring belief in the potential of common folk. If that's radical, then count me in."
The only bugbear is the recording quality; Tim sounds as if he's singing down a manhole, the guitar is too overbearing and his lyrics are very indistinct. A songwriter's words are his bread and butter, and it's a shame if the listener can't piece together the meaning. Still, I look forward to the second album!
---
MICK'S QUICKS
Davy Cattanach (Old Blind Dogs, Pictones, Catford) and Paddy Buchanan (Marionettes, Jigs Akimbo) are the banjo and guitar-led La-Llamas; they go out on the road performing an enticing blend of rootsy Americana and Celtic folk, based on a foundation of funky world music rhythms. They started playing a few years ago, and now comes this fascinating debut album, Bread And Jam (LALLAMOO1CD), recorded in Davy's Aberdeenshire home. Their writing is quirky and in-your-face – get an earful of 'Media, Shmedia'. FolkWales verdict: Thumbs up!
Master piper, arranger and composer Ross Miller has won an array of awards in the Celtic Connections festival and many Scottish piping competitions; he was brought up in the Linlithgow, where he is the official town piper. His scintillating, must-hear debut album is named The Roke (Aventoun Records RMM1), which is the town tune; Ross takes you on a helter-skelter ride where white-hot reels, stomping marches, fierce strathspeys and fabulous airs joyously collide – and his backing band just can't be beat. FolkWales verdict: Thumbs up!
Long-haired singer-songwriter Torgeir Waldemar comes from Tønsberg, Norway; his hoarse, shouting, incoherent voice just gives me an unpleasant headache. His album, Jamais Vu (Jansen Records, JANSEN094CD) is destined for the bin. FolkWales verdict: Thumbs down
 Glasgow-based Robert Severin is a British-Hungarian singer whose songwriting has drawn comparisons to Nick Drake, Leonard Cohen and The Beatles; his delicate and timeless songs on his debut album, Postcards From Budapest (RSM001), pinpoint the wartime Nazi invasion of Hungary which shattered the lives of the civilians and the Jewish community. Innotet, the Scottish string quartet featuring Innes Watson and ex-Breabach musician Patsy Reid, enhance his material. FolkWales verdict: Thumbs up!
Now, this debut album is mighty interesting! Peter Croft was born in the Scottish port of Leith and grew up in Felixstowe, Suffolk, where a visit from the renowned Tony Hall inspired him to take up the melodeon. He learned from several Suffolk players before returning to Edinburgh; he loves American tradition and the infectious Cajun music, which persuaded him to buy a one-row Cajun accordion. He plays regularly in the Edinburgh pub Sandy Bell's, where his instrument can be heard playing Gaelic waltzes, reels and jigs. Two expert musicians, flatpick bluegrass guitarist Mark Jones and fiddler Hazel Fairbairn, join him on Button Box Breakdown (AWC 2071916), where the plan was mountain music and other Americana played on the Cajun accordion; this is the result… FolkWales verdict: Thumbs up!
Scots husband and wife duo Jim and Susie Malcolm have released their appealing second album, The Berries (Beltane Records, BELCD113), and songs from the travelling tradition feature strongly; it opens with Belle Stewart's 'Berry Fields Of Blair' and finishes with a jaunty 'Twa Gadgies'. For 30 years and more, Jim has been the ultimate Scots troubadour, taking traditional Scottish songs and his own compositions to all parts of the UK and North America; the American folk magazine Dirty Linen describes him as "one of those pure, warm voices (two parts Archie Fisher, one part Dick Gaughan) that one never tires of listening to". FolkWales verdict: Thumbs up!
The Kentish duo Wildwood Jack consist of husband and wife Adam Piggott (acoustic guitar, banjo, harmonica) and Jayne Freeman (ukulele, banjo); both write Americana-influenced material while Jayne is the low-voiced lead and Adam supplies close harmonies. Their smooth instrumentation is rippling and flowing, their chorus lines attractive and memorable. Their third offering, the independently-released Many More Ways Than One (no catalogue number), was recorded at Towpath Studios in Pontypool and is definitely an album to play on the long highway… FolkWales verdict: Thumbs up!
Singer-songwriter-guitarist Elis Macfadyen was born in Glencoe, Argyll, and is gigging around Scotland; he writes pleasant songs on his independently-released Dreamers and Journeys (EM2019CD), but his soft, rather limp voice is a trifle yawn-inducing and has the tendency to sing a tad flat. FolkWales verdict: Thumbs down
In the age of Covid-19, Liverpool bard Alun Parry has wisely used his self-isolating time and  has released a solo digital EP called The Lockdown Sessions Vol 2 – six punchy, strutting solo songs including the Dylan anthem 'I Shall Be Released', the finger-pointing 'Ballad Of Accounting', Alun's strike chant of the dockworkers 'If Harry Don't Go' and Tom Moore's joyous rabble-rouser 'Tom Paine's Bones'. Six sparkling gems to really savour… FolkWales verdict: Thumbs up!
 Bristol-based fiddle-and-guitar duo Kit Hawes and Aaron Catlow have really struck amazing sparks with their follow-up album Pill Pilots (self-released, no catalogue number), which was recorded in one room by Ben Capp. This delicious album is chock-full of Aaron's songs and tunes, traditional Phoebe Smith material, a doff of the cap to Martin Carthy MBE and a flurry of North-Eastern airs and jigs, all exquisitely and expertly arranged and accomplished – definitely listenable and likeable. FolkWales verdict: Thumbs up!
---
CHARLIE DORE
Like Animals

Black Ink Music BICD10
Charlie Dore is an award-winning actress and one of the UK's respected composers and songwriters, and she sits very comfortably on the folk scene and the commercial pop industry. I just adore her for her appealing, distinctive vocals, her gently flowing musicianship and her intelligent, searching lyrics that touch everyone's heart and mind and inspires right then and there. Her last 2017 offering, Dark Matter, won both the Album Of The Year and Best Lyrics from the US Indie Acoustic Project, and her tenth and latest album focuses the internal landscape of the human brain; what makes us tick behind the herd mentality?
Charlie swaps guitar, piano, ukulele and harmonium on nine beautiful and memorable tracks; her co-writer and touring companion, Steeleye Span's multi-instrumentalist and producer Julian Littman, co-writes her songs (Charlie describes him "my great friend and honorary brother… whose amazing musicality and spirit of adventure always knocks my socks off – still the best.") Like Animals features an impressive array of serious musicians, including esteemed double bass and cellist Gareth Hugh Davies, leading trumpeter Quentin Collins and the highly celebrated violinist Jessie May Smart. Michele Stoddart, founding member of rock band The Magic Numbers, duets with Charlie on the absolutely gorgeous song 'A Hundred Miles Of Nothing', which they co-wrote together; viola player Jackie Oates is there on 'Terrible Lie', a mother's attempt to calm her child's innocent questions in a dark and dangerous world. There's this relevant verse: "So why do the fires burn so bright / And where do the animals go? / They run to hills to be safe, little one / For the animals always know."
The opening track gets you well and truly hooked; Charlie pinpoints the power-hungry go-getter who sees anyone and anything unlucky enough to get in his way as being 'Collateral': "No matter how strong / They always fall / He flicks off the dust / They're just collateral." However, she hands out a warning for those sitting on top in the vicious rat-race: "As sure as bankers hide their wealth / A younger version of yourself / Will soon be waiting…" A new shark in the fish-tank will certainly and inevitably hunt and kill you.
In this album, and all the other albums, Charlie always lobs the sweetest cherry-bombs in the ears of the most complacent listener; she experiments with strange and wonderful melodies, her dark wit sculpts her lovely lyricism and her gentle, unique voice is one to die for. The final track, 'Ordinary Names', is a sad salute to the names that have just gone out of fashion and disappeared: "They were loved / Long ago, long ago / Names I never hear anymore." Names, and dear friends, slowly fade like the setting sun but will leave an everlasting impression on the mind. Charlie is no ordinary songwriter; she's an artist who paints many brilliant pictures with her words. This is one to treasure.
---
MARCH 2020
---
VICKI SWAN & JONNY DYER
Sleep Deprivation

Wetfoot Music WFM200201
***** FIVE STAR CHOICE! *****
By George, they've done it – again. This Braintree couple have hit upon a wonderful concept contra dance album, all of it spectacularly composed by Jonny; it's designed to while away the hours for musicians on the long late-night drive home, after packing up on yet another gig. I can ruefully say that I've done that many times and bought the T-shirt too, counting myself very fortunate that I hadn't had an accident along the way and remembering many friends of all nations who had not been so lucky.
Vicky and Jonny are two of the most versatile musicians of the folk circuit today, and they are earning themselves a solid reputation on the ceilidh, contra and Playford scene. Sleep Deprivation is the latest of their obsessions, contra style dance music; all ten tracks are melded into one continuous hour-and-two-minutes soundscape, and they strongly advise listeners to turn off random play! The Australian artist Nicole Murray, of Cloudstreet, illustrates some lovely artwork of couples dancing – and there's a tempting sketch of a chain dance on the back of the CD cover.
The vast majority of the tracks are entirely instrumental; Vicki and Jonny are must-hear multi-instrumentalists, and a little judicious double-tracking is sufficient to produce layer upon appealing layer of gorgeous and inventive variations. Above all, it's Vicki's entrancing nyckelharpa and Jonny's snappy guitar melody that really impress. The tracks are long, lasting over five minutes for Jonny's haunting voice-chant 'Caucasia Contra', not quite seven minutes for 'Marvellous Meg' and a whopping nine minutes for 'Medieval Contra'. However, ingenious and artful interplay are piled one on top of the other; time has no meaning and the entire album seems to be gone in a flash. 'Jiggle The Old Bones' is the only dance-song, Vicki and Jonny deftly harmonising on some great and energetically foot-tapping lyrics.
The last track, 'Driving Home Chapelloise', consists of three lively bagpipe-led tunes, written by Jonny and reminiscent of the Chapelloise dance from Eastern France: the titles are 'Double Shot Coffee', 'Diversion Ahead' and 'Don't Drive Tired'. Vicki and Jonny have produced this ultimate road album, brilliantly dedicated to the contra dance – and dedicated to keeping all car-weary musos awake and safe as they head into the long, dark night.
---
FEBRUARY 2020
---
ROAD NOT TAKEN
Fragment

RNTCD002
Fragment is a pretty impressive debut from this enterprising Bristol quartet, which comprises Ant Miles, Fancourt folk agency director and Downend Folk Club organiser (harmonium and guitar), Claire Hamlen (violin and viola), Joe Hamlen (harmonium, banjo, electric bass, brass and percussion) and the lovely, haunting voice of Anita Dobson, a weaver of magical stories and words. Road Not Taken are accompanied by musician, composer and producer Lukas Drinkwater, who runs Stroud-based Polyphonic Recording with his partner, Emily Barker; Lukas produced the whole album, and contributed double bass, nylon-string guitar and percussion.
Ant, Claire, Joe and Anita stir an appetising stew of familiar traditional songs, enhanced with their elegant arrangements, a smattering of Scots and Irish melodies plus a brace of Anita's intelligent and artful compositions ('The White Gown' and 'The Grey Of The Water'). There's a wholly new interpretation of 'The Blacksmith' – solo banjo accompanies Anita's introductory verse, while a delightful bevy of instruments pile in together with a heart-stopping woomph – and a hypnotic, slinky rendition of 'William Taylor'. Robert Burns' poetic classic 'My Love Is Like A Red, Red Rose' gets its deserved treatment; and the final track, Suzanne Vega's 'The Queen And The Soldier', is both moving and stunning.
What an exhilarating introductory fanfare – this band will go far.
---
CYNEFIN
Dilyn Afon

Astar Artes AARCD4041
***** FIVE STAR CHOICE! *****
Cynefin represents three years of research and work into Ceredigion tradition and folk song; this project, which maps the past and the present, is the brainchild of musician and Bath Spa University music graduate Owen Sheirs. Owen grew up in the Clettwr Valley, north of Aberystwyth, immersing himself in the sounds of his father's harp workshop. Cynefin is a Welsh noun with no direct equivalent in the English language; its origins lie in a farming term used to describe the well-worn hillside sheep tracks, deepening and changing to describe a very personal sense of place, belonging and familiarity. The artist Kyffin Williams described it as: "The place of your birth and of your upbringing, the environment in which you live and to which you are naturally acclimatised."
In 1973, author and poet T Llew Jones travelled up the Clettwr River for a BBC Wales documentary entitled Dilyn Afon – in translation, Following a River). One of the characters he met was the local ballad singer, Daff Jones, the last in a long line of balladeers, a tradition stretching back centuries. The balladeers had a spellbinding storytelling art that would have to make the enthralled community listen. In his copious bilingual booklet which is just overflowing with old photographs, Owen writes that 45 years on, West Wales is struggling for breath against the tide of modernity: "Economic decline, bubble-gum tourism and the lure of the good life has slowly unravelled the centuries-old social fabric, with oral traditions now the threadbare possessions of those few who are old enough to remember or alert enough to try and safeguard what is left. Since T Llew wandered up the Clettwr, native Welsh speakers have turned from the majority populace to a minority language group who are now struggling for their identity."
Owen has worked as a musician, composer and engineer across a wide range of projects, including several album projects at Real World Studios and on the award-winning Clychau Dibon by Catrin Finch & Seckou Keita, alongside producer John Hollis, founder of the Astar Artes label, who has lent his keen ear and experience to this new project.  Nominated for Best Solo Artist at the inaugural 2019 Welsh Folk Awards, Cynefin gives Owen a stage to demonstrate his impeccable arranging and guitar skills, while taking him right back to his roots. Dilyn Afon is an enthralling compendium and reference library, with a startlingly beautiful score to boot; he says that some of the traditional songs have not been sung for hundreds of years. The opening song, 'Cân O Glod I'r Clettwr' (Song Of Praise To The Clettwr) brings this comment from him: "Were it not for T Llew Jones's original BBC Wales programme, this captivating song by Daff Jones would have disappeared forever – indeed, it sat in the BBC archives for over 40 years until it saw the light of day in 2016."
Owen is responsible for the striking but flowing, dreamy arrangements, which deserve a lot of attention, too; apart from his peaceful, pleasant voice, he plays a variety of instruments, including uke, percussion and harmonium, and the line-up lists percussionist Leandro Emiliano, harper Mali Llywelyn, vocalist Bethan Lloyd, pianist Maria Chiara Argiro, flugelhorn player and cornetist Steve Chadwick, trombonist Michel Padron and Flora Curzon and Sophie Rivlin (violin and cello). An honorable mention must be made for Robin Gwyndaf and Roy Saer, who collected and preserved the disappearing fragments of country life. Dilyn Afon brings together a fabulous mix of the Ceredigion ballad tradition and ambitious contemporary music-making; it is all part of that ancient county's heritage and history, and it strives to cement the beautiful and fragile songs for years to come.
Memorable highlights are 'Dole Teifi' (Teifi's Meadows), first noted down in the early 19th century, attached to 'Lliw'r Heulwen' (The Colour Of Sunlight), where a young man laments the constant changing of a woman's heart and resigns a life of singledom; thrilling female harmonies in 'Broga Bach' (Little Frog); 'Cân Dyffryn Clettwr', a rarity particular to the Clettwr Valley, recorded in 1963 by Roy Saer from Kate Davies, a keen historian, author and singer and probably the last person to have learned the song orally; and the starkly mysterious 'Myn Mair' (By Mary), a Catholic lament which was kept hidden for years, for fear that anyone that who was caught singing it was banished from the chapel and confined to public disgrace.
I pride myself for being the first-ever artist ever to record (in 1983) the macaronic tale of a hapless West Walian, scammed by a seemingly innocent woman and her 'baby'; the whole sorry mess took place on a train from Llandysul to London. I knew it as 'Y Widw Fach Lan' (The Neat Little Widow), but Gwilym Bowen Rhys followed it up by recording 'Taith Y Cardi' (The Cardi's Journey) in his 2018 album, Detholiad o Hen Faledi. Owen completes the history of the comic song and offers a detailed explanation for it; my assumption is 'Taith Y Cardi' was probably written in the 19th century by John David Lewis, noted bookseller, local historian and founder of the Gomer Press in Llandysul. The three versions all have different melodies; I used 'Torth Y Fara', Gwilym put together the Irish jig, 'Cill Liadain', while Owen composed one of his tunes. Which is the better? I'll leave you to decide!
For Dilyn Afon, Owen has conceived a wonderful soundscape, reminiscent of the old Fernhill albums but totally different as well. However, the absorbing booklet clinched it for me – perhaps I'll take it to bed for a long read…
---
ANNE LISTER
Astrolabe

Independent recording: no catalogue number
It has taken a long gap of twelve years for Monmouthshire musician and songwriter Anne to release this thoughtful and intelligent album, but for two factors; she had been occupied on a doctorate degree, researching and presenting a thesis on a 13th-century Arthurian tale at Cardiff University, but Astrolabe was delayed owing to the sad loss of Liv Elliott, Anne's longtime friend and owner of her Boscastle recording studio in Cornwall.
The definition of Astrolabe is an instrument used to make astronomical measurements; it was around for 2,000 years, and navigators relied on it for calculating latitude, before the development of the sextant. It derives from the Greek language, meaning 'the taker or stealer of the stars'. Anne is best known as the writer of 'Icarus', her wonderful and timeless song which had Martin Simpson, Nic Jones, Archie Fisher and a world of artists queueing up to record it, even taking her to concerts, folk clubs and the USA. Like the ancient device, Astrolabe measures Anne's musical time and space. 'Camelot Revisited' goes back to the 1970s, with Anne writing it as a 17-year-old; however, the newest 2019 track – 'Small Ways To Beat The Devil' – is an articulate demolition job on Trump and those popularist administrations who are plunging to the far right. Brazil, Hungary, the Northern League and the Five-Star Movement in Italy – and even the UK, where Number 10 was lit up with red, white and blue and Farage was stoking up the baying mobs in Trafalgar Square, as the final seconds ticked away before we were chucked into the deep, dark Brexit abyss.
Anne doffs the cap to Nic Jones with 'Ten Thousand Miles'; it segues into 'Heroes', her tribute for those many friends who have, as she puts it: "joined the great session in the sky." The song takes on a greater meaning; when Liv recorded the track, Anne had no idea that she would not complete the album. 'Llanwenarth' is "a little piece of Welsh heaven, just outside Abergavenny, where we lived for five very happy years." 'Grandma And The Wolf' recalls Anne's first days at university; her parents came to settle her in, accompanied by Grandma, who whispered this advice: "Whatever you do, dear, don't have one with a beard." In contrast, 'Mametz' is Anne's epitaph to the many Welsh soldiers who were killed in Mametz Wood, just part of the battle of the Somme in 1916.
Anne's gentle and persuasive musical poetry wins through; however, this was a very difficult album to make. Dylan Fowler produced 'Small Ways To Beat The Devil' at Stiwdio Felin Fach in Abergavenny, and fitted in the voices of Helen Vincent-Tibke and Steve Purbrick, Anne's husband; Mary McLaughlin, who sings with Anne as the duo Anonyma, does dazzling harmonies; fiddler Mike O'Connor, harper Barbara Griggs, multi-instrumentalist Steafan Hannigan and melodeon and keyboard player Matt Crum accompany. The only blips are the first and title track, where Anne's lyrics are somewhat drowned out, and the last and final tune, 'Roxburgh Castle', where the musicians seem unsure of themselves and untogether. However, never mind; the sandwich may appear a little disappointing, but the ample filling is mighty delicious!
---
MICK'S QUICKS
Liam Ward, master of the wailing blues harmonica and ex-Rumblestrutters member, has moved to the Stroud area; both he and guitarist Malcolm Thorne strut their tinglingly-hot stuff on a inviting debut EP called You Are My Medicine (Green Bullet Records, GB2002), which was recorded by Rob Evans at the Stroud-based Get It Together Studios. Liam and Malcolm wrote three of the blues-tinged numbers, including the title track; Liam contributed the partying 'Crescent City Jive' and Malcolm penned the last piece, 'Song For Dennie'. They may be coming to a pub near you, so watch out and enjoy! FolkWales verdict: thumbs up!
Scottish songwriter and singer Ainsley Hammill performs with folk bands Fourth Moon and Barluath and has appeared in the gigantic Festival Interceltique de Lorient and Glasgow's Celtic Connections. Her debut solo EP Belle of the Ball (AVH001SD) is absolutely gorgeous; her deep-down soulful voice charts her impressive songs which are influenced by strong Gaelic culture, her home surroundings of Scotland and the people that surround her. two in the traditional Gaelic style and the other three self-penned and oozing spectacular maturity. Definitely an artist to watch and appreciate. FolkWales verdict: thumbs up!
World-renowned Danish guitarist Jon Hemmersam and Iranian university lecturer and professional player of the ancient Persian drum-like Daf, Asal Malekzadeh, had never met until the two-day recording of the album In The Moment (Naxos World NXW 76147-2); however, they create a dazzling acoustic dreamworld where tradition marries with ground-breaking modern jazz. He plays glittering Arabic-style runs and she mirrors his rhythms with startling percussive dexterity. This is an album to savour and enjoy. FolkWales verdict: thumbs up!
London and Bristol-based singer-songwriter Andrew J Newall has moved to Lanarkshire and released his second independent album, Janus (AJM2019CD). He composes and collaborates with some tight musicians, and his commanding voice stamps his own individual interpretation to well-known and well-loved folk songs, which he moulds into startling new material – however, he walks a fine line between impeccably-recorded professionalism and glitzy cabaret. Co-producer and multi-instrumentalist Sandy Jones has captured some very striking and uplifting sounds at his Foundry Music Lab in Motherwell. FolkWales verdict: thumbs up!
Exhilarating bodhrán player Cormac Byrne and expert fiddler Adam Summerhayes have totally triumphed with the album Stone Soup (Extinct Records NI6373); they planned to record a CD of fiddle and bodhrán music, but the two-day session quickly morphed into an amazing interplay where they experiment with caxixi, marimbula, berimbau, talking bones, alternately tuned junk-shop fiddle and anything else which they could get their hands on. Cormac and Adam develop and collaborate on nine inspiring pieces which are worth every penny, a startling jack-in-the-box of tricks. FolkWales verdict: thumbs up!
Guitarist Caesar Pacifici and British musician Brian Brooks (ex-Shegui and The House Band) met up in Caesar's base in New York City in the 1970s and formed a folk-rock band called Banish Misfortune and a traditional group named The Flying Cloud, with Dan Milner supplying the vocals. The duo's second independent album, Leaf (no catalogue number) is a pot-pourri of dreamy guitar interplay, mixed with familiar pot-boilers such as 'Spencer The Rover', 'The Butterfly' and 'Spanish Ladies'. There are a few bright spots, but unfortunately both the style and the singing are rather limp and laboured. FolkWales verdict: thumbs down
Respected Glaswegian singer, choir director, composer and TV and radio presenter Mary Ann Kennedy says: "You can take the girl out of Glasgow, but never Glasgow out of the girl." Her album Glaschu (ARC Music EUCD2833) is labelled 'Home town love song', and she expertly produces it with husband Nick Turner at their Watercolour studio at Ardgour in West Scotland; session musicians such as guitarist Finlay Wells, whistler Lorne MacDougall, uilleann piper Jarlath Henderson, a string quartet and a whole chorus keeps proceedings buzzing and bubbling. Mary selects the pick of Clydeside poets, in Gaelic and the Scottish language, and busy city recordings add flavour to this wonderful project. This is one to savour. FolkWales verdict: thumbs up!
Lismore (Lios Mòr) is an island in the Inner Hebrides, located near the Isle of Mull, Oban and Loch Lynne. Home to a couple of hundred souls, it is nick-named The Great Garden because of its fertile landscape and the incredible fertile musical talent, a phenomenon noted by islander Katy Crossan. She asked local producer Davy Clancart if he would like to collaborate on an album; not only did he agree, but he put in hours of skilful work in his Tirlaggan studio to make this happen. The result is a double CD named Sounds From The Great Garden (CLINC770190010) with internationally acclaimed local artists such as Mairi Campbell and Laura Cook to ceilidh bands, Gaelic Puirt a Beul, poetry, prose, readings, even Lismore Primary School. The result is a fabulous melting pot of island life, some of it uplifting, some of it a little bit uneven – however, this comprehensive and unique collection captures a thriving community right now. FolkWales verdict: thumbs up!
---
JANUARY 2020
---
SETH LAKEMAN
A Pilgrim's Tale

BMG 19813
Now, this is a rip-roaring, salty, stonking album! Seth Lakeman traces the Plymouth pilgrims and their little ship, The Mayflower, in search of The New World and story and self-composed song. It's a time of rejoicing, known as Thanksgiving, which Americans across the globe celebrate on the last Thursday in November.
There's a dark history of The Mayflower voyage; English puritans, persecuted in the Reformation, fled to the Dutch city of Leiden, where they lived and worked for ten years. In 1620, 102 pilgrims, skilled carpenters and Leiden citizens hired The Mayflower, which set off from the port of Plymouth and sailed across the Atlantic to live a religious life, free from all restrictions. Many years ago, a young girl from the Wampanoag native American tribe dreamed of a floating island with tall trees; strangers, who were climbing these trees, landed on the Wampanoag lands which nowadays is named Plymouth and Cape Cod. The girl was an old woman now, but she dreamed this strange dream twice. The dream became true; the Europeans carried deadly diseases, and the Wampanoag tribe was decimated.
The actor Paul McGann narrates the gripping tale, and it's spiced with Seth's mighty songs which juggernauts to the final end, with the help of stellar musicians Benji Kirkpatrick, Ben Nicholls and Cara Dillon. Cara executes some lovely harmonies across the way, and Geoff Lakeman – Seth's dad, not to mention Sean's and Sam's – contributes his wonderful voice.
Seth and his chunky, biting fiddle bring a whole new lease of life to West Country tradition; for example, 'Sailing Time' tears a whole great chunk out of the familiar and well-loved 'Farewell Shanty', invigorating it, reviving it and giving the Cornwall sea song a shot in the arm. For God's sake, buy it